La Strada, The Other Palace review - Fellini's tragicomedy becomes a noisy romp |

reviews, news & interviews
La Strada, The Other Palace review - Fellini's tragicomedy becomes a noisy romp
La Strada, The Other Palace review - Fellini's tragicomedy becomes a noisy romp
Lively song and movement, but the special pathos of the film is smothered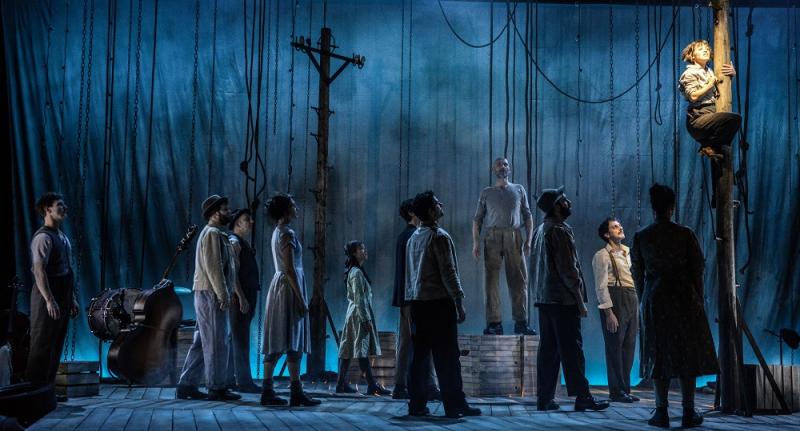 Gelsomina (Audrey Brisson) becomes a sacrifice in a cruel world
Hitting the essence of a Fellini masterpiece in a different medium is no easy task.
Try and reproduce his elusive brand of poetic melancholy and you'll fail; best to transfer the characters to a different medium, as the
musical
Sweet Charity
did in moving the action of
Le notte di Cabiria
from
Rome
and environs to New York. The film version even managed to find in Shirley MacLaine an equivalent to the unpredictable charm of Giulietta Masina, Fellini's wife, a great actor. But no one can really rival Masina's most compelling role, the waif Gelsomina sold to a travelling strong man in
La Strada
. So this version tries to make what might be translated with a bit of licence as
Two for the Road
into more of a company show.
In making it a play with musical numbers, though, they abandoned the third crucial component of the film: the score by Nino Rota, one of the best ever. It was compellingly choreographed for London schoolchildren to dance in Neil Armfield's giddying drama about playground bullying for English National Opera. Benji Bower's persistent music and sound for Sally Cookson's production, which has also been on the road since its launch at Coventry's Belgrade Theatre, don't come within a million miles of Rota's genius. The ambient scapes are generic at the start, often so loud that the actors' words can't be heard over them – there's no need for so much amplification in a small theatre like this, a familiar plaint – and they contribute to a crushing banality for the epilogue. While anyone should remember Gelsomina's leitmotif as composed by Rota, this one is instantly forgettable.
Nor does Katie Sykes's set, variously lit by Aideen Malone, quite conjure the necessary atmosphere of the scenes along the road, despite the imaginative use of telegraph poles. At least the talented band of polyglot actors, musicians and actor-musicians do their stuff effectively in the set pieces, however generic. There's even a whiff of the showstopper favoured by musicals at the beginning of the second half, as Bart Soroczynski's Il Matto (pictured above) plays his accordion while weaving wonders on a monocycle. The dialogue in which he brings Gelsomina to face existential questions is the best in show, dramatically speaking; at last the amplified sound is quiet and there's a whiff of a drama rather than a mere divertissement.
It's not really the fault of the attractively gamine Audrey Brisson as Gelsomina or the Zampanò of Stuart Goodwin, a convincing brute, albeit one whose ultimate realisation doesn't convince, that the later scenes where Gelsomina and Zampanò continue their wretched wanderings lose focus. Don't expect poetry and deep pathos; but if you go knowing that you'll get some lively song and dance, you shouldn't be disappointed.
Benji Bower's persistent music and sound don't come within a million miles of Nino Rota's genius
rating
Share this article