The Magic Flute, Royal Opera review - all but a guarantee of a great night out |

reviews, news & interviews
The Magic Flute, Royal Opera review - all but a guarantee of a great night out
The Magic Flute, Royal Opera review - all but a guarantee of a great night out
Opera's classiest pantomime looks better than ever in this handsome revival
Saturday, 18 September 2021
I put a spell on you: Brenda Rae as The Queen of the Night
Rarely has the revolving door of opera twirled so efficiently.
David McVicar's venerable production of
Rigoletto
may have exited the
Royal Opera
on Monday (presumably with one final squeak of protest from that pesky revolve), replaced by
a shiny new incumbent
, but by Wednesday the director was back on the stage with another of his long-lived classics:
The Magic Flute
.
We may be approaching the show's 20th anniversary, but visually it's still serving up the goods. After a year of digital screens and chamber restrictions, black-box sets and two-handers, John Macfarlane's lavish designs and the teeming cast (expanding by the end to include a whole kindergarten of little Papagenos and Papagenas) that fill them are less an oasis than a whole damn waterpark.
From the Classical pillars that rise sturdily up and up in Sarastro's temple to the Queen of the Night's colour-flooded sky-scapes, their constellations picked out with luminous care by Paule Constable's lighting, everything is handsome and enduring – a timely tribute to Enlightenment values at a time when cabinet reshuffles have once again put culture, knowledge and education up for grabs.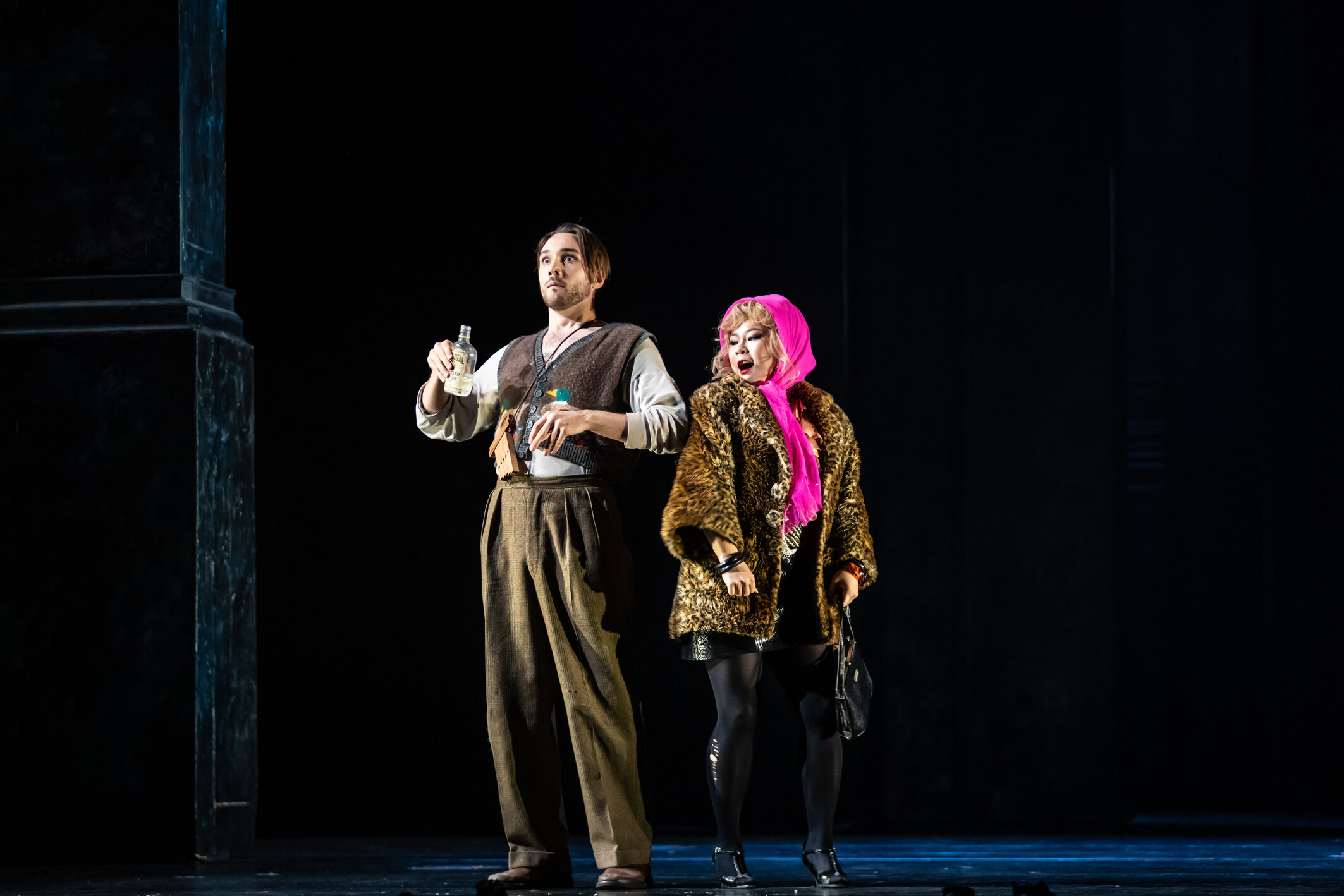 But Sarastro doesn't have it all his own way in Dan Dooner's sharply observed revival, which isn't above a little mockery at the rigidity of the men-in-grey-robes and their determined misogyny. A little bit of by-play involving priests Donald Maxwell and Harry Nicoll helps puncture the wind-baggery of the earlier duet and its unfortunate logic, while newcomer Huw Montague Rendall's Papageno (pictured above with Haegee Lee as Papagena) keeps the comic engine turning in pratfalls, collision, leaps and trouser-drops. No house debut could demand more, and the larky, lanky young baritone delivers in armfuls, sparring gamely with a wilful chicken and romping with Haegee Lee's Papagena.
Conductor Harmut Haenchen threatens the director's pace with stately tempos that tend to fossilize ("Dies bildnis" very nearly ground to a halt in this performance, while Isis and Osiris will have had to set aside extra time to hear the lengthy intercessions of the chorus-brotherhood). It may yield the occasional moment of ravishing shadow-play with texture and tone, but feels unkind to a young cast already working flat-out to project, often from the further reaches of the deep set.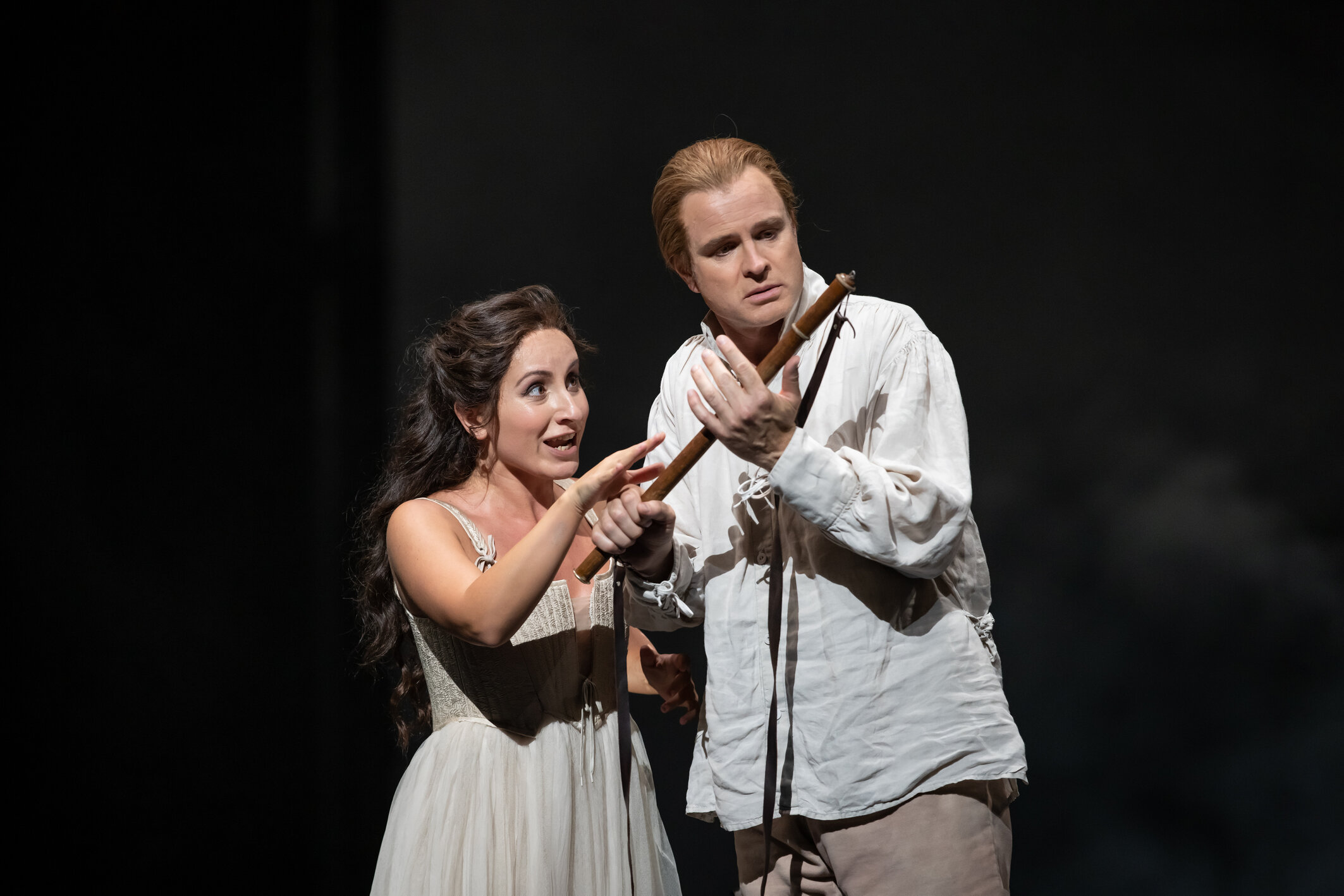 Haenchen's dogged approach claims a few casualties. Bernard Richter's Tamino (pictured above with Salome Jicia as Pamina) feels vocally pushed and priggish, as if he has strayed in accidentally from a Greek tragedy and is trying too hard to compensate, while in this second performance Brenda Rae's Queen of the Night (a star on opening night, by all accounts) felt tight and on edge. But the trios of both Ladies and Boys are sparky and characterful, with Salome Jicia a warm, mature-voiced Pamina. Krzysztof Baczyk's Sarastro grows through the evening, turning resonance into something more humane by the end.
This Magic Flute is as close to pantomime as the Royal Opera gets: a handsome comedy that smuggles some fairly hefty philosophical arguments along for its stately ride, heavily disguised with dancing animals, a real live hawk (Ellen Kent eat your heart out) and some luscious costuming. You're all but guaranteed a good night out, and right now I think that's a theatrical concept we can all get behind.
Everything is handsome and enduring – a timely tribute to Enlightenment values
rating
Explore topics
Share this article