Aida, Royal Opera review - dour but disciplined |

reviews, news & interviews
Aida, Royal Opera review - dour but disciplined
Aida, Royal Opera review - dour but disciplined
Uniformly good cast, idiomatic conducting, production rigidly consistent in khaki
Monday, 26 September 2022
The Triumphal Scene in Robert Carsen's production of 'Aida'
No gods, ancient Egyptian or otherwise; no sinister priest along the lines of Russia's antichrist Patriarch Kiriil, sending soldiers to their deaths with the promise of heaven. Military ritual under what looks like a Russian/Chinese flag prevails in Robert Carsen's severe take on Aida, more rigid than Verdi's surprisingly unified late score - a musical masterpiece if not a dramatic one.
With no Schiller or Shakespeare as base, only the Egyptians and international dignitaries to please for the opening of the Cairo Opera House, Verdi's librettist Ghislanzoni and scenario deviser Auguste Mariette fell back on hoary Italian-opera outlines in place since the beginning of the 19th century – a love triangle involving power and subservience, the pitting of patriotic duty versus private passions.
Perhaps Carsen shouldn't be blamed too much for not getting his principals to focus, dramatically speaking. Russian soprano Elena Stikhina (don't worry, no dodgy Netrebko she) as the Ethiopian princess in bondage and Polish mezzo Agnieszka Rehlis as love-rival Amneris, the King of Egypt's daughter, have little to do but pace overmuch (there isn't even a leopardskin rug for Amneris to chew). Vocally, both are strong if not quite ideal in these roles (the two pictured above). Stikhina soars and can open out her lyric beauty impressively, with great intensity, but she's not especially Italianate – more chest voice and clearer text would be welcome. Even so, I can't wait to see her as Tchaikovsky's or Janáček's heroines. Rehlis has the right timbre but needs to have the extra stop in her big scene of horror at fiancée Radames's trial for treason, the most thrilling in the opera; perhaps Elīna Garanča will supply it later this season.
Conductor and Royal Opera Music Director Antonio Pappano has obviously worked in depth with Italian tenor Francesco Meli on "Celeste Aida", the tricky-delicate Romanza Radamès has to sing minutes into the opera; it's probably right that so much of the top is in head voice, falsettoish, though Meli has the full pelt at his disposal too, even if the essential sound isn't sweet. His acting is confined to stock gestures, but he's strong in his court-room resolve (pictured below).
Soloman Howard as High Priest (General?) Ramfis and In Sung Sum as the suited King of Egypt have the easiest task since they only need to stand still; both have impressive stentorian tones at their disposal, Howard awesome in Ramfis's trial of Radamès. Ludovic Tézier needs a bit of beauty in his tone as he reminds daughter Aida of their verdant homeland, but provides the necessary Verdi baritone heft later in the night scene.
That is, in the music, full of middle-Eastern nocturnal perfume, but in Carsen's production and Miriam Buether's modern-monumental designs we're stuck with a flame at a war memorial, the military grimness of vast panels as before and a back wall of names modelled - the programme would suggest - on the Vietnam War Veterans' Memorial in Washington D.C.. And what of the very oriental, beautifully-scored ballet music? There are two options, it seems – nothing or camp, and we get no dance for the routines of the sacred priestesses (nowhere in sight) or the Moorish slaves (oppressed serving women laying a table). Choreographer Rebecca Howell does come into her own for the classy kitsch in the Triumphal Scene, though – an all-male routine that works well, performed before a mixed chorus all dressed as men (pictured below). The military manoeuvres generally are perfectly disciplined, and visually the best scene goes against the grain of Radames's judgment in an underground chamber we don't usually see: the court-martial is conducted in full view.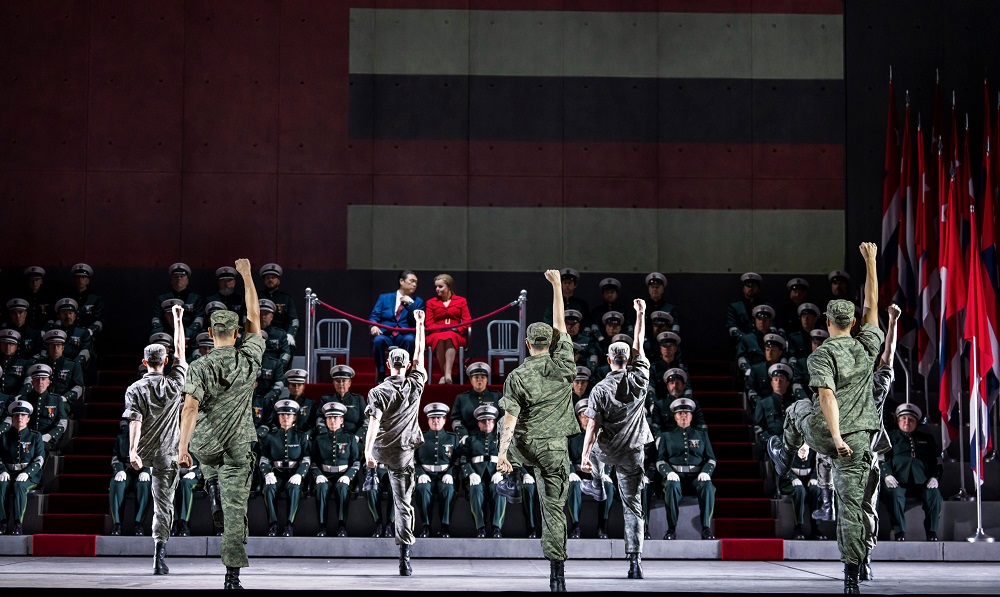 Here, as in Act One Scene Two, the quiet singing of the male chorus is mesmerizing. Pappano has fine-tuned all the details in this often surprisingly subtle score – there were plenty I hadn't noticed in the Aida-Amneris confrontation, and the transcendental magic of the "Nile" and final scenes sends incense up to the resolutely drab stage. You have to take your colour where you find it, in the orchestra. Carsen's solution is better than that of his Royal Opera predecessors, McVicar (can't remember much about that one) and Robert Wilson (good when his trademark slow movement coincided with the music, as at the end with a blue-faced Radames, though not elsewhere), but he hasn't entirely solved the Aida problem. Since I have a feeling some reviewers might start with "no elephants?", I'll just end by declaring that I've never seen one in any production of Aida: maybe they serve them up, along with blackface, in right-wing Verona, which, I'm sorry to say, will probably be celebrating on this dark day.
Pappano has fine-tuned all the details in this often surprisingly subtle score
rating
Explore topics
Share this article