theartsdesk on Vinyl 76: Elton John, Pharoah Sanders, Hellripper, Jah Wobble, T-Rex and more |

reviews, news & interviews
theartsdesk on Vinyl 76: Elton John, Pharoah Sanders, Hellripper, Jah Wobble, T-Rex and more
theartsdesk on Vinyl 76: Elton John, Pharoah Sanders, Hellripper, Jah Wobble, T-Rex and more
The biggest, most eclectic regular record reviews in the galaxy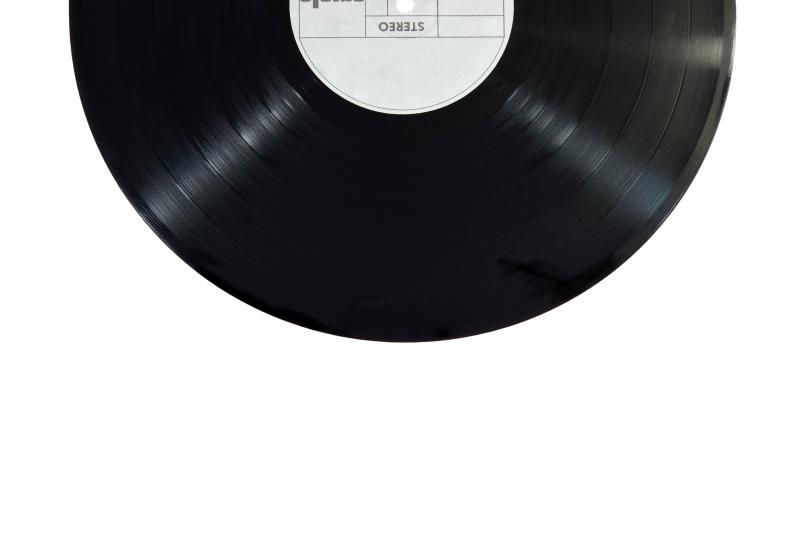 Black hole sun
There will be two theartsdesk on Vinyls this week. The first is here, an epic 11,000 words on a multitude of new releases in every genre, from reissues of classics to spanking new strangeness. There's something for everyone. On Thursday we'll have a special edition in honour of Record Store Day this coming Saturday, so watch out for that too. For now, though, dive in!
VINYL OF THE MONTH
Elsa Bergman Playon Crayon (B.Inspelningar)
In the mid-1960s British composer and pal of Stockhausen, Cornelius Cardew, composed a piece called Treatise whose sheet music consisted of a series of symbolic graphics, art really, under which ran empty staves. The idea was that musicians would work beforehand on their interpretations of what he'd laid out, then perform. Swedish double bassist and composer Elsa Bergman was inspired by similar exercises in Stockholm and found they gave another level of interest to free improvisation. Her new album, Playon Crayon, comes with a 12" x 12" booklet containing some of the illustrations which were used in the creation of this album, work that also features trumpet (Susana Santos Silva) guitar (David Stackenäs), violin (Kat Hernandez), and drums (Matilda Rolfsson). A lot of avant-garde material turns up at theartsdesk on Vinyl, presumably because I listen to and treat any and all vinyl exactly the same. Whether it's the new Taylor Swift, a black metal reissue or a funky house 12", I presume it deserves to be heard and fully lend my ears. Unfortunately, much fringe/experimental music is either boring or unlistenable, however interesting its concept. Not so Playon Crayon. Happily, it's not just a conceptual conceit by a bunch of Scandy jazzers (who are very much given to such things!). The music is thrillingly odd. It takes a moment to bed in but, approach it like the more interesting work of, say, an electronic act such as Autechre, and it rewards. Its whirrs, clicks, detuned trumpet, squelches, hisses, and scratchy noises congeal into a whole that's ear-fascinating. Of course, it's not for everyone but something here is way ahead of – or perhaps far to the side of – the usual musical game. It's this sort of musical adventuring that eventually changes all music, usually long after those who made it have been forgotten. Have a listen. It's very, very different.
VINYL REVIEWS
Elton John Honky Chateau: 50th Anniversary Edition (Rocket/UMC) + Ten Years After A Space in Time (Chrysalis)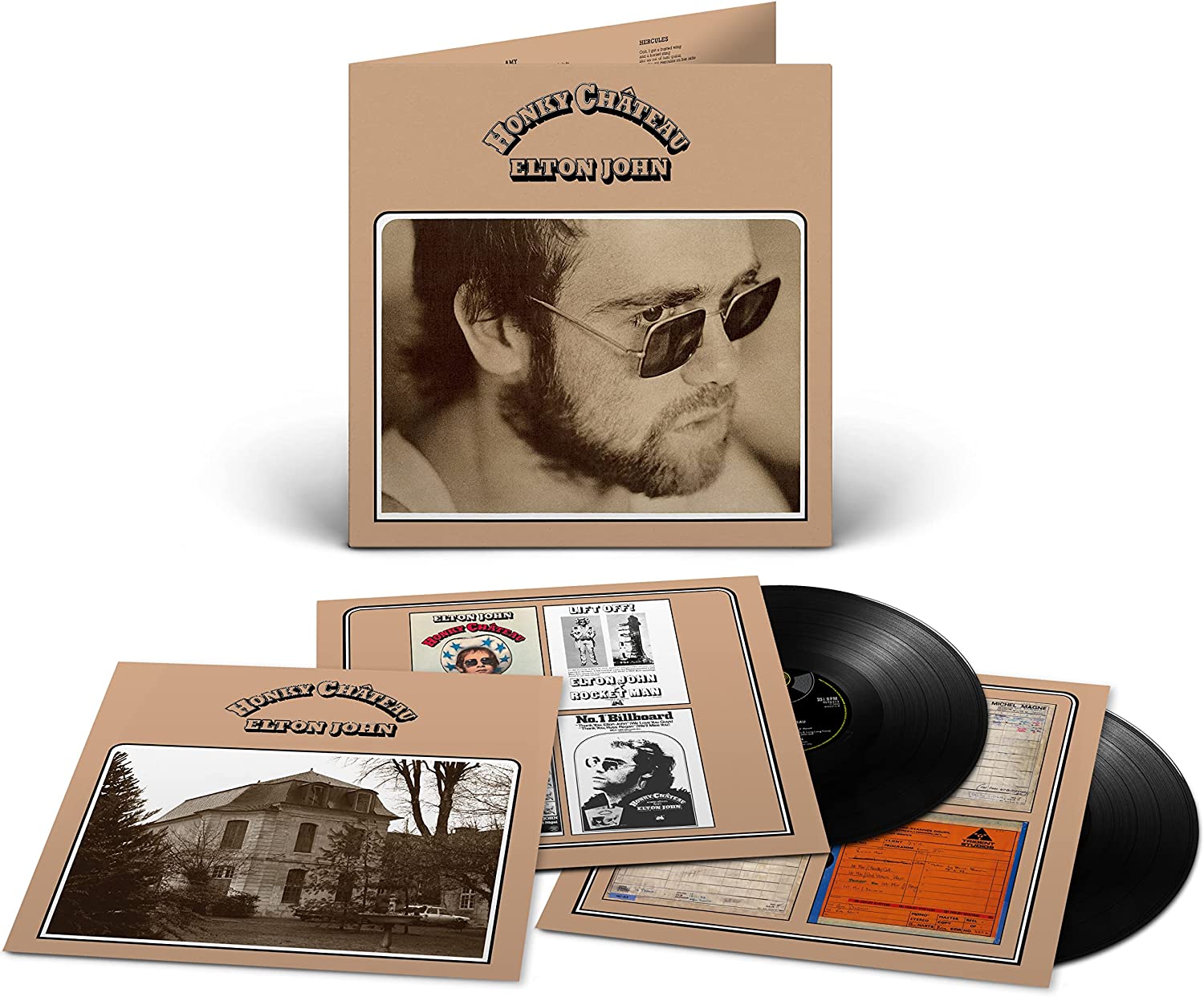 Two from the early-Seventies and the first one's a monster, the first of a run of US chart-toppers for Elton John. It arrives in its 50th anniversary form, which means that, on gatefold double, there's a second record full of session demos. While these are sometimes slightly looser, faster or less "clean", there are no wildly differing takes (the brisk version of "Slave" being a partial exception). There's also an eight-page booklet of details and photographs, some of them rare. The original album is heavily flavoured with Dixieland jollies, especially the single "Honky Cat" and the cynical "I Think I'm Gonna Kill Myself", an enjoyably pithy number about suicide's PR potential, the lyrics of which would not sneak past our contemporary arbiters of morality. "Rocket Man" is here, of course, one of the great pop songs of the Seventies. Ten Years After never had the success of Elton John but had a decent run in the early-Seventies. 1971's A Space in Time was a Top 20 album in the US. Along with Cream and Hendrix, they were one of the first bands, circa 1967, to translate the psychedelic explosion into heavier blues rock which would dominate the next decade (they should also receive kudos
for titling an album Stonedhenge!). A Space in Time is reissued on double in info gatefold with two versions on offer, the original and a new version by super-producer Chris Kimsey. The latter adds depth and space by using technical tricks and kit that have come into being since it was originally released. Not being familiar with the album, to my ears this adds interest but, no doubt, if this was a favourite album and I was used to the earthier, grimier original, I might find it prissy. Either way, it's an album where raucous rockin' mingles with poppy songwriting, sometimes all on one song, as on "the junkie blues" of "Hard Monkeys". "I'd Love to Change the World'" is of especial interest in 2023, a song that explicitly acknowledges what needs doing to change things for the better but has chorus stating "I'd love to change the world but I don't know what to do." In a nutshell, A Space in Time is absolutely typical of its time but still well worth a listen.
Mike Tod Mike Tod (Cross T) + Matt Burt and the Busy Dead Gravedigger's Blues (Crispin Glover)
Two albums that dive deep into roots music to see what might be made new. Mike Tod is an ethnomusicologist based in the Rocky Mountains of Alberta, Canada, and his debut gives modern arrangements to selection of old folk tunes, ranging from country to blues to a Scottish folk jig. The best of it showcases the dark underbelly of such music, the part that folk horror cinema makes hay with. It arrives with a 12" x 12" insert that features the lyrics but also background on each song. This adds interest to listening. Tod's worn voice sits well within songs such as "Cigarettes and Whiskey" while he does justice to the gritty drone of songs such as "Little Wheel Spin and Spin". Poet-Buddhist-outlier Matt Burt and his Norwegian
compadres, on the other hand, embrace the idea of old timey music, but their debut set is made up of originals, excepting a great punk-jazz version of Iggy Pop's 2019 single "Love's Missing". There's something Nick Cave-ish about it all, although it's nowhere near as arch. Burt's crew indulge in pleasing, shuffling blues ditties and dirges with chewy lyrics, but it smells more of coffee and consideration that Bourbon and chaos. From me, that would normally be an insult, but their controlled and original take is actually persuasive. Comes in die-cut brown card info inner sleeve with 12" x 12" lyric sheet.
Pharoah Sanders Quartet Live at Fabrik: Hamburg 1980 (NDR) + Graham Collier Down Another Road @ Stockholm Jazz Days '69 (My Only Desire) + Somi Zenzile: The Reimagination of Miriam Makeba (Salon Africana) + Lasse Mørck Imagining Places No-One's Probably Ever Been (DMF)
Four jazz releases with heft. First up, NDR dip way back into their archives for a set by cosmic free jazz-tician and saxophonist Pharoah Sanders, who died last year aged 81. Accompanied by pianist John Hicks, bassist Curtis Lundy (only 25 at the time) and drummer Idris Muhammed, the set is spread over two records in a gatefold with notes by German jazz journo Michel Laages. It sees Sanders in a time of transition, applying his John Coltrane-inspired knowledge and spirituality to a wider range of music than he might have a few years earlier, thus the inclusion of the Richard Rodgers standard "It's Easy to Remember", but also, happily, the freak-out of Sanders' own "The Creator Has a Masterplan", the tone of which is practically post-punk in its attack and shouted sections. A master on peak form. Winding the clock back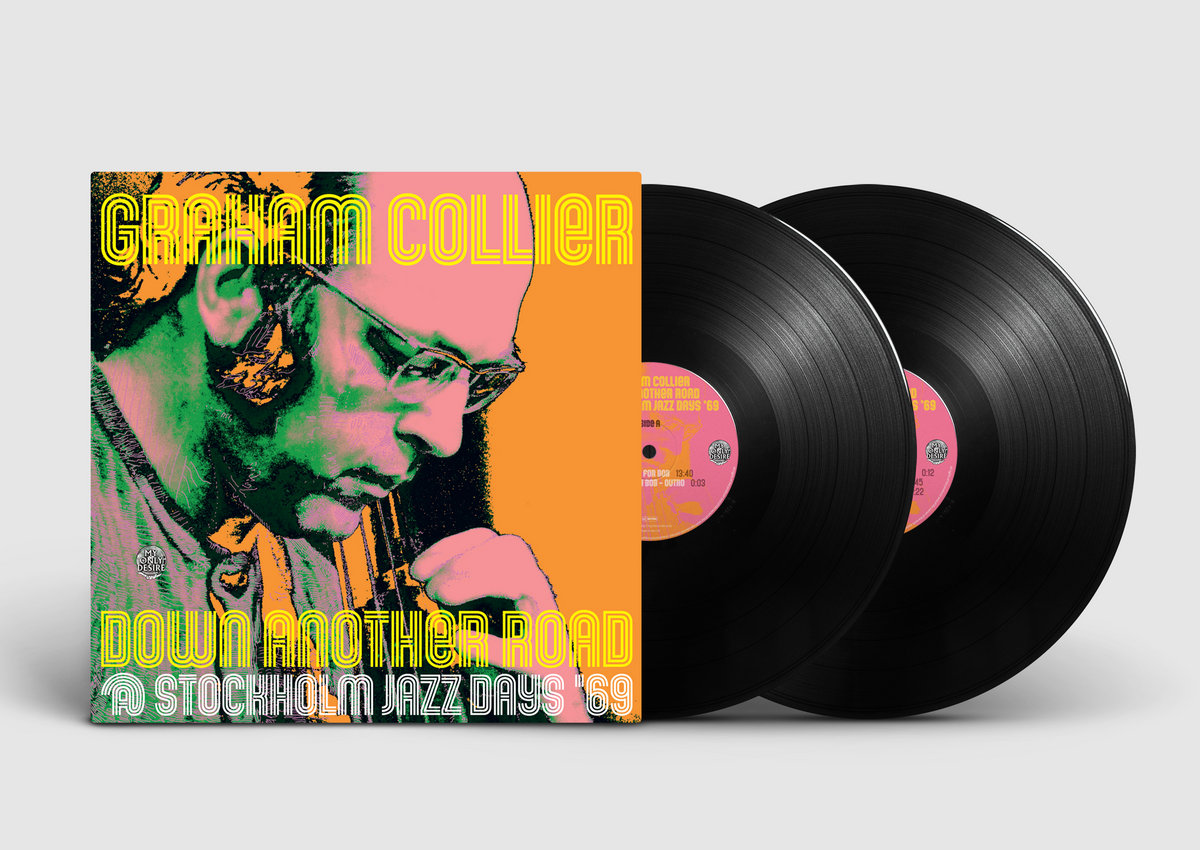 another eleven years and crossing a chunk of Europe, we find another one. British bassist Graham Collier was 31-years-old when he recorded his Down Another Road, a jazz work that not only holds its own against American equivalents of the time, but also loosely parallels developments in the fringes of rock music. Now jazz aficionado John Griffiths, via his specialist My Only Desire label, offers an alternate take on this well-established classic, recorded at a Swedish festival and featuring spectacular impov work by trumpet and flugelhorn player Harry Beckett, saxophonist Stan Sulzmann, trombonist Nick Evans, oboe-playing pianist Karl Jenkins and drummer John Marshall. As well as the original album set (minus "Danish Blue") Side A incudes a bonus piece called "Burblings For Bob".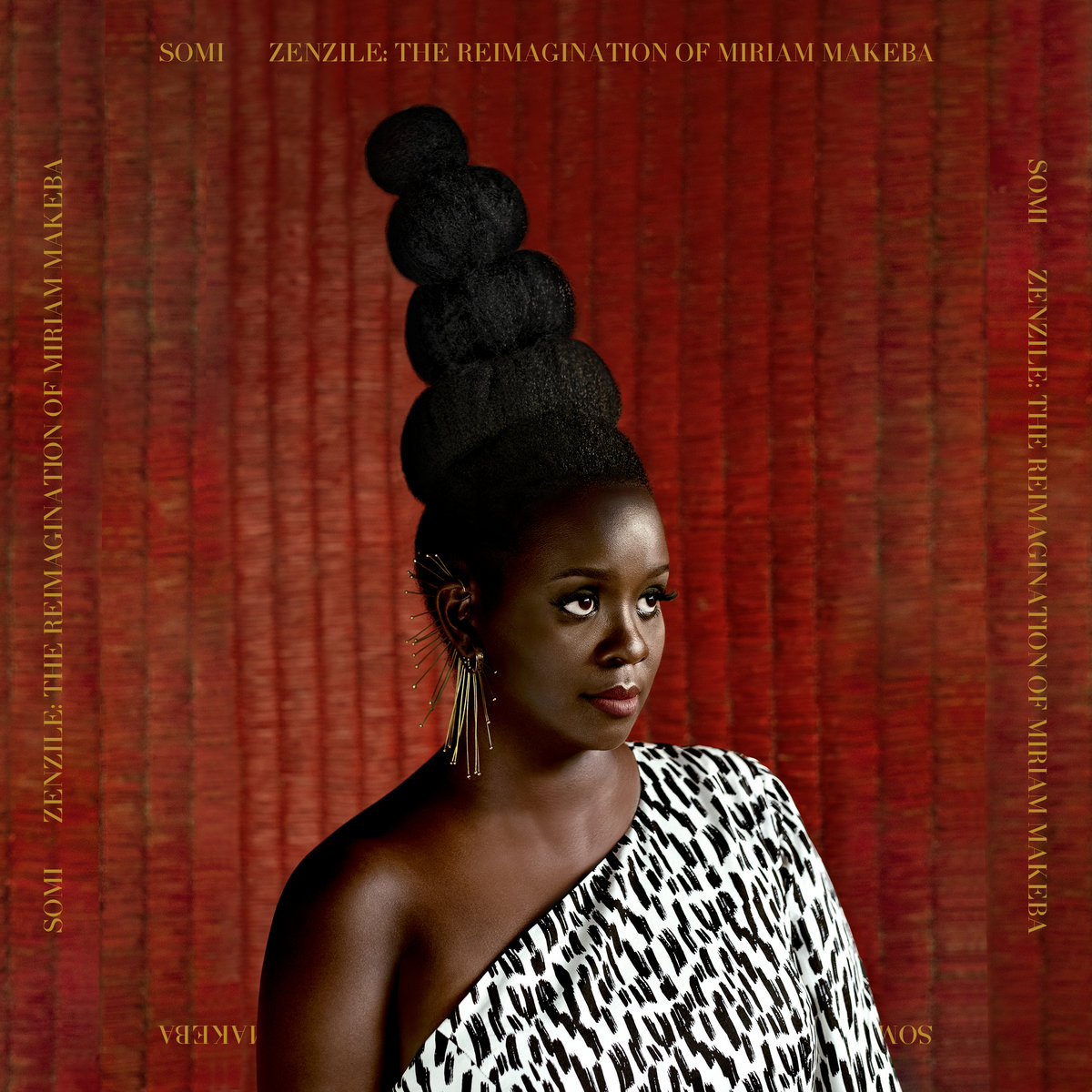 It's especially great hearing the pastoral mellowness of "The Barley Mow" right next to the frenzy of "Aberdeen Angus", the whole having a very British jollity yet maintaining 24 carat jazz chops. We come back up to date with a new album that holds its own against those decades-old classics. Rwandan-Ugandan-American singer Somi Kakoma brings out a vinyl version of her tribute to the late South African musical giant Miriam Makeba, a year after it appeared on other formats. It's a joy to see Makeba's music approached with such seriousness. After the waves of African music that have so thrilled the world since her 1960s US pop culture heyday, she's sometimes unfairly dismissed. Kakoma's approach reinvents Makeba in a style that fuses sparse jazz with sometimes semi-classical arrangements and a consciously elegant crossover feel, suited to urbane dinner party listening (and featuring guest such as Gregory Porter, Ladysmith Black Mambazo, Seun Kuti, Angelique Kidjo and others). Her monster hit "Pata Pata" becomes a lush exercise in high-end chill-out, featuring multi-layered Autotune harmonies, but is immediately followed by a well-calibrated, stark yet bubbly take on the protest song "A Piece of Ground". The juxtaposition sums up the album: it's slick and market-ready but also stays admirably tethered to the spirit and musical adventurousness of Makeba. Comes on info/photo gatefold double. Finally, a delightful and friendly album from Denmark, the second from double bassist Lasse Mørck which, as its title suggests contains a set of eight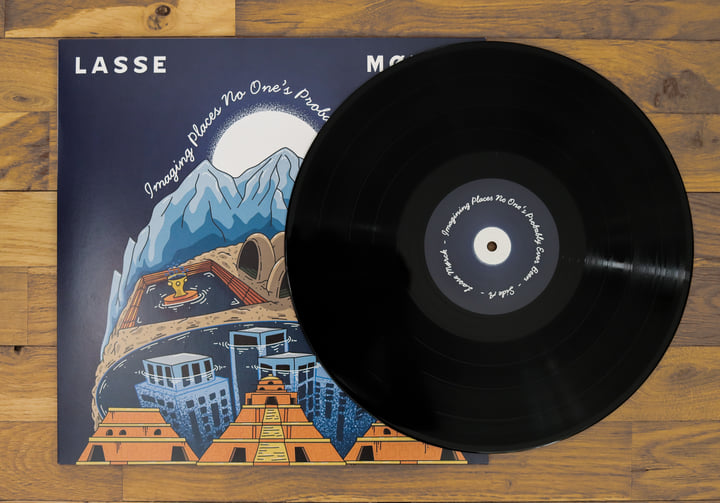 instrumentals themed around places that have inspired the human imagination, such as Bimini, the fountain of youth in the Bahamas, or even the Moon, which according to this band is jolly place with a walking bassline. Accompanied by trumpet (Jonas Due), sax (Ludvig Samuelsson) and drums (the excellently-named Snorre Kirk), the vibe throughout is rather like ancient TV series Johnny Staccato (which used to be on when I was a teen, even though it dated from the end of the Fifties, in which John Cassavetes played a hip jazznik detective). Whether you've seen that show – which seems unlikely! – or not, it's an album that emanates both an old-fashioned sense of cool and a modern playfulness, all of which add up to something appealingly welcoming.
Kate Ellis Spirals (River Rose)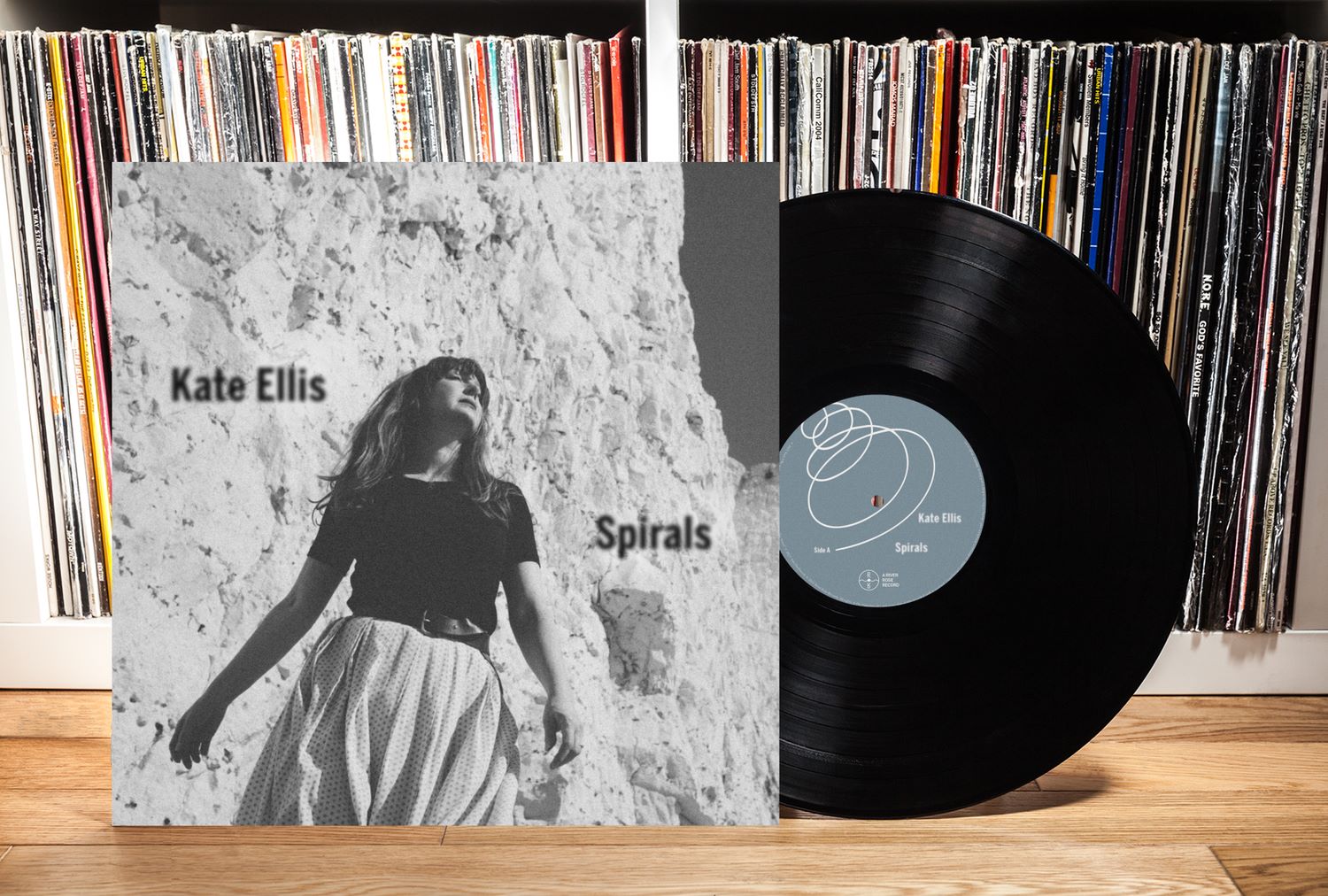 A year after it appeared on other formats, the debut from Louisiana singer Kate Ellis appears in a limited vinyl edition of 300. Pitched midway between road-travelled Americana and something more BBC Radio 2-friendly (ie middle-of-the-road), what makes it worth playing is the songcraft ("He keeps his southern whiskey and his bitterness on ice"), the heartfelt nature of her voice, and the way it gives off a raw melancholy that's affecting, even on bouncing Brandi Carlisle-style country-rockers such as "Scars". Just in case she hasn't killed you by the end of the last side, she includes, as a bonus track, a pared back take on "Hurt", the Nine Inch Nails song which Johnny Cash turned into the most tear-inducing song of all time. Her version is, fortunately for my eyes, not as devastating, but the intent is there. "I will make you hurt". Indeed. Comes in photo/lyric inner sleeve.
Hellripper Warlocks Grim & Withered Hags (Peaceville)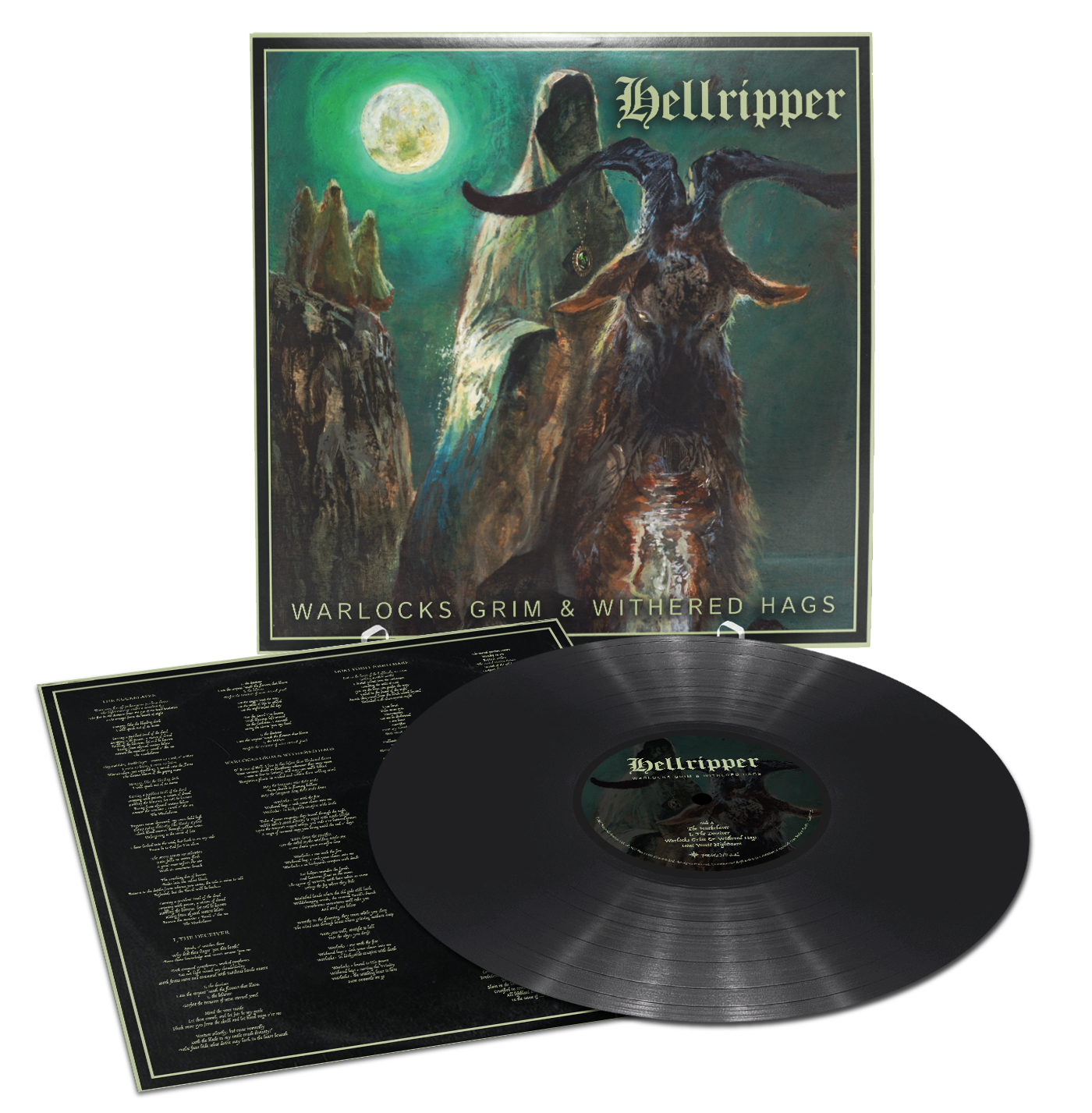 My partner just came in as I was playing this album, picked up the sleeve, saw the title, looked at the cover's painted image of the goat-riding demon monk (or whatever that is), spent a few moments listening to the gargle-screamed high-speed assault, then she stated one word, "Ridiculous!", and promptly walked out. She has a point but that's sort of also the point. Hellripper's third album, as with their previous work, is unafraid to step beyond the usual parameters of popular music into realms that can seem preposterous. The press release tells us that the work sees band leader James McBain expand his outlook into his native Scottish folkore and, indeed, songs such as "Mester Stoor Worm" do this (the Mester Stoor Worm is a dragon of Orkney islands myth), but the main draw here is outrageous guitar riffery, surprisingly light over the drum-pummelling, beside McBain's Satanic screeching. "Hyperspeed blackened thrash anthems" says the sticker on the cover. Whatever it is, there's an invigorating power and mischief to it that sets the blood speeding. Comes in photo/lyric inner sleeve.
Various Adrian Sherwood presents Dub No Frontiers (Real World) + Jah Wobble Redux (Cherry Red)
Two monsters of the low end. Adrian Sherwood long ago achieved "legend" status amongst his devoted coterie of fans but, now in his mid-60s, it's spirit-raising that he remains as musically interesting and prolific ever. The idea behind Dub No Frontiers is that Sherwood and Real World Records, sussing that dub reggae is often seen as a very male preserve, invited women singers from around the world to sing on tracks in their own language. The result is delicious, with songs in Mandarin, Hindi, Romani, Polish and many more languages, and contributors including Russian ex-Slit Nadya Ostroff, and Marian Wemba, the wife of Papua New Guinea's president-in-exile. There's even eversion of Bob Marley's "War" in Arabic. It's warm, feminine and approachable, full of attitude and musical zip. The inner sleeve contains word-snapshots of each artist and song, and the whole comes with a 12" x 12" 12-page booklet of paintings of female figures of inspiration, ranging from Chinese poet-rebel Qui Jin (1875-1907) to Virginia Woolf to American Civil Rights pioneer Claudette Colvin. Redux sees Cherry Red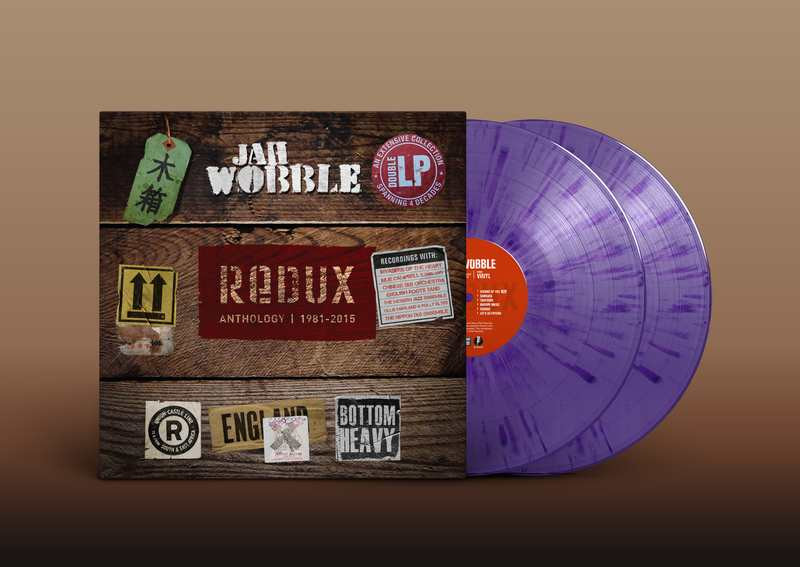 Records and Jah Wobble choose hot picks from the 2015 six-CD boxset celebrating the bassist extraordinaire. On double in a gatefold with useful notes about each track, it covers material right across Wobble's career, from 1990s festival biggies such as "Becoming More Like God" and "Visions of You" (both new versions, the latter Sinead O'Connor-less) to the folk poetry of "Bagpipe Music" with Dubliners singer Ronnie Drew to the indie-psyche revel pop of 2015 Record Store Day single "Merry Go Round" to sallies at Chinese music, Japanese music, jazz, and even a sort of space-ambient take on Appalachian mountain music. Wobble's random explorations of wherever he fancies are always worth a listen and sometimes revelatory. The vinyl is off-white with purple flashes.
2021 London Cast of Cabaret at the Kitkat Club Cabaret at the Kit Kat Club (Decca)
I am not generally a fan of musicals but I can't ever get enough of Cabaret, so this release was always going to a shoe-in. I've seen Cabaret at the theatre a couple of times but wish I'd seen this version with Eddie Redmayne and Jessie Buckley. The music arrives now on gatefold double with photo/info inner sleeves. For those only familiar with the film, it includes Kinder & Ebb originals that weren't in it, such as "It Couldn't Please Me More" (sometimes known as "The Pineapple Song") and the beautifully broken "I Don't Care Much". This set, once again, captures Cabaret's ebullience, tragedy and genius. And the title song remains one of my all-time favourites; Jessie Buckley renders it sweeter and more theatrical than Liza Minelli's foghorn showboating but it's an indestructible number. Cabaret's lesson is that, while we're not watching, the fascists, idiots and thugs will ruin everything for everyone. It's one we'd do well not to forget.
Grant Lee Buffalo Fuzzy + Mighty Joe Moon (Chrysalis) + Eels Hombre Lobo + End Times + Tomorrow Morning (E Works/PIAS)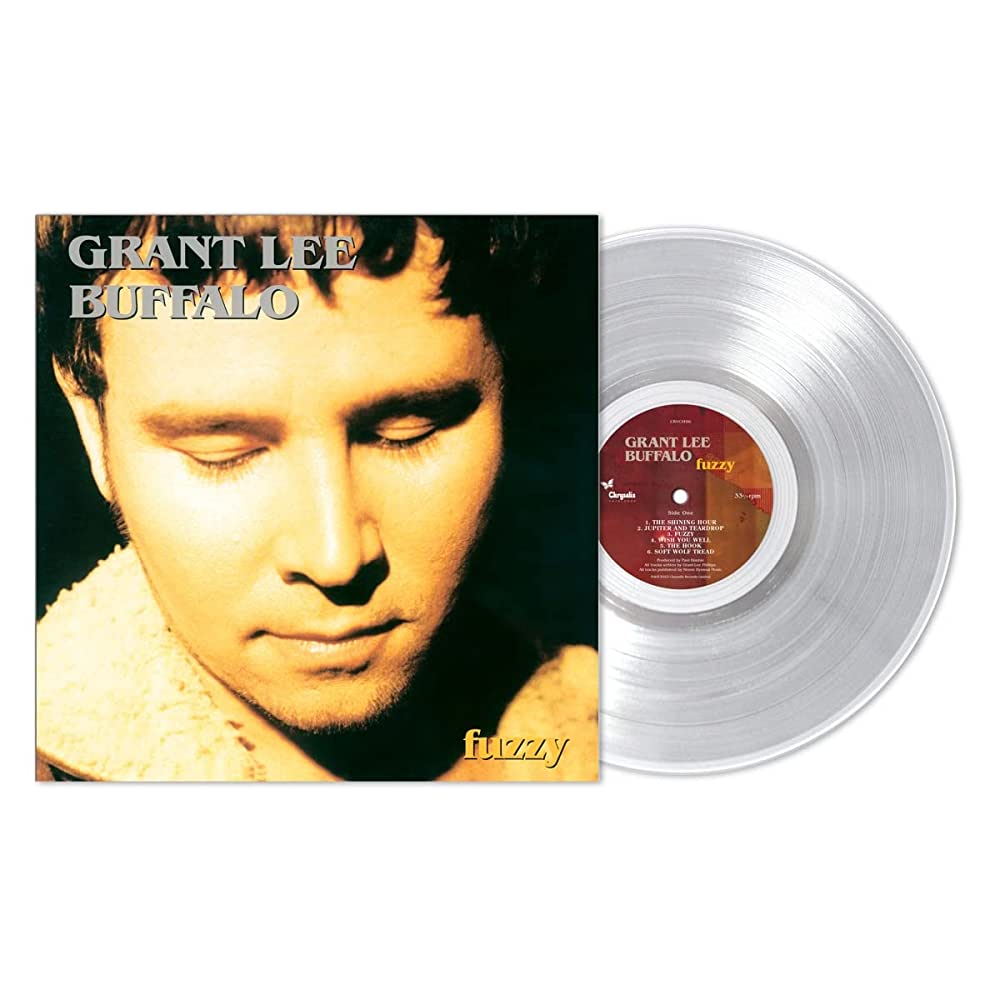 Reissues from two sometimes underrated 1990s Los Angeles alt-rock outfits. Grant Lee Buffalo achieved a small level of commercial success in the UK but their not-quite-REM-not-quite grunge sound didn't easily fit off-the-shelf categorization, having more in common with Neil Young's easy-going approach to the intersection of rock and singer-songwriter fare. Lead singer Grant Lee Phillips has a charismatic tone and lyrics that tangle with ideas and hold the attention. 1993 debut Fuzzy has emotional pull but is capable of Stonesy roll, as on "Soft Wolf Tread". Their second album, Mighty Joe Moon, sees Phillips' lyrical skills increase and the musical palette focus of strummy Americana, on songs such as "Happiness" and "Last Days of Tecumseh", but is also capable of occasional urgent rock thrust, as on opener "Lone Star Song". Both albums are on gatefold. Where Grant Lee
Buffalo folded after four albums, Eels maintain a career to this day, with frontman and mainstay E gradually losing some of his famed lyrical depressiveness as the years pass. By the time of the three albums reissued here, Hombre Lobo, End Times and Tomorrow Morning, a prolific spate of releases in 2009 and 2010, he was already a quarter of a century into his career, and his commentary on misery is finessed, sometimes wry. Really, the albums are a triple set, thematically connected by his divorce and, on the final one, finding new love. They may be best known for the excellent song "Fresh Blood", from Hombre Lobo (which I'm familiar with as the
theme to the equally excellent murder mystery documentary series The Jinx). That album has a garage rock underpinning which expands to more forlorn guitar-pop on End Times with Tomorrow Morning pushing away from E's dependable misery, also dragging in electronics on songs such as the uncharacteristically bubbly synth-pop of "Baby Loves Me". Also on gatefold and mastered fat, these are three albums that deserve time and attention. In fact, all five albums are growers.
Jada Heart Derealisation (Very Low Frequency) + Pearl & The Oysters Coast 2 Coast (Stones Throw) + Unloved Polychrome (Heavenly)
The word "indie" has meant many things to music over the decades. Primarily, it initially meant simply music released by a small label, then it came to mean lo-fi guitar music that was the antithesis of squeaky clean, over-produced pop, then it simply meant guitar-band-pop-rock, and now it's almost meaningless, often used to refer to anything made be smaller artists that doesn't fit in any easy niche. These three albums are good examples of the more interesting, offbeat areas where the term might apply. Jada Heart are a masked duo with a female singer whose music combines electronic wooziness with live instrumentation. Their sound is, loosely, a light psychedelic stew, Diva Jeffrey's high-pitched voice fuzzes into a fluent psychedelic backdrop, the whole thing not too far from chilled out pop. Comes in photo/lyric inner sleeve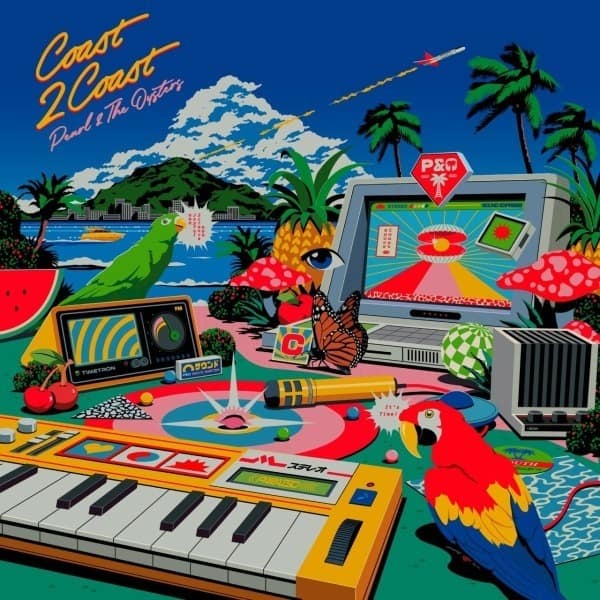 with a set of black'n'white stickers. Pearl & The Oysters, on the other hand, are Los Angeles-based French duo Joachim Polack and Juliette Davis, whose fourth album is their first for Stones Throw Records. Their work is even lighter, tipping its hat to yacht rock, emanating a hint of kitsch easy listening while keeping a foot in lite-funk and another in ditsy electronica. Their music is, on the one hand, very self-aware, post-modern in sound, yet maintains an unpretentious sunshine jollity that's contagious. Comes on translucent blue vinyl. Best of the bunch are Unloved, but this is unsurprising as one third of the band is DJ-producer David Holmes, whose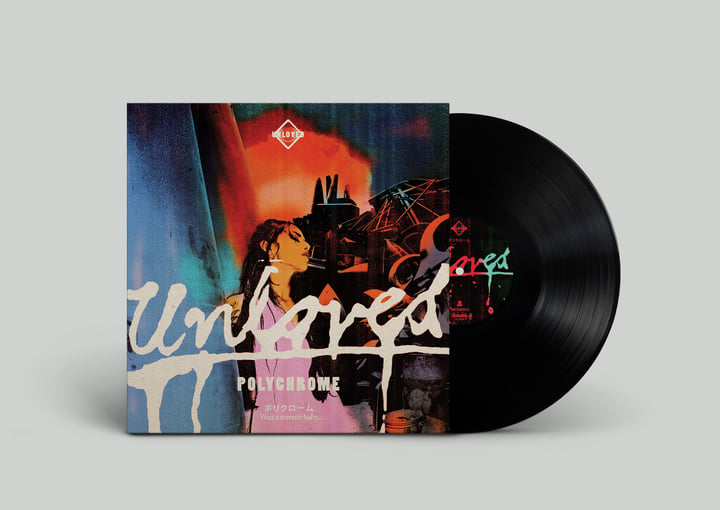 track record runs from 1990s techno to major Hollywood film soundtracks to producing Noel Gallagher. The other two in the band are Los Angeleno and fellow soundtrack wizard Keefus Ciancia and Unloved frontwoman Jade Vincent. Together, on their fourth album, they create music that stirs twinkling Suicide-ish rhythms into a blurred, echoing, compelling dream-fudge wherein Vincent's deep whispery voice provides the only solid-ish sliver to cling to. It's a bit Barry Adamson in places but mostly trip hop rock'n'roll put through a mangler. Comes in art/info inner sleeve.
FEWS Glass City (Welfare Sounds & Records) + Knuckle Life's A Bench, Then They Out Your Name on It (Philophobia Music)
One the other hand, for many, indie still means lads (mostly lads) with guitars. FEWS fit the bill, and, when they created Means, one of the best guitar-based albums of 2016, they earned extra indie points by dressing in black and wearing skinny jeans. Their third album maintains musical urgency, an Echo & the Bunnymen jangle combined with motorik rhythms and a tight post-punk-ish sense of pop. It's an accomplished set of large songs that deserve to be heard much wider than
their small cult following. Comes on transparent vinyl in photo/lyric inner sleeve. The music of Huddersfield trio Knuckle arguably pushes on into actual ROCK, but I'll stick 'em here anyway, as they fulfil the aforementioned definition of indie as any guitar-pop. They can write a decent song – just check out the brilliant, bluesey "Scum" from this, their second album (boasting the second-best title in this edition of theartsdesk on Vinyl). They also dabble in many flavours, from Oasis-meets-Beatles numbers to venue sing-along stompers. Even more than FEWS, they sound like a band that should be massive. Comes with 12" x 12" photo/info insert.
Rarelyalways Work (Innovative Leisure) + Kid Koala Creatures of the Late Afternoon (Phonocordia)
Two hip hop albums, each taking a differing approach, both worth attention, and the latter asking to be played in more ways then one. As you'll see… First, though, Rarelyalways, a guy from Hackney, has wide musical tastes and is loosely connected to the ongoing London jazz revival in. His debut album boasts a musical style that's quirky, slow and confident, video game bleepery matched by wibbly electronics, nothing too predictable. His rapping is purposefully pondering, somewhere between a supremely earnest, very slow-talking Stormzy and very old-fashioned US hip hop. By pacing himself, with a suitable soundtrack, Rarelyalways offers an impressionist thought-flow, ideas and snapshots that (sometimes) interlink. "No grey hairs yet, no wrinkles/Probably because I deal with the work and giggle," he says. Quite right too. One to watch. Over a quarter of a century into his career,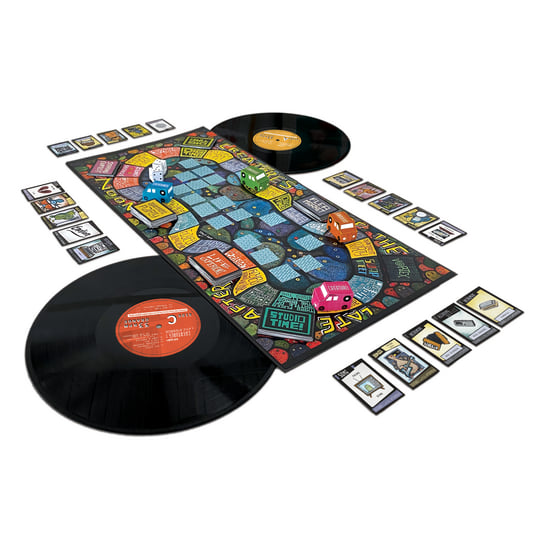 Canadian turntablist Kid Koala still matches his outrageous technical skills with a determination to have fun with the entire history of pop. In this case, a two-disc set that puts nostalgia into a hip hop meatgrinder, a weird post-modern musical psyche-out on cuts such as the scratched-up, manic "Frequencies", which sounds like a surf instrumental under assault, and "When U Say Love" (featuring Crayfish), which comes over as early Phil Spector under similar layers of musical mash. It's designed as a soundtrack for the game the album is packaged with, wherein the creatures of the title must use music and studio skills to "save their habitat from destruction". Thus the gatefold is the board, the instructions are on one of the inner sleeves, and six 12" x 12" full colour inserts contain, when cut out correctly, all the cards and kit the players need (including fold-together tour vans!). The playful ambition is cheer-inducing, and I really hope that at least some of those who buy Creatures of the Late Afternoon play the game rather than storing it a vacuum sealed vitrine.
Jon Hassell Psychogeography: Zones of Feeling + Live at the Winter Garden: 17 September 1989 (Ndeya)
The late avant-garde trumpeter and composer Jon Hassell's work and ideas seem increasingly relevant as the years pass. He conceived a music he termed "fourth world" which combined roots sounds, such music anthropologists might study from cultures relatively untouched by modern life, with absolutely contemporary technology. Hints of what he was up to can be heard everywhere, from K-pop groups such as BTS and Blackpink, to all the various unhinged "world music" experimentalism much-beloved of theartsdesk on Vinyl. Hassell died a couple of year ago aged 84 but, happily, Ndeya Records continue to explore and curate his back catalogue. Psychogeography sees Hassell, in 2014, do a situationist-inspired "remix" of his own 1990 album City: Works of Fiction. That album saw him move away from the ambient sounding fare he'd been known for, into the influences of urban noise and, in fact, was a step towards his explorations of hip hop. Psychogeography sees him, further down the line of that journey, return to the album, smooth off some of its rougher edges and turn it into a kind of chilled-but-edgy dub-funk ride-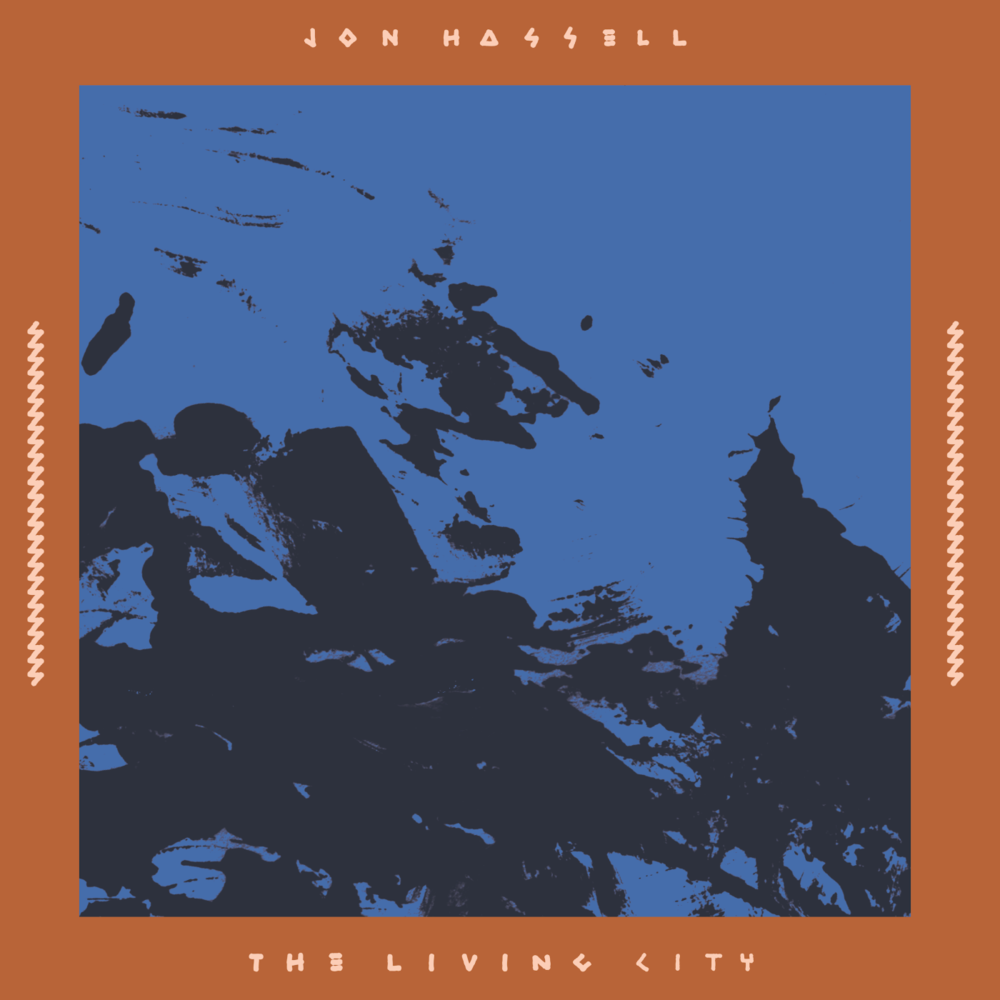 around, chopped and screwed by a seminal modernist-classical-jazzer. It's surprisingly approachable, also with episodes of Miles Davis-ish squawl. The Winter Garden set derives from the same era as City: Works of Fiction and was the result of Brian Eno asking Hassell to perform for three nights amid an installation Eno had put together themed around the Ba-Ya-Ka pygmy tribe of Cameroon. The album captures selections from the second night and, as befits music that was, in its original incarnation, acting as something of a soundtrack, it's a more ambient affair than Psychogeography, the second side, for instance, featuring Hassell's treated trumpet squiggling between almost inaudible bass, echoey percussion, and jungle sounds of birds and insects. The pair of albums showcase a master exploring a direction we've hardly begun to know. Both albums are first time on vinyl and sound especially fine as mastered to plastic by Stefan Betke of avant-bass juggernaut Pole. Both also come in gatefold double with inner sleeves full of photos, info and interviews.
T. Rex 1973 (Demon) + Various Elemental Child: The Words & Music of Marc Bolan (Easy Action)
1973 is the latest of Mojo journo, author and glam expert Mark Paytress's vinyl-only curations of Marc Bolan's work, offering windows on his developing/changing skills as a songwriter. Bolan's work has been over-rifled by those who know more than I'll ever want or need to know about it, but these Paytress collections, starting with 1970 and working forward, year by year, take an approach that combines biographical overview, laid out succinctly on the inner sleeve, with a broad-based knowledge of the oeuvre in question, combining demos and alternative versions with better-known cuts. 1973 was Bolan's final year as a proper pop star, before those he'd inspired, ranging from Bowie to The Sweet, flocked further forward through the door he'd opened. And his talent is well-illustrated here; just listen to the dementedly messy and joyful "Sound Pit", next to the soul-funk of "Jitterbug Love", a T. Rex B-side reinvented by Bolan for his backing singer Pat Hall, next to the wonderfully affected, electric-strummed "The Avengers (Superbad)". A really fulfilling, well-explained package. Raising funds for the Marc Bolan School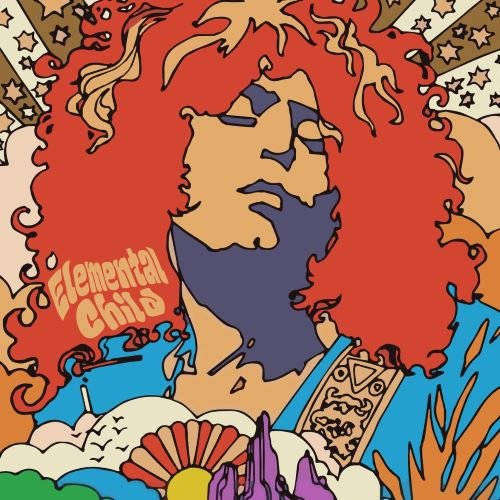 of Music & Film in Sierra Leone, Bolan's partner Gloria Jones's charitable venture, the double-on-gatefold compilation Elemental Child collects multiple artists' takes on his work, plucked from many eras and all around the world by East Action Records owner and T. Rex superfan Carlton Sandercock. Opening with the chanson-centric "Beyond the Rising Sun" by Sylvie Vartan, the tone is mostly light, with classy laidback styles to the fore (probably a good thing, judging from a not-so-welcome industrial heavy rock version of "Children of the Revolution"!). Aside from Bolan contemporary Marsha Hunt and indie outfits Swervedriver and Tarwater, these are acts even most music geeks will not have heard of, but it makes no odds, because it's a well-curated selection with depth and interest.
Various Dance Craze Boxset (Chrysalis)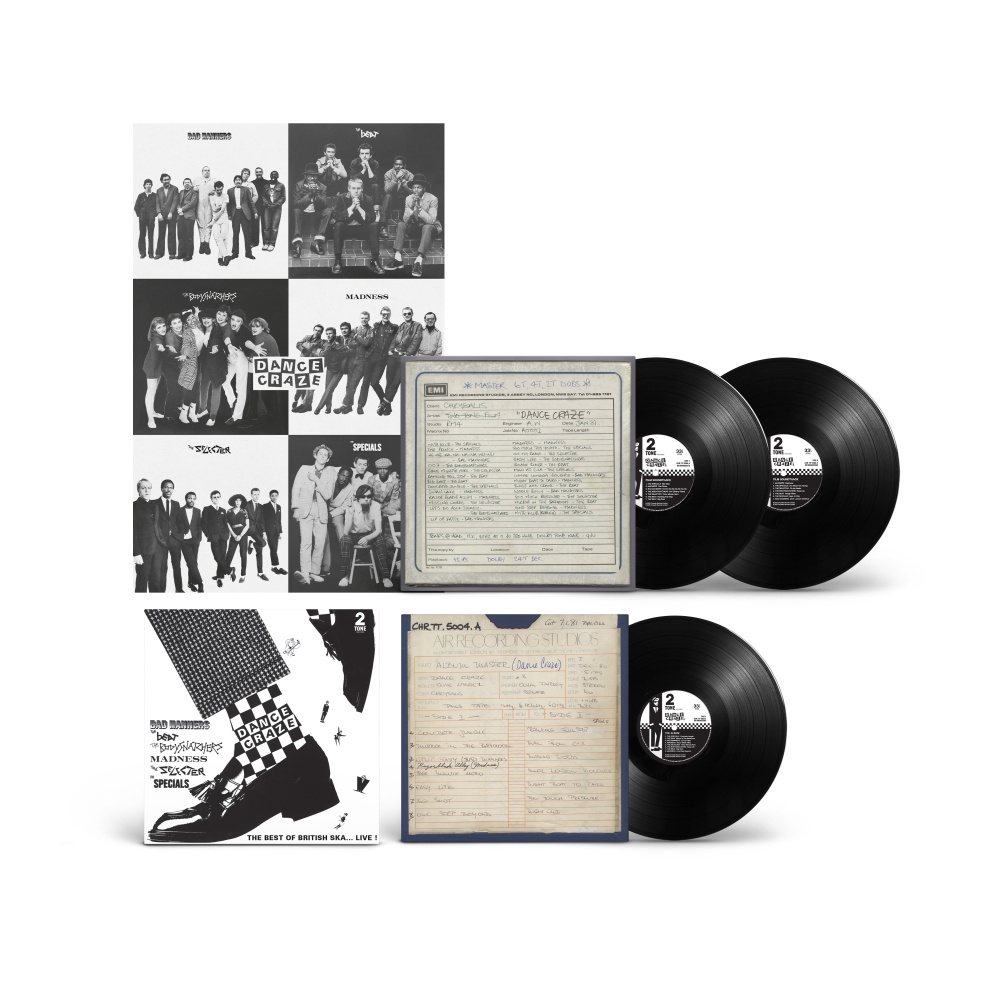 In 1981 the concert film Dance Craze, shot around the UK (apart from The Beat gigging in New Jersey), was given limited release across the world, hoping to alert those not yet aware of the 2-Tone movement. This was a scene defined by a socio-political, multi-racial, post-punk ska that had given British pop - and youth fashion - a vital shot in the arm. By the time the film came out its glory days had passed, with The Specials' "Ghost Town" being the swan song. A single album appeared representing a cross-section of live cuts from the film. It's in the boxset (with alternate versions of songs by The Selecter and Bad Manners) but, four decades later, this release also gives us a double with all the performances from the film, and, listening to whole, raw thrill bleeds from the plastic, perhaps best encapsulated by the edgy simplicity and police sirens of Bad Manners' "Inner London Violence" rubbing up against the nuclear apocalyptic "Man at C&A" by The Specials. It's a snapshot of a time when the violence of the state and the people were much more in the open. More than that, its stunning energy exudes the rough-hewn joy of music that may not be hugely complex but is filled with youthful vim and engagement. The two artists on board who've not been thus-far mentioned are Madness and The Bodysnatchers, but most hits of those involved are here in speedy live form.
Various Old Skool Anthems + Indie Disco Anthems + Alternative Anthems (Demon): Demon Records have the right idea.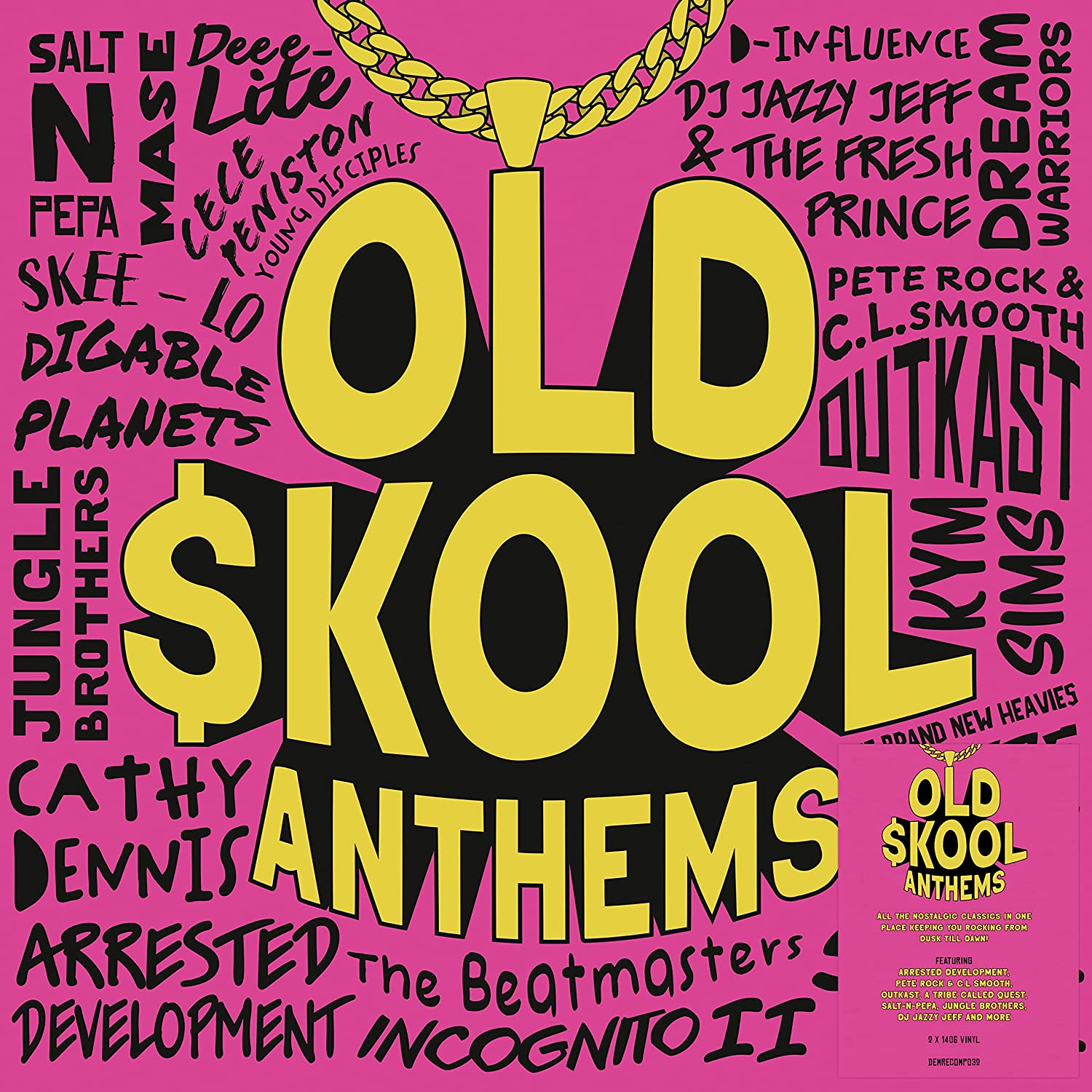 The vinyl revival is all well and good but trying to get your hands on key tunes is becoming increasingly fraught and expensive. Those that want to play an entertaining cross section from plastic at a party or wherever need help. And here it is. Along come Demon with double collections to suit various demographics, mastered to vinyl decently, rather than some crappy flat transfer. Old Skool Anthems is chocka with party tunes flavoured by hip hop, the then-brand new house sound and "funki dred". It seems aimed at people who were young during the late Eighties and very early Nineties, so think Dream Warriors' "My Definition of a Boombastic Jazz Style", The Beatmasters featuring the Cookie Crew, Inner City's "Big Fun", Cathy Dennis, A Tribe Called Quest, Jungle Brothers, DJ Jazzy Jeff & The Fresh Prince (yes, it's "Summetime"), Deee-Lite, (go on, have a guess…), as well as a few temporally off-piste but apt outliers such as "Hey Ya" by
Outkast. Great fun. The indie set is less to my taste, mainly focused on early-Noughties "landfill indie", so featuring the likes of Vampire Weekend, Hard-Fi, The Rapture, The Futureheads, Yeah Yeah Yeahs, Bloc Party, Wombats, The Libertines, Razorlight, Interpol and, of course, The Fratellis' "Chelsea Dagger". Kasabian, MGMT and an incongruous Basement Jaxx add kicks but, then, it's not aimed at me, is it! If you were into all that stuff, it's a one-stop shop. By far the most enjoyable is Alternative Anthems, which gathers a ballsy selection of grunge, proto-grunge and American underground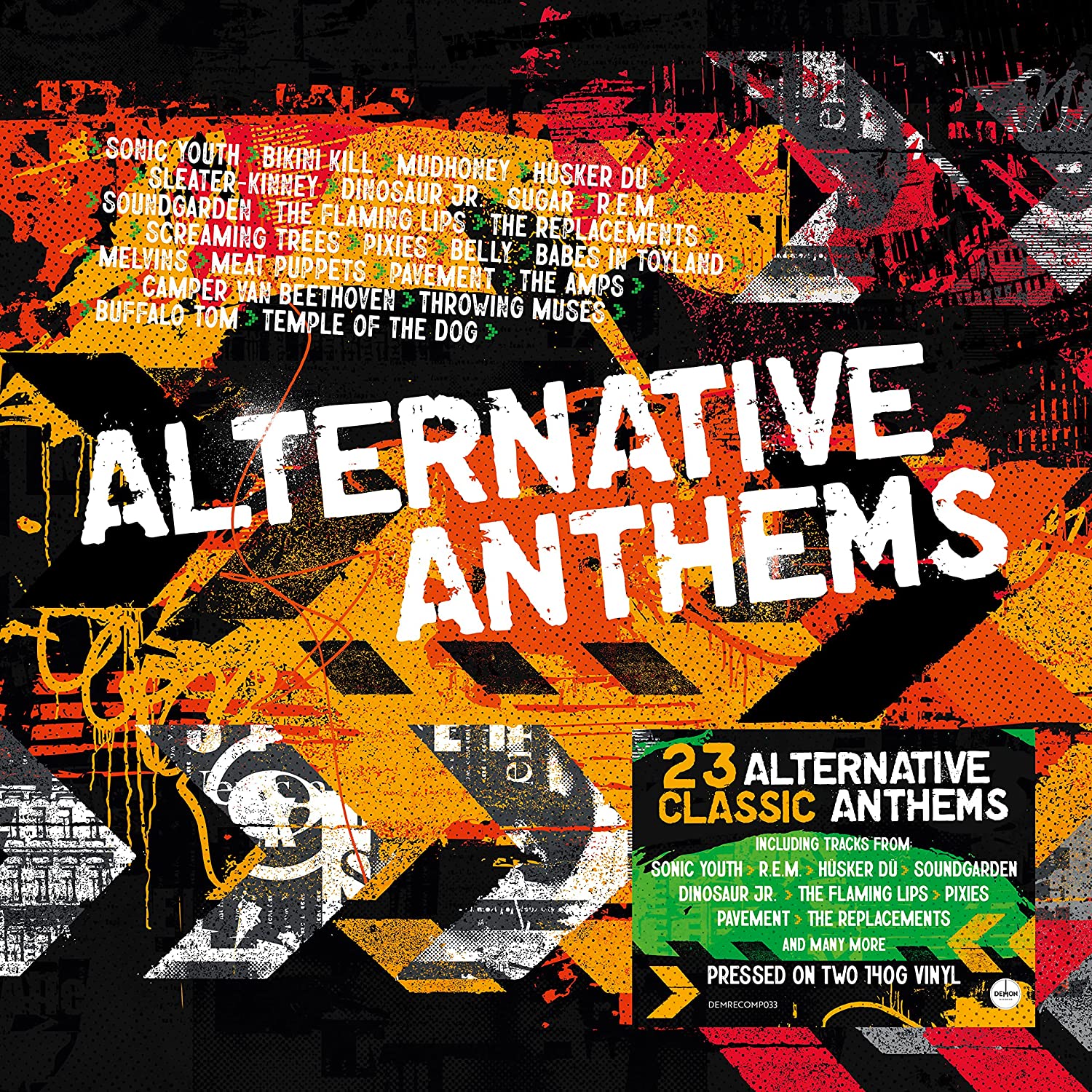 rock of that ilk and time period. The curator has done a fine job. The first record starts with Sonic Youth's deathless "Teenage Riot", and other biggies include Soundgarden's "Black Hole Sun", Mudhoney's "Touch Me I'm Sick", REM's "The One I Love", and Pixies "Debaser", but along the way are tasty cuts from Bikini Kill, Belly, Camper Van Beethoven ("Take the Skinheads Bowling" – which I have wanted to own on vinyl forever!), Pavement, Screaming Trees, Buffalo Tom, Dinosaur Jr (not "Freak Scene" - "Feel the Pain"), Husker Du, The Replacements and many more. A cracking set!
ALSO WORTHY OF MENTION
Lichen Slow Rest Lurks (Rock Action): Lichen Slow is the latest music from Malcolm Middleton, a collaboration with singer-producer Joel Harries. Middleton is one of the best songwriters of the 21st century, even if he hasn't been recognised widely as such yet. He always seems torn by a desire to present his music in formats that push away from straightforward singer-songwriter-with-guitar fare, as per his Human Don't Be Angry project and Summer of '13 album. As far as I can work out, this is mainly to make his musical life more interesting. Fair do's. His worldview his famously bleak, or, at best, wryly existential, and, as long as he's creating, his fans must be happy. On Lichen Slow's debut, which comes in lyric inner sleeve, Middleton alternates vocals with Harries, backed by singing harpist Quincy May Brown, with a background of atmospheric and experimental electronica, creating delicate light'n'shade around these sedate indie-ambient numbers. There's some richly Middleton songs, notably "Hobbies" and "Preset" ("I said, Oh my God, shit bands singing shit songs, they're everywhere"!), and the whole is a sadness-laced late night listen.
SNAP! World Power (BMG): The debut album from SNAP! reappears as a picture disc. It is not only a window into the dancefloor sounds of 1990, but a key release in the acceptance of Germany as part of the rave revolution that was occurring in the UK. It's also a better album than I expected, less busy and naff. Sure, Turbo B's rapping is hardly Rakim. In fact, it's terrible, but it's also somehow, after all these years, part of SNAP!'s charm. "The Power" now sounds like a slow-roller rather than a dancefloor burn-up, the use of the riff from Zep's "Whole Lotta Love", and even the rejig of "Oops Upside Your Head", are of a piece with what they're doing, while "The cult of SNAP!"s Middle Eastern exoticism creates a cheesy gem. The way the whole thing rides a fine line between absolute kitsch, knowingly smart and retro dancefloor is appealing. The picture disc has a slight surface hiss but once the music gets going it's no bother.
Townes Van Zandt A Far Cry From Dead (Fat Possum)
Townes Van Zandt may have left the planet in 1997 but he still casts a long shadow over Americana. This posthumous album from 1999 drew a lot of attention at the time, including a Grammy nomination, but it remains a contentious, divisive thing. The issue is that Van Zandt's songs were always delicate lo-fi creatures, his character somehow reflected in their haunted sparseness, but producer Eric Paul, working with Van Zandt's widow and a team of musicians, cleans them up and fills them out. They do a good job of this, and include his most famous numbers, "Pancho and Lefty" and "Waitin' 'Round to Die", but in doing so, for this writer, at least, lose much of what made the songs appealing in the first place. They're still great songs but they've stepped out of their dusty selves and gone to a different place, Whether you enjoy that depends how invested you are in the originals and/or whether you reckon this is a good direction to take them. Comes in photo gatefold with lyric insert.
Billy Valentine and the Universal Truth Billy Valentine and the Universal Truth (Flying Dutchman/Acid Jazz): The Valentine Brothers had a low level career in US soul from the late Seventies to the late Eighties – most famous for the song "Money's Too Tight (to Mention)" which was covered by Simply Red. One half of the duo, Billy, went into TV and film music with some success but now reappears with a convincing set of jazzual soul covers, message songs, such as Curtis Mayfield's "We The People Who Are Darker Than Blue" and George Benson's "The World is a Ghetto", produced by Bob Thiele Jr whose dad ran the rated jazz label Flying Dutchman (resurrected for this release). The whole package emanates pure class, Valentine's voice on shining form, Marvin Gaye-like, and the whole thing has a timeless quality. Comes in photo/info gatefold.
Jehst Mork Calling Orson (YNR Productions) + Fliptrix Mantra No.9 (High Focus): A couple of solid homegrown UK hip hop releases, both from reliable figures within the scene. Jehst's sixth album comes on art/info gatefold double and features guest appearances from Confucius MC, Lee Scott, Eva Lazarus, CW Jones and Sindsyman, in fact "Lonely World", featuring the latter two, is one of the album's highlights, a genuinely soulful exercise. The vibe throughout is loping Mary Jane beatz, with genial samples pepping the ears, but focused on MC skills rather than Edan-style trickery. It's downtempo but not moody, just pleasantly, articulately stoned. Fliptrix's latest album, Mantra No.9, on double, has more bounce to it. The man behind it, Alexander Whitehead, is a powerhouse of south coast hip hop. As well as the compulsively prolific Fliptrix persona, he's a member of The Four Owls and, perhaps, most importantly, the man behind High Focus Records, a key British hub for this musical style. I'm not sure how many albums Fliptrix has made – loads! – but the latest maintains his steady, rolling style, his voice blending to the easy beats, and featuring guest appearances by The Four Owls, Leaf Dog, Verb T, Onoe Caponoe, Jazz T, Ramson Badbonez, and Coops. The sound of both these albums is such that you can either tune into what's being said or tune out and just enjoy the smoky ride.
The Backseat Lovers When We Were Friends (The Backseat Lovers): Utah indie band The Backerseat Lovers have sent me their 2019 debut album on vinyl, all the way from America. I am not quite sure why it's taken them four years to get it to me. Maybe it's only just come out on vinyl? Maybe it's because that vinyl is lark green in colour. Whatever the reason, it was nice of them, so let's take a listen. Vinyl is like slow food; we consume it out-of-pace with contemporary reality's mad rush. That said, in case anyone else plans to send me ancient releases, I generally limit things to within the last year or so (because of all those manufacturing delays). The Backseat Lovers, after all, have had another album since this one! Anyway, to the music, which is old school rock with lyrical wit and passion, and a cheeky sense of humour. The balance between acoustic sensitivity and guitar oomph is well-managed. They could go large…. In fact, looking at Spotify, one of the songs on this album, "Kilby Girl", has had 221 million listens, so they probably already are. Maybe that's why it took them so long to get around to sending theartsdesk on Vinyl When We Were Friends. We'll never know… unless they include a note with their second album, last' year's Waiting to Spill, when it arrives in 2026.
Cosmic Crooner The Perks of Being a Hypocrite (Cosmic Crooner): Amsterdam's Cosmic Crooner terms his music "doowop space pop". Not sure about that but his songs certainly do dive into twangy orchestrated pop, the kind of living room-friendly sounds that grown-ups listened to while their progeny were losing it to various forms of rock'n'roll wickedness in the Sixties and Seventies. His music is somewhere between Matt Munro, Arctic Monkey Alex Turner's ongoing John Barry fantasies, and Roy Orbison (albeit without the swooping voice). It's self-aware stuff, sometimes tongue-in-cheek, but, while songs such as "Bolero" and "Popsicle Place" may be wilfully, self-consciously retro, they're also sweetly more-ish. Comes with 12" x 12" lyric sheet.
Ian DPM One for the Waltzers (!K7) + Various Crazy P Curate Volume 2 (202/20 Vision) + Tot Taylor Monster Raving Looney (TheCampus): Two 12"s and a 7". Sounds like the start of a small orgy in which one participant is inevitably going to feel humiliated. Bristol's Ian DPM, owner of Scuffed Records, make his !K7 debut with 12 inches of staunch tech-house roller, both sides maintaining a propulsive dancefloor drive while packing in enough acid squelch and Prodigy-esque effects to make things more interesting than just simple DJ tool fare. A welcome addition to late night bangin'. I prefer the flip which doesn't appear to have a name. The second 12" is also clubby, via festival disco-house perennials Crazy P gathering four tracks together on Ralph Lawson's 20/20 Vision label. Wrapped up in pleasing art by Bristol's Victoria Topping, proceedings open with "Barry and the Mouse" by Crazy P's own Chris Todd in his Hot Toddy mode, a throbbing, dense Balearic headnod, followed by the even more laid-back, vocodered chillage of A Certain Ratio's "Atmosphere Sings". For me, the flip is where it's at, with Marco Dionigi and Italian cosmic disco pioneer Daniel Baldelli's "Neono", a dubby, plinky, space-groove that flutes and funks along with aplomb, and Mancunian synth musician Sarah Bates' "All About That", a stripped-back exercise in spooked hypno-pop. Both cuts are well worth repeated listens. Finally, the 7" release is not clubby at all, and only really included here because I couldn't find anywhere else to include it. It's not really good enough to have its own review but does deserve a shout. It's by Tot Taylor, perennial bohemian, occasional musician (he was one of those behind Mari Wilson's Eighties career), and London fine art sort. It's admirable in intent, a dig at the utter fools currently ruling and ruining Britain but, while the verses have a certain Al Stewart/Pet Shop Boys appeal, the chorus is clunky and naff.
Later Walking on the Line (Cookie) + Arxx Ride or Die (Submarine Cat): Two bands making original-ish forays into writing pop music. Later are a French four-piece who adhere to some of what we expect from Gallic pop; their musicianship is slick, light, considered, and stylish. What's best about it is its funk - expensive St Tropez nightlife funk, spacious and tropical, which allows the music space and the songs to breathe. The catchy "She is Coming" is a case in point. Comes in lyric inner sleeve in photo gatefold. Arxx are a Brighton duo who make immediate indie electro-pop that strides confidently around an area somewhere between early Chari XCX and The Ting Tings. They have a bold queer femme-centricity. With the right push, this pair could go the distance, because these songs and their unlikely image, sound like a contemporary success story in the making. Comes on transparent vinyl with a 12" x 12" photo/lyric booklet and, in my one, a signed photo of the band.
Dele Sosimi and The Estuary 21 The Confluence (Wah Wah 45s) + Msaki x Tubatsi Synthetic Hearts (No Format!): Two albums that do interesting things with Afro flavours. Del Sosimi is the real Afrobeat deal, born in Hackney but raised in Fela Kuti's famous Kalakuta Republic commune in Lagos, Nigeria. His latest album was created in Essex with producer Sam Duckworth of Get Cape, Wear Cape, Fly and The Estuary 21 band, consisting of musicians who've worked with Field Music, Ibibio Sound Machine and others. The resulting six tracks, including one that features singer Lizzy Dosunmu and another with Sam Eagle and Snowboy, are characterful and song-based rather than heavily grooved. They are as well marinated in jazz-pop as Afrobeat, which makes them stand out, smooth but ear-entertaining and warm. Comes in lyric inner sleeve. Synthetic Hearts is a collaboration between South African singing star Msaki and her multi-instrumentalist countryman Tubatsi Mpho Moloi, alongside French cellist Clément Petit. Arriving on No Format Records, a label reliable for offering original blendings of global musics, especially with an African twist. For this writer, the best of it is the starker songs, such as the revolving plucked cello patterns and chanted lyrics of "Zibonakalise", but others may enjoy the more balladic and soulful duet material. The whole is original and sweet on the ear.
Richard Norris Deep Listening 2019 – 2022 (Group Mind) + Neil Cowley Battery Life (Mote) + Arooj Aftab/Vijay Iyer/Shazad Ismaily Love in Exile (Verve): Three albums that explore the potential of deep downtempo sounds, each in a different way. Richard Norris, of The Grid, The Time & Space Machine and Beyond the Wizard's Sleeve, has sometimes shown a propensity for exploring the intersection of electronic music and psychedelia. His new double album collection goes even further out, to the far shores of ambience, well, not the very furtherst shores, but those areas of contemplative quietude that Brian Eno laid down a map for 40 years ago. Thus, this selection contains blurry tone music, cuddly keyboard patterns, and swirls of sound-colouration, electronic, all of it steeped in a musician's awareness of which melodies might soothe. One for the sleepheads. As is the second solo album from jazznik and composer Neil Cowley, a pianist more usually associated with his trio. It's another cuddly album of sonic absence, as Cowley plays gentle piano motifs around subtle electronic hums, soundbeds and watery whirrs and gurgles. The overall effect is comforting without being boring, an achievement. As a side note, I just found out that Cowley was in full-on 1990s psy-trance trio Green Nuns Of The Revolution - which seems weirdly unlikely. I had a tee-shirt of theirs that I wore for years and years. Gone now. Such irrelevant reminiscences aside, Love In Exile is a collaboration between Pakistani-American avant-jazz vocalist Arooj Aftab, electronic whizz Shahzad Ismaily and pianist Vijay Iyer. It has chunks of very laidback material indeed, especially on the long tracks "Eyes of the Endless" and "Sharabi" on Sides C and D, but at other times Aftab's vocals create a luscious energy that shifts the mood into a slightly higher gear. But only slightly. Comes on gatefold double.
Qwalia Sound and Reason (Albert's Favourites) + Sourdurent L'Herbe De Détourne (Bongo Joe/Murailles Music): Two albums that explore the fusion potential of global roots music. Once upon a time that phrase meant hideous journeys into the world of earnest prog-jazz, the hippies who didn't take enough drugs, or perhaps too many, but these days there's less to be afraid of. South London label Albert's Favourites sometimes go a bit soul-jazz-lite for these ears, but, while never exactly bangin', are also capable of owning meatier terrain, as on the work of Hector Plimmer or label boss Adam Scrimshire's Nothing Feels Like Everything album. Such is also the case with multicultural outfit Qwalia, also from the nation's capital, who give us a trancey jazz jam set which its easy to lose yourself in and which would sound great as the backing to a conversation about UFOs while on mushrooms in the far-flung fields of Glastonbury. Comes in photo/art inner sleeve. Sourdurent is French folk sonic adventurer Ernest Bergez whose new album celebrates the music of the Auvergne region of France, sung in the Occitan language of the region, the old language of southern France. It sounds more North African to these ears, a stew of plucked instruments, Arabic-scaled singing, and a plethora of bagpipe that's in-yer-face to the point of occasionally being off-putting. Once again it has hypnotic qualities but is spikier, folkier and less groovy than Qwalia. Comes with 12" x 12" art/lyric/info insert.
OMD Dazzle Ships (Virgin EMI) + The Flowerpot Men 1984 (Demon): Two items of Eighties electronica that didn't receive the plaudits they should have at the time, but which have since proved their worth. The first and better known is OMD's Dazzle Ships, famous for being a flop in 1983 although, in fact, it was a Top 5 album and sold reasonably well. It just wasn't as massive as its predecessor Architecture & Morality, and the singles "Genetic Engineering" and "Telegraph" were only low level hits. In truth, it's not big on tunes, with the duo admitting to suffering writer's block at the time. And the tunes that are there are queasy, morose. It makes up for this with sample-grooves that pre-date the house age, borrowing ideas from Musique Concrete and classical minimalism, clunkin' and clickin' along with vocal samples, strange synth loops, and a surfeit of ideas, the whole designed perhaps as a found transmission. It's well worth a listen, and now comes on double with a set of demos that sometimes have an energy the album lacks, notably in the case of the brief "Telegraph" demo, which sounds more like a hit than the one they released. Comes on double, one silver record, one blue, on gatefold. The Flowerpot Men are a far more obscure group, although one of its members, Ben Watkins, went on to achieve widescale global success with his pioneering trance outfit Juno Reactor. Back in the mid-Eighties, though, when the tracks on this collection date from (1984-87), their sound is an amalgamation of Suicide, Soft Cell circa The Art of Falling Apart (ie when they became blackly gothic), swamp rock'n'roll (Dr John features on a cover of his own "Walk on Gilded Splinters") and Belgian new beat (which was vanguard to Electronic Body Music/industrial dance). These songs sound ahead of their time. Drawn from the best of their short career's output of EPs, "Alligator Bait" has an almost T-Rex swing, "Melting Down on Motor Angel" sounds like rock that really WANTS to be techno, and "Beat City" is their most famous song, due to featuring in the film Ferris Bueller's Day Off. An exciting, debauched set of tunes. Come with a large poster of the band.
Various 20 (Hot Flush) + Various fabric presents Chaos In The CBD (fabric): Two collections of electronic dance music. Hot Flush Records celebrates 20 years of existence with a three record collection on a gatefold which includes a short blurb from founder Paul Rose, AKA DJ-producer Scuba. The music on-board is far from predictable, which is what's kept the label exciting, a set of rampant eclecticism. Opener "The Knowledge" by Toasty, an abrasive industrial dubstep-ish thing, covers completely different areas to, say, the cheeky rave pastiche "MDMA" by Paul Woolford, which in turn is a way away from Scuba's own sci-fi electro "Dub of Doom" take on Jimmy Edgar's "Sex Drive", or the techno crunch of Surgeon's remix of Scuba's "Ruptured". Other names on board include George FitzGerald, Mount Kimbie and Dense & Kimba, with remixes also by Loefah and Jacques Greene. The fabric set – always a small "f" for fabric – from New Zealand brothers Ben and Louis Helliker-Hales is a very different proposition. Where Hot Flush's tunes are angular and usually underpinned by techno hardness, the eight music choices by Chaos In The CBD, singles originally released between 1990 and 2007, spread over two records, are connected by a sun-hazed warmth that would once have been called Balearic, albeit via the prism of an Ibizan 4/4 chug. Their own "Higher Elevation" sits with cuts such as the dub-jazz glow of the Johnathan Morning mix of J.D. Hall's "Into You" or the Larry Heard-ish deep house bubbling of Psychedelic Research Lab's "Tarenah (Chill Mix)". In the chill of British April, it sounds complacent compared to the Hot Flush collection but, wibbling a sunset beach somewhere hot, full of Ecstasy and cocktails, as intended, it'd hit the button.
Mui Zyu Rotten Bun for an Eggless Century Father/Daughter) + Christian Cohle Wetlands (N-6): Two albums that take an original and spaced-out electronic approach to songwriting. Mui Zyu's debut album has the best title on this month's theartsdesk on Vinyl. It is the work of Eva Liu, the London-based singer of indie outfit Dama Scout, who was raised in Northern Ireland by parents of Hong Kong origin. She combines a smidgeon of Chinese instrumentation with playful electronics and her own light massage of a voice on a set that's sweet and slow, sometimes even hymn-like, a thoughtful late night odyssey into the self, contemplative and inquisitive. Comes in lyric inner sleeve on bright, milky yellow vinyl. Christian Cohl's Wetlands, on the other hand, is explicitly not so relaxed. Although equally laid back, it's an album revolving around the sadness of love lost, akin to Dralms, Ry X, or even James Blake, in that it takes classic singer-songwriter heartache and moves it into the realm of keys-led, reverb-laden electronica, which hums with loss, the vulnerable voice carrying much of that weight. The music has an untethered quality, as if it is constantly in danger of floating away. It's a double album, undoubtedly therapeutic for its maker, and designed for wallowing in by those who've suffered similar.
Polinski Telex From Midi City (Data Airlines) + Model/Actriz Dogsbody (True Panther): Two that revel in the possibilities of retro electronics in very different ways. Polinski is Paul Wolinski of experimental indie outfit 65daysofstatic and his third album comes with a philosophical guiding principle, the notion that we might reimagine the present via contemporary reinvestigation of past technologies – "MIDI, 90s IDM beats, 80s synths" are the examples he gives. The idea is solid science fiction futurism, but the sound is more, well, just an enjoyable set of juddering post-drum & bass, filmic post-indtrsurial, and likeable 1990s Warp Records-ish bleep-synth ear-balm. One for fans of Plaid. New York band Model/Actriz, on the other hand, are ostensibly an indie guitar noise outfit, but their sound is a straight borrow from Al Jourgensen's many explorations of the cacophonic interface between over-amped electric guitars and machines, while frontperson Haden Cole's sex'n'terror lyrics add another layer of assault and abjection. It's a noisy bastard of an album that relies on stern electronically-enhanced drum attack to make its point. Not an easy listen but fierce. Comes on transparent vinyl in art inner sleeve with a 12" x 12" insert of the tortured lyrics, and the cover's penile image is a statement in itself.
AND WHILE WE'RE HERE
The debut solo album from Ben Gregory, Episode on Transgressive, co-produced by Blaine Harrison of The Mystery Jets, is a lively, wriggling beast that refuses to be put in a box. Catchy indie songwriting is ensconced in creak, wheeze and curious effects. The lyrics are opaque, offering up cracked snapshots (for example, "I thought of you when the light came on/Outside just behind the speed bump/I was so blinded by this phantasm/That the toaster made me jump"). An original. Comes in lyric inner sleeve. The word "woozy" may have been invented to describe Bekka Ma'lingan, the second album from Daniel Monkman, AKA Zoon, on Paper Bag Records. A Canadian of indigenous Anishinaabe heritage, his music is very much in smeary Galaxy 500 shoegaze territory, his voice veering between Jim Reid growl and something more ethereally high. Comes on bright pink vinyl that's been assaulted by grimy star-lines, in art-photo inner sleeve. Mind you, "woozy" perhaps applies even more to Sometimes That Light, That Shine, Seemed Like a Pretty Nice Thing. Of course it does with a title like that. Created by Nottingham-based producer Umber - AKA Alex Steward - and on Subtempo Records, it twinkles like a Boards of Canada record that's been supping cosmic dust, even when 4/4 beats occasionally pop in for a visit. Who'd have thunk it? Eighties rock'n'roll pop sensation Shakin' Stevens' new album has him singing, "Welcome to the bank, this is where we bleed them dry," on the song "All You Need is Greed", a country-tinged rock epic ("Ain't no misdemeanours, so take 'em to the cleaners"!!!). It's called Re-Set (on BMG) and continues a more heartfelt vein he tapped into with his 2016 outing Echoes of Our Times. There's a touch of late period Johnny Cash about it, but poppier, less stark and with much, much less gravitas. Arborist are a Belfast folk-rock outfit led by singer Mark McCambridge and their third album is An Endless Sequence of Dead Zeroes on Kirkinriola Records, which arrives in lyric inner sleeve. Lyrically articulate and easy-going, it rolls along but doesn't ram itself home forcefully. The same can be said for the second solo album from Eddie Chacon, Sundown on Stones Throw, produced by West Coast producer-pianist John Carrol Kirby who adds hazy California mellowness to all he touches (see also Frank Ocean, Solange, and Harry Styles). Chacon was once half of Nineties soul duo Charles & Eddie but Sundown is a waftier, spacier creature, shuffling mellow. Comes on silver vinyl in photo-lyric inner sleeve with a poster of Chacon. Brazilian singer Tagua Tagua – Felipe Puperi - occupies similar territory and his own second album, Tanto, on Wonderwheel Records, is also a sun-glazed thing, smooth and just a little marijuana-jazzed. Comes with 11" x 11" art/lyric insert. Red Snapper were an interesting proposition in the mid-Nineties, a trip-hop-ish instrumental outfit on Warp Records revolving around drums & double bass. Key member Richard Thair has been involved in many projects over the years (Red Snapper is ongoing too) and the latest is Dicky Continental, whose debut Un... appears on Acid Jazz. Those with a yearning for stoned-out Kruder & Dorfmeister-style grooves with a quirky edge of studio experimentation may find something to enjoy. If Dicky Continental is too frenetic for you, why not try out Los Angeles post-rockers Bondo and their debut album Print Selections on Quindi. It's mostly instrumental, somewhat dour in tone, and sounds like prog-jazzers exploring liminal spaces, keeping their abstract patterns warm-ish. The jolliest song to burst from the speakers this month might be "All I Want", the opening cut from Scottish indie outfit Brown Bear's second album, Demons, on Brownbear/Assai Records on bright scarlet transparent vinyl and 12" x 12" photo/lyric insert . Redolent of The Fratellis and all those early-Noughties upbeat acts, it's all a bit too cheerily "Wahay!" for me but history proves there can be a wide audience for this kind of thing. Athlete are an act from that era of indie, having a ten year career, hit albums, all that, and their debut, Vehicles & Animals, is being given a 20th anniversary reissue by Chrysalis on double gatefold on blue vinyl, replete with singles, B-sides and remixes, including one by Elbow. More nuanced than Brownbear, songs such as "Westside" are also easier going, more like The Kooks than Editors or wotnot. On extended exposure, my original assessment, back then, proves to still be true: this is the antithesis of my bag. I prefer the Nashville country-rock of Lauren Morrow on People Talk (Big Kitty Records), her first solo outing after a decade with the band The Whiskey Gentry. It comes on purple vinyl on photo/lyric inner sleeve and is full of vivacious songwriting that veers between bubbly pop to rock-outs, the whole slathered with a loose country spirit, Denver indie-pop husband'n'wife duo Tennis return with their sixth album, Pollen, on Mutually Detrimental/Thirty Tigers in lyric inner sleeve. This is one of those where, if you like what Tennis do, you'll like this, as its tuneful, bouncy and catchy, but without ever really being in-yer-face enough for this listener. That, I suppose, is not the point of Tennis. Comes on amazing vinyl that looks like liquid gold held in place by a forcefield. Rachel Stamp were 1990s rockers who took glam further into the cross-dressing realm than many of their New York Dolls-imitating peers. By the turn of the century they had a substantial live following. Having been dropped by a WEA, they released their debut album Hymns for Strange Children, which now reappears on pale pink vinyl on Easy Action, and it's feisty, retro rawk that tops its hat to Placebo. Someone who knows a fair bit about glam rock is Suzi Quatro whose 2006 comeback album Back to the Drive reappears via Cherry Red, now on double in gatefold with an extra side of bonus tracks, the Eagles song "Desperado", and three demo versions of other songs. Hooking up with some of her Seventies glam stomp compadres (notably Mike Chapman and members of The Sweet) she's aced an enjoyable set, a contagious, retrotastic pop blast. Finally, something else from the Seventies, the 1976 third album from Bebop Deluxe, Sunburst Finish on Esoteric/Cherry Red, the only one of theirs that contained a hit single ("Ships in the Night" reached No.23!). Band leader Bill Nelson has become know for his art-prog leanings and they're clearly audible here but, as much, from the distance of almost five decades, is the adventurous pop of Roxy Music. Has its moments! Comes in lyric inner sleeve with a poster of the back cover band image (rather than the naked lady brandishing a burning guitar on the front!).
FINALLY, FOUR THAT HAVE ALREADY BEEN REVIEWED ON THEARTSDESK BUT WHICH ARE WELL WORTH OWNING ON PLASTIC
Cécile McLorin Salvant Mélusine (Nonesuch): The seventh album from classically-trained American jazz singer Cécile McLorin Salvant is a game of two halves, beginning as piano-led chanson then setting out into electronically-backed waters. Kieron Tyler finds it's never less than interesting here.
Aksak Maboul Une Aventure de VV (Songspiel) (Crammed Discs): Marc Hollander is not a name most will know but his Crammed Discs label has long been home to a global riot of experimentalism and odd-pop and Joe Muggs finds here that his own Aksak Maboul outfit are still capable of taking the listener to strange and wonderful places.
Depeche Mode Memento Mori (Columbia): Joe has even more impressive things to say here about the latest from Depeche Mode, a work of reminiscence and mourning for their late bandmate Andy "Fletch" Fletcher
Nia Archives Sunrise Bang ur Head Against the Wall (Island): Joe also awards five out of five here to 20-something Manchester singer whose refreshing take on junlism makes for a fine EP.
There's an invigorating power and mischief to it that sets the blood speeding
Explore topics
Share this article