A Place for We, Park Theatre review - perceptive, but rather flabby |

reviews, news & interviews
A Place for We, Park Theatre review - perceptive, but rather flabby
A Place for We, Park Theatre review - perceptive, but rather flabby
New play about gentrification could be regenerated with a make-over
Wednesday, 27 October 2021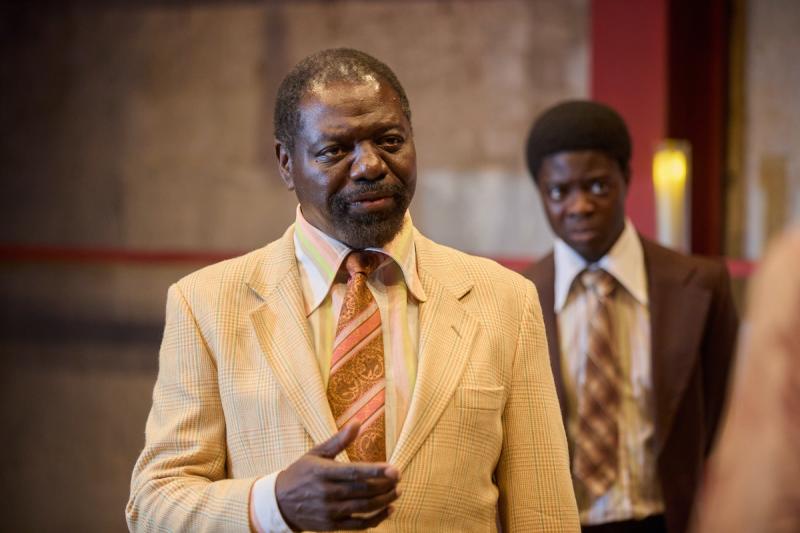 Like father, like son: David Webber and Harold Addo in 'A Place for We'.
I've lived in Brixton, south London, for about 40 years now, so any play that looks at the gentrification of the area is, for me, definitely a must.
Like many other places in the metropolis, the nature of the urban landscape has changed both due to gradual factors — such as migration — and spectacular events — like the
Brixton riots
of 1981 and 1985. Archie Maddocks's new play,
A Place for We
, which is produced by Talawa Theatre Company and the
Park Theatre
, comes to the stage after being shortlisted for, although not winning, the Bruntwood Prize and the Alfred Fagon Award. Its cast is led by David Webber, who lit up the
Barber Shop Chronicles
, and Blake Harrison of
The Inbetweeners
.
The play undertakes a viewing of one Brixton house at three points in its life: as the Queen's Head, an English Victorian pub in 1971; as the Nine Nights funeral parlour more recently; and as an urban-zen enoteca today. The changes from generations of white English landlords to newly arrived entrepreneurial Trinidadians to today's flashy hipsters reflect the changing face of the metropolis. In each case, there is a tension between tradition and adaptation, between respect for the ways things have always been to an acceptance that the new cannot be resisted for ever. So Maddocks's play comes not only from his experience of the changing face of Brixton Market, but also from his fascination with "the little traditions that we keep up, even if we don't fully understand them".
At first, this idea is embodied in the way that Clarence, a defiant 60-year-old British-born Trinidadian, lights a memorial candle every day in the Nine Nights funeral parlour. Having served the local black community ever since he was introduced to the business at the age of 13 by his father, Elmorn James, he is now struggling to find enough customers for the business because, as his son Keron says, "there is no community any more" — "There ain't no West Indian restaurants opening, but there's Champagne bars and coffee cocktail." Without an old Caribbean community who want the traditional Nine Nights wake, Clarence's business is dying. Yet he resists Keron's ideas to expand into more contemporary burial services.
For his part, Keron is also desperate. Not only does Clarence resist the younger man's plans to liven up the business's offer, but he scares off any customer who doesn't have a Caribbean heritage. When the parlour is visted by the white middle-class couple, Austin and Violet, newcomers to the area who want to bury her aunt in an ecological way, the conflict comes to life. Keron's frustrations also concern identity politics: he's mixed race and lives with Tasha, the white mother-to-be of his child, so he has no time for Clarence's insistence that father and son are both Trinis. When they argue, Keron points out that the older man was born in London, yet Clarence feels that his identity runs in his blood.
Maddocks compares and contrasts this with the experiences of George and Anna, whose family have run the Queen's Head pub for generations and now, in 1971, are facing closure. Like Nine Nights, their customer base has disappeared; like Keron, George and Anna are suffering the tragic loss of a close relative. Although George, who is bigoted and opinionated, is much less attractive than either Clarence or Keron, this scene mirrors the opening and serves as a counterpoint to the play's theme of gentrififaction, its advantages as much as its losses. Likewise the final episode, when the funeral parlour is replaced by a hip enoteca, rings the changes on this part of south London.
Maddocks's writing is an uneasy mixture of comedy and tragedy, and all of the scenes could have benefitted from a vigorous editor. Although the playwright has had success as a stand-up, the jokes are only fitfully funny, and there is too much repetition in the dialogues. The play's central themes are powerfully expressed, but many passages are frustratingly laborious. Added to this, Michael Buffong's production, designed by Louie Whitemore, is quite leisurely and lacks dramatic punch, despite the fury inherent in its conflicts. But the piece is well served by the cast, whose acting is very convincning.
David Webber, as both Clarence and Elmorn, is a dominating and charismatic presence, whose stubbornness is balanced by his vulnerability as he realizes that his business is his life and his identity as a Trini is disrespected. As Keron, Laurence Ubong Williams is likewise attractive in the vigour of his portrayal of ambition and frustration. Blake Harrison's George (pictured above) is both loss-stricken and convincingly angry about the new Caribbean arrivals in some of the more fraught passages of the play. In support, Joanna Horton and Kirsty Oswald are excellent as Anna and Violet, and Harold Addo provides some much needed comic relief as young Clarence. But while there are strong moments, overall the play could do with its own regenerative makeover.
Maddocks's writing is an uneasy mixture of comedy and tragedy, and all of the scenes could have benefitted from a vigorous editor
rating
Explore topics
Share this article