Reissue CDs Weekly: Psychedelic Soul - Produced By Norman Whitfield |

reviews, news & interviews
Reissue CDs Weekly: Psychedelic Soul - Produced By Norman Whitfield
Reissue CDs Weekly: Psychedelic Soul - Produced By Norman Whitfield
First-ever overview of the storied producer and songwriter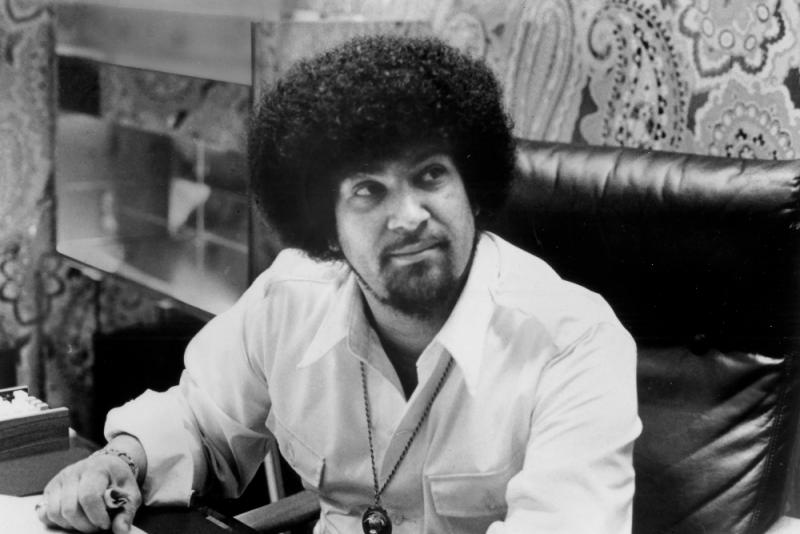 Norman Whitfield: ahead of his time
While there's undoubtedly some of "Papa Was a Rollin' Stone" in Rare Earth's "Come With me", another correspondence also immediately springs to mind – the Melody Nelson-era Serge Gainsbourg. And maybe, due to the female moaning, the "Je T'Aime"-period Gainsbourg too.
The track-by-track commentary in the booklet with
Psychedelic Soul - Produced By Norman Whitfield
notes the resemblance of the
1973
single to the creations of France's prime musical provocateur, but also says that "Come With me" was anomalous for Rare Earth, a band which usually traded in a form of soul-rock. It was Norman Whitfield who made "Come With me" what it was.
"Come With me" is the final cut on the 18-track compilation Psychedelic Soul - Produced By Norman Whitfield, the first-ever dig into the work of the titular producer and songwriter. It shouldn't be confused with a 2003 Temptations' comp, also titled Psychedelic Soul.
Whitfield began working for Motown in 1963 and stayed there until the mid-Seventies, after which he ran his own label Whitfield Records. During those 10-plus years at the Detroit hit factory he worked with – amongst others – Marvin Gaye, The Miracles and The Temptations. Bob Stanley, this comp's compiler, pinpoints Gaye's "I Heard it Through the Grapevine" as the opening shot of the producer's dive into psychedelic soul.
Psychedelic Soul opens with "I Heard it Through the Grapevine". Not a record which can be dulled by familiarity, it's "brooding, all dark crimson and indigos" as Stanley puts it. A studio creation, it stretched-out what could be done with the song and the performer. Although recorded in February 1967, Motown wasn't keen so it was belatedly issued as a single in October 1968 (other Motown acts had issued the song though – Gaye's version was the problem: a precursor to the label's issues with his What's Going On album). Whitfield, it seemed, was ahead of his time. "I Heard it Through the Grapevine" was a monster hit.
Times move on, Motown got with the programme and The Temptations' "Psychedelic Shack" was released at the end of December 1969. A blatant case of trend hopping, it's got that title, wah-wah guitar and spacey noises. "You can really do your thing in the psychedelic shack. There's a thousand coloured lights." In the booklet, Whitfield is quoted saying he was influenced by Sly Stone, the guiding light coursing through "Psychedelic Shack" and its October 1968 predecessor Temp's single "Cloud Nine" (not collected on Psychedelic Soul).
Whitfield was obviously pushing forward faster and was more open than the Motown machine of which he was part. Alongside "I Heard it Through the Grapevine", the other earliest track on Psychedelic Soul is Gladys Knight & The Pips' version of "The Look Of Love", from the Whitfield-produced 1968 album Silk N' Soul. It's passionately atmospheric, intense and not-so far from where Barry White was heading.
The collection's latest tracks date to 1977, 1978, 1979 and even 1981. Stargard's "Just One Love", from their 1981 Back 2 Back album, is Psychedelic Soul's penultimate track. It's fantastic, but a very strange listen as the woozy atmosphere and cycling strings could have cropped up on a record from 1970 or 1972 rather than about 10 years later. Equally disorienting is Spyder Turner's "I've Been Waitin'". From 1978, it sounds like a 1972 Marvin Gaye single.
This fascinating compilation homes in on what hasn't been so specifically identified before: that Norman Whitfield was a very particular sonic auteur who was as concerned with atmosphere as the song itself. Whether the results as heard here where psychedelic per se, that's moot. Nonetheless, they were about an elevated consciousness and unnatural moods. Whitfield died in 2008 so it's not possible to know what he would have made of this interpretation of his career. He's quoted, though, as saying he wanted to "serve up something people weren't expecting." And that's what's done by the thought-provoking Psychedelic Soul - Produced By Norman Whitfield.
Next week: British psychedelia double header with Fire's Father's Name Is Dad and The Syn's - Rare Blooms From The Syn

Norman Whitfield was a very particular sonic auteur who was as concerned with atmosphere as the song itself
Explore topics
Share this article