Reissue CDs Weekly: Northern Soul's Classiest Rarities Volume 7 |

reviews, news & interviews
Reissue CDs Weekly: Northern Soul's Classiest Rarities Volume 7
Reissue CDs Weekly: Northern Soul's Classiest Rarities Volume 7
Once again, the essential series comes up with the goods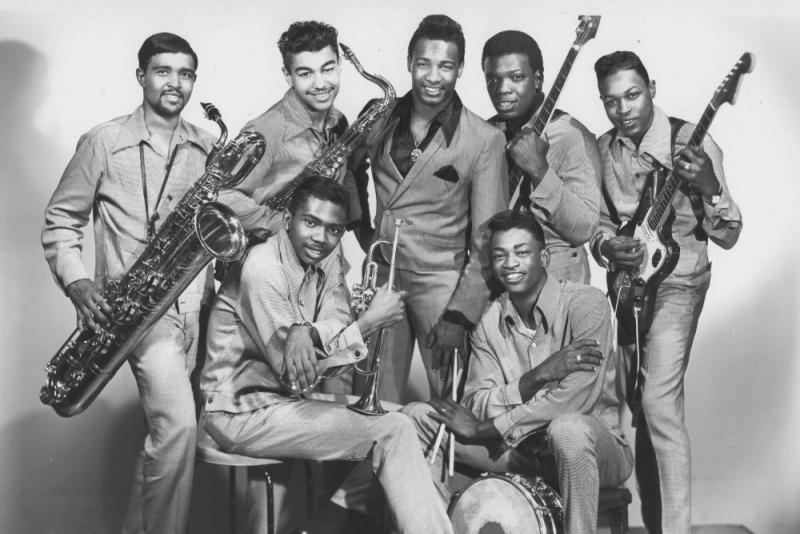 Harvey Scales & The Seven Sounds cut a dash for 'Northern Soul's Classiest Rarities Volume 7'
Carolyn Crawford's "Ready or Not Here Comes Love" is a 1971 recording.
It sounds like a
Motown
classic from
1968
or so – a confident lead voice soars over backing vocals, light orchestration and a tight arrangement designed to get feet moving. Most of all, it's about an instantly memorable melody.
Kim Weston's "It Takes a Lotta Teardrops" is as good. From 1967, it was co-written by Vicki Basemore, a Detroit-based writer who also co-wrote "Ready or Not Here Comes Love" and wrote for Motown too. Weston adopts a pleading tone on a similarly impactful track.
Then there's "The Intruder" by Melvin Hicks & The Versatiles, an outfit from Bruce Springsteen's hometown, Asbury Park, New Jersey. With its irresistible shuffling rhythm, it was recorded in 1970. Another gem.
These three cuts open the 24-track comp Northern Soul's Classiest Rarities Volume 7. What they also have in common is that they weren't issued when they were recorded. All were great but the tapes were stored away. "Ready or Not Here Comes Love" first surfaced on a seven-inch in 2019. "It Takes a Lotta Teardrops" and "The Intruder" are getting their first airing here.
It feels bizarre that tracks of this quality were not issued in the first place, but there it is – 50-ish years on from when they were recorded and thanks to in-depth tape research, tuned-in ears get to experience them for the first time. It goes further. Eight more of the tracks on Northern Soul's Classiest Rarities Volume 7 were not released at or shortly after the time they were recorded. The Classiest Rarities series is diligent and the seventh edition is no exception, but it's hard not to raise an eyebrow at finding out that tape vaults can still yield such treasures. Then again, some of the issued tracks collected here were so obscure they may as well not have been released.
Take the amazing "Crazy Things" by Joe Douglas. From 1965, it was a B-side on the Playhouse label. As to who Douglas was? It's a mystery. The enlightening track-by-track commentary suggests the singer might be white – this could be blue-eyed soul. Another low seller, Little Nicky Soul's "You Said" came out in 1964 on the Shee Label from the Bronx. Little Nicky was Nicholas Fairforth and the Ray Pollard-esque song was co-written and produced by Sidney Barnes. Richard Tee plays on the single. With names like that on his side and connections with Motown's New York office, Little Nicky could have clicked but did not.
"It's Midnight" by Harvey Scales & The Seven Sounds could not have clicked. The song and the singing have roots in doo wop and there's a Latin-ate uptown New York feel in the arrangement. From 1967, it was also unreleased after it was recorded and perhaps would have been a dated-seeming curio had it had been issued.
Another cut nodding back to previous styles is "Farewell Goodbye my Love" by The Performers. From 1973, it's a stunning, previously unheard edit of a track first issued in 2011. The Performers seem to be from Philadelphia, had first recorded in 1966 and on this moody song they come across as in the O'Jays/Stylistics bag but also along the lines of the early Impressions.
Ultimately, it doesn't matter whether anything is issued or unissued, or whether it sounds as if it was from the time it was recorded. Instead, what matters is that everything on Northern Soul's Classiest Rarities Volume 7 is great and that this essential series keeps coming up with the goods.
Next week: Box set makeover of Al Stewart's Year Of The Cat

Some of the issued tracks on 'Northern Soul's Classiest Rarities Volume 7' were so obscure they may as well not have been released
Explore topics
Share this article