Reissue CDs Weekly: Dennis Herrold |

reviews, news & interviews
Reissue CDs Weekly: Dennis Herrold
Reissue CDs Weekly: Dennis Herrold
'The Mystery Of Dennis Herrold' is rockabilly heaven
Dennis Herrold's 'Hip Hip Baby': it pushes like a downhill train with no brakes and swings like the clappers
It's been a long strange trip for Dennis Herrold. The Virginia-born rocker's sole single, December 1957's "Hip Hip Baby" / "Make With the Lovin'", was a full-bore rockabilly two-sider. Yet it made no waves despite being reviewed glowingly by music biz journal Billboard.
"Hip Hip Baby" was "a la Presley on a fast moving rockabilly tune," while "Make With the Lovin'" "packs plenty of sales savvy into another infectious rockabilly song." The single sold barely any copies. Nonetheless, over sixty years on Herrold is a rockabilly phenomenon.
The 10-inch album The Mystery Of Dennis Herrold includes both sides of the pounding 45, augmenting them with an alternate take of "Hip Hip Baby", the full "Make With the Lovin'" without the single's fadeout and the previously unheard "Don't Push Away". All five tracks were recorded at the 17 October 1957 session for the single. Herrold did not live to see this final word on his music. He died in February 2002.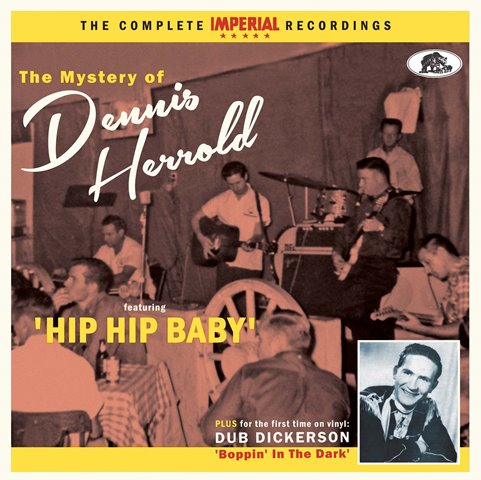 During the Seventies rockabilly revival, Herrold attracted the attention he might have wanted in the Fifties. The groundswell also resulted in Hank Mizell's "Jungle Rock" hitting the UK charts in March 1976. Another high-profile manifestation of rock 'n roll's popularity came in May 1976 when fans marched on Broadcasting House to protest the BBC's lack of attentiveness to their music. They got their way – Stuart Coleman was given a Saturday afternoon Radio 1 slot dedicated to rock 'n roll. This grassroots surge was similar to the same period's Northern Soul boom and, contemporaneously, as important a movement as punk.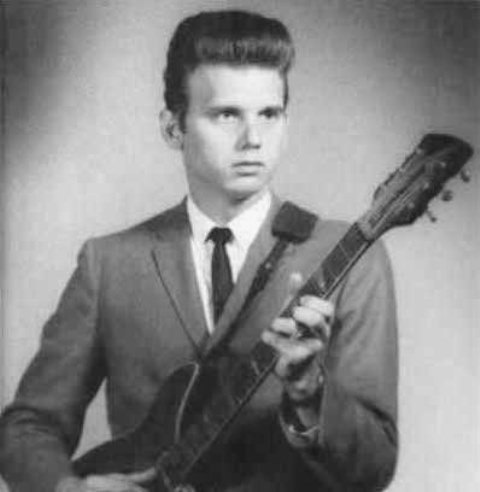 Unwittingly and likely unknowingly, Dennis Herrold (pictured left) was caught up in the booming interest. In the early Seventies, bootleg compilations began featuring his single as it was becoming collectable after being played at rock 'n roll events. Both his sides subsequently received their first legal reissue on two great, seminal-for-real British comps – 1977's Imperial Rockabillies and 1979's Imperial Rockabillies Volume Two. Since then, "Hip Hip Baby" and "Make With the Lovin'" have cropped up on at least 25 rockabilly comps. The original single sells for up to £350.
It's easy to hear why Herrold is so lauded. "Hip Hip Baby" pushes like a downhill train with no brakes, swings like the clappers, has crashing drums and an immediate melody. "Make With the Lovin'" is more wild, has a fantastic, unhinged guitar break and edges towards the greatness of Johnny Burnette and the Rock 'n Roll Trio. On The Mystery..., the previously unreleased "Don't Push Away" is more bluesy and suggests there was more to Herrold than rockabilly.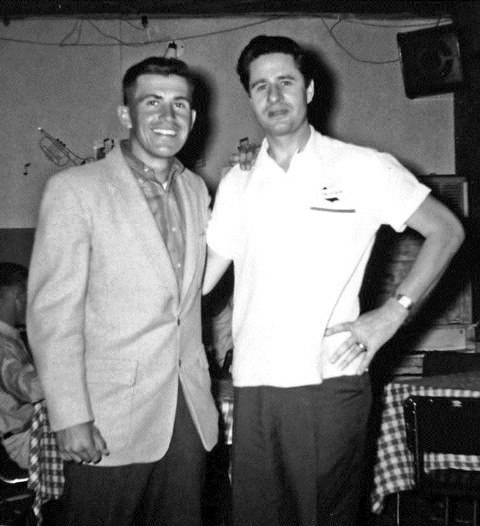 Five cuts though do not make an album, even a 10-inch album. Furthermore, The Mystery Of Dennis Herrold includes a 14-track CD which repeats the nine on the vinyl and supplements them. The non-Herrold balance is made up of tracks by and penned by "Hip Hip Baby" / "Make With the Lovin'" writer Dub Dickerson, and tracks written by Herrold's wife Erma Lee Herrold (she wrote solo and with Dickerson – Dennis Herrold also wrote and made demos, but none of his songs survive). As this is more than the Dennis Herrold-centred release it initially seems to be, the titular artist is rather swamped. (pictured right: Dennis Herrold, right, with West Virginia country singer Billy Cox, c 1955).
Dennis Herrold had been discovered by Willis "Dub" Dickerson, a singer-writer whose first record was issued in 1950 by Imperial, the label which later picked up Herrold. "Owl Hoot Blues", Dickerson's first A-side, is wonderful Cajun-flavoured hillbilly swing with an outlaw-celebrating lyric. The Dickerson / Erma Lee Herrold partnership's highest-profile moment was "Stood Up", which Ricky Nelson recorded for Imperial. It was issued at the same time as Dennis Herrold's single and is included on the CD. On her own, Erma Lee Herrold wrote the sappy "Precious". Bob Luman's 1958 recording of the song is on the CD. It seems, then, that Dennis Herrold was a passing fancy for Dickerson, who was regularly releasing singles into 1962. After a seven-year hiatus, his final single arrived in 1969.
Information on Dennis Herrold has been spotty until the release of The Mystery Of Dennis Herrold – hence the title. It was known he was in western swing bands in the first half of the Fifties. Pictures of him are as rare as those of Robert Johnson (i.e.: there are three – two are seen here; the third is the live shot on the new 10-incher's cover). Despite being as obviously well-researched as what's heard and illuminating Herrold's character as a petty criminal, it's unfortunate the insert's exhaustive essay is confusing and hard to follow. Even so, this is rockabilly heaven. The late Dennis Herrold would have been delighted.
Next Week: Back to the Nineties with Super Sonics – 40 Junkshop Britpop Greats
Dennis Herrold's 'Make With the Lovin'' edges towards the greatness of Johnny Burnette and the Rock 'n Roll Trio
Explore topics
Share this article