Noises Off, Garrick Theatre review - sublime chaos in Michael Frayn's meta-farce |

reviews, news & interviews
Noises Off, Garrick Theatre review - sublime chaos in Michael Frayn's meta-farce
Noises Off, Garrick Theatre review - sublime chaos in Michael Frayn's meta-farce
The West End once again hosts one of the best comedies ever written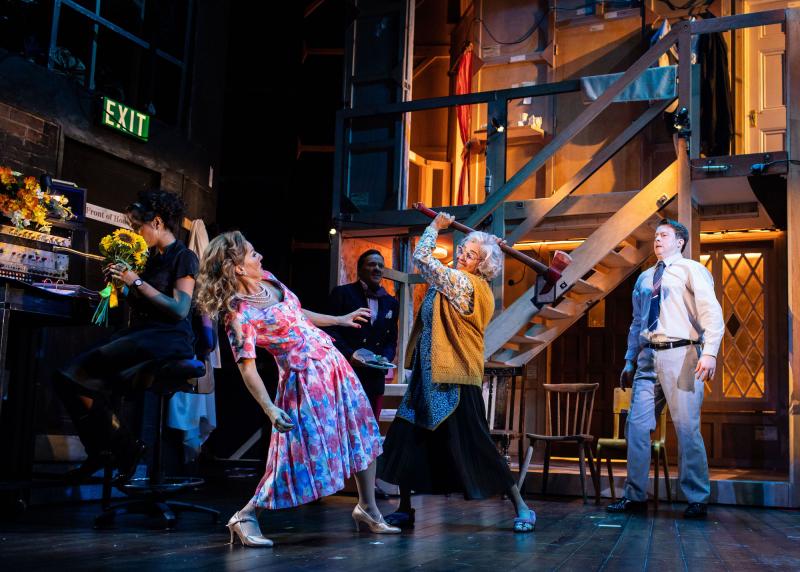 Love rivals: Dotty (Meera Syal) attacks Belinda (new cast member Sarah Hadland)
"Doors and sardines. Getting on, getting off. Getting the sardines on, getting the sardines off. That's farce. That's the theatre.
That's life." Michael Frayn's laugh-til-you-weep
backstage
comedy
transfers from the Lyric Hammersmith (where it first appeared in 1982), and Jeremy Herrin's superb revival has tightened up further for this encore run, resulting in the funniest night you'll have in the
West End
.
Since staging Noises Off seems to tempt fate even more than uttering "Macbeth", the production was once again visited by misadventure – this time a minor prop mishap, rather than stopping the show cold with real-life technical difficulties, as happened on the Lyric's press night. But, unlike their floundering counterparts, the peerless cast (pictured below) smoothed over this problem, demonstrating, should anyone be in doubt, the kind of skill, stagecraft and practised collaboration it takes to deliver comedy this intricate.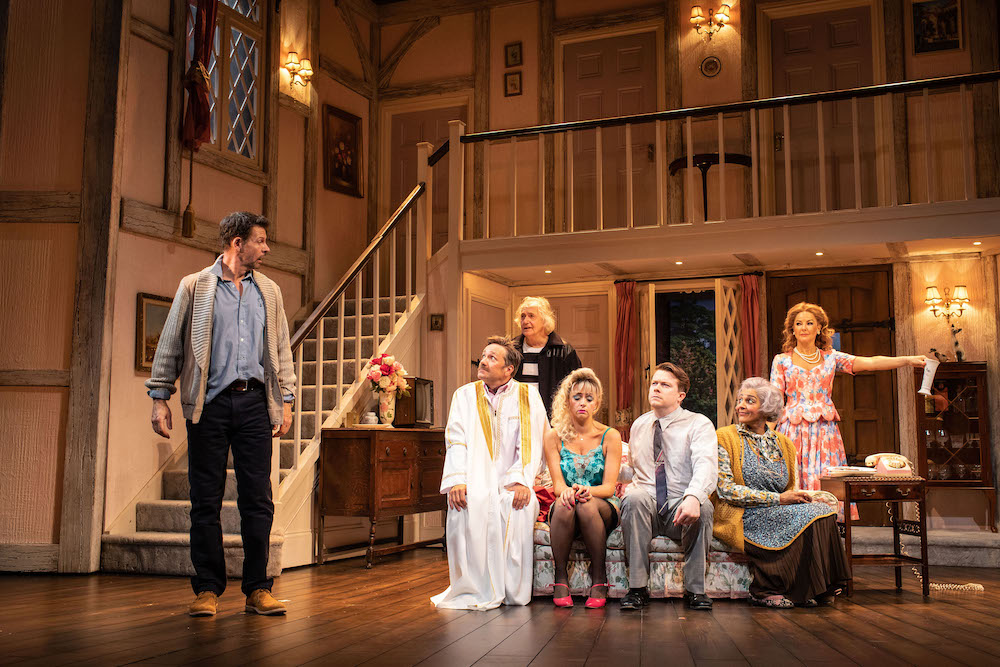 Although the hammy bedroom farce that the play's beleagured troupe is trundling round the regions has since been consigned to theatrical history, Herrin ensures there are plenty of laughs from the off via sly skewering of luvvie speak (cloying endearments covering up mounting conflict) and types: the smug gossip, the drunken veteran, the put-upon crew, and the philandering director with an English degree and a God complex. Lloyd Owen's portrayal of the latter is even better here, upping the thundering projection from the stalls and the mordant sarcasm that pings right off the self-absorbed hides of his oblivious company.
Meera Syal is priceless as character actress Dotty Otley, who made her name playing a broad cockney domestic, but contrasts Mrs Clackett's waddling stomp and chipper delivery with grande dame flourishes and passive-aggressive digs accompanied by dangerous smiles. Her descent into attempted crimes of passion and then muddled hysteria is exquisite. Glorious, too, is Daniel Rigby as her inarticulate on/off boyfriend ­– roaring from the stage when abandoned by his fellow players, hopping furiously up the stairs with his shoelaces tied together, and taking a magnificent pratfall. He also manages to make the farce-within-a-farce truly funny, relishing his character's bumptious estate agent speak, and finding an extra manic level for moments when walkabout props upend the play.
Simon Rouse again keeps you guessing as to whether his partially deaf boozehound is actually more aware than he seems – which only adds to the humour, particularly when sparring with an increasingly frustrated director. His Selsdon can certainly command centre stage with pompous assurance to share his recollections, and proclaims his lines with extravagant accompanying gestures.
Of the additions to this West End cast, Adrian Richards adds some good new notes for stage manager/general dogsbody Tim – like a mannered tannoy voice, and momentary preening when thanked for flowers he was meant to deliver to someone else – while Anjli Mohindra demonstrates poor Poppy's distress in a series of effective reactions, deliberately subtler than the noisy hams around her. Lisa McGrillis emphasises the vamp role that her character is forced into, though could do more with the delicious moments when Brooke's refusal to deviate from the script adds to the pandemonium. Richard Henders makes for a poignantly mournful Freddie – his violence-averse half-wit memorably staggering onto the stage, bloody head bandaged, eyes wild, yet still spouting his nonsense lines.
But best of the new bunch is Sarah Hadland (pictured above), an inspired choice for consummate pro Belinda. Her plummy proclamations about what a happy, lovey-dovey company they are contrast brilliantly with their botched rehearsal, and, as the show collapses in the latter stages, she goes into hyperdrive trying to hold it together – bellowing her castmates' lines and scrambling for props, all while pasting on a bright smile, employing a terrifying fake laugh, or hitting the presentational dancer's pose clearly drilled into her as a tapping tot.
It adds to the play's increasingly hilarious, and nightmarish, illustration of our determination to cover up and carry on, even as we lose the ground beneath our feet. Ella Wahlström's music is both spot on for the play-within-a-play and carries the right note of hysteria when repeated, while Max Jones's design heightens the chintzy bedroom farce set, lurid costumes and visibly oily sardines. Though Herrin's direction sometimes pushes the comedy too broadly, it pays off with the lightning-fast slapstick, the cast's contact lens dance, the resounding door slams, and the silent pantomime that swerves in and out of total disaster (a cactus does find its victim, an axe only just misses). Together, it renders viewers helpless with laughter – and is there any better feeling?
Noises Off at the Garrick Theatre until 4 January, 2020
The silent pantomime swerves in and out of disaster (a cactus does find its victim, an axe only just misses)
rating
Share this article