DVD: The House by the Sea |

reviews, news & interviews
DVD: The House by the Sea
DVD: The House by the Sea
Chekhovian motifs abound in wistful French drama of family readjustments
Siblings re-united: Angèle (Ariane Ascaride), Joseph (Jean-Pierre Darroussin), Armand (Gérard Meylan)
Robert Guediguian has spoken of the influence of Chekhov on The House by the Sea (Le Villa), and the shadow of the Russian dramatist, particularly The Cherry Orchard, can certainly be felt in the French director's latest film, his 20th in a career that stretches back now some
four decades. It's there in ways that are thematic and structural equally, from its sense that a particular environment, a precious place that has defined the lives of the
film's protagonists
in the past, is changing, to an unstudied story development defined by the loosely theatrical, almost "fly-on-the-wall" way in which its characters interact.
The film's titular location is a small seaside village, set on a beautiful bay somewhere outside Marseilles – it seems almost cut off from the outside world, which intrudes only in the form of infrequent trains crossing its high viaduct and, more ominously, visits from law enforcement pursuing a more particular contemporary agenda. It was the childhood environment that dominated the early lives of the three children who have now assembled there after a stroke has incapacitated their father, the paterfamilias Maurice (Fred Ulysse, his striking gaze and visage as expressive as the words he can no longer speak) whose early dreams somehow came to shape the environment in which he settled, building a striking house overlooking the water, its balcony accommodating much of the film's action (main picture).
But that was the past, which came with an associated social dream of an integrated community living and working for itself – that wonderful Gallic trope of personal and political worlds united – rather than the touristic spot for second-homers that it seems to have now become. Its present isolation is enhanced by the fact that it's winter, meaning that son Armand (Gérard Meylan), the one who stayed behind, is keeping the family restaurant open more for old time's sake, and as a place for Guediguian's small cast to gather (pictured below), than for any real passing custom.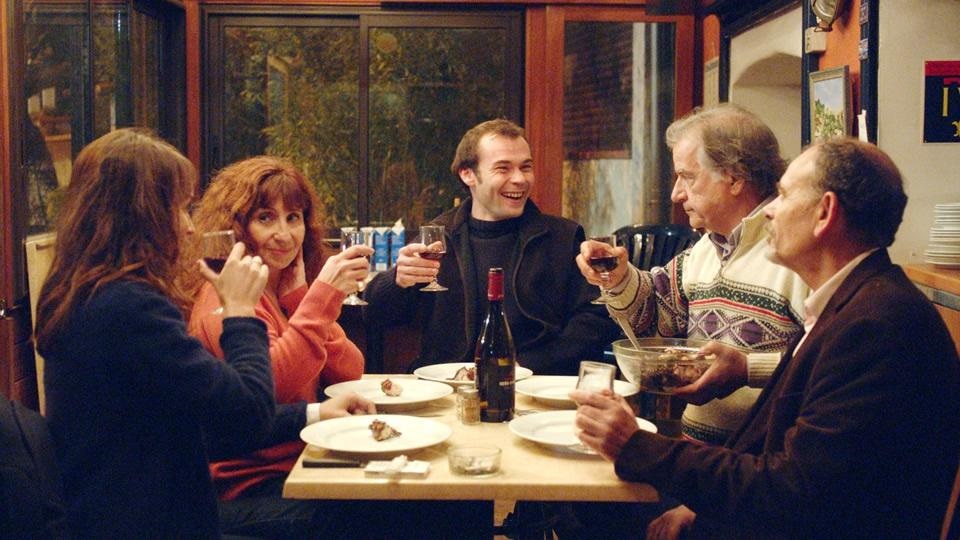 The returning siblings are Angèle (Ariane Ascaride), an actress who found fame out in the world, for whom this place of childhood idyll later became tragically associated with the death of her daughter (she has stayed away for decades), and Joseph (Jean-Pierre Darroussin), a loquacious sometime political hard-liner who has been somehow levered out of a rather ill-defined (but, for him, life-defining) public position, his discontent on that score only uncertainly assuaged by a new relationship with a much younger woman. Have they come together in this world of ambiguous memory to say farewell, for a final reappraisal of their past – or will life decide differently?
There isn't quite that absolute sense of a hallowed place approaching destruction (as The Cherry Orchard quintessentially embodies), though we certainly sense that this richly redolent world, its human and physical factors inextricably intertwined, is threatened both from outside – a boat of mystery visitors, perhaps speculators, silently surveys the place from the harbour – and that its essence is also crumbling from within. That latter element is caught in a supporting strand involving an old couple, not exactly the typical Firs-like faithful retainers of Chekhov but certainly close to that, who choose to leave of their own accord in a moving scene that resounds all the more powerfully for its restraint within a sometimes wordy wider context.
Guediguian creates a subtle tapestry in which his characters' sense of their place in the world, and no less importantly within time itself, is perpetually shifting. He's a director who often works with the same actors from film to film, an element that gives added nuance to the reappraisals of past relationships that we witness here. (It even allows him to slot in, flashback-like, a scene from his 1985 film "Ki Lo Sa?" that literally takes his present-day characters back to their earlier years, all within the one recognisable location). All is not quite determined here after all: new human connections come into being even as old ones end. That sense is there poignantly, too, in the film's rather unexpected final-reel development, which involves the appearance of a group of refugee children, cast away now on a new and apparently hostile shore, in the midst of those who take them in, engrossed as they are in their old worlds. The emotional power of The House by the Sea accrues quietly, captured in just that sense that even as life appears to be closing down, it can renew itself, surprising all: it's a sotte voce insight that closes this unobtrusively tender film, one that may barely move out minor key but achieves a touching note that lingers, evocatively, in the memory.
Watch the trailer for The House by the Sea
Guediguian creates a subtle tapestry in which his characters' sense of their place in the world, and no less importantly within time itself, is perpetually shifting
rating
Explore topics
Share this article