The Lady from the Sea, Print Room at the Coronet review - freedom to choose? |

reviews, news & interviews
The Lady from the Sea, Print Room at the Coronet review - freedom to choose?
The Lady from the Sea, Print Room at the Coronet review - freedom to choose?
Engrossing Anglo-Norwegian production has some strong performances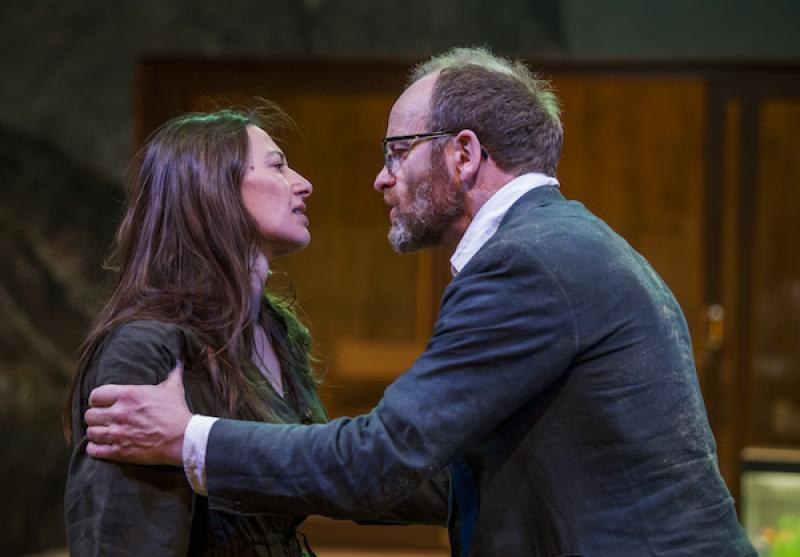 Pia Tjelta as Ellida and Adrian Rawlins as Wangel
Ellida (Pia Tjelta) has a choice to make, the outcome of which will bind her future to her past or her present, each represented by a man. On the one hand, there is the tempestuous seafaring Stranger (Øystein Røger) to whom, long ago and in a fit of delirium, she pledged herself; on the other, there is her devoted and rational doctor husband Wangel (Adrian Rawlins).
The consequences of neither option are clear, for while Ellida has lived through both periods, she has hardly been alive in either. Instead, the heroine of
Ibsen'
s 1888 drama is numbed, adrift, and it is only now
–
under turbulent threat
–
that she can begin to navigate the choppy consequences of her actions and begin to plumb her own psyche.
Ibsen's psychologically dense drama unfolds in a remote fjord town through which tourists pass in pursuit of white nights. The two daughters of Wangel's first marriage have grown up in this backwater; both yearn for more. The world visits and retreats seasonally, ebbing and flowing like the tide, but the sense is of fishbowl claustrophobia. Bolette (Marina Bye, pictured bottom) dreams of university but is compassionately yoked to her alcohol-dependent father; the prescience of her younger sister, Hilde (Molly Windsor, pictured below left), senses the friable edges of everyone around her and threatens to tip herself into an angsty madness precipitated through boredom. Compared to the wild refreshing ocean, the waters here are stagnant, "sick".
In the director Marit Moum Aune's Anglo-Norwegian production, designed by Erlend Birkeland, a tongue of sand stretches into the auditorium and a rectangular veranda at the back of the stage gives onto a glassed-in room which serves as hallway, living room and sauna. Much of the action takes place outside, but this indoor perspective allows groups and individuals to catch sight of each other at inopportune moments. It's not just Ellida who has to form her future through a choice between men: Bolette is being pursued by her older teacher, Arnholm (Kåre Conradi, pictured bottom), whom, in a fit of misapprehension, Wangel has invited to visit; morbid Hilde and the dying Lyngstrand (Edward Ashley) have a compact that is half sibling rivalry, half amorous, though he is clearly besotted by Bolette. A lilac-lit fish tank stands nearby, the comparison is clear; surveillance and speculation are natural in such confines.
The difficulty of throwing Ibsen's acutely observed psychological states onto the open stage is partly solved by dramatic, filmic lighting changes and intermittent soundtrack, composed by Nils Petter Molvær. Bolette pushes a knitting needle into her hand in the dark to a tense thrum until Lyngstrand arrives on the strand and fails to notice her bleeding palm; Hilda piles sand over her face in a frantic depiction of – and reaction against – her suffocating circumstance. These intricate exchanges push the action forward, but the lighting and sound occasionally intrude rather than complement. Nevertheless, as the second half warms to the urgency of Ellida's decision, they carry the melodrama with pace.
Another mixed blessing is the use of Norwegian for certain interchanges. This is principally used to emphasise the various gulfs – cultural, linguistic, emotional – that exist between Wangel and Ellida, but it also serves to show the family's general sense of not fitting in, or having to be permanently bridging divides. Unlike a film where subtitles overlay picture, in this show they are projected onto the wall, tearing the audience's eyes away from the scene taking place just below. Distraction aside, it remains a sheer delight to hear the loops and planes of Norwegian consonants and vowels fill the stage like gulls and waves.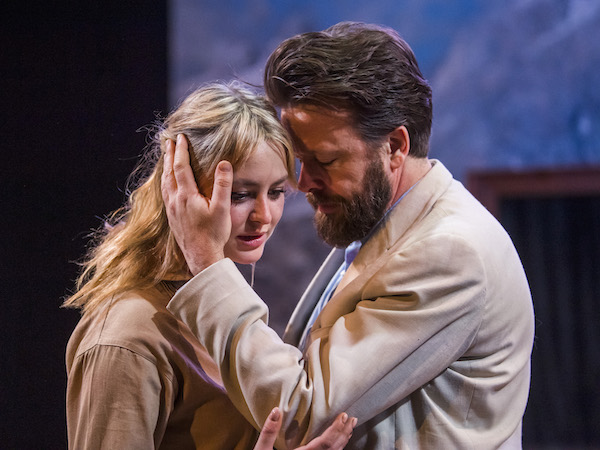 There are some wonderful performances. Rawlins's Wangel pinches and sniffs, a flinching, bearded mouse of a man, who, despite his inability to cope evenly with uncertain circumstances, has a steely core. Conradi as Arnholm bounces and performs as a charismatic but buffoonish batchelor whose inappropriateness stems from desperation and loss. Tjelta as Ellida treads the thin line between mental illness and semi-spiritual prescience. Windsor's strops, tantrums and snarky asides as Hilde reeks of hormones and impatient adolescence.
Ellida's choice is not a clean one. Both options compromise parts of her life that nourish her being – but it's a necessary choice. Bolette and Hilde have yet to make decisions of a momentousness that they will either inhabit or disavow later in their lives. The perennial question is, what degree of entrapment are you willing to bear for a certain kind of freedom?