Reissue CDs Weekly: Noise Reduction System |

reviews, news & interviews
Reissue CDs Weekly: Noise Reduction System
Reissue CDs Weekly: Noise Reduction System
Essential round-up of mainland Europe's mid-Seventies to mid-Eighties musical boundary pushers
'Noise Reduction System' contributors Der Plan flaunt their cubist credentials
Last year, the arrival of Close to the Noise Floor compelled theartsdesk's Reissue CDs Weekly to conclude that it was "hugely important and utterly delightful". A four-CD set, it was a thrilling, first-time overview of the UK's early indie-synth mavericks from Blancmange to Throbbing Gristle and Muslimgauze to Sea of Wires. Now, it has spawned a follow-up.
Noise Reduction System: Formative European Electronica 1974-1984 is another four-CD set. As well designed and well presented in its hardback binding as Close to the Noise Floor, it includes a crisply laid-out 52-page book with an introductory essay and commentary on each of the 62 tracks. This time, mainland Europe is examined rather than the UK. The stars are Cluster, Holger Czukay and Conny Plank's Les Vampyrettes, DAF, Der Plan, Front 242, Vangelis, Klaus Schulze and Yello. The lesser knowns include cult favourites Maurizio Bianchi, Die Form, Minny Pops, The Neon Judgement and Bernard Szajner, as well as barely heard-ofs such as Gagarin-Kombinaatti, Truus de Groot, Njurmännen and BeNe GeSSeRiT. Countries represented include Finland, Germany, Italy, Latvia and The Netherlands.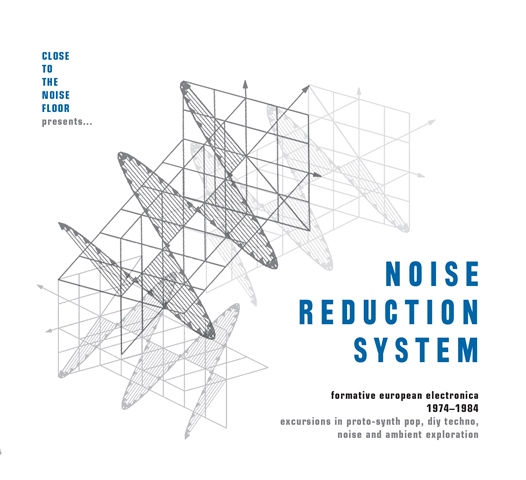 While the sweep is admirably wide-ranging, this is not a Krautrock or New Age comp. The focus is on the years when affordable synthesisers, rhythm machines and cheap multi-track home recording equipment came on the market, and when the earliest digital technology became accessible. Home studios were rife and the music cooked up circulated on cassette, independently pressed singles and the odd album.
This is also not a historic overview of continental DIY European electronica. For example, in Finland, The Sperm issued their oscillator-noise album Shh! Heinäsirkat in 1970, outside the time-frame of Noise Reduction System. Instead, the emphasis is towards a formative period when – as it was in the UK – underground experimenters, oddballs and one-offs came out of the woodwork en masse.
Stylistically, everything expected is here. On 1984's "Last Lift", Greece's Not Only Bones set a yearning keyboard line against a muttering vocal to suggest a moment of profound personal crisis. With "LUX", Schaltkries Wasserman (Switzerland, 1982, pictured below left) unwittingly created a form of proto techno/acid house. Their ensuing album, featuring "LUX", was initially independently released and then improbably picked up by Mercury Records. It went on to influence the direction of Italian dance-electronica.
There was no such afterlife for Aavikon Kone Ja Moottori's "Karavaani" (Finland, 1979) but, now, its mix of repetitive elongated spacey bleeps and a metallic rhythmic pulse suggest that had a vocal and conventional rhythm machine been added, they would have fitted snugly into the very earliest roster of Mute Records.
Appropriately, in his introductory essay, former Sounds writer Dave Henderson – who charted this terrain in the paper's pages – notes that "it seems almost unimaginable that these disparate souls weren't directly connected…there is a unifying leftfield wonkiness to what they did." Language differences aside, each track could be from France as much as it is from Norway.
With it impossible to point to any geography specific idiosyncrasies or signifiers, the key question is whether the technology drove what was heard or whether the whole of Europe was tapping into a cosmic consciousness? It could be either or both. While the answer is not apparent, it is clear that the splendid and unreservedly recommended Noise Reduction System: Formative European Electronica 1974-1984 is about more than its music.
Next week: Multi-disc editions of the first three Blancmange albums

On 'Last Lift', Greece's Not Only Bones suggest a moment of profound personal crisis
Share this article