Supersonic Festival 2017, Birmingham |

reviews, news & interviews
Supersonic Festival 2017, Birmingham
Supersonic Festival 2017, Birmingham
From meditative to psychotic and back again on the hottest weekend of the year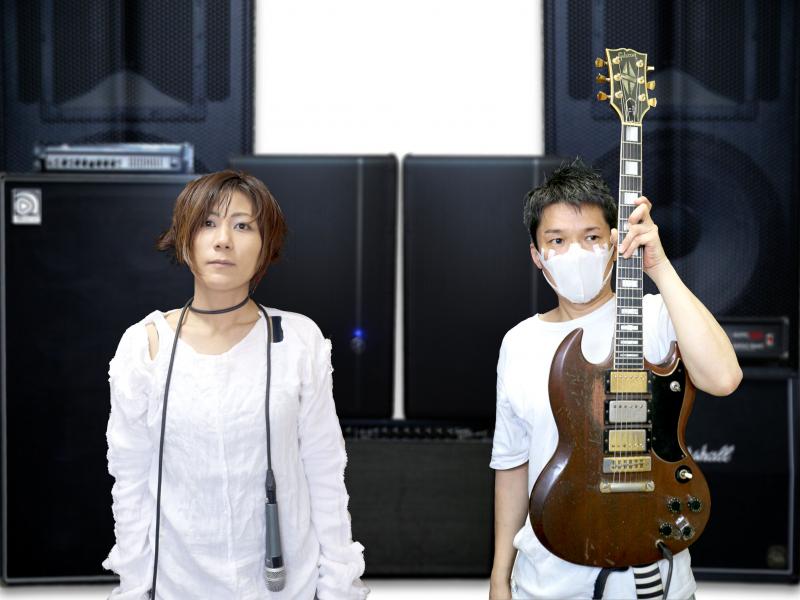 Melt Banana: quick fire tunes and a jack-hammer beat
The Supersonic Festival is Birmingham's annual gathering of the sonically weird and wonderful pitched at "curious audiences" happy to lend their ears to sounds that would ordinarily be difficult to discover without a lot of effort.
An urban event, spread over a weekend and a number of indoor venues, is usually the way to go in the UK before summer
festivals
take hold. In years past, revellers have been glad of the protection from the elements. This year, however, fierce heat and humidity gave the proceedings a Mediterranean sheen and turned some of the gigs into saunas. But with plenty of down-tempo (if not particularly chilled-out) fare on offer, there was usually somewhere to go to cool off between some of the more in-your-face sounds if Doom Yoga or Black Sabbath Karaoke didn't appeal.
Supersonic 2017 kicked off in the historic Town Hall with a double header from Iraqi oud player Khyam Allami and Anna Von Hausswolf's turn on the venue's 32-foot tall organ with its 6,000 pipes. While Khyam played an atmospheric and sparse Delta blues instrumental that dipped from atonal soundscapes to floaty and delicate picking, Von Hausswolf laid down a proggy-goth take on drone music. Both managed to set the tone for the weekend's festivities.
Elsewhere, Charles Hayward gave a solo percussive performance, Xylorious White laid down their Peloponnesian boogie of heavy cinematic trance-inducing grooves and Nicholas Bullen brought a tidal wave of harsh electronic violence to pack-out audiences.
But Friday evening undeniably belonged to Japanese high-speed electro-punks Melt Banana. Singer Yasuko Onuki and dust-masked guitarist Ichirou Agata's quickfire tunes and relentless squall with a jack-hammer beat completely blew away their audience with a blitzkrieg of noise that had ears singing (for those of us daft enough not to don ear-plugs) for hours.
Matt Baty had men and women twice his age moshing like lunatics as the sweat poured down the walls in torrents
Saturday's line-up was predominantly one of droners and stoners, punctuated withoddities like the off-kilter, self-consciously arty electro-pop of Jenny Hval and Geordie freak-folkie Richard Dawson. Neo-classical flavours of drone music were given plenty of airing with a fascinating set of violin and loops from Jessica Moss, playing the "Entire Populations" suite from her recent Pools of Light album. Agathe Max's now expanded Kuro Maga combo similarly treated a full room to a set of drone music, classical sounds and modern jazz all wrapped up in a cloak of dry ice that had her audience spellbound.
The Italian trio Zu brought some serious noise in the afternoon with a fiery hard bop/punk hybrid set of fierce poly-rhythms and muscular sax honking, much like how you might imagine Ornette Coleman and Godflesh approaching things if they ever decided to collaborate. Godflesh's Justin Broadrick was part of the evening's headline act. Zonal is the latest collaboration between Broadrick and The Bug's Kevin Martin since their 1990s band Techno Animal and brought harsh industrial trip hop beats to hard-edged soundscapes that were an appropriate downtempo yet deafening accompaniment to the red light and thick fog of dry ice that enveloped the stage. Lively stoner rock five-piece Pigs Pigs Pigs Pigs Pigs Pigs Pigs (pictured below) injected a bit more adrenalin into proceedings by running through the whole of their magnificent Feed The Rats album. "I am the demon!" howled singer Matt Baty as "Psychopomp" had men and women twice his age moshing like lunatics as the sweat poured down the walls in torrents.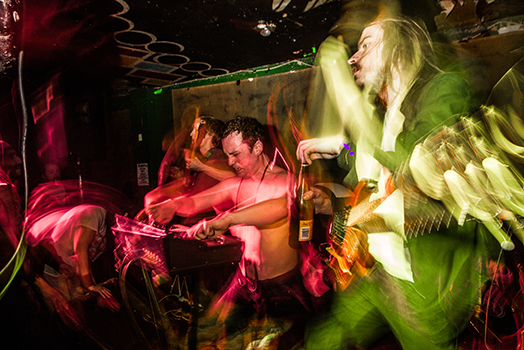 The final day on Sunday looked like it was going to be one of relative quietness. A showcase from the Arab roster of NAWA recordings and Khyam Allami and likes of Nadah El Shazly did take to the stage with off-kilter mellow grooves of various hues that were just right for an afternoon of chilling out. There was also an opportunity to see a screening of The Melvins' documentary The Colossus of Destiny. That, however, was nowhere near the whole story and the opening act was actually the doomy but musical sludge rock of Haq 123. Featuring eight-year-old Millie, nine-year-old Zac and their father, Haq 123 sounds like a concept soaked in gimmickry. They were described in the Festival programme as being "brought up on the sounds of Sabbath and super charged by Haribo". This was no idle boast and they soon had the crowd eating out of their hand with cries of "Supersonic! Are you ready to rock?"
Elsewhere, doomy duo Mohammad laid down very slow, considered drone music with dark but ethereal textures while dressed in their Halloween best. Snapped Ankles gave us motoric tunes with a post-punk sheen, looking like wildmen of the woods in their shaggy headdresses, while Ghold brought the noise in no uncertain terms. Their ear-bleedingly loud sludge-metal drawn from their Pyr album and beyond was more than enough to blow the cobwebs away.
Casual Nun similarly made sure that Sunday afternoon wasn't going to drift by in a haze. They also lent credence to the idea that most punters turn up to Supersonic with only a sketchy knowledge of a handful of the bands on show, yet always manage to leave at the end of the weekend having discovered a new favourite group. Casual Nun fulfilled this role for me in 2017. The Anglo-Greek five-piece with two drummers ploughed through a set of hardcore punk and heavy psych that again had swaths of people throwing themselves around with big smiles on their faces.
Closing the festival was Flowers Must Die who, like fellow Swedes Goat, take the psychedelic jam template and add motorik and Afro-beat flavours to get hips swaying and feet moving in a wild and intoxicating wig-flipping groove. Laying down tunes like "Don't You Leave Me Now", "Why?" and motorik jams aplenty from their Kompost album, their set was a tip-top ending to a tip-top weekend.
Most punters turn up with only a sketchy knowledge of a handful of the bands on show, yet always to discover a new favourite group
rating
Explore topics
Share this article