Supersonic Festival, Custard Factory, Birmingham |

reviews, news & interviews
Supersonic Festival, Custard Factory, Birmingham
Supersonic Festival, Custard Factory, Birmingham
Swans, Bill Drummond, Evil Blizzard… Birmingham is over-run with the weird and wonderful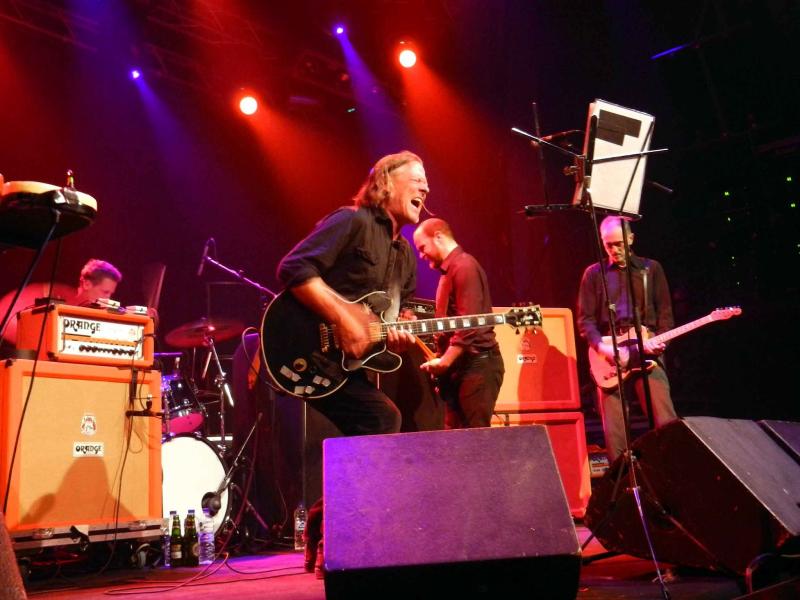 Swans: pagan trance music
For those not in the know, the Supersonic Festival is Birmingham's annual knees-up of noisy avant garde music drawn from a broad range of genres that is curated by local promoters and heroes, Capsule. This year, despite the event being reduced to two days from the usual three, there was doomy, sludge rock; electronic weirdery; pseudo film soundtrack music; screaming guitars; the legendary Bill Drummond and the mighty Swans.
To some extent, the line proved to be gold to the hipster community of the West Midlands (and further afield) with a shocking amount of blokes sporting beards and spectacles, while their girlfriends rocked brutal fringes cut into their hair and lots of pairs of specs too. However, the atmosphere was largely friendly and mellow and there was no-one trying to get me to sign up their mobile phone network or to undertake a "quick" survey which would allow me to win some product that I couldn't imagine ever wanting. Nor were there any gruesome burger vans, so hurrah for the hipster invasion!
The volume of her droning, quasi-film soundtracks was loud enough to wake the dead
The Friday performances of the Festival were all pegged for the evening and there was plenty to fit in. The Second Stage was home to the comedy horror music of ANTA, the doomy sludge-rock of local heroes, Opium Lord, and the demented four-bass guitars and bemasked Evil Blizzard. The Main Stage, while no more sedate, was a showcase for the electronic strangeness of the likes of Matmos, Felix Kubin and Sleaford Mods. While none of these acts could possibly be accused of being household names, the dancefloors of Birmingham's former Bird's Custard Factory were heaving and plenty had obviously taken notice of the media attention that this event has gathered in recent years.
Guitar-wheedling noise terrorists Opium Lord and Evil Blizzard, in particular, did a fine job of raising the freak flag for the doom-rock community. Opium Lord sounded like Black Sabbath covering tunes by arch-industrialists Godflesh, while lead singer Nathan did a fine impression of Linda Blair in Exorcist mode. Evil Blizzard, on the other hand, looked like the people your Mum might have warned you about when you were a little child. Sporting very strange masks and stage costumes, they launched into songs like "Sacrifice" and "Are You Evil?" which certainly got heads nodding if not bodies bouncing around.
The electronic fest on the Main Stage was a completely different kettle of fish. Matmos may sound like Kraftwerk getting down with DJ Shadow on record, but live they are closer to Negativland without the pithy political and social commentary. Still, it was certainly experimental and having a giant face projected onto a screen to provide vocals was definitely interesting. Fortunately, Felix Kubin was able to liven things up no end with his electroclash-flavoured set and warmed things up nicely for Friday's headliners, Sleaford Mods. Sleaford Mods, to the uninitiated, sound like the offspring of Dan le Sac vs Scroobius Pip and Mark E Smith of The Fall. Tunes like "A Little Ditty" and the Magnificent "Tied Up in Nottz" from their Divide and Exit album got the crowd rocking but not ones to go out of character, they responded to any appreciation with a curt "Fuck off!"
Saturday's entertainment kicked off with an afternoon lecture from outsider-art hero Bill Drummond about his visit to Haiti with the17 project. the17 is Bill's response to the ubiquity of recorded music and he has taken it to numerous countries. However, its performance in Port-au-Prince cause a riot and, according to various Voodoo followers, the massive earthquake that followed three weeks later. Fortunately, our "scale model" recreation of this performance in the backstreets of Digbeth didn't provoke the same response.
On the music front, the volume went up to 11 from the off and stayed there for the rest of the festival. Agathe Max is one French woman, a violin and some effects pedals. However, the volume of her droning, quasi-film soundtracks was loud enough to wake the dead and was an unexpected highlight of the Festival. Alien Whale, the New York underground supergroup-of-sorts, also kept things suitably loud with their psychedelic mayhem, which brought to mind Black Flag playing Jimi Hendrix or Funhouse-era Stooges' tunes as instrumentals. From the beginning of their set, the Main Stage was crowded in a fine mist of dust and dried paint flecks falling from the rafters that probably dated back to Bird's time in the building. The punk rock attitude was also in evidence soon afterwards on the Second Stage with local band, Youth Man, who stormed through a set of righteous racket.
Sly and the Family Drone may sound like an alternative soundtrack to 2012's film Berberian Sound Studio on record but live they were a completely different proposition. Instead of setting up their electronic gadgetry and drums on the stage, they were arranged in the middle of the crowd and something like Iggy and the Stooges in full Metallic KO mode followed. As the set progressed, drums were handed out to the crowd to beat ferociously and things finished with a near naked Matt, standing on top of a stack of speakers, eating pizza and spraying beer over the crowd. Magnificent stuff. However, at this point, my ears needed a break from sonic battery, and so I grabbed a beer to watch some very strange films in the Custard Factory's theatre.
New York's sonic adventurers Swans were headliners on the Saturday and were just settling into their set when the fuses on the Main Stage all blew. It was all taken good-humouredly and when things got back on track, we were treated to a set of cacophonous pagan trance music. Dark and brooding, Michael Gira's menacing, feral blues proved a fantastic end to a couple of days that emphasised that good music isn't necessarily popular music. Tunes such as "Screenshot" and "Just a Little Boy", from recent album To Be Kind, had Gira pounding the stage like a demented preacher and the crowd lapped it up.
The 2014 Supersonic Festival was only a two-day affair. Let's hope that next year, things move back to the three-day orgy of sound of previous events because two days just isn't enough when the entertainment's this good.
The volume went up to 11 from the off and stayed there for the rest of the festival
rating
Share this article