Supersonic Festival Launch Party, Centrala, Birmingham |

reviews, news & interviews
Supersonic Festival Launch Party, Centrala, Birmingham
Supersonic Festival Launch Party, Centrala, Birmingham
A taste of the exotic, the esoteric and the occasionally deranged
Agathe Max of Kuro
Regular subscribers to the Arts Desk may have noticed a certain view from some of our number that the Glastonbury Festival is the annual musical and social high point of the year in the UK. On this subject, I would beg to differ and instead claim Birmingham's wilfully uncommercial celebration of the weird and the wonderful, the Supersonic Festival, to be my most eagerly awaited annual sonic celebration.
So, it was with some disappointment that it became apparent that 2016 was to be a fallow year in the West Midlands and that we were to be denied this year's sonic medicine and strangely mind-bending celebrations. However, just as winter starts to make an appearance and temperatures begin to plummet, thoughts turn to 2017 and the return of our favourite blow-out with a two-day taster in inner city Digbeth's Centrala venue of the beautiful, the odd, and occasionally the downright musically brutal.
Stinky Wizzleteat laid down monumental slabs of stoner-sized metal
On Friday evening we were presented with a mix of sounds that laid out the Festival's stall in no uncertain terms. Local ambient industrialists Mothwasp opened proceedings with their guitar and drums instrumental crunch. Shrouded in deep red lighting and a slowly thickening cloud of smoke, it was a fitting beginning to the weekend. Things really began to warm up, however, with the appearance of brutalist motorik heroes Sex Swing.
A group of older geezers with skinheads and beards and resembling nightclub bouncers, they arrived onstage and soon imposed an industrial throb and squawking free jazz-ish saxophone that banished all thoughts of the working week. Bathed in thick smoke and green and purple lighting and laying into "Grace Jones" and "Karnak" from their fine self-titled debut album, they turned up the feedback and reverb like Funhouse-era Stooges. Final song "Nighttime Worker" even got plenty of bodies moving with its gritty throb and relentless groove while Dan Chandler roared along like a beast from a place where civilisation is an unknown concept.
First night headliners Xylouris White (pictured below), on the other hand, brought something of the esoteric to the evening. A duo featuring free-jazz loving Dirty Three drummer Jim White and Cretan musical royalty (and Wayne Coyne lookalike) George Xylouris and his lute, they laid down some heavy cinematic world music on steroids. Building on a trance-like thumping groove, Xylouris White took in Pink Floydian psychedelic ebbs and souped-up Tinariwen-like trancey flows while dipping in and out of a long drawn-out Peloponnesian boogie than had plenty on their feet and shaking a leg.
Saturday at Centrala turned out, if anything, to be even more sonically diverse than the opening evening. Taking in minimalist classical sounds, sludge rock, hypnotic percussion, grungey punk and techno beats, there was certainly something for everyone with an interest in the weird and the wonderful. However, the highlights came courtesy of ambient minimalists Kuro; metallic funksters Stinky Wizzleteat and electronics duo Giant Swan.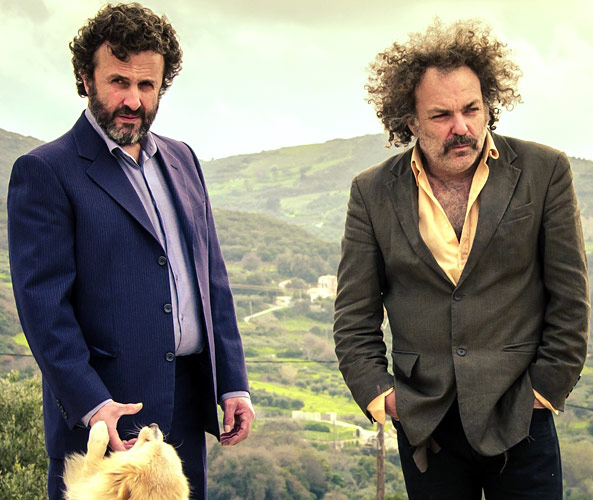 Kuro's earthy drone of violin, electric cello, electronics and a pile of effects boxes turned out to be an unexpected treat. Agathe Max's violin and Gareth Turner's electric cello laid down atmospheric and cinematic loops that suggested North African drone music washed down with intense crescendos and bursts of feedback. Drawn from their recently released self-titled debut album, it was a set that defied easy pigeonholing but had a sizeable crowd enthralled with its psychedelic ambience and shamanic sonic landscapes.
Local lads Stinky Wizzleteat, on the other hand, were onstage to kick out the jams with adrenalin-fuelled heavy riffing. Kicking off with the magnificent "Snack Heavy", their bearded singer was leaping around in the audience before the first chord was even struck and proceeded to stay there as the rest of the band laid down monumental slabs of stoner-sized metal to a more than receptive crowd.
The Supersonic Festival Launch Party was topped off with a wild set from electronic duo Giant Swan. Armed with turntables, electronics and a pile of effects pedals, Robin Stewart and Harry Wright treated us to a Suicide Of Western Culture-type vibe of largely instrumental dirty glitchy techno grooves and thumping beats with occasional dashes of post rock vibes and it certainly encouraged many to get up on their feet and go bonkers. It was a fine ending to a glorious weekend that certainly has me, for one, looking forward to the real deal of a proper Supersonic Festival in June 2017.
Taking in minimalist classical sounds, sludge rock, hypnotic percussion, grungey punk and techno beats, there was something for everyone
rating
Share this article