My Cousin Rachel review - du Maurier remake too florid by half |

reviews, news & interviews
My Cousin Rachel review - du Maurier remake too florid by half
My Cousin Rachel review - du Maurier remake too florid by half
Rachel Weisz star vehicle needs to take a deep breath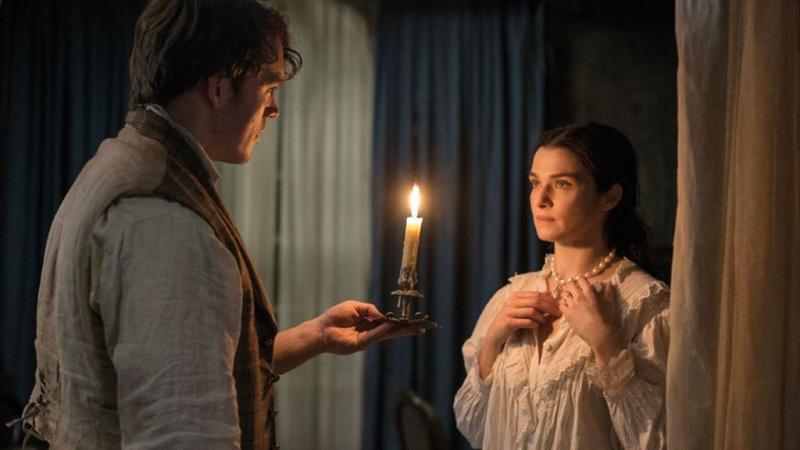 Questions galore: Sam Claflin and Rachel Weisz in 'My Cousin Rachel'
From the breathless questions posed at the beginning onwards, My Cousin Rachel charges forward like one of leading man Sam Claflin's fast-galloping steeds. Presumably eager not to let this period potboiler become staid, director Roger Michell swoops in on the characters for close-ups and lets his surging camera duck and dive where it may.
The result certainly eclipses whatever memory people may have of the 1952 film of the same
Daphne du Maurier novel
, which heralded a young Richard Burton in the role Claflin takes here. But after a while, one wants to urge everyone to calm down. It's only a movie, after all.
The focal point of the intrigue is the much-discussed but only belatedly-glimpsed Rachel (Rachel Weisz), a woman of mystery (as they used to say) who was partnered with the much-adored guardian, Ambrose, of Claflin's orphaned Philip. At his windswept home in Cornwall Philip receives with interest epistolary reports of the senior Ambrose's infatuation with the film's eponymous femme fatale, who is being exalted via letter one minute and then described in tortuous terms the next.
Ambrose's subsequent death is all that's needed for Philip to hotfoot it – few people in this movie proceed at anything less febrile a pace – to the continent to suss out the situation for himself. Before you can say boo, Philip, too, is surrendering to this veiled beauty, but will he suffer Ambrose's fate? WIld horses wouldn't drag an answer from me here.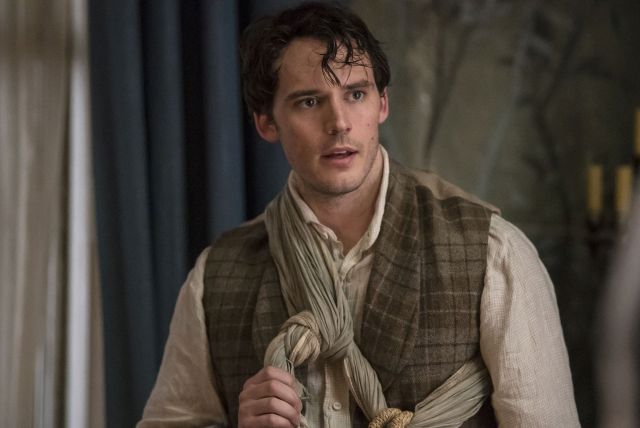 A bodice-ripper by any other name, My Cousin Rachel is inherently pulpy, and one rather admires Michell – whose recent National Theatre production of Consent was a stunner – for meeting its demands head-on, and then bravely raising the temperature still further. Claflin (pictured above) bounds across the countryside sporting various degrees of dishevelment and stubble, disrobing where necessary in an admirable bid to be this year's reigning celluloid Britboy. Weisz is by necessity cooler and trickier to read: is the alluringly veiled Rachel an agent of seduction or misrule? Or perhaps she's a modern woman in embryo, an independent figure ahead of her time whose tea-making skills should be taken (you'll forgive the culinary mash-up) with a pinch of salt.
The supporting cast includes the anticipated array of English notables, from Iain Glen and Holliday Grainger representing the Cornish contingent to Simon Russell Beale in an endearingly sly turn as a lawyer who knows how to make words like "rashness" linger in the air. Italy is cryptically embodied by one Guido Rainaldi (Pierfrancesco Favino), who turns out to be nursing a secret of his own which gets delivered in the same tabloid-friendly tones evident elsewhere. The film is fun if you take it in the appropriate spirit and may raise eyebrows you didn't know you had if you don't. Maybe one day it can share a double bill with Marisa Tomei's Oscar-bearer, My Cousin Vinny, whose heroine would have no qualms in teaching the poor besotted Philip a thing or two.