Holocaust: Night Will Fall, Channel 4 |

reviews, news & interviews
Holocaust: Night Will Fall, Channel 4
Holocaust: Night Will Fall, Channel 4
Memories of the Holocaust, and Alfred Hitchcock's attempts to sum up its visual testimony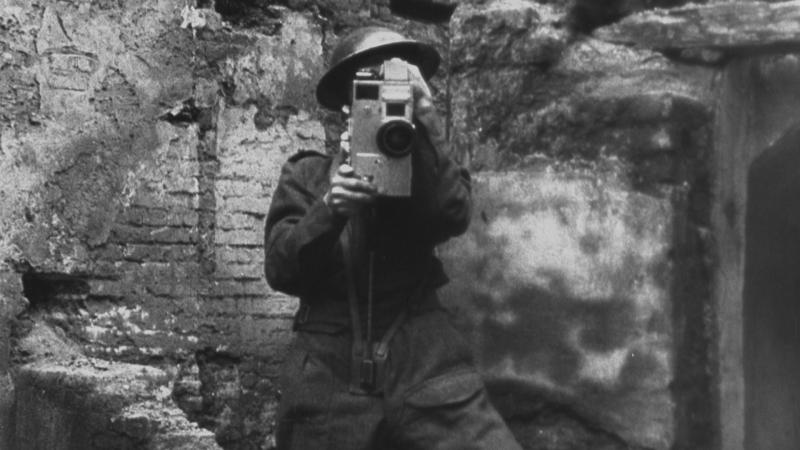 Filming the unimaginable: British and US Army film crews discover the horrors of the concentration camps
More than once in André Singer's documentary Holocaust: Night Will Fall – marking in advance the 70th anniversary, on 27th January, of the liberation of Auschwitz, having added that explanatory first word to the title with which the film was released in cinemas last year – his interviewees describe their experience as like "looking into hell".
We hear phrases like "world of nightmare", "utter shock", "beyond describing" repeatedly, uttered by the first Allied soldiers to enter the German concentration camps at the end of World War Two.
We, the general viewer, have had seven decades to absorb such imagery. Night Will Fall captures the experiences of those who came upon it first – the cameramen from army film units who were responsible for recording what they encountered, and in doing so to some extent "created" the visuals that remain etched in our brains. Singer's film is also about the "uses", however primitive a word that sounds, of such representation, and tells the story of a documentary film prepared by Britain's Ministry of Information that never fulfilled its original propaganda role, but has now been restored to match the original filmmakers' intentions.
'Hitchcock would have some idea how we can tie it all together'
The key figure behind the project was producer Sidney Bernstein, who oversaw its development between commencement in April 1945 through to when it was shelved in September of the same year. The resulting work, titled German Concentration Camps Factual Survey – the final restored version of the film received its first UK screening at last year's London Film Festival – has sometimes been referred to as Alfred Hitchcock's only documentary film, though that's perhaps a misleading attribution, given that the director's role was more supervisory, and he actually had little time to devote to it. Bernstein expressed it best when he said how he hoped that "he [Hitchcock] would have some idea how we can tie it all together."
Singer's Night Will Fall charts the historical development of that work, combining extracts from the original film (presented in a slightly reduced screen format) with other documentary footage from the period that provides context to the wider story. The commentary comes partly from earlier archive interviews, particularly Bernstein speaking in 1982 (Hitchcock appears largely as a voice only), and others who were involved in the original production, and partly in interviews with contemporary historians, including from London's Imperial War Museum where the archive material is deposited and whose efforts made the final restoration possible. But it's the testimony that Singer records in interviews with the dozen or so witnesses from the time itself, survivors of the camps as well as those who first discovered and then chronicled those terrible places, that speaks most powerfully.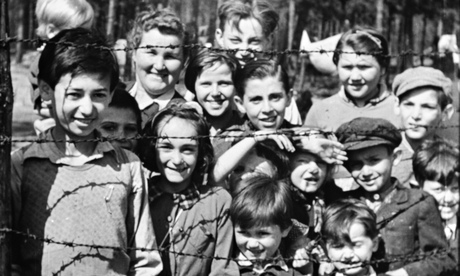 It's told at a deliberately slow pace, with frequent screen silences as the images speak for themselves and evocative if restrained music from Nicholas Singer, intentionally creating a rhythm that makes us ponder deeply. Somehow the experience seems to parallel that of one of the first film unit crew members to enter Belsen, who describes it "as if we withdrew into another space, time, existence" (Night Will Fall runs at only 75 minutes, but does indeed seem to exist outside time). Restrained voice-overs come from Helena Bonham-Carter narrating the Night Will Fall script, while Jasper Britton reads extracts from the script written by Richard Crossman for the original project.
Belsen provided the opening in Singer's film (inmates of the liberated camp, pictured above). British troops approached it in April 1945, advancing under truce behind the lines of the German army, one of whose generals had argued for not fighting over a camp where typhus, the German side said, was rampant. What the first people to enter Belsen found was unimaginably more terrible. Broadcaster Richard Dimbleby was among the first there, but the BBC delayed his broadcast, his son David remembered here, because they could hardly believe its content, and insisted on checking. Later we heard film editor John Krish recalling the arrival for viewing one morning of four hours of material from Dachau, a "name that was unfamiliar to all of us"; those watching it found it even more harrowing because it was screened in negative format, reversing the blacks and whites. Each editor present was secretly hoping that someone else would be assigned to cut it.
In retrospect, of course, Bernstein's project was an impossible one. As well as receiving new footage from all the continuing camp liberations, the decision was also taken to include material filmed by the Soviet armies as they liberated first Majdanek, and then Dachau. That had come from as early as July 1944, and such reports must have given a first hint at what would be found as the Western front powers moved towards Berlin. Yet they were largely dismissed at the time because of the "perceived record of fallibility" on the part of the Soviets in reporting atrocity. (In another twist of documentary verite, the Soviet film crews arrived up to a month after troops liberated some of these camps, so their reporting was to some extent "staged".)
Further complexities came from the fact that the army film crews didn't work with sound, so that only came when news reporters arrived; in addition, US forces had started to work with colour film from the very beginning of 1945, but that had to go back to America for processing, so never came Bernstein's way in London. Thus, black and white became the default visual medium, and somehow it would now be hard to imagine it any other way. (The British Army Film and Photographic Unit at work, below.)
The final obstacle to German Concentration Camps… was that it was intended for propaganda purposes, to be screened to a defeated population to show the full reality of what Germany had been complicit with. Partly it was to prevent any subsequent revisionist attempts to claim that everything had been invented, but much more for the simple fact of witness. Repeated scenes shot in the camps show the local German population being brought to these places that they had pretended to be unaware of, except when exploiting their labour ("they came cheerfully like sightseers to a chamber of horrors," one line of commentary reads). Indeed, one of Hitchcock's most potent directorial suggestions was to use maps to show, by indicating the radius of such adjacences, just how close to the camps "ordinary" German life went on.
Already by August 1945 official opinion was beginning to change, however, as the perception came that the advantages of bringing home Germany's guilt again and again were mixed; instead what was required was material to "encourage and stimulate the Germans out of their apathy". The Americans in particular were dissatisfied at Berstein's slowness, and duly put director Billy Wilder in charge of a rival film which was later released under the title Death Mills in the American sectors. It was a much shorter, more hectoring piece, the "success" of which was equally ambiguous: at one screening in Wurzburg, from an initial audience of around 500 only 75 or so remained in the cinema by its conclusion.
The distinction is made best by Toby Haggith of the IWM, when he says that, while German Concentration Camps… counted as failure by propaganda criteria because it was too late to fulfil its immediate purposes, as documentary it stands or falls by far more exacting standards. It was nothing more than an attempt by some of the most skilled film professionals of the time, with the involvement of a director of genius in Hitchcock, to engage with the most urgent issue that the 20th century could present to documentary-makers. Bernstein's final words on the subject came in a letter to editor Peter Tanner: "One day, you will realise that it has been worthwhile."
Singer's Night Will Fall is far more than a coda to Germany Concentration Camps. Of course, to some extent it is context, but demands to be seen in parallel with the earlier work, as a companion piece. Its title, David Dimbleby reminds us, is far more universal – that these are things that could happen to anyone, anywhere, when civilisation breaks down. The final lines of Richard Crossman's original script reveal the resonance of Singer's title: "Unless the world learns the lessons these pictures teach, night will fall."
It was an attempt to engage with the most urgent issue that the 20th century could present to documentary-makers
rating
Explore topics
Share this article