Pride and Prejudice, Open Air Theatre, Regent's Park |

reviews, news & interviews
Pride and Prejudice, Open Air Theatre, Regent's Park
Pride and Prejudice, Open Air Theatre, Regent's Park
Bonnet extravaganza: celebrating the bicentenary of Jane Austen favourites, Elizabeth Bennet and Darcy
Rebecca Lacey as Mrs Bennet, Jennifer Kirby as Elizabeth and Leah Brotherhead as Mary
It is a truth universally acknowledged that it is essential to quote the famous opening line in any reference to Jane Austen's best-loved work. Pride and Prejudice is 200 years old and being celebrated with balls, literary walks, readathons, television programmes and this adaptation for the stage.
Notwithstanding several films (including Joe Wright's in 2005, with Keira Knightly as Lizzy) and Andrew Davies's memorable BBC version screened over six episodes in 1995 (with
Colin Firth
making Darcy a sex symbol in a wet shirt) another truth has to be acknowledged: no other medium truly rivals the book.
All is not lost, however. Austen's dialogue crackles with tart observation, wit and acerbity, and there are endless opportunities to indulge in grand house settings and gorgeous early 19th-century costumes, with bonnets and empire line dresses galore. And, above all, this is the best rom-com ever with its delightfully familiar set pieces - the ball at Netherfield, Mr Collins's proposal, Elizabeth's visits to Lady Catherine and Pemberley - and characters, as recognisable as our own relations: clever Elizabeth, charming Bingley, pompous Mr Collins, embarrassing Mrs Bennet, flirtatious Lydia, feckless Wickham and fascinating, haughty Mr Darcy.
David Oakes, properly distant and stiff as Darcy, has a touch of Colin Firth in his delivery
Simon Reade's version, topped and tailed with that quotable Mrs Bennet assertion, is, naturally, more compressed than a television series requires. He has made good use of the existing dialogue, though, turned reported speech into direct and included the letters, often important to the plot, by having characters speak extracts. We miss subtleties and there just isn't time to observe anything much outside the main story - the detail of how Elizabeth is taken in by Wickham, for instance - but Reade has been remarkably true to Austen, choosing to emphasise the position of women in a society where not to marry was to fail. There is only one really duff note: Elizabeth's outspoken remarks to her father about his marriage do not ring true either for her character or the period.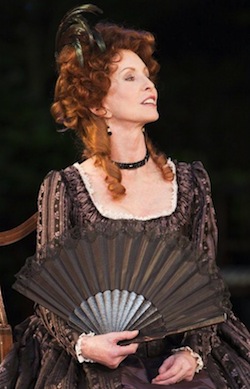 This is, by its very nature, a wordy piece, and there are times when the lines seem too much of a mouthful, too arch for modern actors to render naturally. But Deborah Bruce's direction is full of movement, aided by Sian Williams's dances, rustic in the assembly rooms, more courtly at Netherfield. Max Jones's elaborate, two-tier, wrought iron panelled set, spinning on a revolve, quickly and elegantly changes locations, revealing and concealing the cast.
Ed Birch as a gauche Mr Collins, his long, thin gaitered legs bending like a gnat's, takes the comedy honours. Jane Asher (pictured right) makes an imperious Lady Catherine De Bourgh and Rebecca Lacey twitters and fusses as Mrs Bennet should. Timothy Walker has to suggest economically his relationship with his favourite daughter, but he is allowed quite a few of Mr Bennet's weary aphorisms. David Oakes, properly distant and stiff as Darcy, has a touch of Colin Firth in his delivery. But Pride and Prejudice in any medium depends on Elizabeth, the character Austen herself loved. And here the production offers a discovery: Jennifer Kirby is still at drama school, but she carries proceedings effortlessly, speaking the formal, convoluted language as if she has just invented it, as quick, opinionated and clever as only Eliza Bennet can be.
This is, by its very nature, a wordy piece, and there are times when the lines seem too much of a mouthful, too arch for modern actors to render naturally
rating
Explore topics
Share this article