Postmodernism: Style and Subversion 1970-1990, V&A |

reviews, news & interviews
Postmodernism: Style and Subversion 1970-1990, V&A
Postmodernism: Style and Subversion 1970-1990, V&A
Inspired innovation or rampant plagiarism? An attempt to make sense of our cut-and-paste world
Friday, 23 September 2011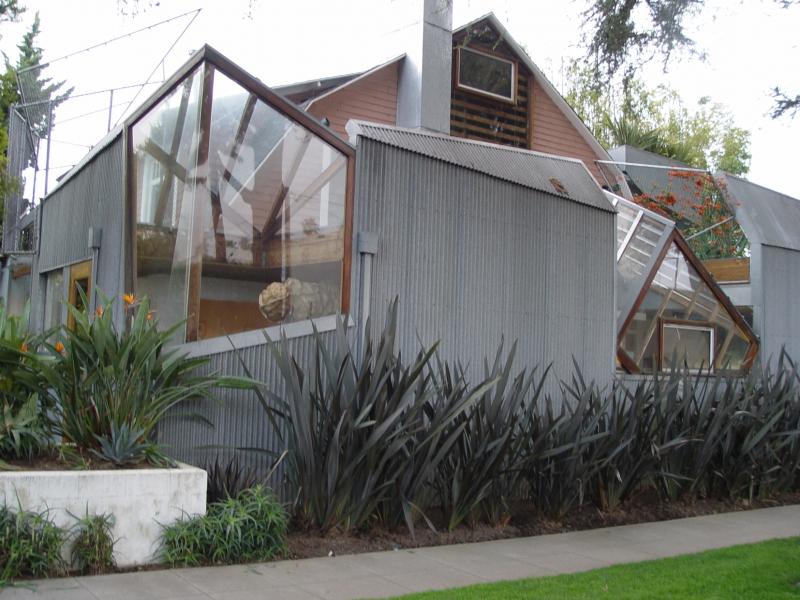 Frank Gehry's Santa Monica house is a suburban bungalow with apparently ad hoc add ons
It took a long time for architects to embrace popular culture. I attended a talk at the Architectural Association in the mid 1970s, when someone (probably the architect Robert Venturi) waxed lyrical about shiny American diners and hot-dog stands shaped like Frankfurters and extolled the virtues of the madcap fantasies built in Las Vegas.
"Dazed by desert sun and dazzled by signs, between loving and hating what we saw, we were both jolted clear out of our aesthetic skins," wrote Venturi's partner Denise Scott-Brown of their American road trip. A nervous buzz of excitement swept the room; sedition was in the air, but I remember thinking that, more than 10 years after pop art, this revolution was late in coming. Hadn't they heard of Richard Hamilton or Eduardo Paolozzi?
The rebellion was, of course, against the abstract simplicity of Modernist architecture, which had spread across the globe to become a stifling orthodoxy that felt puritanical in its austerity. According to Charles Jencks who coined the term Postmodernism, Modernism had died a few years earlier – on 15 July, 1972, when the Pruitt-Igoe housing project in St Louis, Missouri was dynamited. The scheme, for which Minoru Yamasaki had won an award just 16 years earlier, had proved to be a failure; rather than fostering good community relations as had been expected, his spare blocks became a crime-infested hell hole, vandalised by the inhabitants.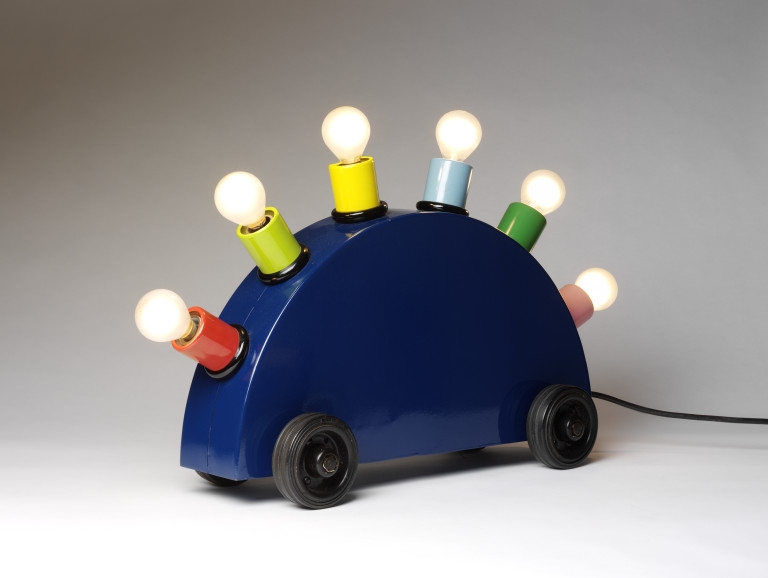 Postmodernism: Style and Subversion is an attempt to make sense of the stylistic free-for-all that followed as soon as architects stopped looking forwards (designing better buildings for a brighter future) and began glancing backwards or sideways (foraging for existing ideas to beg, borrow or steal). No sooner had humour, colour, decoration, playfulness, fantasy, metaphor, symbolism and historical quotation been allowed into the mix, than designers cast all purist principles aside and began indulging in style for its own sake, the only rules being never to be boring, earnest or sincere.
Pluralism was the name of the game and the Italians embraced it with gusto. "We want to bring into the house everything that has been left out," proclaimed Archizoom, a design team in Florence, "contrived banality, intentional vulgarity, urban fittings, biting dogs." Meanwhile in Milan, Ettore Sottsass was designing buildings that resemble teapots and teapots that mimic temples. In 1981, with Alessandro Mendini and others, he formed the design group Memphis (pictured above: Super Lamp, Martine Bedin for Memphis) to produce furniture and fittings that defy logic with their playful idiosyncracies and, 25 years on, look as provocatively silly as when they first appeared.
At its best Postmodernism is inventive, witty and resourceful. In Santa Monica, Frank Gehry bought a suburban bungalow and, instead of pulling it down, turned it into a 3D collage; surrounding it with lengths of corrugated iron, timber and chain-link fencing and introducing oddly angled windows, he created an ad hoc jumble of cheap materials that seems random and provisional. Commissioned by the supermarket chain Best products, James Wines of SITE designed a series of stores that challenge concepts of newness and freshness by looking as if they are already in ruins and, in Berlin, Frank Schreiner turned a shopping trolley into a chair (pictured left) for tired consumers.
If freedom from the restraints of Modernism led to playful light-heartedness, disillusion with the failure of its utopian goals also led to the anger and cynicism expressed in Derek Jarman's film The Last of England (1987). At this point in the exhibition, it would have been helpful to include artists like Sherry Levine and David Salle who undermined notions of authenticity and authorship by purloining existing images – ushering in the concept of creation through appropriation.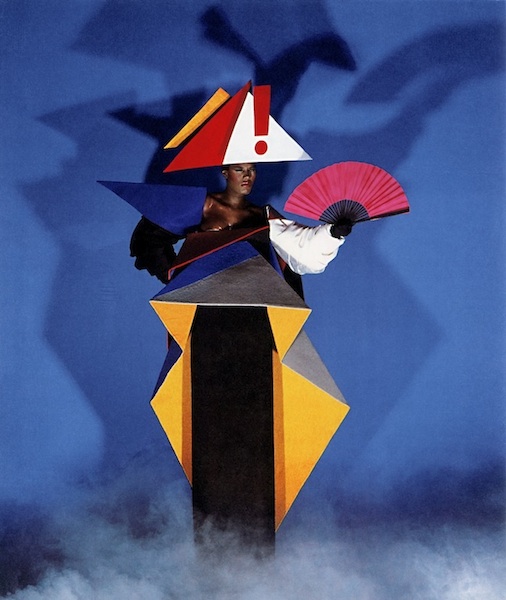 Instead we enter the realm of pop music with gender bending performers like Boy George and Leigh Bowery, style icon Grace Jones (pictured right in maternity dress by Jean-Paul Goode and Antonio Lopez) and the idea of the self as an ironic pastiche – you are what you seem. In Hip Hop, DJ Grandmaster Flash perfected the art of sampling and with their cut-and-paste graphics, innovative magazines like iD and Wet (pictured below) produced upbeat visual equivalents. This part of the story is more fun but less serious unless, that is, you agree with Mendini's claim that "Superficiality has depth"; surface is everything: what you see is what you get.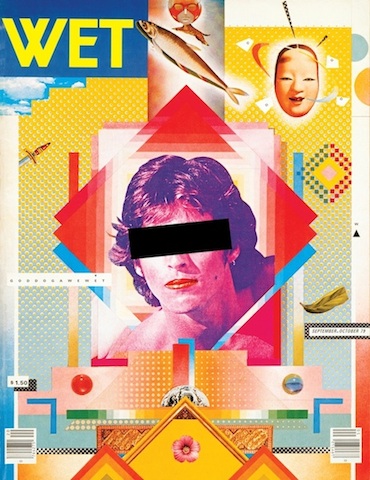 To be interesting, though, superficiality has to remain fresh and avoid familiarity. This is a tall order and, with radical ideas gradually morphing into slick style statements whether in music, graphics, dress or performance, innovation soon stalled. In architecture Postmodernism quickly matured into mediocrity; posturing as innovation, Michael Graves's Portland Building (1982) in Portland, Oregon is a rectangular block decorated with a collage of predigested architectural clichés, like a giant film set that takes itself seriously. You'd have thought a commission to design a hotel for Walt Disney World in Orlando, Florida would provide the perfect opportunity for playful innovation, but Graves's Swan Hotel (1987) (pictured below) offers the dullest possible solution – a symmetrical box decorated with a wave pattern and topped by two huge swans, conservative yet kitsch.
Graves also designed a tea set with Mickey Mouse ears; the trouble with jokes, though, is that humour quickly palls. In her hand-made chair, Wendy Maruyama borrows the elongated back of a signature Charles Rennie Mackintosh design and embellishes it with large Mickey Mouse ears; will it ever be possible to see this hideous hybrid as anything more than an insult both to Mackintosh and Mickey and an affront to all of us?
The exhibition ends on an upbeat note, though, with Robert Longo's video for the English rock band New Order. In America Bizarre Love Triangle failed to enter the charts and here reached only 56, but the video is brilliant. A fast-paced syncopation of image fragments including men and women repeatedly falling out of the sky, it was produced by the American artist in 1986 before the digital revolution made cut-and-paste an easy option for people of all persuasions.
It's a useful reminder that as a style Postmodernism may be dead, but as an attitude it has permeated our thought processes. With the arrival of the net, surfing and sampling have become as easy and as apparently natural as breathing; now commonplace aspects of daily life, these ways of working are as creative or as dull as the person who uses them.
Postmodernism: Style and Subversion at the V&A until 15 January, 2012

The rebellion was, of course, against the abstract simplicity of Modernist architecture
Explore topics
Share this article