The Waterboys, Roundhouse review - energetic delights |

reviews, news & interviews
The Waterboys, Roundhouse review - energetic delights
The Waterboys, Roundhouse review - energetic delights
From Burns and Yeats to Mick Jones - an eclectic dialectic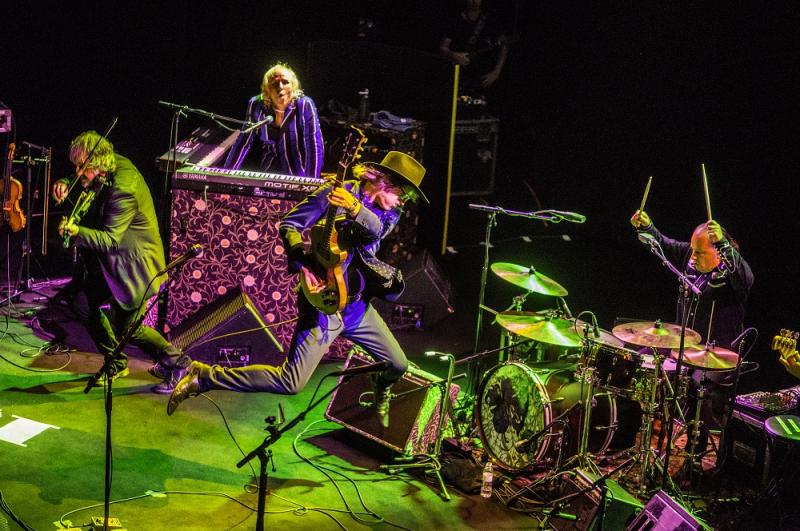 Energising and unpompous
Was it imagination or did The Waterboys' audience at London's Roundhouse, invited to sing along to "The Nearest Thing to Hip", really sing extra-loud and lustily on the line "in this shithole"?
On a momentous day that seemed to push Britain further toward the perilous unknown, Mike Scott's energetic performance of the song from the band's 2015 album
Modern Blues
certainly struck a chord, and his recollections of youthful visits to London and lament of now long-gone delights surely resonated with many.
There was the record store in Westbourne Grove where the teenaged Scott was invariably told that he had insufficient money for the rare early Bowie albums he craved, and Sounds Ahead in Carnaby Street where the allure was Pink Floyd bootlegs. No matter that when he got them home to Scotland and on to his record player they turned out to be desultory Rolling Stones concerts from the early Seventies. And then there was Marine Ices, a Chalk Farm landmark forced to relocate to accommodate property developers… "Doesn't it feel good to sing shithole?" he yelled.
It's Jones not Jagger who's celebrated in 'London Mick'
The tour was a few gigs old, the latest CD released that very day so naturally songs from Where the Action Is featured prominently in The Waterboys' two-hour set, which opened with the title track, inspired by Robert Parker's "Let's Go Baby (Where The Action Is)" and included the impassioned "In My Time On Earth". The band's energy was infectious and it's extraordinary to watch Steve Wickham in action, the Paganini of rock violin leaping around in frock coat and hat, his fuzz fiddle effectively taking the lead guitar role. Brother Paul Brown on keyboards was no less awesome, the distinctive sound of his Hammond synthesising the best of American country and rock – as befits a musician whose "soul is in Memphis, but my arse is in Nashville, Tennessee". Scott's 2017 song provided a moment for Brother Paul to step away from his instrument and shake his Nashville arse for the crowd. Aongus Ralston was on bass, Ralph Salmins on drums, while "lady-vocals" were provided by Jess and Zeenie, who bopped and gyrated throughout.
The Waterboys were on hallowed ground – the Rolling Stones and Patti Smith had trodden the Roundhouse stage, as Scott acknowledged – but it's Jones not Jagger who's celebrated in "London Mick", the style a clear hommage to the Clash's main man. "Ladbroke Grove Symphony" evokes a similar period of time – bo-ho Notting Hill (Scott in his "striped pants and cowboy hat") before Notting Hill pushed the neighbourhood far beyond the means of up-and-coming musicians. "Out of All This Blue", written and first recorded a couple of years back and revisited more satisfactorily on the new album, borrows melodically from a traditional folk song, "The Water Is Wide". "Fisherman's Blues" and "Raggle-Taggle Gypsies" were plucked from deep with The Waterboys' folk song bag, a period (the late 1980s) when Scott's love affair with Ireland began.
The concert concluded with the much-covered "The Whole of the Moon", a best-selling single and a staple of their live repertoire since its appearance on This Is the Sea in 1985. It was an energising and unpompous performance by a band which has gone through numerous line-ups and a seven-year split since its formation in Edinburgh in 1983. Scott, its founder, is a quasi-mystical figure whose Cadillac Pink trousers are at odds with his obsession with Yeats and Burns and whose music defies classification.
It's extraordinary to watch Steve Wickham in action, his fuzz fiddle effectively taking the lead guitar role
rating
Explore topics
Share this article