theartsdesk on Vinyl 70: Marianne Faithful, Honey Bane, Tinariwen, Kraftwerk, PJ Harvey, Dowdelin and more |

reviews, news & interviews
theartsdesk on Vinyl 70: Marianne Faithful, Honey Bane, Tinariwen, Kraftwerk, PJ Harvey, Dowdelin and more
theartsdesk on Vinyl 70: Marianne Faithful, Honey Bane, Tinariwen, Kraftwerk, PJ Harvey, Dowdelin and more
The most extensive regular vinyl reviews in the galaxy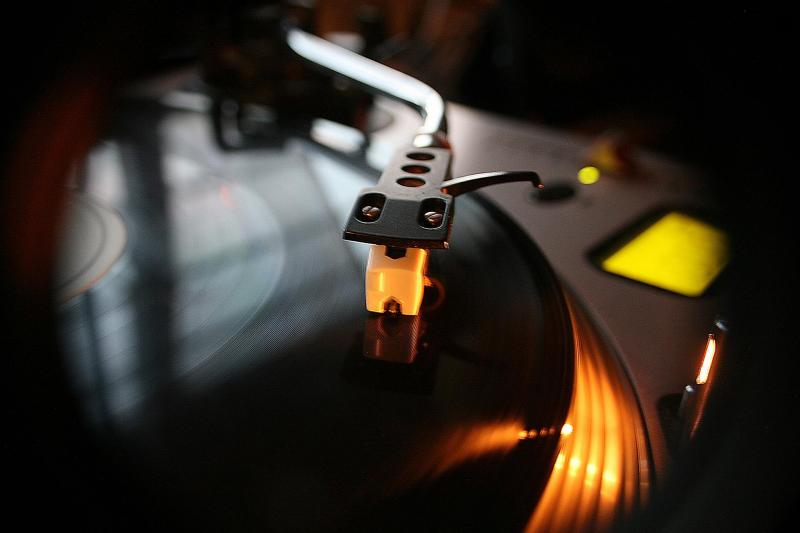 Always in the groove
Spring is in the air and vinyl is, as always, on the turntable here at theartsdesk on Vinyl. We've been ploughing through all the latest releases and reissues, played loud on a large sound system, each evaluated as fully as possible. Below you'll find 7000 words to pick through and locate what sounds good to you. Unrestricted by genre, all musical life is here. Dive in!
VINYL OF THE MONTH
James Domestic Carrion Repeating (Amok/TNS)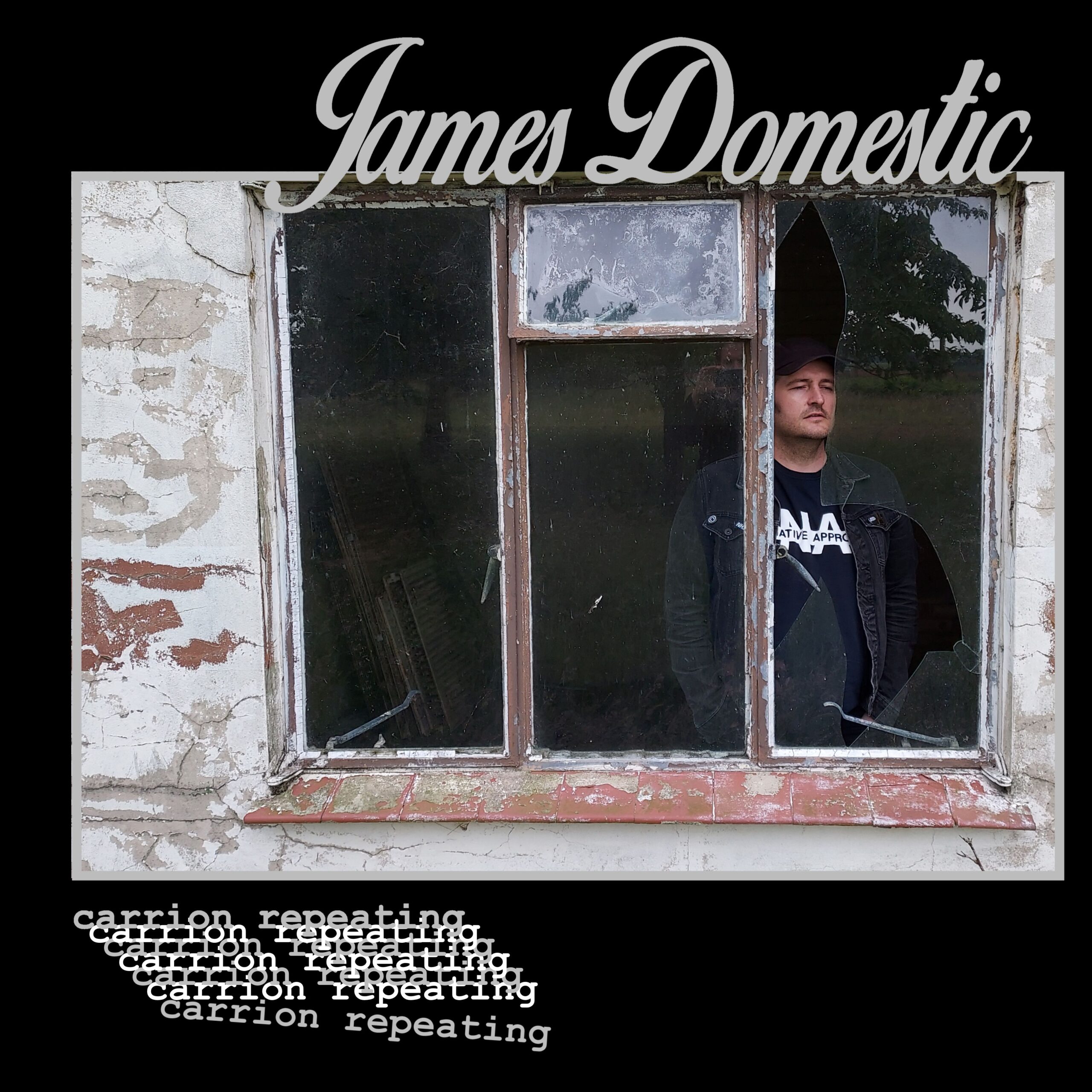 Suffolk-based James Scott is in more bands than there's space to list here, most notably punk outfit The Domestics. His solo debut is a complete treat that deserves to garner the kind of following Sleaford Mods have built up. Not that it's a ringer for Sleaford Mods (although there is something of their DNA in his sometimes lairy geezer-ish delivery). James Domestic has more in common with Ian Dury, chatting his way through songs, with witty Cockney panache, applied to subjects ranging from "Weekend Carbs" to crafty, greedy businessmen ("Bean Counter" – "You're a cunt that can count"!). What makes it all fully work, however, is the sparse purposeful instrumentation, lo-fi new wave pop decorated with oddball synth, here and there, and vocal backing and interludes from singers Clare Gillet and Lucy James. Well-produced and mastered to vinyl, Carrion Repeating is lively-minded, cheeky, funny and engaging from start to finish. Comes with 12" x 12" four page lyric booklet.
Marianne Faithful Vagabond Ways (BMG)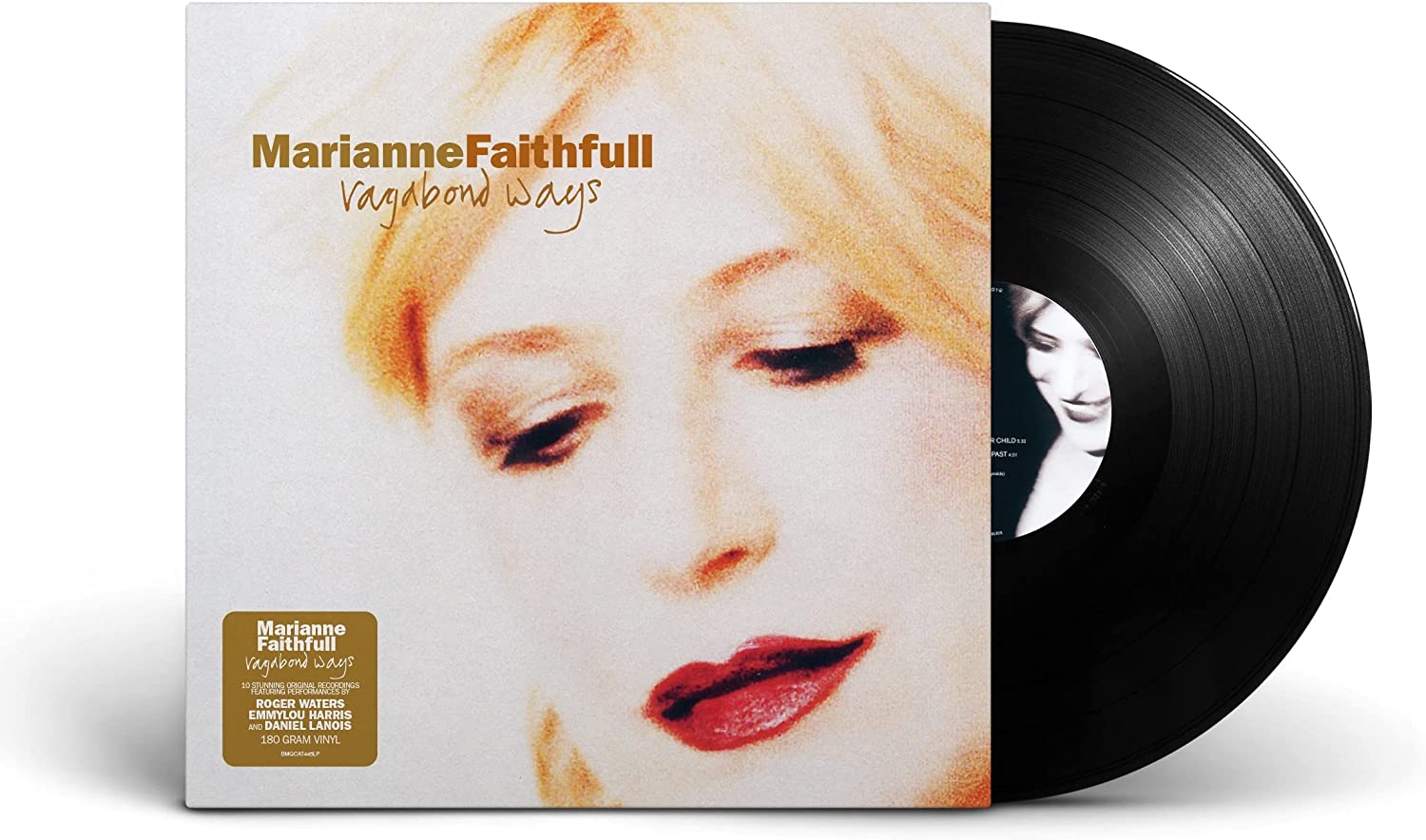 One of Sixties icon Marianne Faithfull's best albums, first released in 1999, Vagabond Ways radiates a forthright post-debauch reflectiveness wrapped in cabaret chanteuse spirit. A typical lyric would be "Helpless and happy and blind/Sunk without hope in a haze of good dope and cheap wine/Laying on the living-room floor on those Indian tapestry cushions you made", albeit that was written by Roger Waters ("Incarceration of a Flower Child"). Other contributors include Elton John and Bernie Taupin ("For Wanting You") and a surprisingly jaunty interpretation of Leonard Cohen's "Tower of Song", but most of the songs were written by Faithfull with the producers Daniel Lanois and David Courts, and longterm co-writer Barry Reynolds (once of Blodwyn Pig!!!). Vagabond Ways is all about its mood, which is the combined result of the singer's worn gravelly voice, the waltzing music and the wittily Byronic lyrics. Comes in info inner sleeve.
Dowdelin Lanmou Lanmou (Underdog)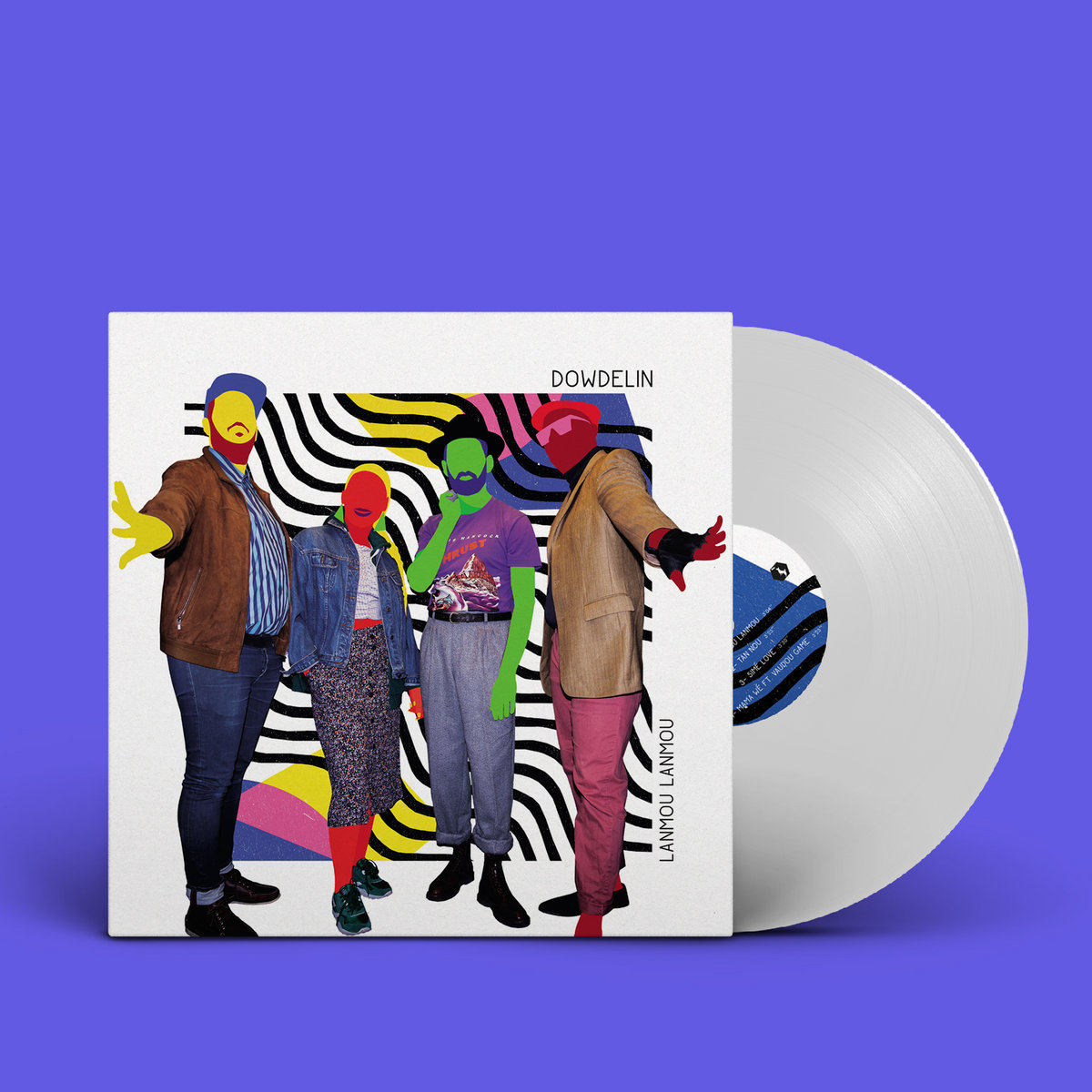 Lanmou Lanmou is the second album from Lyon-based Afro-Creole futurists Dowdelin. Judging by the Société Etrange mini-album, reviewed somewhere below, there's something good in the waters round Lyon at the moment. Dowdelin, fronted by the spirited vocals of Olivya Victorin, is French language funk reimagined through the prism of electronic pop. Some cuts, such as "Shadow on the Wall", have a scuttling, almost conventional R&B/soul feel (albeit with added steel band sounds), while "Somebody New" is a new swing at lovers rock. More often, though, there's percussive boundary-pushing, and an originality in the groove that's danceable and places things in a vibrant musical vanguard. Comes on white vinyl.
Kraftwerk Remixes (Parlophone) + Suicide Surrender (Mute)
A couple of collections that reflect two of the most influential electronic bands of all time. Kraftwerk's Remixes was originally a digital-only collection a year ago, cobbling together extant remixes on releases by the German electronic dons from between 1991 and 2007, as well as an elegant 2021 in-house edit of "Home Computer" and a new version of 1986 single "Musique Non Stop" that was created for MTV in 1993. The first of the three discs contains the latter, plus two of Kraftwerk's own remixes of "The Robots", a perfunctory "Hardcore" mix by William Orbit of "Radioactivity" (Klink Klang edit) and the groovier François Kevorkian dancefloor-friendly take on the same. The other two records focus on post-classic Seventies/Eighties material. One is entirely taken up with six remixes of their 1999 single "Expo 2000" (commissioned for the Hannover Expo 2000 World Fair) with two Kling Klang mixes alongside versions by Orbital, Kevorkian again, with Rob Rives, and Detroit 'Werk-philes DJ Roland and Underground Resistance (two by the latter). These are all worth a listen but Orbital's Moroder-esque take is probably the most more-ish. The final record is remixes of cuts drawn from 2003's purely-about-the-bicycles album Tour de France Soundtracks. A mellow Etape 2 version of "Tour de France" is offered alongside three takes of "Aéro Dynamik", a bangin' one from Alex Gopher/Étienne de Crecy, Kevorkian (again!) on a techno tip, and Hot Chip's functional dancefloor shot. Hot Chip also nail a spacey and intriguing version of "La Forme". Overall, while this piecemeal Nineties-club-sounding selection is of solid interest to fans and DJs, it offers little that represents the genius and stark glacial beauty of primetime Kraftwerk. Comes on lime-fluoro vinyl and my copy has the same Side 2 label on both sides of Disc 1.
The double set from New York electronic punks Suicide is stylishly understated in classic photo gatefold on bright red vinyl with a 12" x 12" 12-page booklet featuring an essay about the band by Henry Rollins and a large reproduction of a poster advertising a gig in summer 1972. Suicide weren't quite as influential as Kraftwerk… but they were almost. We're talking about two of the late 20th century's linchpin seminal bands, after all. The cream of the New York duo's output from their five studio albums is collected, and nine of the 16 cuts are, aptly, from their extraordinary first and second albums (Suicide, 1977 and Suicide: Alan Rev.Martin Vega, 1980, respectively). Their monotone garage synth pulse is as exciting as it ever was, but the treat for fans is the inclusion of an unreleased version of "Girl" from Suicide and the first version of the band's homicidal classic "Frankie Teardrop", which has an entirely different – and actually less wilfully horrible – story, but, contrastingly, the music seems even more manic in its humming threat. The songs from their other albums remind that, while not as consistent as what came before, they were peppered with gems, notably the Roy Orbison-like ballad "Surrender" from 1988's A Way of Life and the hip hop-flavoured funk of "Wrong Decisions" from 2002's American Supreme.
Noon Garden Beulah Spa (The Liquid Label)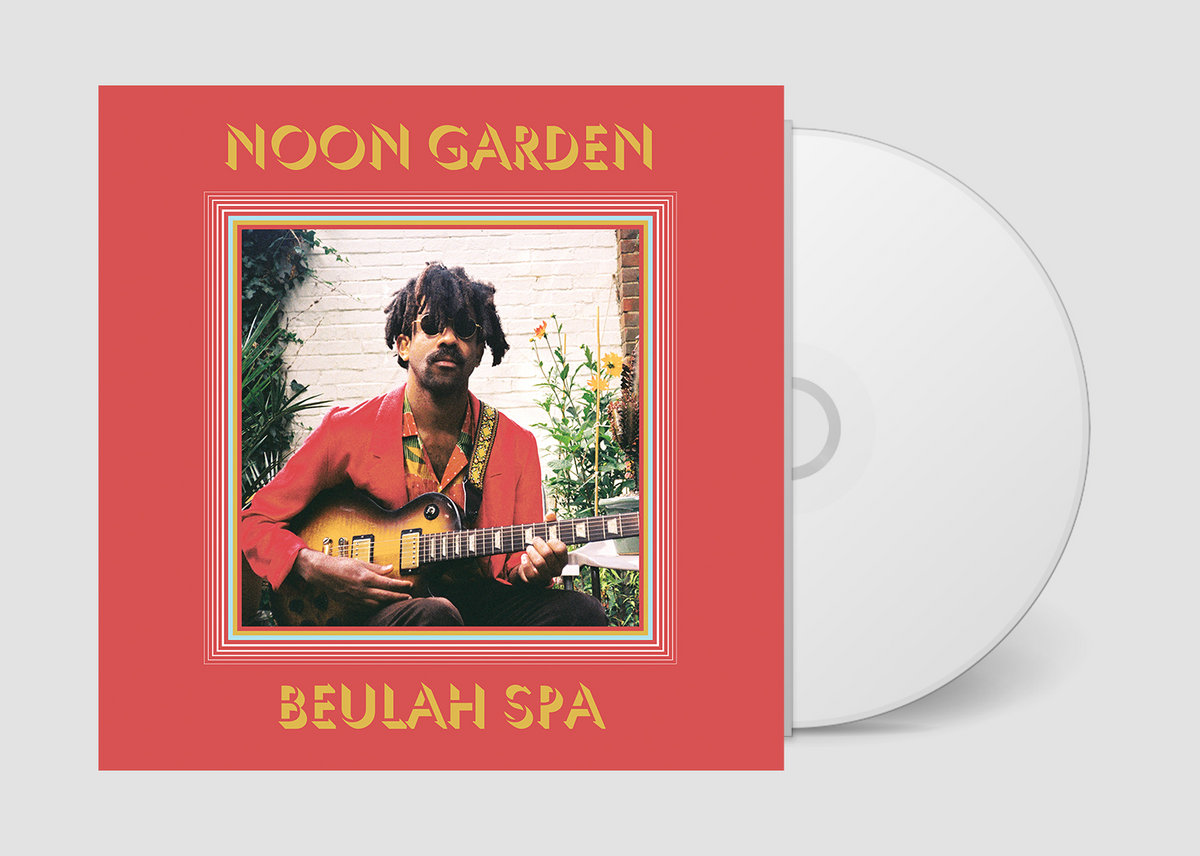 London band Flamingods have been festival favourites for a decade with their stew of global roots music and jammed wig-outs. Now the band's Charles Prest releases his solo debut and it's great fun, never straightforward, but always approachable and intriguing. Less rock-centric than Flamingods it's a busy, busy set of songs, sounding, a lot of the time, like Scritti Politti, if Green Gartside's focus had been Sixties psychedelic easy listening, guitar-led psyche, and global pop music. Of Jamaican-Nigerian heritage and raised in Bahrain, Prest's musical development may have led him to more curious influences than most musicians. These bleed out of him quite naturally into the admixture of Beulah Spa. Nothing quite beats the contagiously off-the-wall dance-beat-led alt-pop freakery of the title song but the whole album is a goer. Comes in lyric inner sleeve.
PJ Harvey The Hope Six Demolition Project (Island) + PJ Harvey The Hope Six Demolition Project – Demos (Island) + Terry Edwards & the Scapegoats My Wife Doesn't Understand Me (Cargo)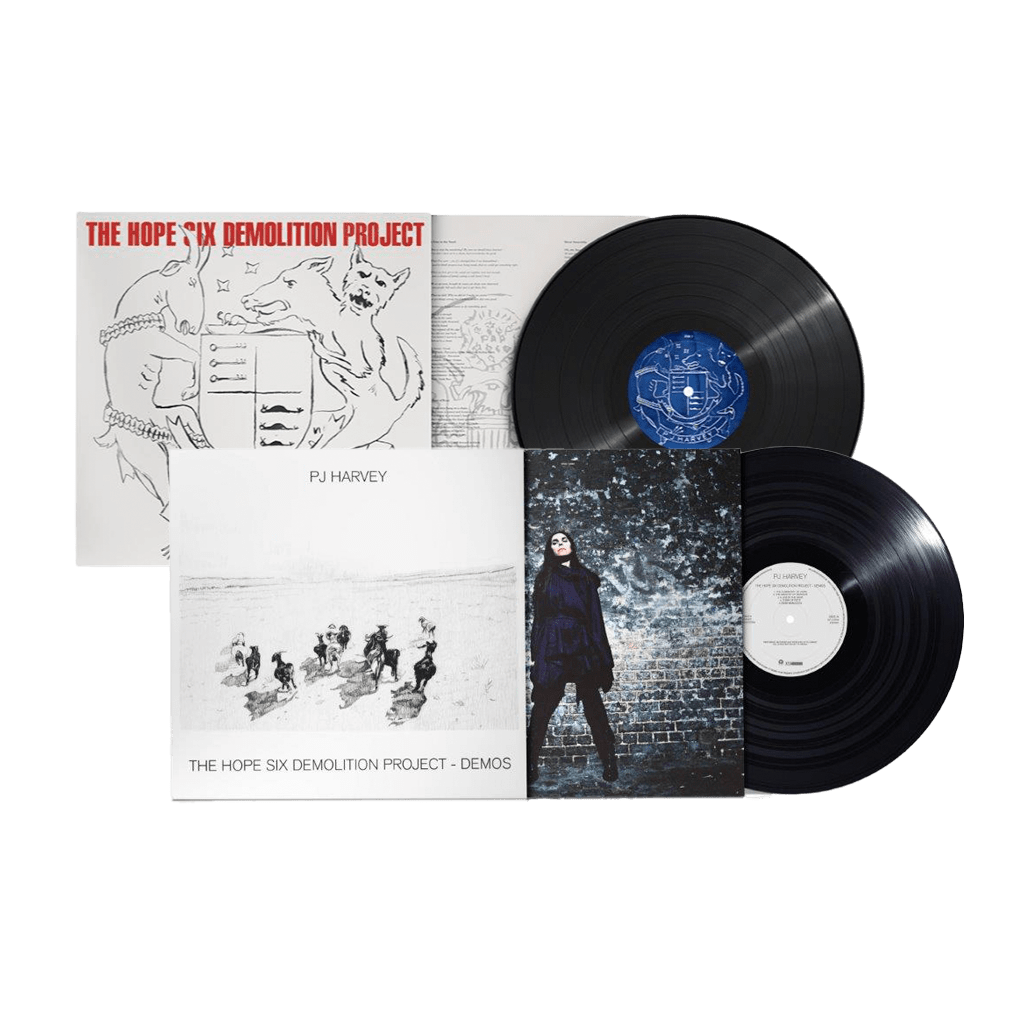 The final in PJ Harvey's chronological re-release series is, naturally enough, the last album she released, 2016's The Hope Six Demolition Project, and its accompanying set of demos. Listened to in 2022 it stands as a conceptual response to the rise of Trumpism, the endemic corruption at the heart of American self-mythology, and the impact US policy has across the world. Musically more straightforward than Harvey's earlier output, many of these songs seem like community resistance chorales, group-sung folk responses filled with tempered lyrical rage. A Top 10 album all round the world it's also emblematic of Harvey's reach and what she does with it. There's something epic about the whole thing, an indignant rebel spirit. The demos offer alternate raw versions of the same songs, although they're not as lo-fi as the demos for previous reissues. The original album comes on gatefold with a large black'n'white poster of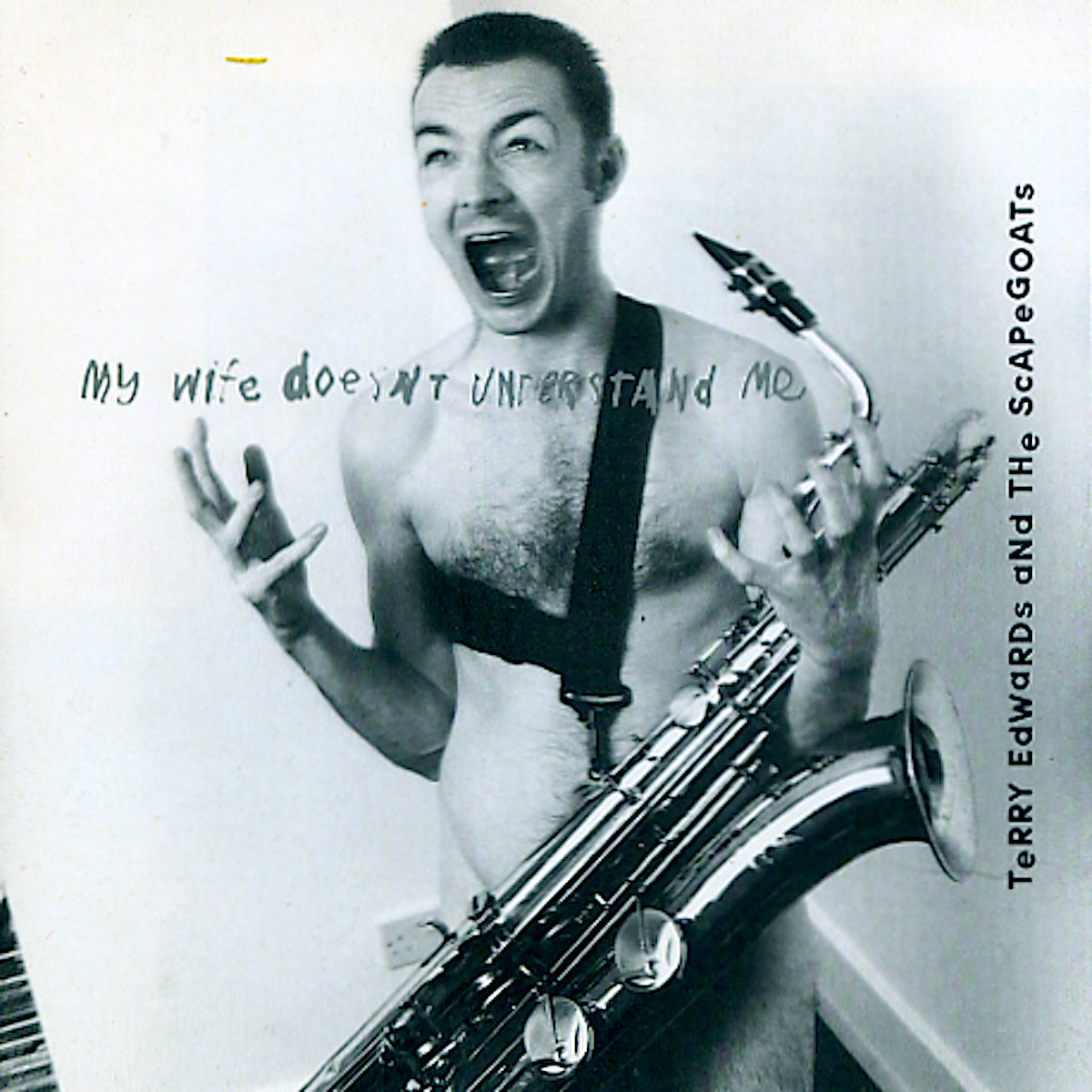 Harvey with a saxophone. Terry Edwards' sax is all over The Hope Six Demolition Project so I'm also going to squeeze in here a review of the reissue of the post-punk multi-instrumentalist's 1995 album My Wife Doesn't Understand Me (he's been a regular collaborator with Harvey). The only thing this has in common with Harvey is a determination not to be easily defined or predictable. Over four sides of vinyl Edwards and his Scapegoats (members of Serious Drinking, Gallon Drunk and The Higsons) refuse categorization, running the gamut from grindcore thrash to skronk-jazz, to Fall-like indie to longform extended jams to the Herb Alpert standard "A Taste of Honey" to the punkin' rage of "Margaret Thatcher We Still Hate You". Wherever you dip in, there's something worth a listen.
Various Balance pre. Hannes Bieger (Balance Music)
German producer Hannes Bieger was once best-known to club music sorts as an in-demand mixing engineer, having worked with names such as Âme, Tale of Us, Dixon and Ben Klock, to name but four, but he's segued into his own career, represented here by eight tracks over fours sides of vinyl, which he has produced, co-produced or mixed. Other names on board include deep house don Rodriguez Jr, and big room techno DJs Luna Semera and Victor Ruiz. The music on board rides the area between house, techno and trance, the latter mostly present in the chord structures on vocals cuts such as Tripolism's "Volta". It's stately-paced stuff, massive-sounding, lacking the innovativeness and edgy threat of proper techno or the disco-touched groove of house. Is this the so-called "business techno" that proper technoheads get in such a tizz about? I'm unclear as "business techno" doesn't seem to really have a sound but is more a pejorative term to describe DJs who've successfully built their careers via a very visual presence on social media. Whatever, Hannes Bieger's tunes here have a smooth, calculated 4/4 potency that's a big bangin' ride, while it lasts.
Tinariwen The Radio Tisdas Sessions + Amassakoul (Wedge)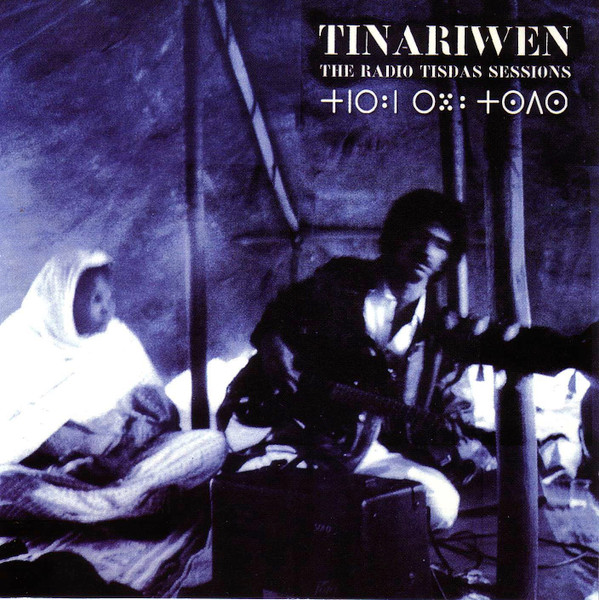 Reissues of the first two albums by Saharan bluesmen Tinariwen, a band born of the endless conflicts in their region, moulded by the refugee experience in Libya and other places, exposed to music outside their Tuareg heritage. The Radio Tisdas Sessions was their 2001 debut album, recorded in a radio station in Kidal in Mali in the run-up to the then-much-touted Festival in the Desert. Like Amassakoul, it reappears on double in gatefold on white vinyl (Amassakoul is on deep, dark purple) in photo inner sleeves with a 12" x 12" photo-info booklet giving background on the band in English and French. Of all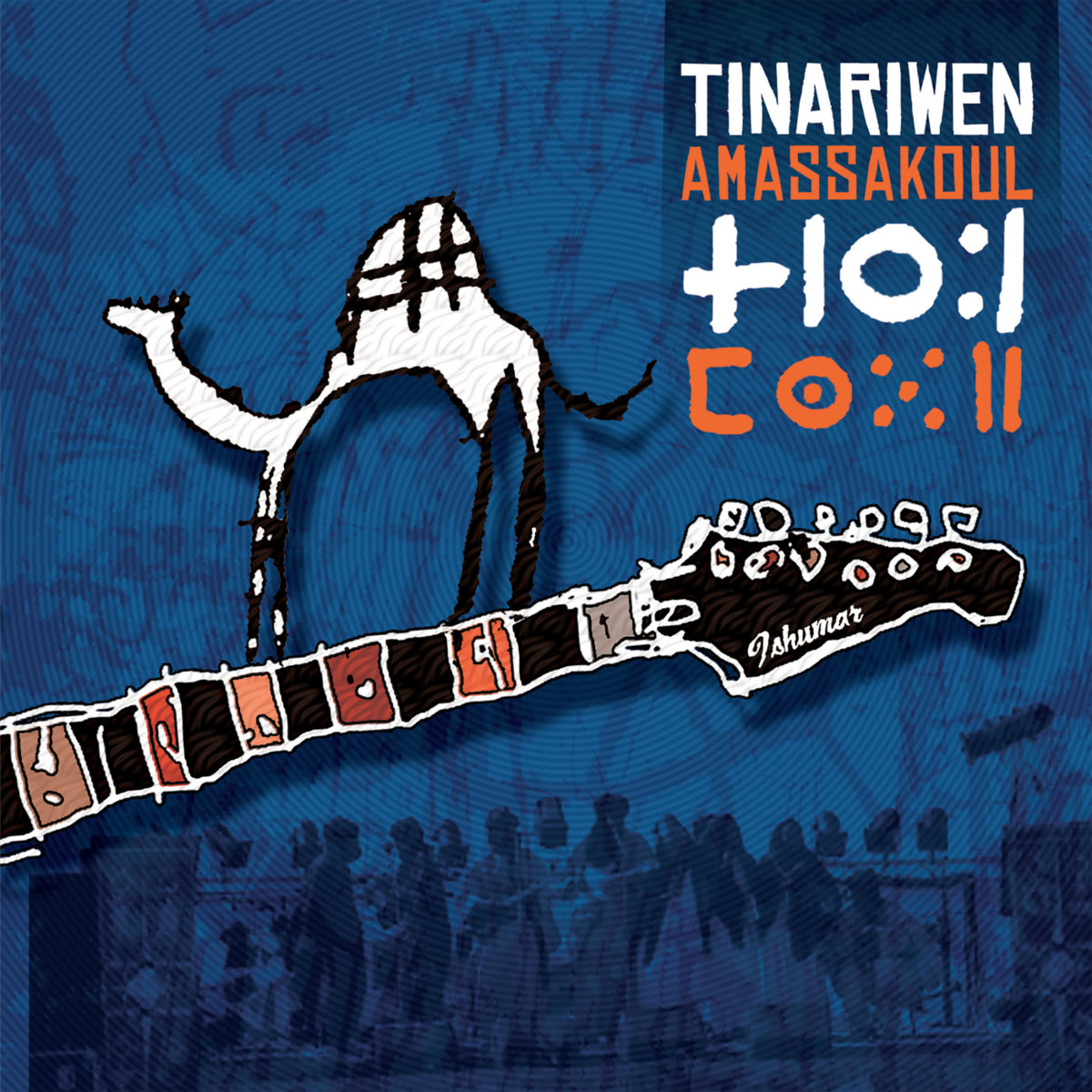 Tinariwen's albums it's the one most deeply marinated in Tuareg music, it's hypnotic drone qualities blending into loose, flowing Hendix-ian guitar effects (in the phasing "Third Stone From the Sun" sense rather than "Voodoo Chile" pyrotechnics). The 2004 follow-up Amassakoul is more conventionally constrcted and produced and became their global breakthrough to a higher profile. While less mystically alien-sounding, the Arabic-scaled blues comes further to the fore and the translated lyrics showcase a concept piece, a protest on behalf of the African displaced and mistreated, often slow-burning but retaining the band's hypno-power.
Sam Redmore feat. Andrea Brown Tears/Just Be Good to Me (Jalapeno) + Skinshape feat. D'Alma Sua Alma (Lewis) + Tim Ayre Mexican Holiday (Kitsuné)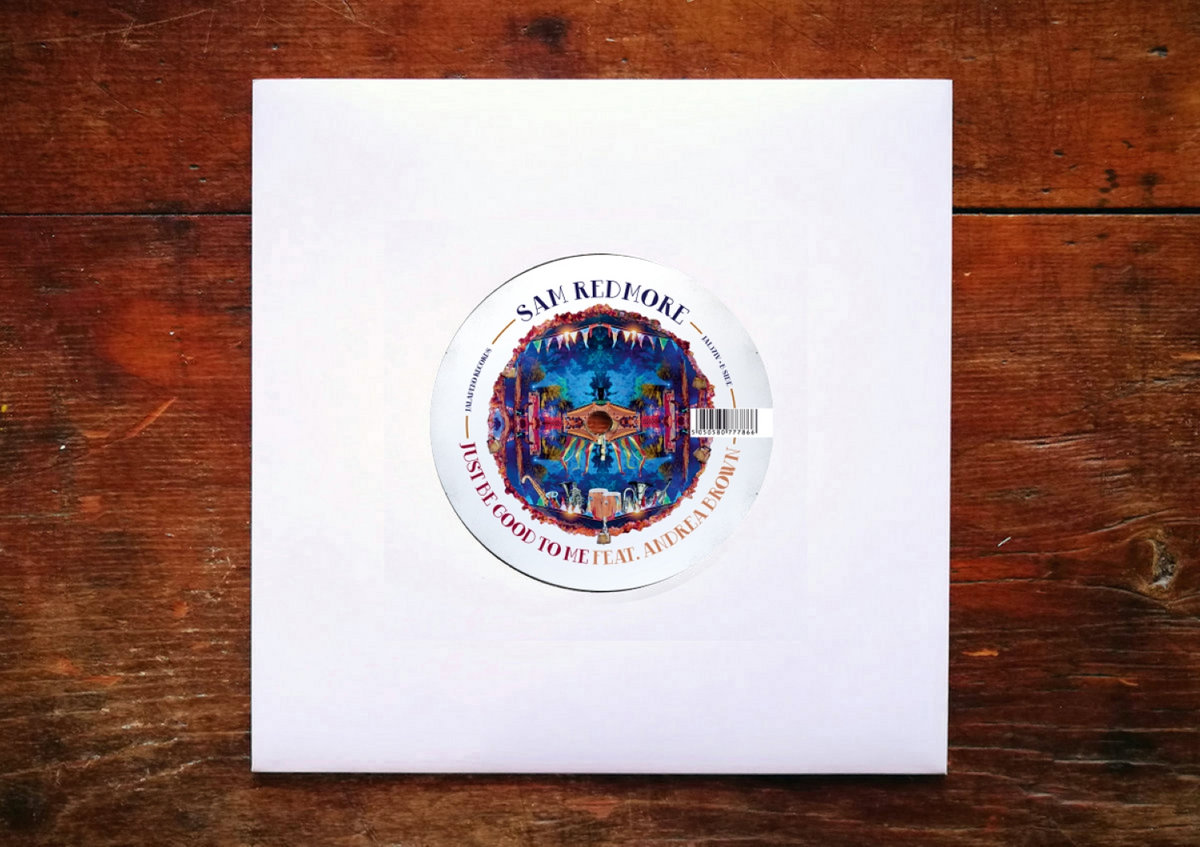 Three 7" singles. First off, Sam Redmore of Birmingham's Tropical Soundclash night returns with a double-header, the choice cut of which is a cheerful organ-fuelled instrumental channelling the spirit of easy-listening exotica but with a 21st century hip-swaying pushiness. Great fun. On the flip is a version of the SOS Band's "Just Be Good to Me", a lame choice as it's a song that's been over-covered, but Redmore's skanking, brassy, Latin take actually gets away with it, aided by the confidently upfront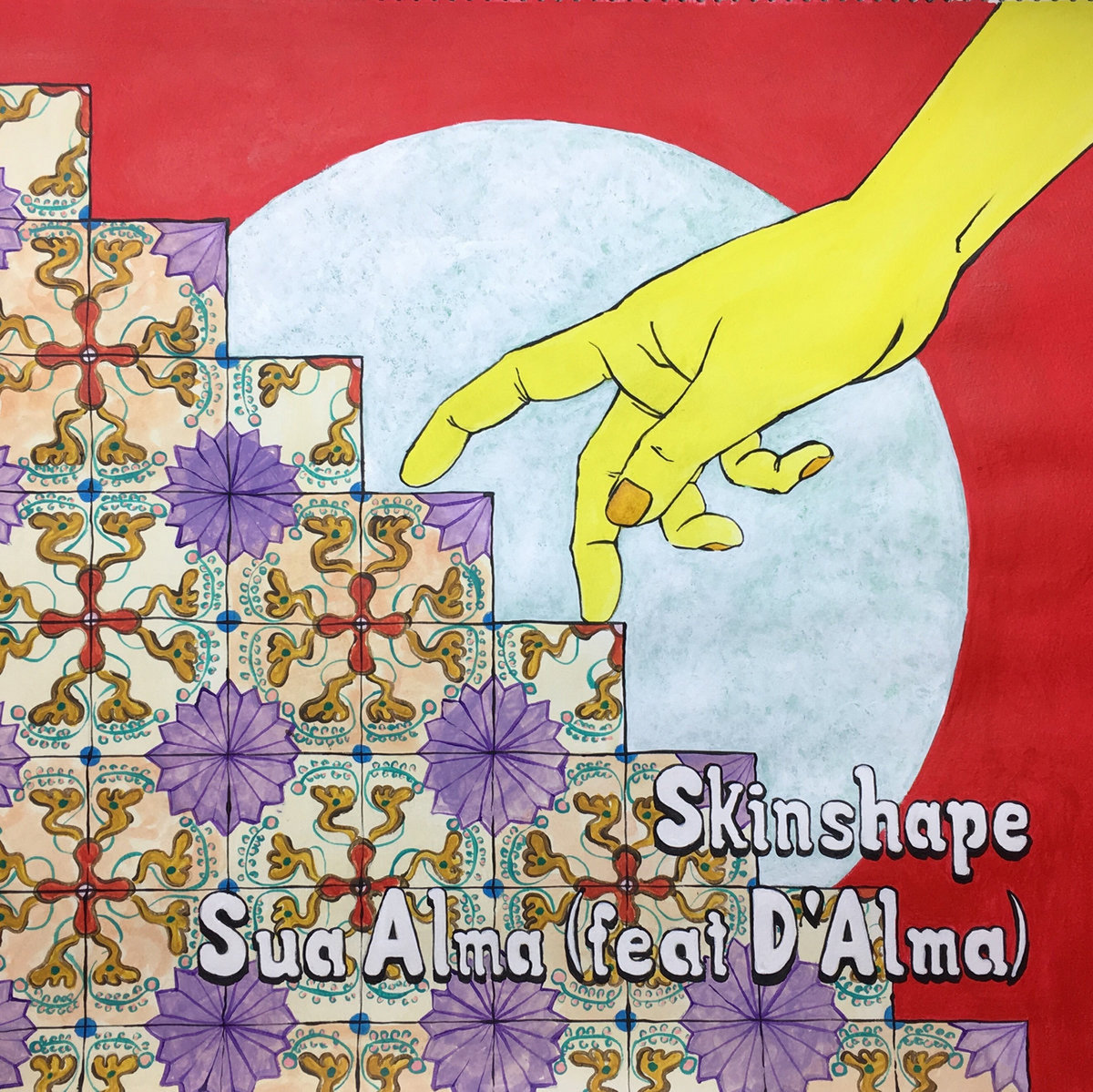 vocals of New York R&B perennial Andrea Brown. Coincidentally, the second single under review is also Afro-Latin in character, taken from Will Dorey's latest Skinshape album. It's a light, sweet-natured bossa-nova shuffle accentuated by the dreamy vocals of Portuguese singer D'Alma, while on the flip is a remix by Dorey's mates Manny Talvez & Alae that transforms the tune into a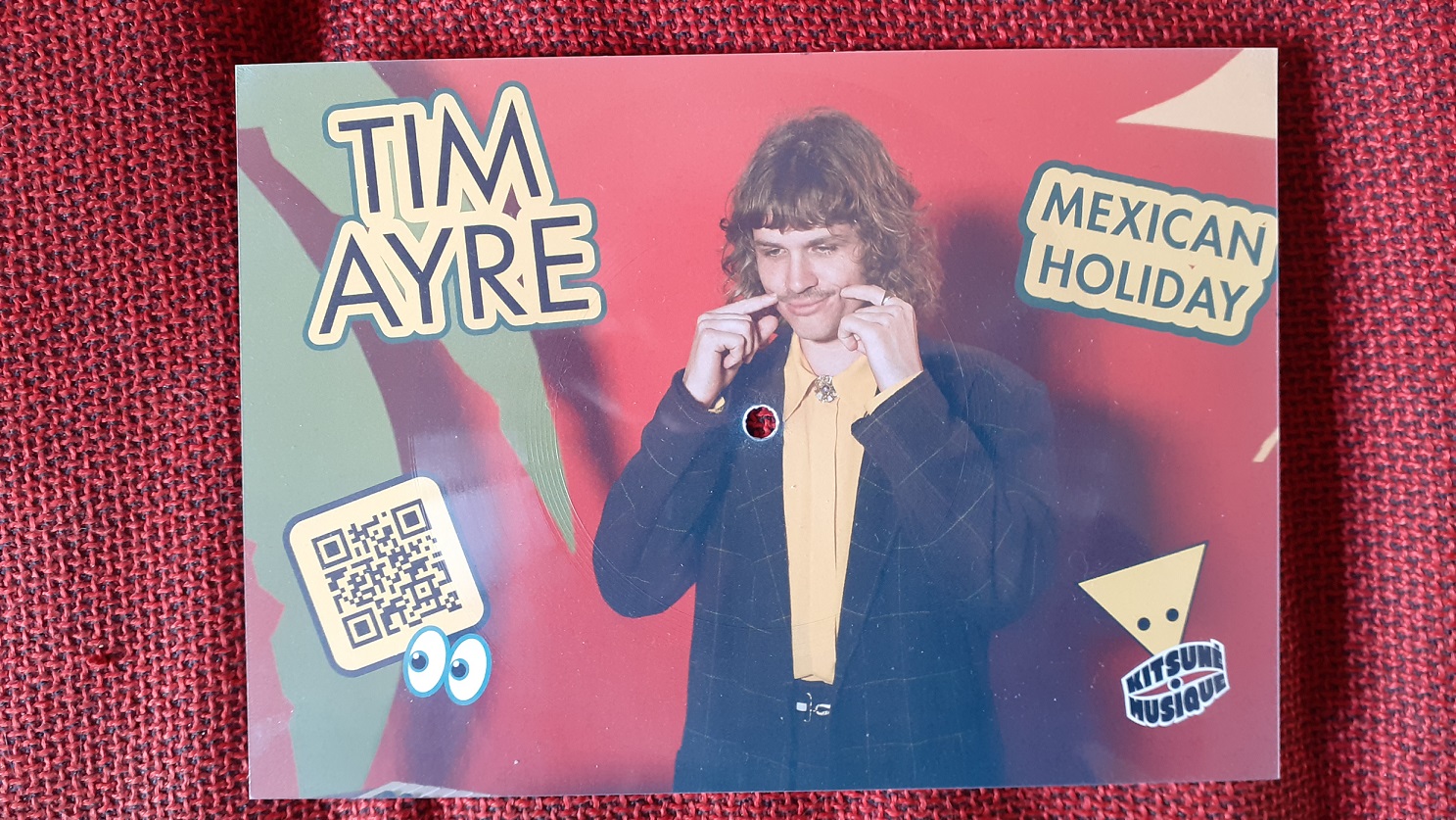 trip-hoppy smokers' lollop, pleasingly stoned. Finally, Tim Ayre's upbeat jangly guitar pop "Mexican Holiday" is another beachside summer number, lazy, easy, celebrating relaxation in the sun. Most notable, though, is that it's not really a 7" at all but arrived in the form of a large postcard with the grooves printed into the picture side (a photo of Ayres). It's crackly as hell and sometimes the needle won't grip, but full marks for promo originality. I've not seen anything like this since the Eighties. And judging from the song, it'd be grand to hear more from Ayre too.
Honey Bane You Can Be You (Crass/One Little Independent) + Container Creamer EP (Drone)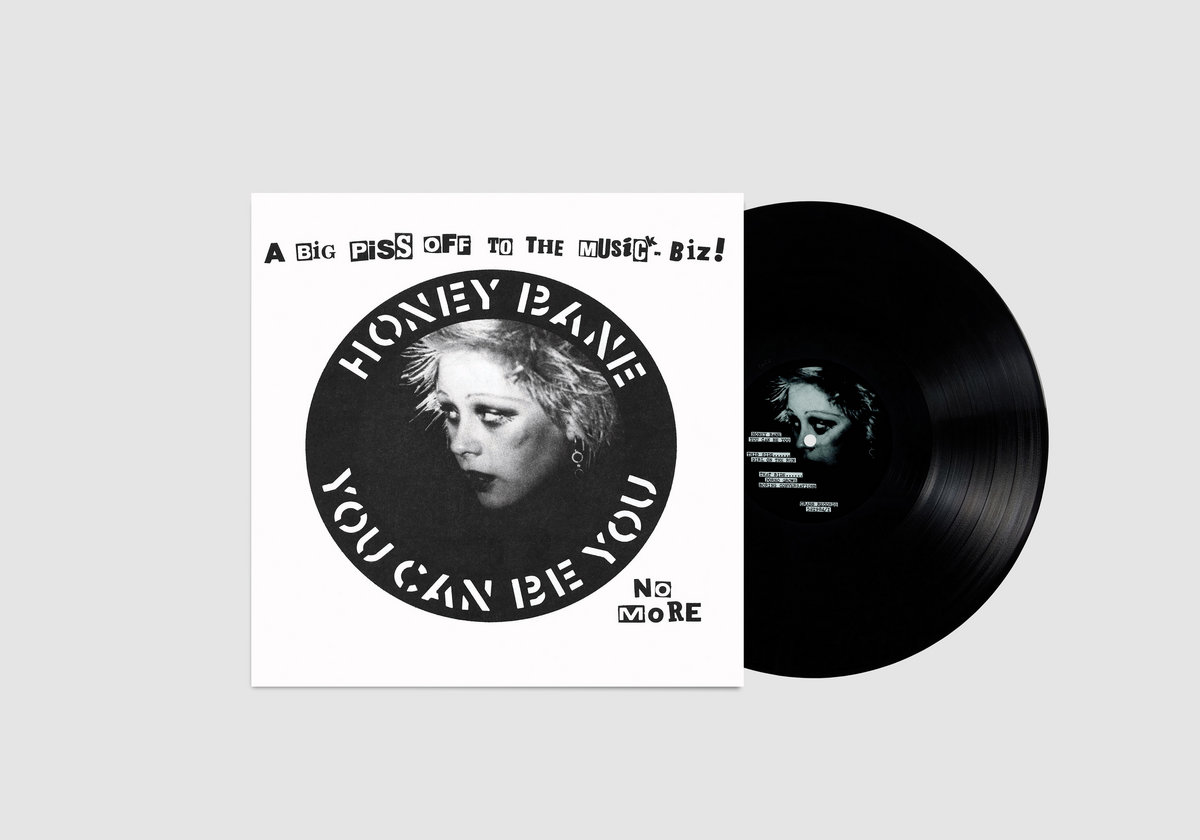 A couple of righteously angry 12" singles. Honey Bane's three-tracker was originally released on Crass Records in 1979 and Crass act as her backing band throughout. At the time of its release, Bane, who was 15 and on the run from a juvenile detention facility, had already been in punk outfit Fatal Microbes and recorded a single with Poison Girls. The spiky A-side "Girl on the Run" is a shouty, squally, typical-if-enjoyable punk rock cash-in, but the B-side cuts, "Porno Grows" and "Boring Conversations", are more interesting, boasting a lo-fi musicality and real post-punk exploratory spirit. "Boring Conversations", especially, has a chorus we can surely all get behind: "Your boring conversations/Boring verbal crap/I won't let you make me/Another part of that." Comes with 12" x 12" lyric sheet.
Container is London-based producer Ren Schofield, who originally hailed from the noise scene in Providence, Rhode Island. His latest EP is even more raging than Honey Bane – by some distance – while remaining entirely instrumental throughout. It boasts four cuts that are all-out industrial, demented, electronic mayhem, as cacophonic as possible, the spirit of gabber and Lenny Dee but without the ludicrous jackhammer BPMs. Instead, while crunkin' beats are present, the focus is on a constantly elevating gnarliness. Of the four tunes, "Shingles" probably edges it for sheer noise-bastard unpleasantness, sounding like a chainsaw attacking a metal post in a car factory. If you're in the mood – and I am – it's an outrageous, cathartic listen that'll put vim in your day and steel in your blood.
Kathryn Williams Introduction (One Little Independent)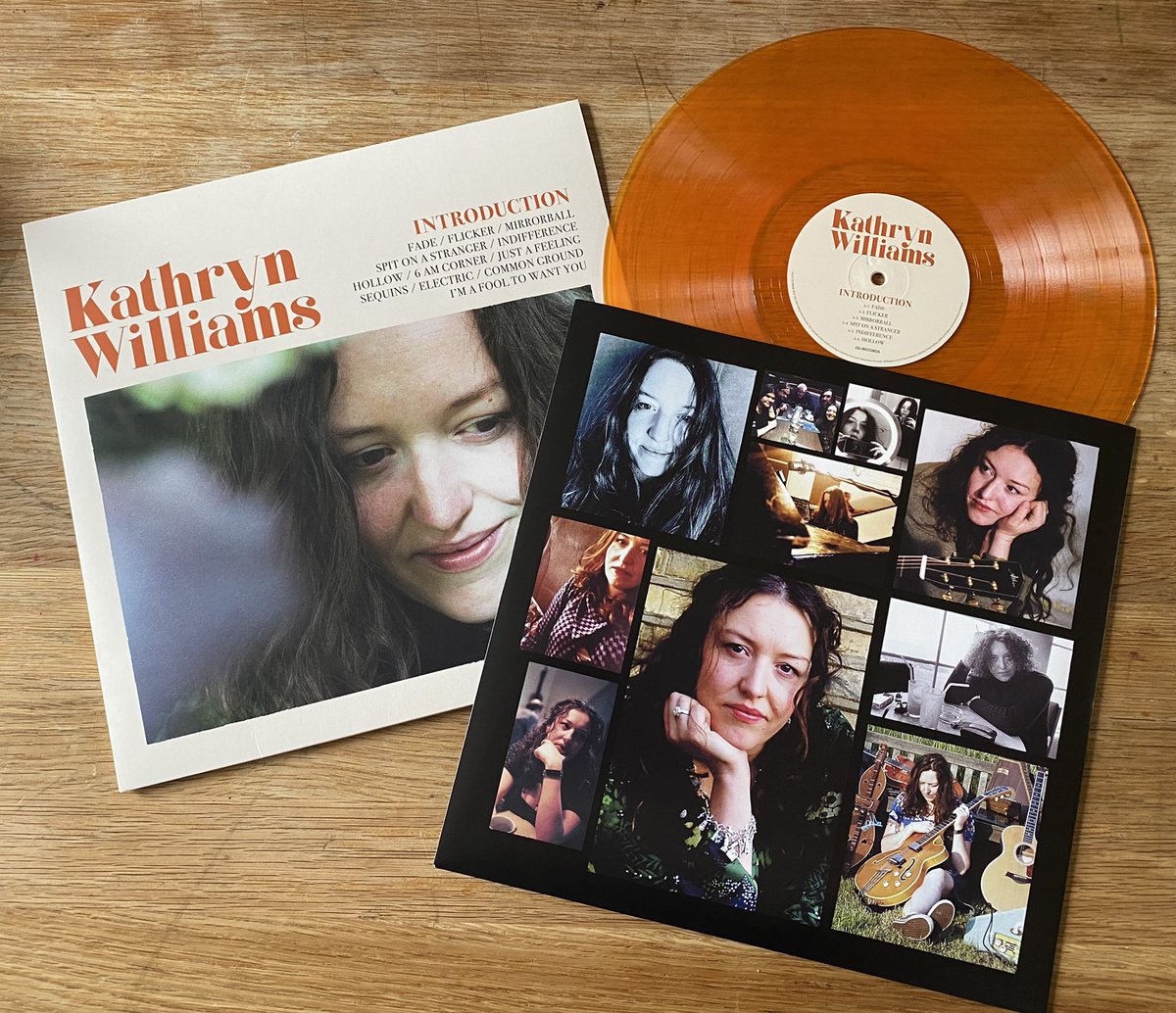 Kathryn Williams has one of the most affecting voices in contemporary popular music. It's a miracle, the way she can convey such vulnerability, sweetness, heartfelt humanity and more with her shy-sounding, breathy vocals. Introduction is a Record Store Day compilation which demonstrates that alongside that voice, there's an untrammelled gift for songwriting. The album collects together numbers from her 20-something year career. Often classed as folk, Williams' poetic observational songs don't belong in any niche, musically gentle but lyrically scalpel-sharp and often sad, they paint enigmatic impressions of lives and interpersonal relationships, reflected in metaphor and surrounding detail, pin-sharp yet opaque. Her usual accompaniment is a small jazz-ish shuffling unit, maybe some strings, acoustic guitar quietly to the fore. That's all she needs. This is music to be listened to properly, contemplated alone, thoughtful, deep and lovely. Comes on transparent orange vinyl with photo/lyric inner sleeve.
Claude Cooper Myriad Sounds (Friendly) + Société Etrange Chance (Bongo Joe)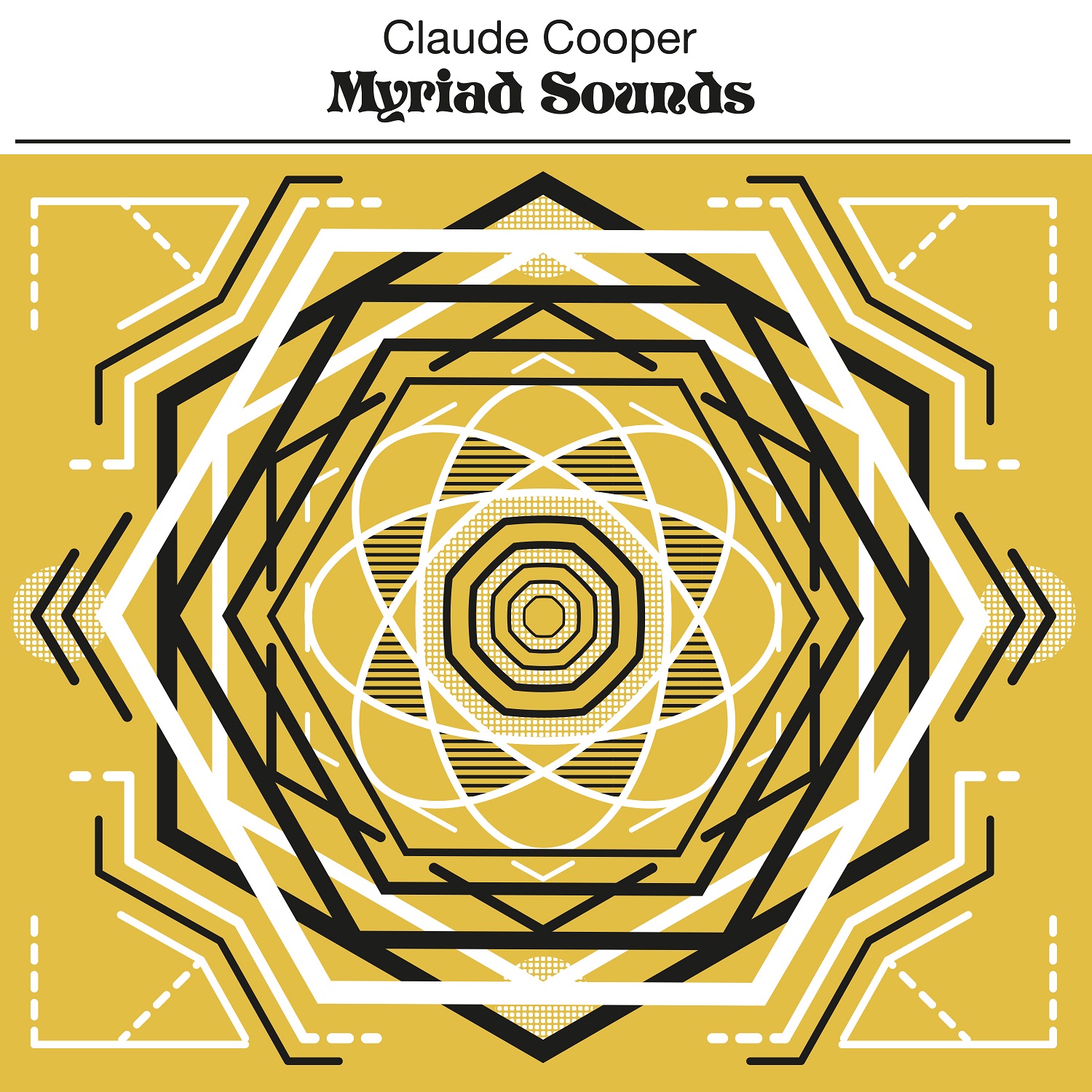 Two albums of instrumental music which refuse to kowtow to anyone's expectations. Claude Cooper wanders around between skronk-jazz, psychedelic funk, Afro-grooving, kitsch-but-aggressive library music and more. Bristol producer Cooper prefers anonymity to self-promotion but his large band includes players who've worked with Reprazent, Get the Blessing, Beak and Frank Zappa. These are actually a reasonable starting set of comparison points (albeit Zappa only on the avant-prog buzzsaw attack of "Magic Circle"). Cooper's music maintains a playfulness but is too twisty and tricksy to fit with the retro/easy-listening pastiche crowd. Un-frothy but
still genial, it has a kernel of arty toughness which renders it different. Meanwhile, in the suburbs of Lyon in France something odd has been happening. The second album from Société Etrange is described as "voiceless love songs". That is not what I'm hearing from these six mind-smearing, slow, dub-influenced cuts, unless, of course, the love song is to fudgy, sticky hash resin. Rolling along, lathered in echo and slithery synth effects, this is subtly involving nod-out music although, much of it is also enjoyable for a more dancey experience played at 45 RPM (wrong speed) rather than 33.
Madness Keep Moving + Wonderful (BMG)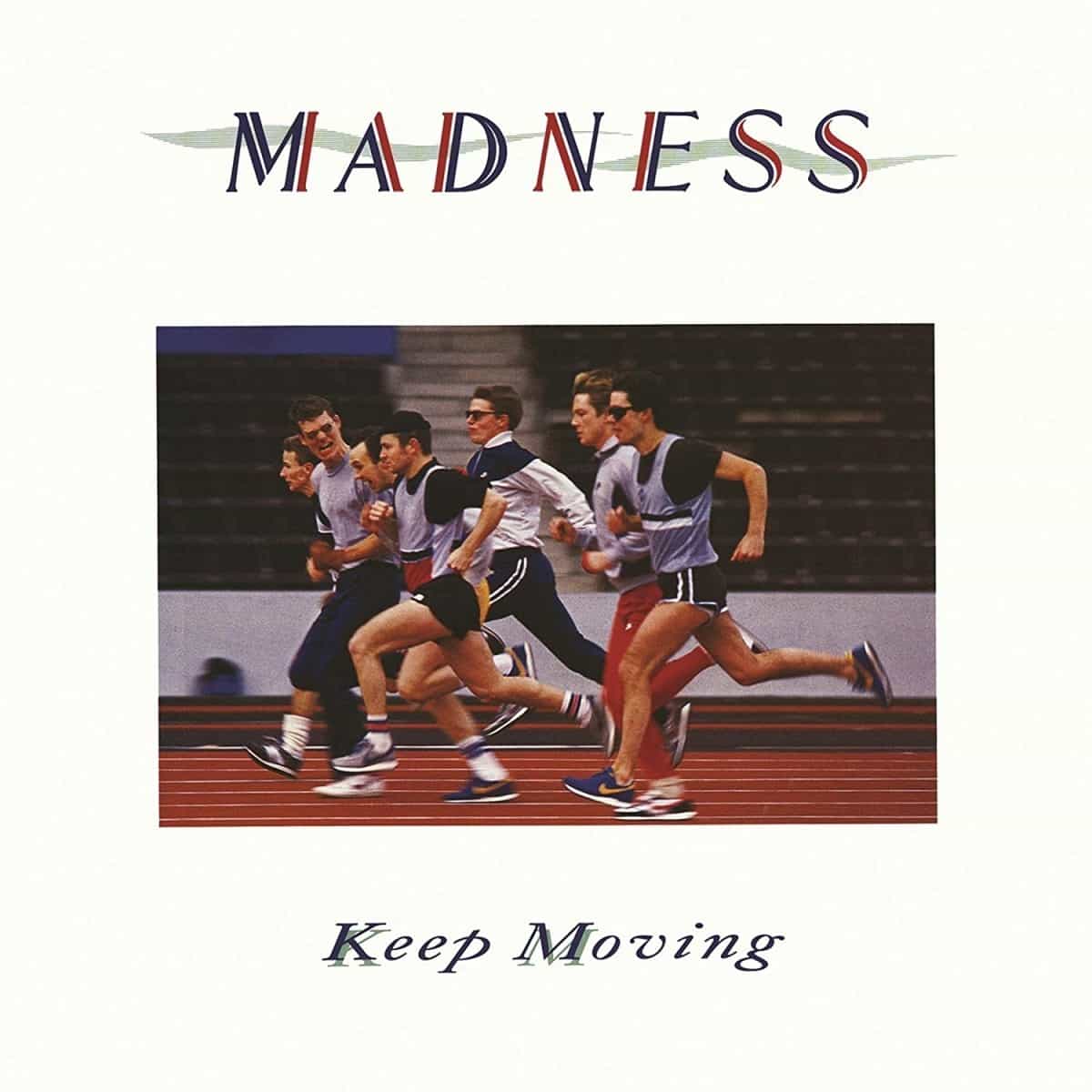 The Madness reissues continue with two albums that differ in both mood and timing. Keep Moving, from 1984, was the band's last for a while with founder/pianist Mike Barson, while Wonderful, from 1999, was their first album back with him (making one more album after Keep Moving, the band split in 1986). Keep Moving is bathed in a sense of loss, a sighing melancholy, both a personal longing for more innocent times and a cryptically espoused sense that the world is going to shit with the then-rise of Thatcher and Reagan. The singles "Michael Caine" and the doleful "One Better Day" (about homelessness) exemplify the feel of the album, with "March of the Gherkins" musically jolly but lyrically lost in longing nostalgia for childhood. It's a lovely album, the band taking their foot off the nutty boy accelerator, relaxing to an easy pace. It's not my favourite of their albums but, in certain ways, as a longform listen, it's one of their best. Wonderful is too, but in a very different way.
After reforming when their greatest hits album blew the roof of the charts, from 1992 onwards their Madstock Festivals in Finsbury Park became overdue celebrations for their devoted fanbase. By 1999 they were ready to record. The result is a band reinvigorated, their moodiness waning or, at least, cleverly moulded into classic Madness songwriting, returning to the upbeat joys of their early Eighties output, from the drunken antics of Top 10 single "Lovestruck" to the poignant Ian Dury collaboration "Drip Fed Fred" and the gloriously anthemic "Elysium". Lyrically Both albums are accompanied by dense, rich notes detailing their making, in the case of Keep Moving, on the inner sleeve, and, in the case of Wonderful, a separate 12" x 12" insert with the inner sleeve a photo/info affair.
Şatellites Şatellites (Batov) + El Khat Albat Alawi Op.99 (Glitterbeat)
Two albums that have a strong middle eastern input. Istanbul six-piece Şatellites are deep-dipped in the traditional music of their country, with band leader Itamara Kluger playing the Saz, an Ottoman lute that's still found in rural areas of Turkey. However, this debut album is also keen to enjoy itself and take those sounds somewhere different, from the psychedelic sort-of-disco of "Disko Arabesque" to the twangy festival jamming of "Seni Sen Olduğun İçin Sevdim", with female vocals and quirky synth-work throughout adding extra layers of pleasure. El Khat is a band led by Israel-based Yemeni musician Eyal el Wahab and their second album is a step forwards and sideways from their first (which contained interpretations of Yemeni folk songs). This time the songs are originals. El Wahab is a self-taught string-player who once blagged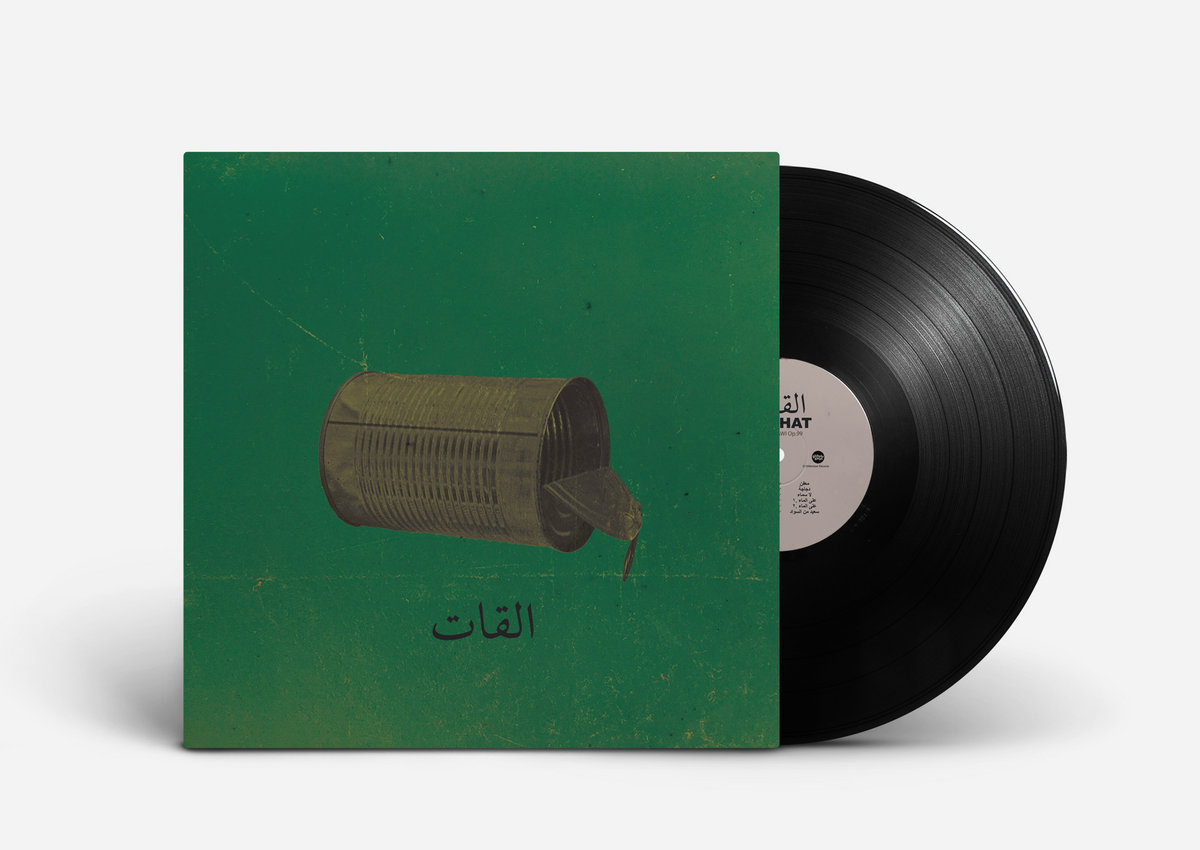 his way into a Jerusalem orchestra without being able to actually read music. A key influence on the birth of El Khat was his discovery of a compilation – which I must get hold of! – called Qat, Coffee & Qambus: Raw 45s from Yemen, and his music is brilliantly raw, much of it created on instruments he's built, proclaiming that the poverty of the Yemen resulted in refuse being repurposed as musical instrumentation. The clattering drive of Albat Alawi Op.99, with its double harmonic-scaled brass and choruses, is initially ear-confusing, but once the listener settles in, this music has an edgy addictiveness, coming to the fore on the percussive thrust of "Djaja", but equally of interest in simple drumless string pieces such as "Muftaha". Comes on photo/info/lyric gatefold.
Spoon Lucifer on the Sofa (Matador)
Texan indie band Spoon are an outfit I wish I was more into. They have a large back catalogue, going back 30 years, and whenever I dip into it, I find things I like…. not all of it, but enough of it to make me hope that one day I'll invest more time in them. It's akin to backtracking the output of Neil Young – although not as challenging a task as that – in that there's so much stuff a lay-person doesn't know where to begin. Spoon's latest album – their tenth - is gruff guitar pop, garage-tinted, with actual songs I want to play again and again, raw but tuneful, like a cross between X and Squeeze at their punkiest. One day… Comes on lyric inner sleeve
Chelsea Carmichael The River Doesn't Like Strangers (Native Rebel)
On UK cutting edge jazz sensation Shabaka Hutchings' label comes the debut album from Warrington-raised tenor saxophonist Chelsea Carmichael, of the Mercury Prize-nominated SEED Ensemble. It's a sensation. Created in collaboration with Hutchings and featuring a band that includes the percussionist from Sons of Kemet and the bassist from The Invisible, the album is all about Carmichael's instrument pushing up against stonking rhythms, tribalist in feel, with a scattering of other instrumentation adding additional flavour. It's ranges from busy to pared-back, hypnotically jammed in places, and, at others, offering up battles with squalling rock guitar or bouncing bluesy material. It's on double vinyl in photo/info inner sleeves.
ALSO WORTHY OF MENTION
The Aloof This Constant Chase for Thrills (Acid Jazz) + Zero 7 Yeah Ghost (New State Music): The Aloof were born of the hedonistic, electronic, counterculturally savvy milieu around Boys Own magazines and parties at the start of the Nineties. Two of them were even in Sabres of Paradise with Andrew Weatherall for half The Aloof's existence. The band were a second-tier dance music fixture for the whole decade, capturing the mad-for-it vibe of the time and it's comedown counterpoint, solidly frontline, 'avin' it proper large, as this album's title suggests. Yet they never quite made it to the next level like Underworld and the like, achieving one Top 40 hit in their decade of existence. Their 1999 final album has a rolling, druggy, Balearic head-nod potency to it, vocalist Ricky Barrow's soul voice woven psychedelically into the stew of beats and effects, and some songs, such as "Doing It For Money", achieve real flight. A welcome rediscovery. Comes on transparent aquamarine vinyl (this month's vinyl colour of choice, it seems!). About the time that The Aloof were winding down, a couple of studio engineers who called themselves Zero 7 were starting out as a remix outfit. In a way, their appearance is a metaphor for the way the Nineties club scene mutated into that of the '00s. Their fourth and final album so far, 2009's Yeah Ghost, which now reappears in gatefold double, doesn't feel druggy at all, more a serious musical project by serious musicians, keen at this point to distance themselves from their origins in the post-millennial chill-out boom. As such, despite the lack of the regular collaborator Sia, it's a likeable listen, songs such "Swing" and "Everything Up" are well-conceived, executed, and catchy, electro-organic, redolent of long-lost Nineties act Ultramarine but poppier. It may lack the previous decade's character, buzz and cheek, vital ingredients in the popular music milieu, but it's so well-constructed that it's difficult to resist, with guest vocalists such as ESKA, Martha Tilston and Binki Shapiro each adding something to its appeal. A welcome return for a quietly and deliberately delicious album.
Kaina It Was a Home (City Slang) + Babel Yoga Horror (PME): A couple of different slants on alternative singer-songwriting. Kaina Castillo is a Chicago-based Latina-American singer whose second album – and first for City Slang - balances bedroom-pop production with a sweet gumbo of soul, R&B and trip-hop. She has a warm, friendly voice that's an immediate hit, and the songs aren't bad, if not screaming "HITS!!!" either. She's got something, a sunshiney something that, perhaps, needs less busy and more straightforward songs/production. One to keep an eye on. Babel boast the album title of the month in Yoga Horror, an album that takes down the cult of Yoga for "being violently positive" and because "there's better things to do than constantly concentrating on your breath". "THESE ARE MY PEOPLE!" thinks I! But Babel are a female-fronted Finnish duo and their output is hardly raging against the smug feel-good cultural fitness trend; Karin Mäkiranta's vocals are gossamer alto whispers, for starters. The whole thing adds up to woozy downtempo indie-electro-pop rather than the first sally of the anti-Yoga revolution. As such it's a pleasant airy listen… but I'm still waiting. Comes on art/info innder sleeve.
The Mysterines Reeling (Fiction) + Wallows Tell Me That It's Over (Atlantic): Major label indie is a contradiction in terms but is now the norm and Fiction Record have long been a prime exemplar. The Mysterines' debut is solidly nailed, female-fronted bullish rock, sneerily forceful, touching on Wolf Alice territory but replacing that band's eclecticism with sheer bangin' oomph. It's likeably noisy and in-yer-face, if predictable, and comes in info inner sleeve. If there's one category of indie that's even less convincingly "authentic" than The Mysterines' version, it's a band with major Hollywood stars in. Wallows' frontman is Dylan Minnette, the fresh-faced sorrowful-looking dude who's at the heart of Netflix's 13 Reason Why and a whistle-blower in Disney+'s latest success, The Dropout. The other two in the band are reasonably successful LA actors too. This should make us loathe Wallows but, irritatingly, their second album is rather good; chirpy, crunchy, interestingly-produced, quirky and catchy, in what used to be called a College Radio sort of way. It's not straightforward guitar indie, either, but something more off-the-wall, like everything-but-the-kitchen sink bedroom-pop. Unfortunately, theartsdesk on Vinyl has to give it a pass. Comes on bright yellow vinyl in photo inner sleeve with large band poster (of course!).
Rodney Cromwell Memory Box (Happy Robots): The second album from Adam Cresswell, once of short-lived underground popsters Arthur & Martha, is a dose of cute analogue synth-pop with an indie lyricism. It has a Pastels feel to it but, instead of jangly, over-amped guitars, the music of Rodney Cromwell is bubbly, tuneful bedroom electronic. While it occasionally owes a small debt to the early 1980s electropop boom ("Opus III" is a Pet Shop Boys ringer), the precise, relentless percussive loops, glimmering trebly slivers of sounds, and occasional Vocoder owe as much to German experimentalists of the Seventies. Comes on transparent yellow vinyl in lyric inner sleeve.
High Pulp Pursuit of Ends (ANTI-): High Pulp are a Seattle collective whose debut arrives in info inner sleeve on vinyl the colour of milky butter. Their label ANTI-, suggest their music hints at "everything from Miles Davis and Duke Ellington to Aphex Twin and My Bloody Valentine". I cannot agree with this assessment – it's far too easy going for all but the Ellington reference – but it is tasty exploratory modern jazz, sax'n'keys-led, played with conviction, doing what it does well.
Damian Lazarus Music Inspired by the Film Beijing Spring (Secret Teachings): You'd have thought DJs and dance music acts might investigate the wealth of fertile territory between what they do and older, globe-trotting primal rhythms. Instead, they seem afraid of it and stick to the same old now-rather-tedious 'ouse'n'garage'n'EDM blueprints. World-trotting DJ Damian Lazarus, however, is a man whose sets – and Ancient Moons project – demonstrate a solid understanding of this territory. His latest album is music used in a documentary directed by Andy Cohen and Gaylen Ross about the Stars art movement that briefly flourished in China in the early Seventies before being crushed by the state. There's also material inspired by, rather than in, the film. It's a rich and pleasing listen, Lazarus combining occasional electronic chuntering with a spacious chilled-but-feisty melange of Chinese instrumentation and ambience. Comes on art/info inner sleeve.
Keith Richards Main Offender (Mindless/BMG) + Elles Bailey Shining in the Half-Light (Outlaw Music): A couple of blues-rock albums at opposite ends of the profile spectrum. Keef's 1992 solo outing, his second one, didn't muster the mid-range international success of its predecessor, but is about the musical equal of that record. Richards and his X-Pensive Winos band are a hobby project and the sound of a bunch of dudes having fun playing generic American roadhouse blues-rock. It's Stones-ish, of course, sometimes taking flight, the stand-out being "Hate It When You Leave", a chunky ballad worthy of his dayjob. Comes on deep maroon vinyl in photo/info inner sleeve. Bristol blues player Elles Bailey's third album – new, not a reissue - is delivered with an urgency that Richards' lacks. This is not a hobby. This IS the dayjob. On photo-info gatefold and blue vinyl, you can imagine Richards enjoying a jam around these tunes since some owe a debt to late Sixties American outfits such as The Allman Brothers Band. Others are slowies, such as the strummed country-ish "Halfway House". Bailey does what she does well and if there were a full-scale revival of this style, she'd have a real shot.
Federico Albanese Before and Now Seems Infinite (Mercury KX): The debut album from Italian pianist/composer Federico Albanese is a delicate, but eventually persuasive, modern classical outing that arrives on photo/info gatefold. This is an oversubscribed area but his muffled, reverbed piano playing, accompanied by slow-building Philip Glass-like synth'n'organic orchestrations, has a sedate, haunted authority to it. There are a couple of actual songs, one featuring Marika Hackman and one featuring Ghostpoet. They work well but the main meat of Before and Now Seems Infinite is its soft instrumental conviction.
Sly5thAve & Roberto Verástegui Agua de Jamaica (Tru Thoughts): A modern fusion album from sleek US hip hop orchestrator Sylvester Onyejiaka - AKA Sly5thAve – and Mexican pianist-composer Roberto Verástegui. The duo's lush double debut, created during lockdown in Mexico City, wanders around everywhere from Antônio Carlos Jobim-style bossa nova easy listening to meatier, electronically-enhanced hip hop cuts. The whole is a balancing act between the over-mannered jazz leanings of its makers and something more frolicsome and entertaining. Happily the latter tendency wins out more of the time.
King Garbage Heavy Metal Greasy Love (Ipecac): King Garbage sound an irresistible proposition, cutting edge US hip hop/R&B producers Zach Cooper and Vic Dimotsis offering up their mashed "comfort food for nasty people" retro soul on Mike Patton's famously out-there Ipecac label. Especially with such a great title for their second album. Sometimes it's a tad more straightforward than I desired but at its best, it's stormingly unique, living up to expectations on great tunes such as the warped groove and distorted vocals of "Snow" or the slothful, fuzzed Memphis-flavoured mess of "Monster Truck". Would love to hear these cuts remixed too. More of this sort of thing, please! Comes on transparent vinyl the off-green shade of a rock pool on a spring day.
Øyvind Holm The Unreliable Narrator (Crispin Glover): Øyvind Holm is a Norwegian singer and alumnus of various indie bands who achieved some profile in his home country. His latest solo album – he's done a few – contains a set of thoughtful jangle-pop songs which have a wordy appeal and musical wistfulness. The album's sleeve is die-cut through to a 12" x 12" insert photo of Holm. There's also a 12" x 12" card lyric/photo insert and a 7" single. All the vinyl is transparent aquamarine-tinted.
Richard Fearless Future Rave Memory (Drone): Death In Vegas producer Richard Fearless follows 2020's fascinating post-techno expedition Deep Rave Memory with a sort-of-sequel similar outing that's even further glubbed-down in spaced-out drone-age. For theartsdesk on Vinyl's money, it's not as interesting as what came before, partly because we've already heard what came before and the new album simply goes even deeper. Along the way, it loses some of its direct contact with an felt sense of its techno origins. But these six tracks are unashamed head music, floating off into deep-space, a blurred, beatless, narcotic sci-fi odyssey for the ears.
Marc O L'Homme de L'Ombre (Plastic Sound): London-based French singer Marc O has gathered an impressive band around him for his debut album, a five-piece who, between them all, have played with Bo Diddley, Serge Gainsbourg, Adam & the Ants, New York Dolls and Stereolab. Sung in French, it's a feisty confection that has a feel about it of that moment in Seventies New York when glam was mutating into proto-punk, but with O's distinctive Gallic touch rendering it something else entirely. The theatrical delivery of the whole thing also reminds me of Eddie Tenpole Tudor. Comes on art/info gatefold.
Half String A Fascination With Heights (Independent Project): California's Independent Project Records lovingly puts together a more-than-anyone-could-ever need package in tribute to the only album by long-defunct Arizona outfit Half String. The band only existed for about five years – the album came out in '96 - and were described by themselves and others at the time as "shoegaze", after the NME-led movement exemplified by artists such as Slowdive and Chapterhouse. However, Half String's music owes as much to the jangling and vocals stylings of The Smiths – though it's fiercer in places - and a general Anglophile Eighties indie-ness. It's light and lively and occasionally catches fire on a double-disc set featuring the original album alongside seven extra tracks (outtakes, a live cut and a remix), as well as a 7" single featuring material the band recorded in 2012 and 2013 during a brief reconvening. Also included within the fold-out cover are an exhaustive 12" x 12" four page insert with tightly printed biographical details and photos, and a second insert explaining the background to the bonus cuts. And an A Fascination With Heights postcard. Even the most ardent fan could not ask for more!
Casually Here Possible Worlds (Algebra): London producer Nic Nell has an eclectic CV which connects him to Ibiza-friendly electronic dance label Hot Flush but also the solo career of ex-Maccabee Orlando Weeks. The material on his own second album, a six track affair, is bubbly, squiggly electronica that noodles along pleasantly, hinting here and there at jazz leanings, but as often sounding like a skittering amalgamation of chopped samples and ear-pleasing wibble, with a warm rustic feel. Comes on almost-transparent, fogged vinyl.
Elanor Moss Citrus (Elanor Moss) + Kee Avil Crease (Constellation)
A couple from female singer-songwriters of very different stripes. Elanor Moss's Citrus on her own eponymous label arrives on 10" photo gatefold with photo/lyric inner sleeve. It's a quality four-tracker, leading off with the marvellously doleful "Sober" which reflects miserably on a desire to be drunk and put a lost love from her mind. Moss's voice is a delicate thing that floats about plucked guitar and ambient steel which hints at country but doesn't go the whole hog, delicate and gorgeous. Canadian producer Vicky Mettler – AKA Kee Avil – is a very different kettle of fish. Her debut album uses as its sonic base a kind of electro-acoustic musique concrète carved out of cranky guitar, feedback, and glitchy found sounds, with Mettler's sung or half-spoken whispery vocals holding it all together, moulding everything into songs. It's a slightly sinister-sounding piece of work but also original, demanding attention. Comes in art-photo/info inner sleeve.
AND WHILE WE'RE HERE
Duncan Marquiss is guitarist for Glaswegian indie perennials The Phantom Band. His debut solo album, Wires Turned Sideways in Time on Basin Rock Records, which comes on art inner sleeve, doesn't sound particularly appealing on paper, guitar patterns twanging and revolving, whooshing here'n'there, but in actuality it's a likeable thing, kind of soothing and interesting but with enough twitch and heft to hold the attention. Well-travelled New York duo Sussan Deyhim & Richard Horowitz's 1986 album Desert Equations: Azax Attra is re-released as part of Crammed Discs' Made to Measure series. Ahead of its time in the way it fuses Middle Eastern tropes and vocals with downtempo electronics, it traverses territory that the likes of Brian Eno and Jon Hassell also explore, but does so in a way that's sometimes less ambient and more art-confrontational and even, in "Got Away", Laurie Anderson-esque weird-pop. Horowitz would go on to soundtrack Bernardo Bertolucci's movie The Sheltering Sky; it's easy to hear why. Comes with a welcome 10" x 10" 16 page booklet detailing its back story in depth. I always want to like the output of Gilles Peterson's Brownswood label more than I do, most especially the Future Bubblers series of compilations introducing new talent, of which Vol 5 now arrives. There are moments that reach me, such as the psychedelically electronic chat-wibble of "Soft-Bodied (Widows Reprise)" by Damos Room and, in fact, individually many of these tracks have a woozy sci-fi-soul charm, but, en masse, they come over as a bit one-note and tepid. Nonetheless, theartsdesk on Vinyl will keep an ear peeled for future material from Shakira Alleyne, Madi Saskia, Magya, Mark Cake, NeOne the Wonderer, Conrad Ellis and Griz-O. Comes in photo/info inner sleeve. London trio Honeyglaze release their self-titled debut album on Speedy Wunderground, in lyric inner sleeve, and it's full of crafted guitar pop, borrowing the sparse instrumentation of post-punk, but sculpting it to their measured, laidback, approachable agenda, with frontman Anouska Sokolow's crisp enunciation to the fore. They have something. Newly signed to Stones Throw Records, Toronto experimental popster Maylee Todd's fourth
album, Mayloo, comes on transparent vinyl with a wonderfully bizarre cover image (pictured right). The album itself is light but woozy, wonky mellow electropop that gloops and twinkles, with Todd's vocals airily glazing the surface, spacey and stoned. Max Cooper, creator of art-electronica for broadsheet-readers, returns with a sixth album, Unspoken Words on Mesh Records, which arrives on art-info gatefold double vinyl and starts off in noodly contemplative mode but gradually winds up to beats and crunchiness, making for a decent ear-chewing, especially the grimy industrial-ish "Exotic Contents". Canadian melancholic Barzin Hosseini and his band – who go by Barzin – release their first album since 2014, Voyeurs in the Dark (Monotreme Records), which has a delicate whispered intimacy and comes on a very shiny sleeve with lyric inner sleeve. The Monochrome Set are over 40 years into their career, with a couple of breaks along the way. Their current incarnation sounds nothing like their best-known early-Eighties material and their new album, Allhallowtide (Tapete Records), is full of baroque indie and strummed balladic torch songs. Colorado-raised Stuttgart resident Oliver Earnest's The Water Goes the Other Way on Glitterhouse Records is a gatefold 10" double with a 10" x 10" lyric insert and boasts serious and moody songwriting couched in an indie sensibility. It sometimes has a Tindersticks-ish aura. More upbeat, dipped deep in Sixties beat-pop and garage, Graham Day, once frontman of Eighties mod revivalists The Prisoners, delivers a serviceable set of Kinks-ish cuts ("You Really Got Me"-era!) on his debut album, The Master of None (Countdown Records). I get the feeling that live in a pub somewhere would be the best way to comsume these. Female-fronted Liverpudlian duo King Hanna's debut album I'm Not Sorry, I Was Just Being Me on City Slang arrives on pale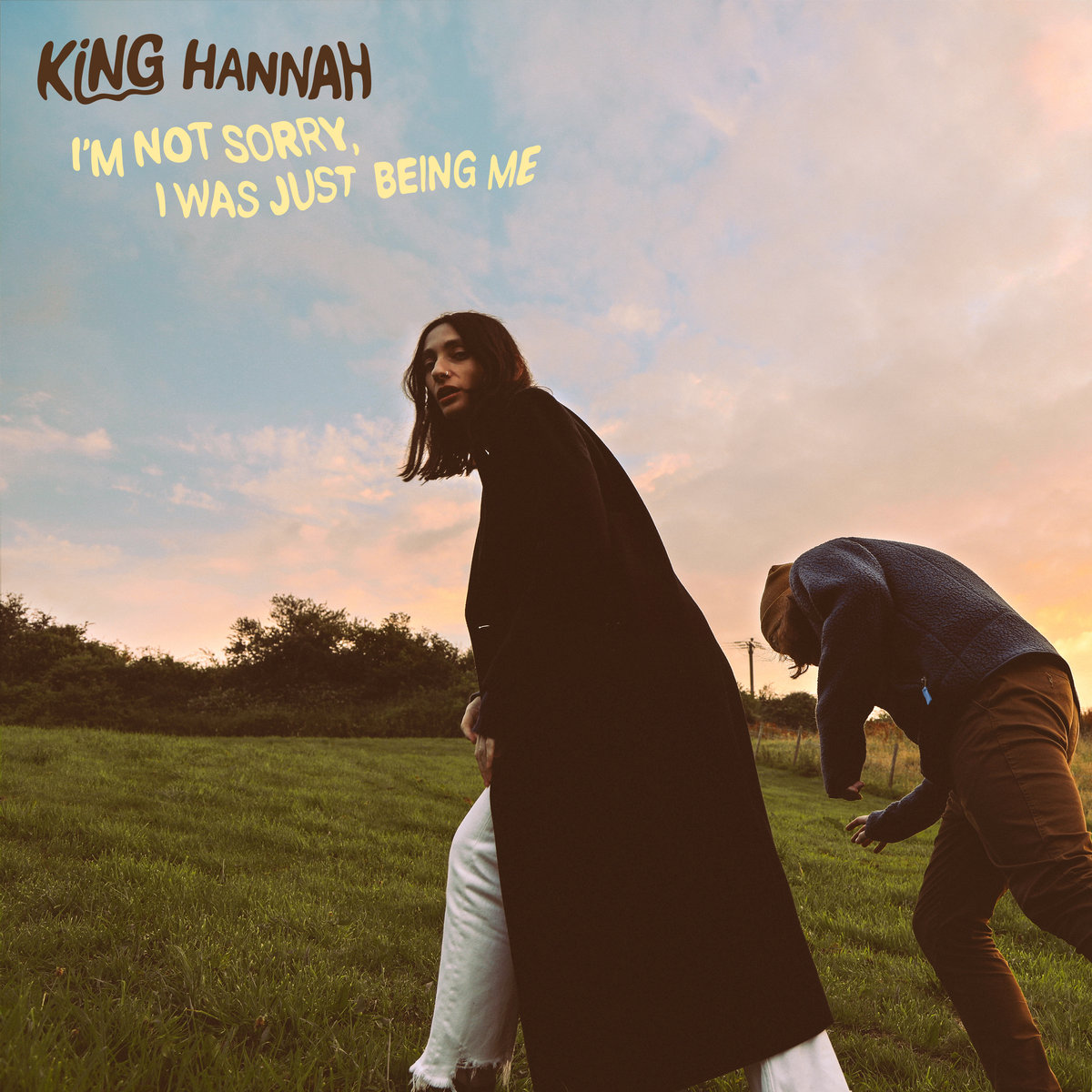 aquamarine vinyl. It contains morose, slow-rolling but interest-grabbing songs, grinding downtempo bluesy indie. Something about it recalls Portishead, especially the likeable "Foolius Caesar". They don't seem quite there yet but ones to watch. Comes with 12" x 12" lyric/photo inner sleeve. I like the cover art too (pictured left). As usual, theartsdesk on Vinyl has received a plethora of modern classical exercises. This stuff is rarely "bad" – in fact, occasionally some is amazing - but there's way too much of it about that's all quite samey. In this vein Disassembler release their debut, A Wave From a Shore, on Western Vinyl in cobalt blue. They are Christopher King, of Texan post-rockers This Will Destroy You, and violinist/composer Christopher Tignor, and their carefully constructed, looping, treated miniature orchestrations are gently brain-swirling. More intriguing, if still loosely in the same realm, is the music of Berlin-based Chinese composer/musician/choreographer Pan Daijing from her 2019 Tate Modern performance piece Tissues on Pan Records. Against a backdrop of quiet, opaque white noise sizzles, slivers of operatic vocal float about. A little dose is atmospheric but longer bouts become wearing. This sort of thing probably works best in situ. It comes appealingly packaged on scarlet vinyl in gatefold double with a determinedly murky 12" x 12" photo insert of the performance. Finally, Thurston Moore, once of Sonic Youth, drops another experimental, mostly ambient set, Screen Time, on Southern Lord Records, created during lockdown and themed around the title phrase, but actually more a not-displeasing-but-hardly-vital guitar-based art-noodle.
Finally, a couple that have already been reviewed on theartsdesk but which are well worth owning on plastic
Plastikman & Chilly Gonzales Consumed in Key (!K7): On triple in typically minimalist black'n'white packaging with die-cute outer sleeve, Chilly Gonzales' piano daubings on Richie Hawtin's 1998 abstract hypno-techno classic add a subtle something without overdoing it, as observed aptly here by Joe Muggs. The vinyl is also exquisitely mastered.
Loop Sonancy (Reactor/Cooking Vinyl): Robert Hampson's heavy, heady space-rock unit return with their first album since 1990 and, as Barney Harsent explains here, it's very far from a disappointment. Comes in art/info inner sleeve on "galaxy effect" vinyl that looks a bottle of ink has been poured into some water, swirling about... but it's still mostly ink!
An outrageous, cathartic listen that'll put vim in your day and steel in your blood
Explore topics
Share this article