Madness and Squeeze, Brighton Centre review - enjoyable annual December nostalgia romp |

reviews, news & interviews
Madness and Squeeze, Brighton Centre review - enjoyable annual December nostalgia romp
Madness and Squeeze, Brighton Centre review - enjoyable annual December nostalgia romp
Despite occasional sound problems Madness and Squeeze bring joy to the south coast
Wednesday, 08 December 2021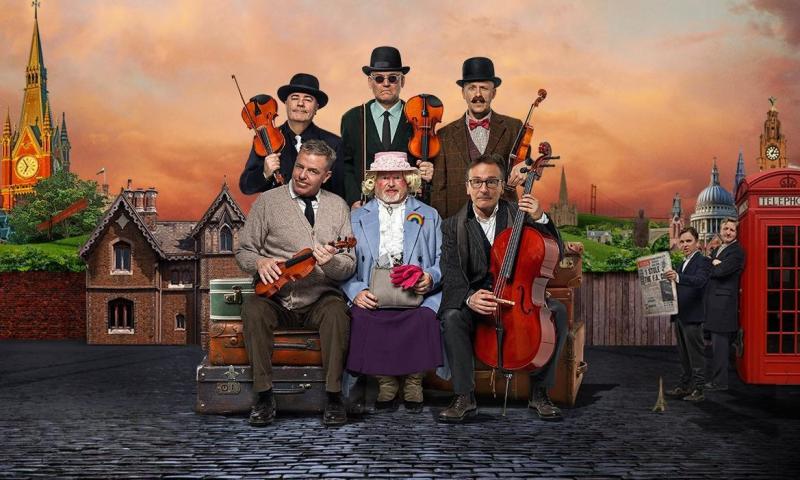 Madness in Ladykillers mode (note Suggs's dental tribute to Alec Guinness's Professor Marcus)
Madness frontman Suggs is asking the capacity crowd at the Brighton Centre if any of them are in school-age education. Quite a few are. There are actual young people here! Some are with parents (even, possibly, grandparents), but gaggles of teenagers are also in evidence on their own. They shout out.
We all know what's coming… a Madness song about school days… "Naughty boys in nasty schools, headmaster's breaking all the rules…" And, we're off again, jogging on the spot to perennial
Eighties
classic "Baggy Trousers", a sea of shaven heads, red fez's and porkpie hats bubbling with happy nostalgia.
The night began with Squeeze who played, unlike most support acts, to a full house. They do, after all, have a bunch of bona fide hits under their belt too. Clad in blue suits - co-frontman Glen Tilbrook in a particularly natty wide pin-stripe - the not-even-hour long set pelts through them at a pace, with crowd sing-alongs, notably to a stripped back version of "Tempted".
They conclude with an uproarious double-header, first a driven take on "Cool For Cats", a song whose brilliant lyrics suddenly make me feel old, as I consider what younger crowd members make of its very Seventies Cockney parlance ("Meanwhile at the station there's a couple of likely lads, who swear like how's your father and they're very cool for cats" etc). This is followed by an extended "Black Coffee in Bed" which comes on like Led Zeppelin as each band member in turn impressively showcases their skill. Squeeze then disappear to massed bellows for more.
Madness's set begins with two large screens above the stage playing Pearl & Dean's iconic cinema ident, which used to be a staple on Britain's big screens until the Eighties. Then a spotlight picks out Suggs in a stagefront red telephone box, apparently chatting to his mum about dodgy business he's up to… which turns out to be "holding a party in Brighton". Here. With us. He sings the opening line of "One Step Beyond", the crowd roars the rest, and we're off.
When the black curtain falls to reveal the band, a striking, theatrical stage-set is apparent. This is the Ladykillers Tour, as you can see from the image that heads this review, based on the classic Ealing comedy. The band plays amid a terraced Edwardian London street, the four main "street front" windows behind them constantly illuminated by footage, initially in black and white of a blues party going off.
With additional brass to boost Lee Thompson's sax, they rip into hits that ruled the early-Eighties. Keyboard-player Mike Barson, Suggs tells us, has been ill, and, eyes ever-shaded, he's wrapped in a giant fake fur collared coat. Guitarist Chris Foreman, meanwhile, whose forte is Hank Williams-meets-spaghetti western solos on songs such as the excellent "Shut Up", wears a Homburg hat and seems to slowly be mutating into Winston Churchill as the years pass.
Mid-Eighties Madness output is critically acclaimed but sometimes forgotten, even by their fans. The crowd is reminded of their two post-"nutty" albums, Keep Moving and Mad Not Mad, when they play "One Better Day", a melancholic single about homelessness. Suggs, ever one for a sly gag, pronounces the final chorus line's reference to sunshine à la Liam Gallagher in "Cigarettes & Alcohol" (ie "sunshy-eeeen").
The set is themed around petty youth criminality with new song "Baby Burglar" alongside oldies such as "Take It Or Leave It", the latter given an upbeat spin compared to the original's seedy sense of doubt. They also give us "Mr Apples", the best song from their last album, 2016's Can't Touch Us Now, a number about a staunch disciplinarian community leader who, of course, is really deep-dipped in pervy sleaze. He's played in a video above them by Lee Thompson, hamming it up.
Unfortunately, the band suffers sound problems that come and go during the set. Despite their gusto, this affected the show. Suggs's voice was regularly muffled, and during "Wings of a Dove" and later "Bed and Breakfast Man", the sound as a whole was simply horrible, blurred, distorted and slipping out of key. Not sure what all that was about but it wasn't good.
They recover, though, leading from "Bed and Breakfast Man"'s well-intended but messy sing-along into early Sixties garage classic "Wooly Bully", replete with footage of the song's original performers, Sam the Sham and the Pharaohs, playing above them. Then on to their one chart-topper, "House of Fun" from 1982, which, again makes me wonder what today's youth make of its ultra-oblique attitude to buying condoms.
After a blissed, cheery "It Must Be Love", sentimental but welcome in these post-COVID times, they disappear, returning to encore with their stomping anthem "Madness" and, finally, possibly their greatest song, not lyrically but in terms of sheer verve, "Night Boat to Cairo", a jam led by Thompson's sax until Suggs briefly halts proceedings, declaring, "That's quite enough of that nonsense!" But he relents, wishes us a Merry Christmas, and the jam bursts into brief life again before folding. The lights go up and Monty Python's "Always Look on the Bright Side of Life" immediately kicks in on the house system. The crowd leaves into the bitter Winter night singing it and whistling.