theartsdesk on Vinyl 63: KMFDM, Laurie Anderson, Seratones, The Telescopes, Black Sabbath, Conrad Schnitzler and more |

reviews, news & interviews
theartsdesk on Vinyl 63: KMFDM, Laurie Anderson, Seratones, The Telescopes, Black Sabbath, Conrad Schnitzler and more
theartsdesk on Vinyl 63: KMFDM, Laurie Anderson, Seratones, The Telescopes, Black Sabbath, Conrad Schnitzler and more
The biggest bumper crop of vinyl record reviews out there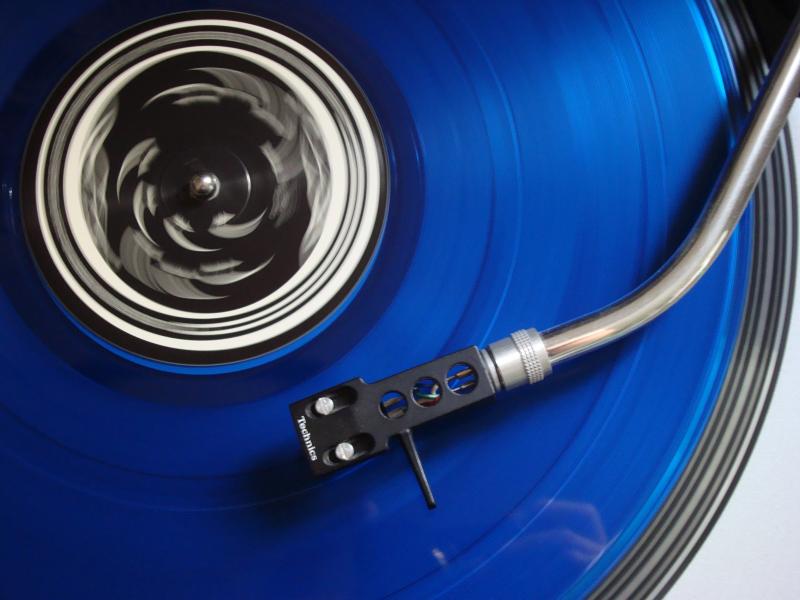 No need to feel blue
Rumours keep swirling of pressing plants stumped by the effects of COVID-19 lockdown, and it's true that vinyl editions of many albums have been delayed, yet still those records keep arriving. At theartsdesk on Vinyl, no-one cares if an album was streaming or out in virtual form months ago.
Vinyl is the only game here and when those albums arrive, they are heard, and the best of them, from hip hop to Sixties pop to steel-tough electronic bangin' to whatever else, makes it into 6000 words of detailed reviews. There's no shortage of juice or opinion here. Dive in!
VINYL OF THE MONTH
Subp Yao Infra Aqual (Yuku)
This is thumping electronic music, industrially heavy but also moodily playful. It has techno spirit and sternness but is as ramped up on breakbeats and dark ambient swirls, hitting like the most evil dubstep while never forgetting to keep the sounds moving forward, dragging the listener along, weaving in spiced flecks of synthesized melodies. It's the second album from Dutch producer Gert-Jan van Stiphout and he's excelled himself. The listener's immediate thought, when it begins, emphasised by the murky wordless outer and inner sleeve art, is that it's going to be bleak, faceless music, revelling in dissonance, but then it beds down and is much more diverse in both sound and intent. There are MC vocals along the way, from d00p on "One Man" and Bug regular Warrior Queen on "Mad and Mean". These both add vital human drama but, in truth, even without these, Subp Yao's latest, apparently a tribute to the strange creatures that live in the deepest depths of then ocean, is already one of the year's best electronic albums.
The Telescopes Songs of Love and Revolution (Tapete)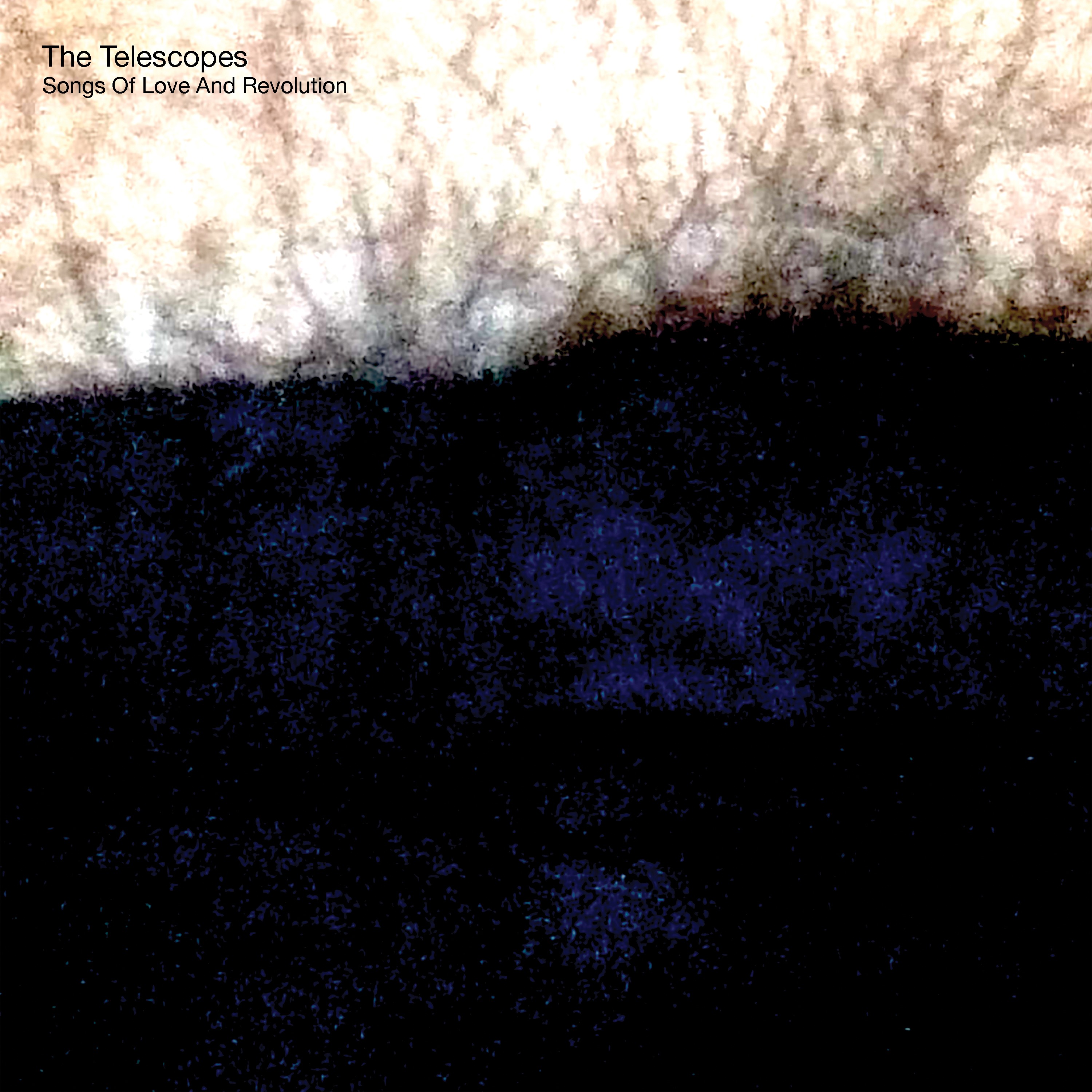 The Telescopes belong, music generationally, to the same grouping as Spacemen 3 and Loop, late-1980s bands who explored the power of heavily druggy drone, looped riffs and repetition, supremely smacked-out stoner music that sometimes bore a stylistic resemblance to the stark post-techno sounds that followed in the next decade. I've not followed The Telescopes' career but a quick Google search tells us that they disappeared at the start of the Nineties, returning in 2002, since when they have been prolific, their albums exploring electronic styles. Songs of Love and Revolution, though, is a return to proper psychedelic guitar head-fry, seriously out there, each track attached to a relentless, steady-paced rhythmic pulse, the mood being solemnly processional, a doomy tribal ritual. The production is excellently smudgy, making the music sound as if it's seeping from under a lake of opiated treacle, adding sheer narcotic weight. Near the end "You're Never Alone With Despair" ups the ante, coming on fast'n'noisy but, for the most part, Songs of Love and Revolution, thoroughly boils the brain without any of that being necessary. Arrives in suitably black lyric inner sleeve.
PJ Harvey Stories From the City, Stories From the Sea + Stories From the City, Stories From the Sea – Demos (Island)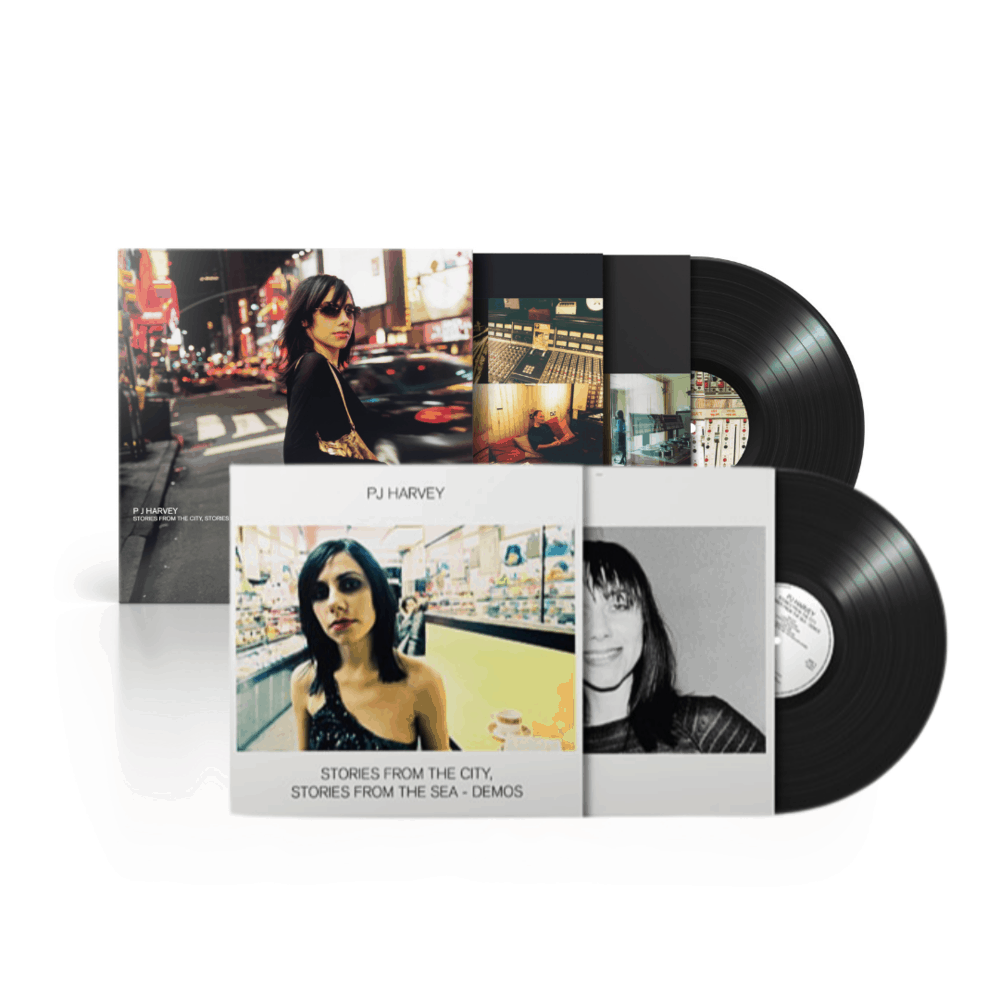 You won't believe this, but theartsdesk on Vinyl has been central to introducing me to the work of PJ Harvey. I never "got it" back in the Nineties, partly because I was more interested in electronic vanguard-ism than regurgitating post-punk/indie guitar tropes. But, hearing them anew - and with hindsight - has rendered her albums fresh and, in the case of Dance Hall at Louse Point, revelatory (although I'm still not persuaded by the first couple of albums). But you knew this already, right? 2000's Stories From the City, Stories From the Sea, which features a likeable duet with Thom Yorke ("This Mess We're In"), also contains an often loved-up set of songs that, like the Frank Black albums reviewed further down this page, mingles caustic guitar attack with engaging songwriting, whether that be the Neil Young-ish slowie "Horses in My Dreams" or the reverbed Patti Smith-like punkin' of The Whores Hustle and The Hustlers Whore". Comes with photo inner sleeve and 12" x 12" photo/lyric card insert. The Demos version of the album is really a fans-only thing, the same songs in the same order but early versions. Much of it is, as you might imagine, simple, cruder versions of what came later. These sometimes have a raddled urgency, but more appealing are stripped back raw takes such as the drum machine-backed "A Place Called Home". Comes in photo inner sleeve.
Electric Jalaba El Hal/The Feeling (Strut) + Urban Village Udondolo (Nø Format)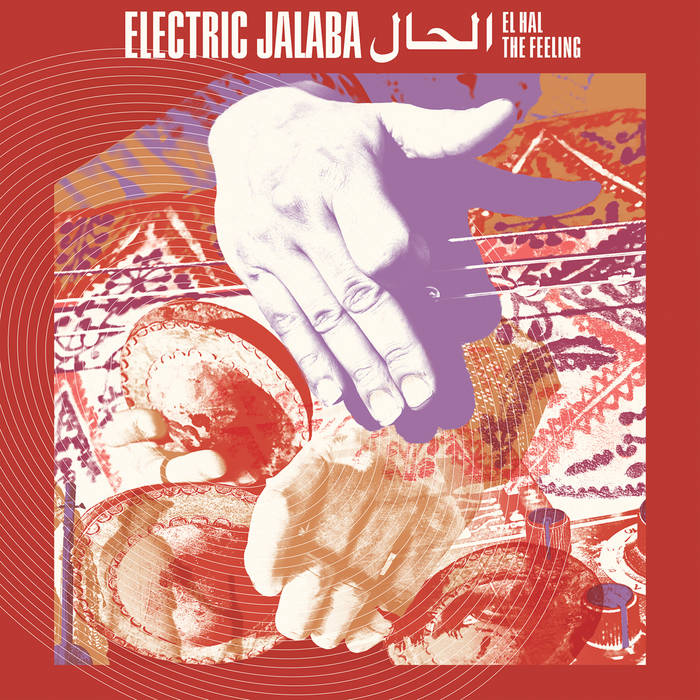 A couple of albums that draw their power from the African continent. Electric Jalaba are a Brit-based band with an international membership. Four of them are the Keen brothers from Dorset, while on drums is Anglo-Italian session don Dave de Rose, who's worked with Rokia Traore, Mulatu Astatke and others, but at the heart of this well-oiled machine is Simo Lagnawi from Morocco, whose love of his country's gnawa music leads the way. Drawing strong seasoning from electronica and festivalized stoner jamming (the latter especially on percussive roller "Hindewu"), they mutate Langnawi's musical methods into a head-nodding hash-cookies-at-WOMAD gumbo that reaches for the feet as much as the head. Comes in info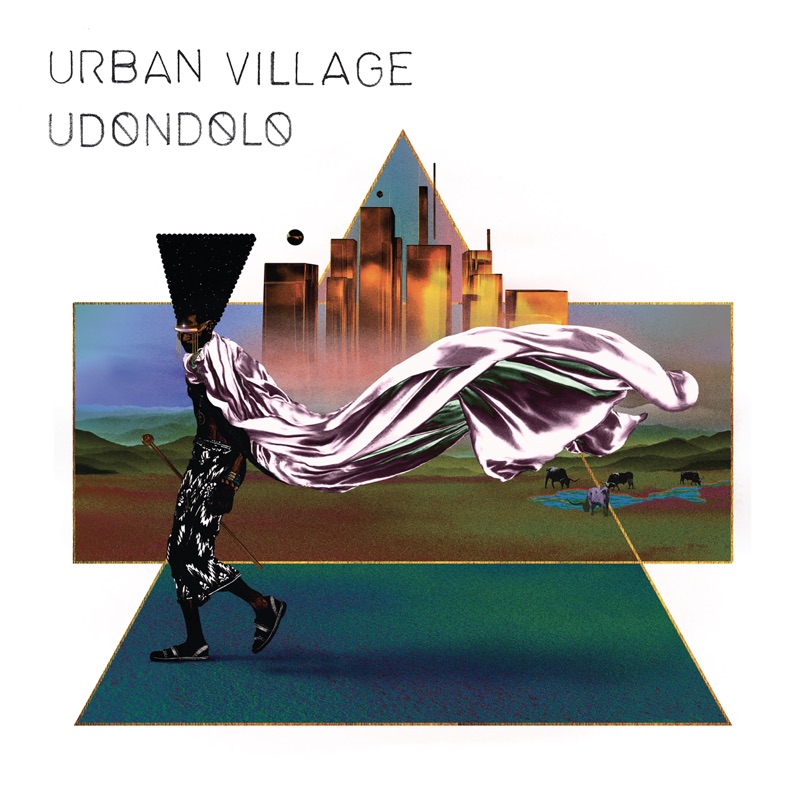 gatefold. Urban Village, whose debut album arrives on white vinyl in info inner sleeve, are a four-piece from Soweto whose album is more poppy and accessible than Electric Jalaba. While most of the lyrics are in Zulu (with the exception of the cheerful upbeat communality of "Sakhisizwe", which mixes in some English), there's an immediacy to these songs, whether the brass-fuelled outright jollity of "Marabi" or the hip-swaying dancefloor-ripe "Dindi". Partly this is down to the way Urban Village mingle their South African grooves with rock song structures and electronic flourishes, but mostly it's down to an innate understanding of zesty, appealing melodies and harmonies.
Laurie Anderson Big Science (Nonesuch)
Occasionally, during the history of the pop charts, truly strange, avant-garde music has made it into the Top 10. The early Eighties was a good time for this. Japan's morose, abstract and odd "Ghosts" made No.5 in 1982, for instance. But perhaps the most famous occasion was when Laurie Anderson's nine minute minimalist deconstruction of a moment from a late-19th century opera (Jules Massenet's El Cid) made the No.2 spot in 1981. "O Superman"'s success is a credit to the generation who had absorbed punk and to that brief moment when genuine envelope-pushing was taking place in pop. It still sounds amazing, beautifully light and hypnotic, yet strangely catchy, akin to The Art of Noise's "Moments in Love". It begins the second side of Big Science, an album that is, in itself, a sampling of a much, much longer performance work by Anderson, a New York art radical associate of William Burroughs and his ilk, rather than a pop act. Mostly spoken word over carefully involving backing tracks, its experimentalism is inclusive and ear-friendly, from the bagpipe-accompanied "Sweaters" to the backwards-running percussive jazz of "Example #22". Overall, without the back-story, it comes over as a strange amalgamation of post-punk, electro-pop and modern classical-influenced prog. Whatever the label, it's a fascinating and great album that still stands up today. Comes on bright red vinyl with a 12" x 12" lyric/art insert.
KMFDM In Dub (KMFDM)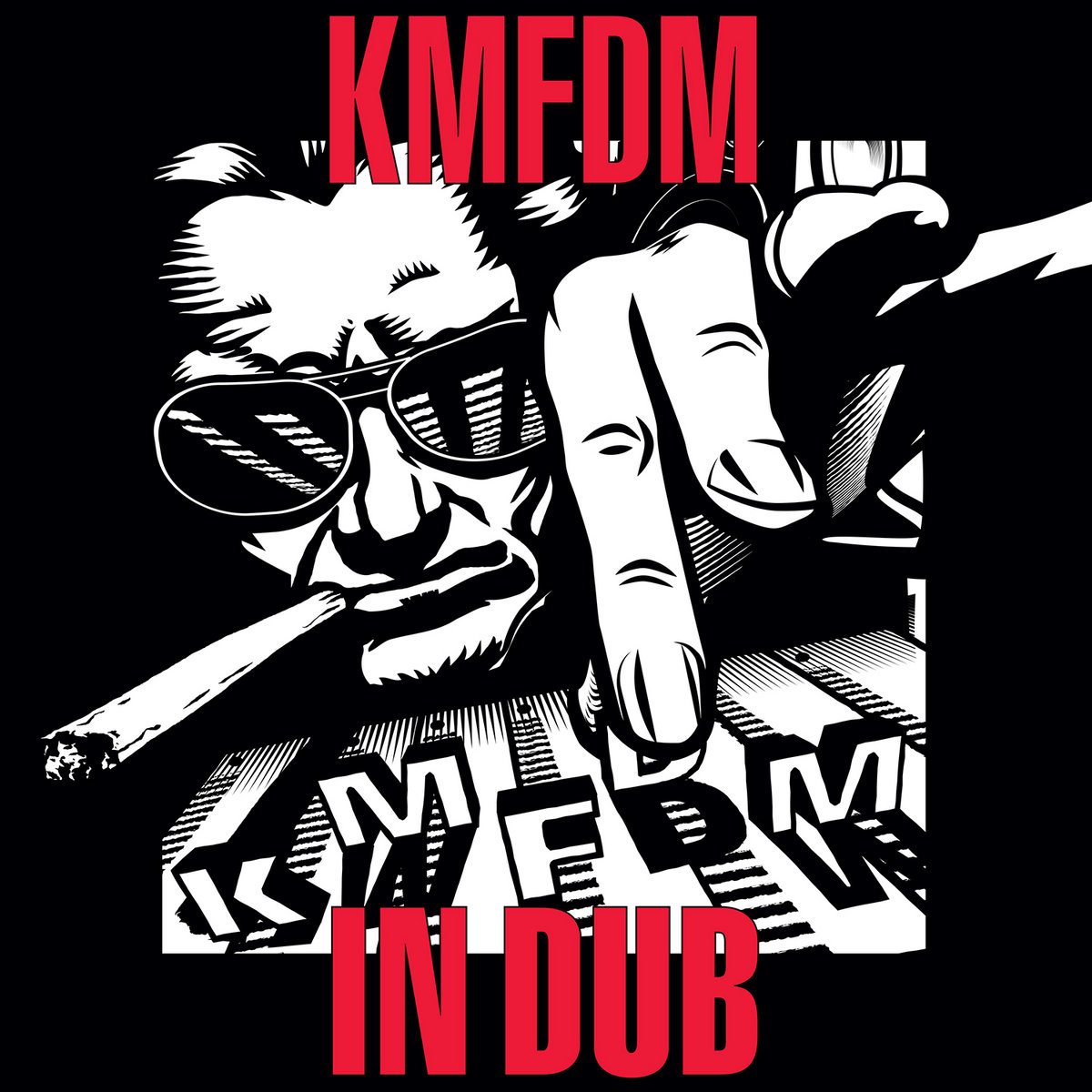 The idea of double dub album by perennial German industrial EDM innovators KMFDM sounds like a car crash. The music they made as part of the whole Wax Trax enclave at the start of the Nineties has little in common with the work of Lee "Scratch" Perry, Mad Professor, et al, after all. But in recent years, working with producer Ben Lawrenz, KMFDM have been exploring the potential of slower, bass-end fare. In Dub, then, is a likeable success. It arrives on transparent vinyl in a gatefold featuring previous album cover art, and reinvents prime cuts from the last 30 years as On-U Sound style throbbers. Sometimes they're songs fronted by the candied female vocals of Lucia Cifarelli, as on the catchy "Superhero Dub", and at others they integrate the snarling, distorted roaring of frontman Sascha Konietzko, as on the rewrite of 1993's "A Drug Against War" as "A Dub Against War". The latter reminds of nothing so much as Gary Clail's work with Tackhead. The way the album combines industrial harshness with loping skank is invigorating. Whether that's the noisy "Amnesia Dub" or the horn-fuelled, rave-reggae frolic of "Bumaye Dub", Konietzko and Lawrenz deserve props for an impressive, enjoyable reinvention.
Møme & Ricky Ducati Flashback FM (Møme/Allo Floride)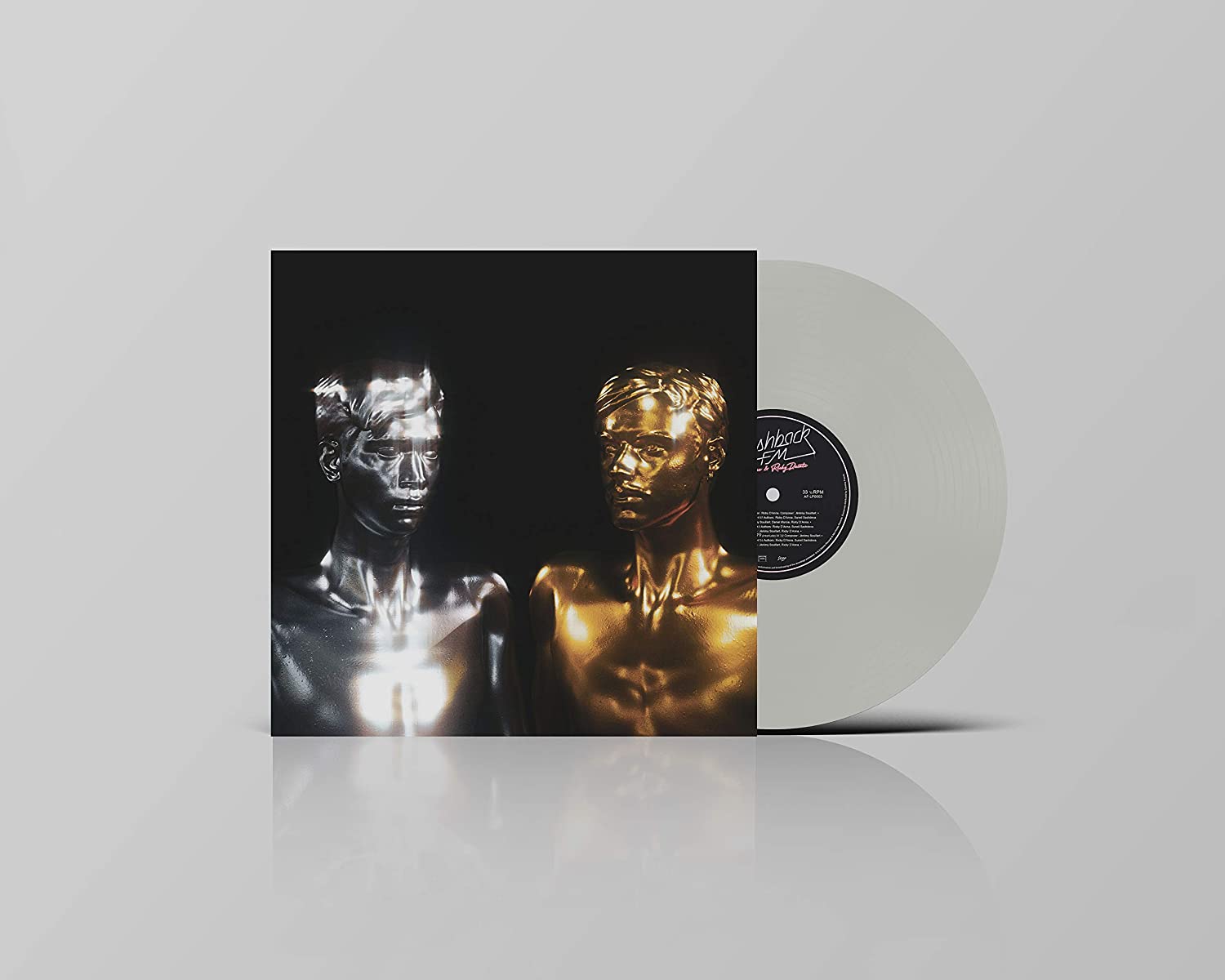 The debut album from French producer Møme and LA-based Canadian singer Ricky Ducati does the impossible. It takes a pottage of theartsdesk on Vinyl's least-liked musical flavours and turns it into three sides of tasty disco-fied electro-pop (the fourth side is blank). Comparatives would include Christopher Cross, Hall & Oates, The 1975, Empire of the Sun, and yacht rock, but Møme & Ducati use these elements to hone snappy club-centric pop. Where Daft Punk, on Random Access Memories, took similar influences and created a set that was stylistically sprawling (brilliantly so!), Møme & Ducati narrow their attention on 4/4 floor-power, but these aren't DJ-centric club cuts, there's always a hooky song attached. The conceptual conceit is that Flashback FM is an Eighties radio station and, along the way, there are numbers that I'd certainly switch off, such as the dreadful slow-dance slop of "Moves", but for the most part, the songs brook no argument. Just drop the needle on the West Coast harmonic smooth-pop of "They Said" or the Imagination-like rockin' disco of "Got It Made". A songwriting duo to watch.
Black Sabbath Paranoid Super Deluxe Boxset + Vol 4 Super Deluxe Boxset (BMG)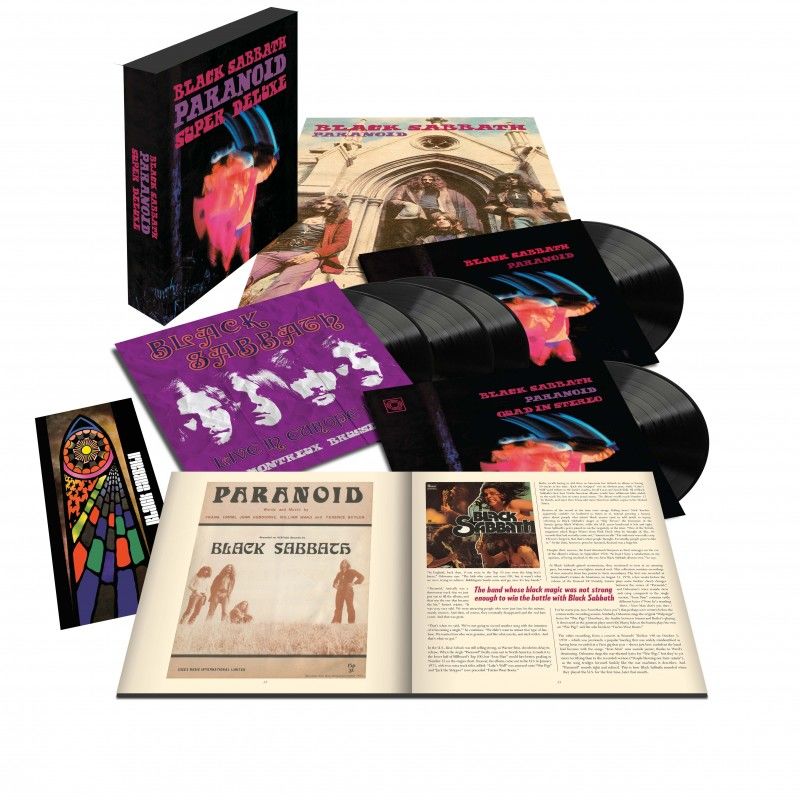 Bumper Sabbath time! To mark 50 years (and nearly 50 years!) since their release in 1970 and 1972, respectively, the Brummie heavy legends' second and fourth albums receive the ultra-boxset treatment. It's hard to believe that Paranoid was, in fact, a rush job, the band pushed back into the studio by management after the unexpected success of their debut. Indeed, their most famous song, the title track, was bashed out quickly as filler! Sabbath classics such as "War Pigs" and "Iron Man" sit next to equally proto-metal cuts such as "Fairies Wear Boots", the prog drum solo mayhem of "Rat Salad" and psychedelic bongo slowie "Planet Caravan". Now the original album arrives with four other discs: the first is a 1974 quadraphonic mix of the album aimed at the then-rising hi-fi buff market, and the other three are of two concerts from the same year, one from Montreux and one from Brussels. The latter's sometimes sprawling versions are well worth a listen. There's also a poster, a 40-page photo book featuring interviews with the band, and a reproduction of
the tour programme of the time. Vol. 4 is only a couple of years later but the work of a band in radically different circumstances, hunkered down in LA, snorting quarry-loads of coke (and the rest!). Where the sullen moodiness of their first and second album derived from working class lads bullishly responding to the idea of a sunny, flowery Sixties, the equally moody paranoia of Vol. 4 is down to the endless drug comedowns. It's more polished-sounding, of course, less muddily psychedelic, but in songs such as "Cornucopia" it's easy to see the true seed of doom metal, while "Snowblind" nicely sums up their powder-addled state of mind, and the string-swathed "Laguna Sunrise" showcases a little known easy listening side. Again, there's a plethora of extras. On the record front there's a side-and-a-half of outtakes, crisply mixed by Steve Wilson, now the go-to man for such. Even more revelatory is the album-and-a-half of alternate takes, replete with false starts, that give us a glimpse into the matter-of-fact frazzled-ness of the musicians, while the final two albums contain hefty concert recordings from across the UK in 1973. There's also a colour poster and a 40-page photo-led book.
Camera Prosthuman (Bureau B) + Conrad Schnitzler Paracon: The Paracon Session Outtakes 1978-1979 (Bureau B)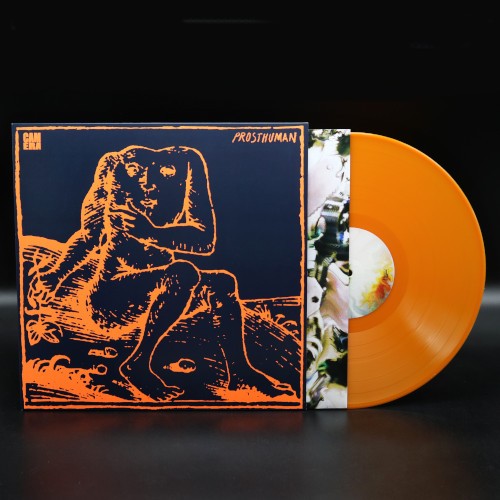 Hamburg label Bureau B's output is always worth the time of day. They do not always release music I like but they do always release music that's doing something interesting and/or different (and/or perverse!). They favour exploratory electronica and Krautrock, but that's not necessarily what you're going to hear when the needle hits the plastic. A good example is uncategorizable Berlin unit Camera who, a decade into their career, and with a new line-up for their fifth album, continue to defy expectations of their improvisational music. It doesn't adhere to the usual motorik template; endlessly revolving instrumentals such as the "Prosthuman/Apptime" twinkle with melodic colour but "Schmwarf" is distorted clattering synth-punk with vocals. In art inner sleeve, the first 100 copies come on
bright orange vinyl. Bureau B have also become the archivists of an original Krautrock progenitor, the late Conrad Schnitzler, and their latest release in this vein draws from the archives of Tangerine Dreamer Peter Baumann's studio and work Schnitzler did with sonic vanguardist Wolfgang Seidel (with whom he made 1980's Consequenz album, amongst other things). For analogue synth geeks, like theartsdesk on Vinyl, this set of ten instrumental experiments are a treat that runs the gamut from genuine proto-techno to quirked out bleepy head music. Comes in photo/info inner sleeve.
Yungmorpheus Thumbing Through Foliage (Bad Taste)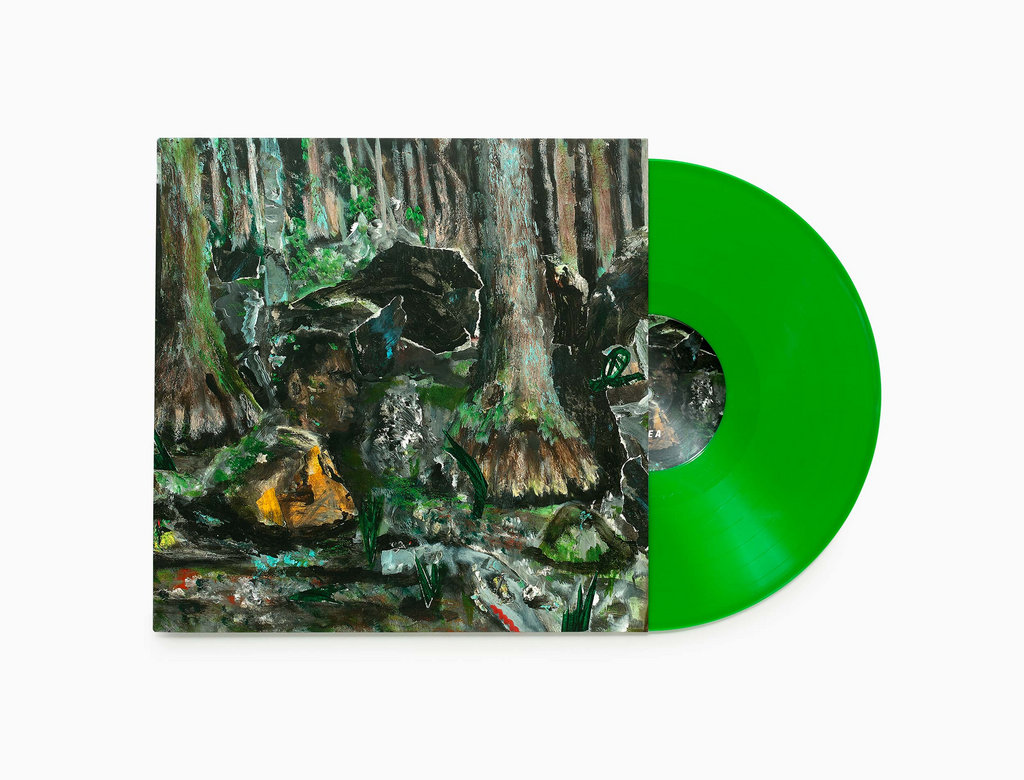 Prolific Los Angeles MC Youngmorpheus is not backward in coming forward about what gives his voice its utterly laid back drawl, especially on the spliff-centric "Blaqstar Farms" and the epic "Harlem Heat". Sometimes, as on the sampled sax'n'soul squall of "The RAT RACE", his voice is almost consumed by a noisy backing track, but at its best, Thumbing Through Foliage gives his low-key flow the space it needs, as on the head-nodder "Table For One", featuring Bahamian MC Obijuan, or the funkin' cops'n'street-crime analysis of "Fistful of Greens". The overall impression the album gives is of weed smoking to level the head out amidst impossible social unbalance and criminality, but herb-induced paranoia then adding its own edge to that whole scenario. Comes on bright green vinyl.
Nirvana Songlife Boxset (Snapper Music)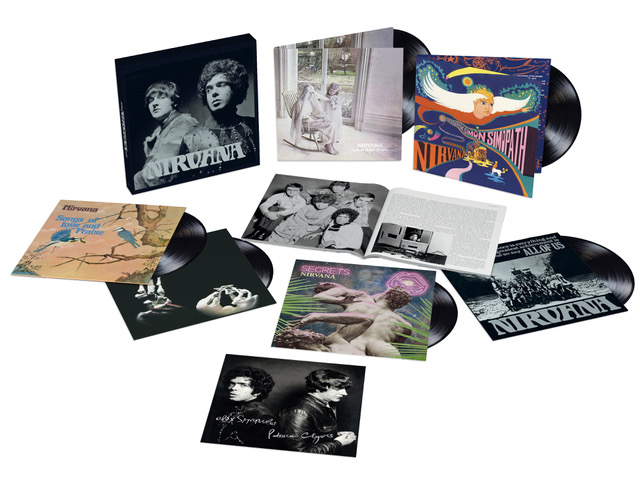 Before Kurt's Nirvana arrived, there was a British 1960s band called Nirvana. Their sole reputation to the average music geek was that some of their albums were very rare and superemely expensive. This turns out to be because they were an Island Records band for whom there was critical acclaim, high hopes and top production values, but who never made it (unless you count one 1968 single that just broke the Top 40 - "Rainbow Chaser", a No.34 hit!). Their music achieved some small success abroad, and was covered by artists of repute (eg, Jimmy Cliff, François Hardy and, erm, The New Seekers). Formed around the central partnership of Greek artistic creative Alex Spyropoulos and Irish songwriter Patrick Campbell-Lyons, Nirvana have long been music journo-favoured, their work falling into the mythos of great albums that didn't fit the tastes of changing times, like The Zombies' Odessey & Oracle, The Pretty Things' SF Sorrow and The Kinks Are the Village Green Preservation Society. In the case of Nirvana, their first three albums, the ones made before Spyropoulos went his own way, are baroque orchestral pop with light tint of British pastoral psychedelic seasoning. These are The Story of Simon Simopath (1967), The Existence of Chance Is Everything and Nothing While the Greatest Achievement Is the Living of Life, and so Say ALL OF US (1968) and, dropped by Island and floundering, To Markos III (1970). At the time, public tastes were shifting. Serious music was starting to be understood as rock and this kind of post-Sgt. Pepper studio-built orchestration had fallen out of fashion. In this, they remind of equally obscure bands of the period, such as Kaleidoscope and Katch 22, who also mined this seam of BBC Radio 2-friendly psychedelia. Also on the boxset are post-Spyropoulos albums, Local Anaesthetic (1971) and Songs of Love and Praise (1972). Fans of trebly baroque psychedelia will enjoy the earlier work best, but I prefer Campbell-Lyons' later, more guitar-centric sound, especially of Local Anaesthetic, which goes off at the deep end with its suites and freakery, percussion and spoken word ramblings. It is genuinely off-the-wall, but also more-ish. Finally, for the true Nirvana fans, there's Secrets, which is pulled from an acetate of material rediscovered within the last decade, dating from a 1976 reformation with Spyropoulos for a possible musical never happened, which went by various names, including Blood, The Secrets of Soho and The Lost Musical. It's a jolly demo full of catchy upbeat material redolent of everything from Jesus Christ Superstar to Tommy ("Bingo Boy" is surely based, conceptually, on "Pinball Wizard"). The boxset is limited to 1000 and also contains a 12" x 12" print signed by both the linchpin members, as well as an exhaustive 54 page 12" x 12" biographical book with loads of photographs that show off the duo looking like caped Sixties princelings.
Seratones Power (New West)
Seratones' new music knows not to overplay things but, at its loudest, is a speak-blowing combination of Phil Spector's Wall of Sound and strident Motown stomp. Just check the title track for chief evidence. Fronted by guitar-slinging female vocal belter AJ Haynes, their second album touches on the punkier sound of its predecessor on "Heart Attack" but, for the most part, anthemic title track aside (which is all about empowerment), most of the album concerns itself with the multiple ways we treat relationships, both short term sexual and long term thoughtful. An outstanding case in point is the hip hop-flavoured funk of "Sad Boi". Retro, it may be, but Power is both tuneful and forceful, and I suspect seeing them live would be a top night out. Comes with a 12" x 12" four page photo/lyric/info booklet.
Lady Di/Mega Emotion I Know You Know I'm Perfect/Move, Motherfucker (Fake Feelings)
This is a great idea. One band that has two personas, releasing a split album with one side devoted to one and one devoted to the other. The band(s) is/are Norwich electro-pop trio Mega Emotion/raging Norwich indie-punkers Lady Di. Arriving on pink vinyl, both bands have something to recommend them. Lady Di rev up a thrusting guitar attack and their shouty squalls rage out of the speakers, exemplified by the sweary "Do Better" but, in truth, the terribly named Mega Emotion make an even more a persuasive case. Some of this is down to the way a sliver of Lady Di's indie aggression bleeds into their music, notably on the unashamedly noisy "Brains", but also every song is fully formed, from the robot ethereality of "Prime" to the the roared, whooping early Human League-meets-The Killers "Uncomfortable". It would be a mighty thing if they carried this conceit through to a two part gig. But who would headline!?! Comes in lyric inner sleeve.
Lice Wasteland: What Ails Our People is Clear (Settled Law) + Hello Cosmos Dream Harder (Cosmic Glue) + Mush Lines Redacted (Memphis Industries)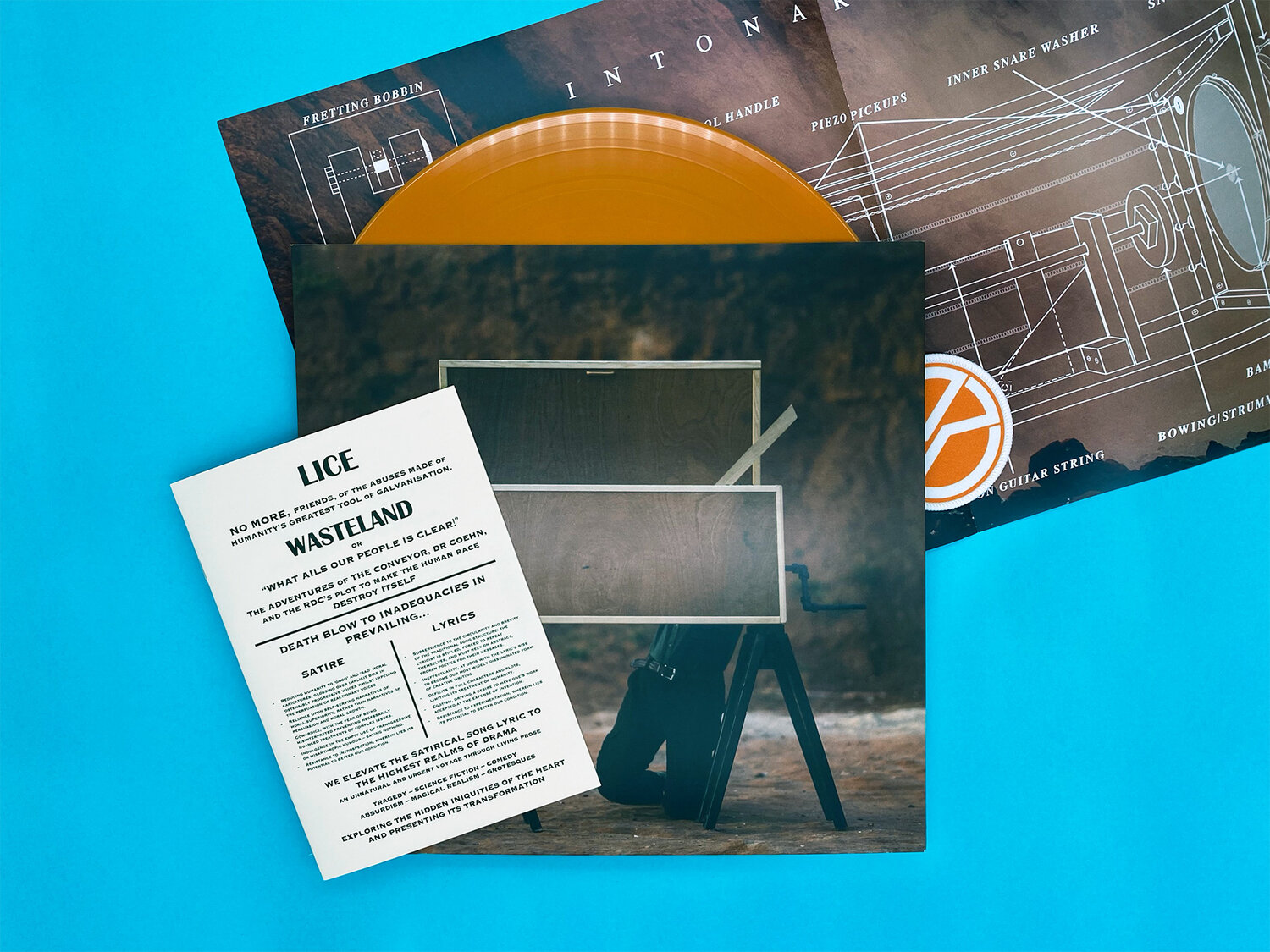 Three albums rooted in the punk tradition of kicking against the pricks, mocking the ridiculousness of society's mindless rituals. The debut album from Bristol prog-punks Lice arrives with outrageous confidence, coming on like a cross between King Crimson and Gang of Four. Its angular attack is attached to a concept; a note in the album, hand-written in green ink, states the record argues "that by unsettling certain conventions in satirical music it can better deal with implicit forms of bias and iniquity". To back this point up, there's a beautifully printed samizdat pamphlet of William Burroughs-ish abstract art literature (one man is killed by his own ravening amputated penis!). There's also a little brown envelope of badges. To top it all, the inner sleeve features a photograph of a noise-making machine built to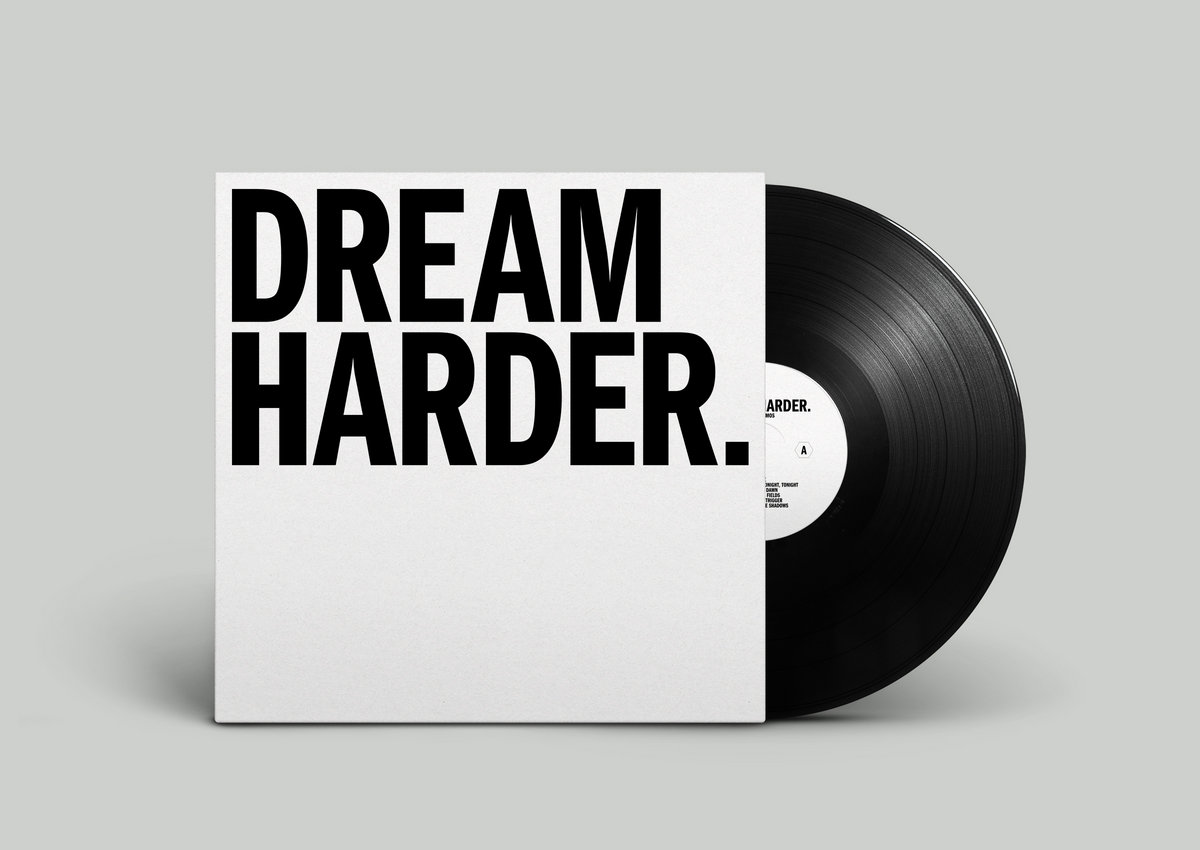 the specifications of Italian Futurist Luigi Russolo's intonarumori, devices he created before World War I to musically emulate the violence of the machine age. It's quite a package, but perhaps more immediate is the debut from Manchester collective Hello Cosmos, who come from an equally punk place, but there's no proggery here; their racket is less angular, a stew of riffage, moulded by electronic squeaks and crunch, the words more like the wry diatribes of Art Brut or I Ludicrous. Ben Robinson, the man behind the Blue Dot Festival, is on the mic and he has a great way with a sneering couplet, backed by music that's noisy but does also have actual choruses and tunes.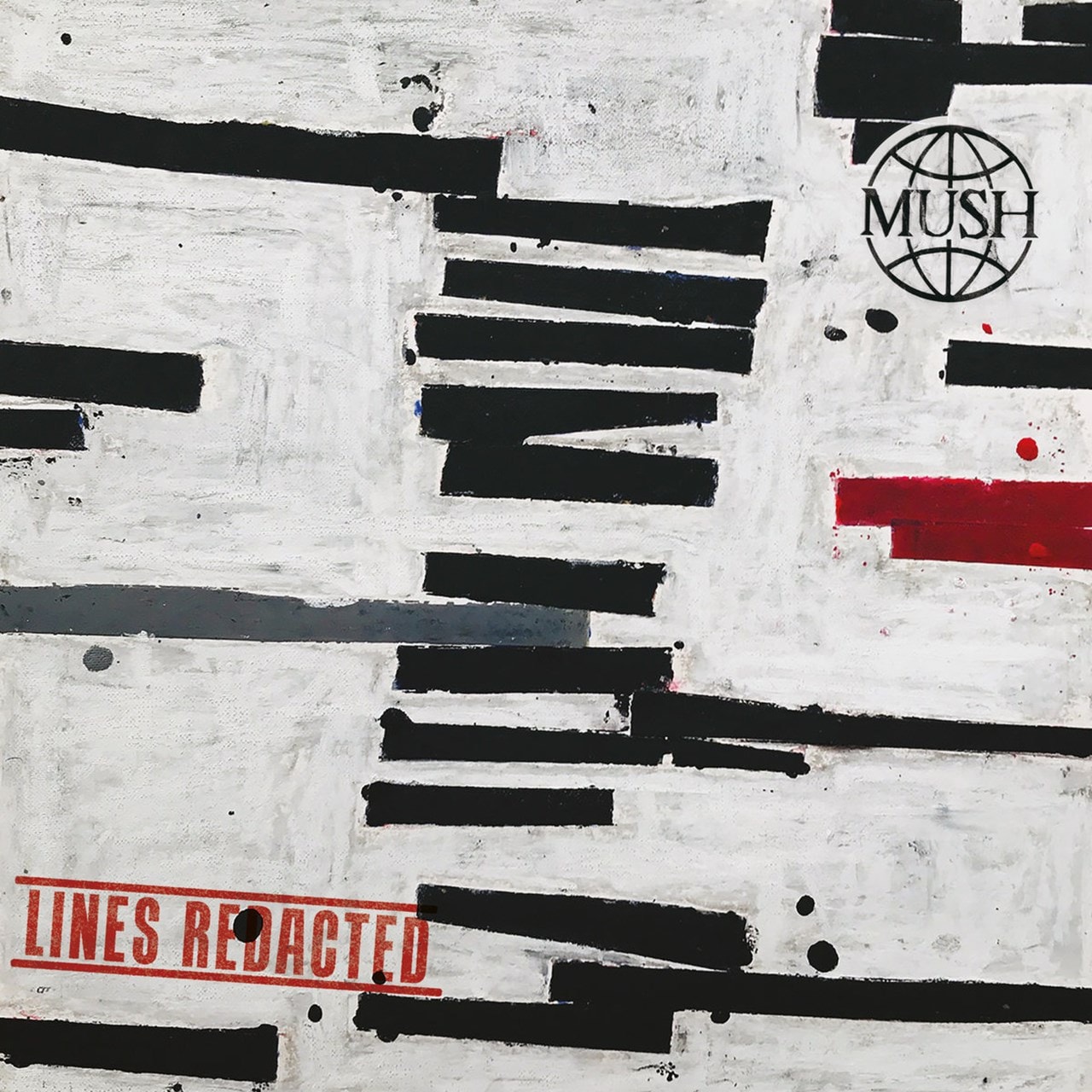 Finally Mush's second album channels the skonky detuned guitar spikiness of bands such as Stump, Bogshed and Beethoven Not Beethoven. They too offer memorable choruses, notably opener "Drink the Bleach", on which note, the album is one of the first theartsdesk on Vinyl has heard that's a direct critical response to how the COVID-19 pandemic has been handled. There's a song about the doorstep NHS clap ("Blitz Spirit, yeah, you get the jist/And I'm off my tits on happiness") and one called "Hazmat Suits". What stands out most, though, is singer Dan Hyndman's unhinged word-swallowing. The last singer who adopted this style was Eddie Tenpole Tudor on "Who Killed Bambi"! Comes in lyric inner sleeve on transparent blue ice vinyl.
Swingrowers Hybrid (Freshly Squeezed)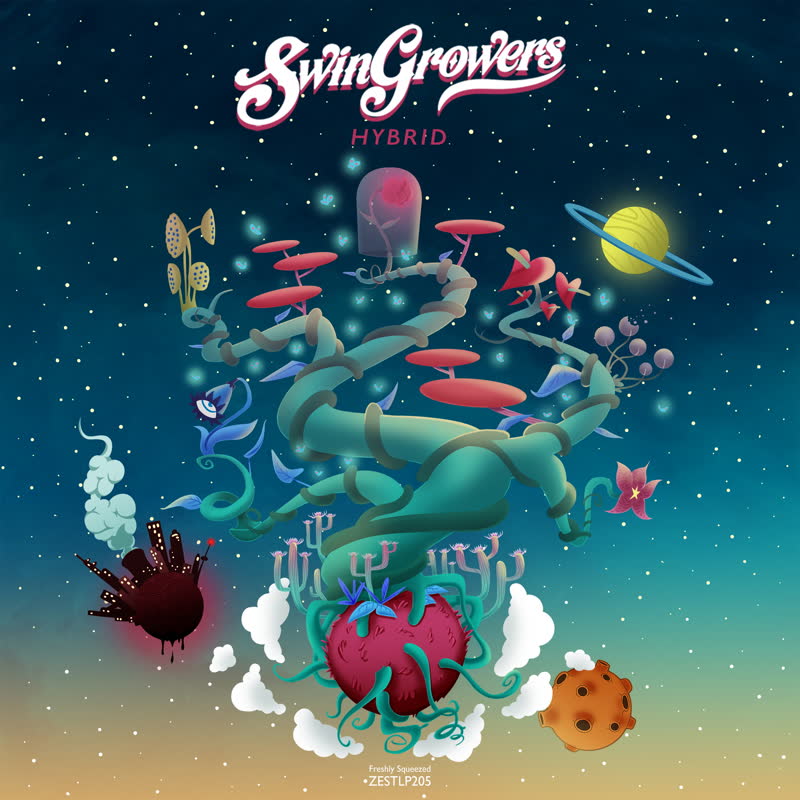 The fourth album from one of the chief premier exponents of electro-swing, a musical style loathed by Britain's hipper arbiters of taste, yet beloved of kids off their tits in the festival night. There are parallels with Happy Hardcore, disliked by the cognoscenti when it was current, although that genre had a wider societal cache, both as unpretentious party music, and with respect to how it speeded up to the point of crassness (just check Swingrowers' Gameboy bleepy "Follow the Stars" for evidence of the parallel). This Italian DJ-production unit have tens of millions of streams on YouTube and Spotify, and it's easy to see why; their music follows the pure pop simplicity beloved of their native land, so much so that it's certainly cheesy. It's flippant and unashamedly ephemeral, but also unsubtly joyful. Given the way the world is at the moment, it would take a supreme churl to come across this in a night-field marquee and walk away. Comes in lyric inner sleeve.
Frank Black The Cult of Ray + Oddballs (Demon)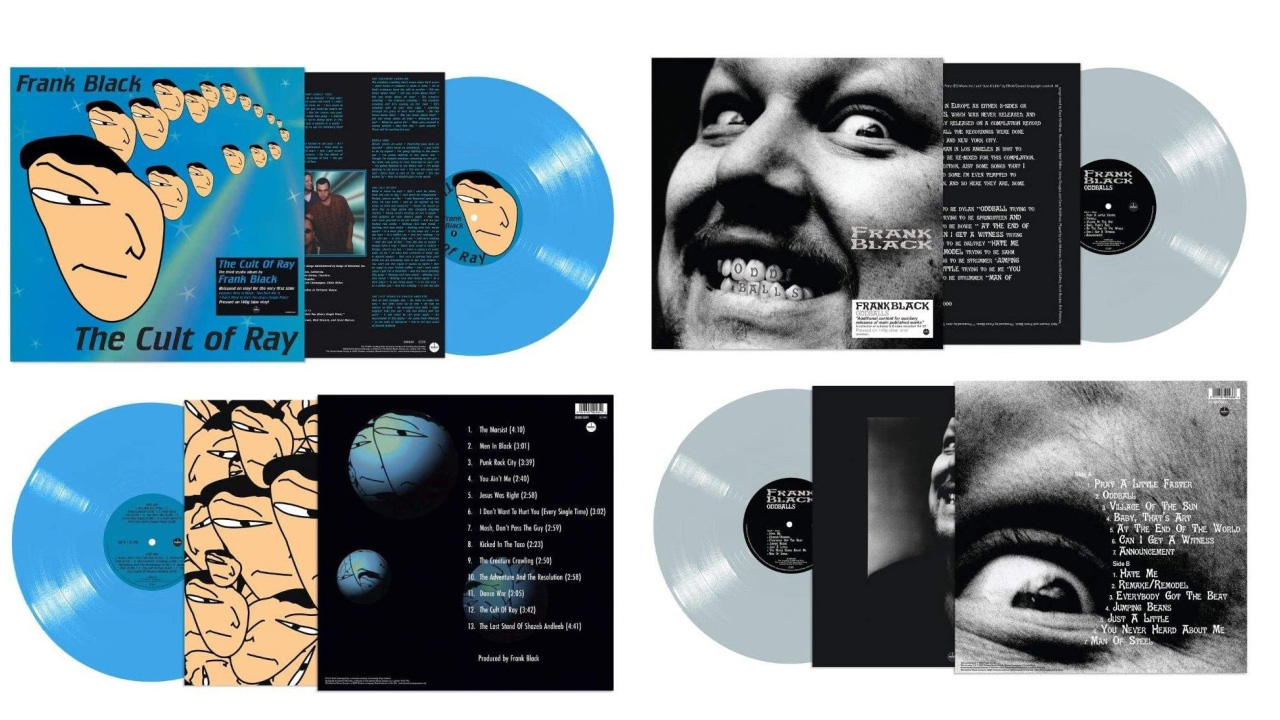 A couple of albums from the period after Pixies' original collapse when their leader, Black Francis/Frank Black, embarked on a career of his own. I remembered these solo sallies as unimpressive, especially compared to Kim Deal's The Breeders. I remembered incorrectly. His third album, The Cult of Ray, is an energetic, self-produced set of what would once have been called power pop, ie, punk guitar-centric but attached to a tune you can hum. It comes on cerulean blue vinyl with art/lyric inner sleeve. Oddballs, a tasty collection of B-side and outtakes from 1994-97, is even better. Put together in 2000, it ranges from slow-fast Nirvana-ish punk thrashes such as "At the End of the World" to the Stooges-ish "Remake/Remodel, with loads of other flavours along the way. Indeed, on the inner sleeve, there's an entertaining list of which artist he claims to be channelling on each song (including "trying to be me"). Comes on grey vinyl.
ALSO WORTHY OF MENTION
Djin Transmission (Rocket): Partly made up of members of Scandinavian freak music collective Goat, Djin push the boat further into head-nodding, mantric psychedelic jazz. Each track slowly builds around a rhythm track, gradually blossoming into something drone-ish, but bespattered with triangles, recorders and all sorts, in fact, sometimes, it's like falling headfirst into a Gong record that's been reimagined. Predominant against the swirling stew, when it's not going into Laraaji-style ambient territory, is a saxophone that returns as "lead vocalist", just when things seem to be drifting off into an eternal loop for heads. Comes on vinyl that's the heart of a red-rimmed swirling orange sun.
Baby Boys Threesome (Transgressive): Baby Boys' debut is the sound of a trio of studio-literate Californian pro' engineer-producers - Caleb Hinz, Jake Luppen and Nathan Stockerare - having an cleverly estimated off-duty lark. Their quirk-pop rambles all over the place. It's sedate in tone, with a bubbly, submerged feel, but also runs the gamut from bizarre alternative Autotune chart-pop to Afro-tinted sounds to a track that comes on like Bon Iver collapsing into his software. It is all ear-interesting stuff but feels also like the first experimental step on a journey that is yet to come to fruition. Comes on info inner sleeve.
The Band Stage Fright (Capitol): From this historical distance, it's difficult to see why The Band were quite so lauded as the Sixties turned into the Seventies, held up alongside Dylan and The Beatles as one of THE seminal creative units. This is not to suggest they're crap, but to 2021 ears their likeable pre-Eagles country rock is… well, just as that that description suggests, but no more. Their third album, released in the summer of 1970, saw them coming off acclaimed work with Dylan and two albums that determinedly embraced then-unfashionable Deep South sounds. There are thematic hints of oncoming woe, perhaps because most of the group were developing heroin habits, but it's a lyrical light melancholy which plays off against an almost vaudeville honkytonky stomp. The track-listing is also in a new order, one that singer Robbie Robertson says was originally intended. True fans will probably go for the CD version, which comes with a host of previously unreleased live material, including a tasty hotel room jam session, but the vinyl is worthwhile and well-mastered.
Bodies of Water Is This What It's Like (Thousand Tongues): On their fifth album Los Angeles alt-poppers Bodies of Water muster a cocktail of classical instrumentation and indie vibes. The result is an eclectic cross section of music, much of it underpinned by a backing disco throb. It's not disco, though (although string-swathed opener "Every Little Bird" kind of is). Instead, appropriate reference points run the gamut from Leonard Cohen to Arcade Fire, lyrical chewiness popping up everywhere. What lets the album down is flat production, which underplays the sheer grooviness of what they seem to be attempting, muffing the percussive oomph that should carry it all along. Otherwise, though, it's a well-crafted set of witty songs with well-delivered male and female vocals.
Indica Blues We Are Doomed (APF): I think I like APF Records. They're a bit hit and miss but the spirit is right. What I've heard if their output is usually focused in an area where the sound of heavy hashish use runs smack, bang into dirty great riffs. There's something punky and unindulgent about them, as exemplified by the Indica Blues from Oxford, (Indica – geddit!), whose slow and heavy style is rooted in songs where the singing slowly gives way, letting gigantic mucky riffage take over. Although titles such as "The End is Calling" and "Cosmic Nihilism" more than hint at the general subject matter, there's decent songwriting in there too, notably on the loud-quiet dynamic of "Soul Embers". Comes with a 12" x 12" lyric/art insert on creamy orange vinyl.
The Still Brothers Wake Up/The Deep (Lewis) + The Rainbreakers Ashes (Rainbreakers): A couple of 7" singles of very different stripes. New York's Still Brothers chop together a bunch of samples to create two brief ear-pleasing snippets of breakbeat funkiness. "Wake Up" is organ-fuelled trip hop featuring subway announcements and breathy singing in Portuguese by one Marina B. On the flip is a beatier brass'n'sax-fuelled bouncer that lopes along. Both are fun. Rainbreakers, on the other hand, are a Shewsbury four-piece whose online presence suggests a regularly gigging band mixing rock with soul influences. Their single "Ashes", however, has a stadium-friendly Foo Fighters feel, and the cover photo of the quartet - swarthy, bearded, aged 30-something (at a guess0, in black tees, black jeans and sunglasses, walking po-faced towards the camera - suggests capital-letters ROCK all the way. It's not my thing at all but well put together and catchy enough.
Accept Too Mean to Die (Nuclear Blast): The opener from the 16th album by decades-long-in-the-tooth German metal outfit Accept is called "Zombie Apocalypse" and features lines such as "They're coming at you one by one, we've got to kill them all," delivered in a fevered screech, akin to Brian Johnson of AC/DC, by frontman Mark Tornillo. The whole thing is played off against ramped up, straight heavy-rockin' metal, like the Eighties never finished. Or try this for size: "Don't wanna be a star on the Hollywood Walk of Fame 'cause I'm a big deal, yeah, on the intimate wall of pain," from "Overnight Sensation". Yup, this is not music to be taken too seriously, but it's delivered with contagious panache. It's made me want to see them at Download! Comes on band photo gatefold double.
FYI Chris Earth Scum (Black Acre): Debut album from two Northerners – Chris Watson and Chris Coupe - who've settled on the new base of Peckham. It's a double of rough-edged gloopy rhythm tracks that veer between skittering, vaguely danceable numbers and dissonant beats, the whole thing coming on like a pirate radio station half-heard on a car radio late at night. Vaguely redolent of Paranoid London, the multiple slices of instrumental grit are spiced up by a trio of vocals cuts, the best of which is closer "Scum of the Earth" featuring Watson's uncle, Thick Richard, whose nasal Northern tones release a bitter, personalised state-of-the-nation poetic broadside somewhere between John Cooper Clarke and Sleaford Mods. The best of Earth Scum hits the spot but it could do with being shorter to emphasise those best moments.
Black Pistol Fire Look Alive (Black Hill): Black Pistol Fire are a Texan garage take on the Black Keys' two-man blues rock-out ideal. There are plenty of similarities, which the band likely don't welcome, but let's focus instead on the fact that their sixth album is rife with energy and well-wrought, fuzz-rock power. Check out the sheer drive and riffin' ambition of "Holdin' Up". I would guess that, after seeing them live, the obvious comparison would fade somewhat, subsumed by the impact. Comes in art inner sleeve with yellow'n'black 12" x 12" four page art leaflet.
Linda Smith Till Another Time 1988 – 1996 (Captured Tracks): Linda Smith, a New York-based bedroom recording artist, was as lo-fi as they come, both in terms of her music-making and the way she marketed much of music on cassette via the postal service (as well as making a couple of indie singles). The use of the past tense, by the way, is just because Smith moved on from music to art in the 1990s. Created on a four-track, using a cheap keyboard and guitar, her work is raw indie aesthetic incarnate, but Smith's echoey, vulnerable vocals are at the centre give the songs heart, as if, in an alternate universe where of New Order never made it and had no money at all, Gillian Gilbert was their vocalist. To call it sweet is patronizing, but there is something cute about it, yet also, at its best, moving too. Comes with lyric/info/photo 12" x 12" insert.
Chas Hodges Right at Home (Demon): Subtitled "Selected unreleased home recordings 2007 – 2017", these songs were chosen by Nik Hodges from hosts of recordings left in his father's studio. Chas was, of course, the Chas from Chas & Dave, who died a couple of years ago. His' "rockney" stylings are an acquired taste, but one that the UK had reembraced by the time of his passing. This collection has plenty of that amongst its 10 original songs and four covers. The best of the latter is a rough-edged take on The Beatles' White Album number "I'm So Tired". Elsewhere, this writer prefers the more country'n'western stylings of "Bad Boy" to the predominant pub piano ones. In short, if you're a Chas & Dave fan there's plenty to enjoy. Comes in photo/into inner sleeve.
John Paul Keith The Rhythm of the City (Wild Honey): John Paul Keith has built a touring career in the States with retro south-leaning albums and now offers up a set that honours his adopted city of Memphis. Mostly this means rock'n'rollin' rhythm and blues. It sounds like bar music, like a group of musicians having fun together, and making songs that are tight and immediate, if hardly breaking new ground. It's a seam he's been mining for years and he's adept at it, but like Pokey LaFarge and others, not in a way that's slick or off-putting. The short of it is that if you were on an American road trip and wandered into a roadside joint where he was playing to a hometown crowd, it'd be a blast, but as the latest of his many, quite similar albums, it's probably for aficionados only. Comes in photo/lyric/info inner sleeve.
The Direct Hits The Broadway Recording Sessions (Optic Nerve): Impressively completist Eighties indie archivist label Optic Nerve dig up yet another forgotten act for our inspection. That said, The Direct Hits won't be forgotten to their tiny coterie of fans, for their mod revivalism had a strong live following during their existence which, in turn, developed into a devoted cult after-life. This set is from an urgently bashed out day-long session in Tooting in August 1982. Some of the songs would make it onto their debut album a couple of years later. As they undoubtedly intended, the songs sound like 1964 beat pop that's been given lo-fi post-punk snap, notably in the messy garage guitar sound. They sound a little like The TV Personalities (whose singer Dan Treacy's label Whaam! put out their debut single earlier in '82), with that same penchant for child-like romanticism ("If anyone could ever love me, Miranda Berkley does"), but they're more devotedly early-Sixties-centric. The album comes in lyric inner sleeve on a gatefold with sleeve notes by fan Eleanore Gray. Also included is a memorabilia-filled poster and, rather bizarrely, three blurry Hollywood-style headshots of the band members.
Richard Barbieri Under a Spell (KScope): Richard Barbieri has been around the block a few times, notably with Japan and massive-yet-low-profile proggers Porcupine Tree. His latest solo outing is a double on photo info gatefold and it mixes an ambient synth feel with skittering central percussion. Listenable yet hardly straightforward throughout the album's length, cuts such as "Flare 2" mingle a mournful Middle Eastern jazz feel with something bouncier. It needs hearing as a whole, ideally, to really bed down into what it's up to. Placed alongside recent albums from Jon Gomm and The Anchoress, it suggests KScope are on a roll, combining the interests of a trad prog fanbase with an intriguing and focused art-experimental agenda.
La Chica La Loba (Zamora) + Aerial East Try Harder (Partisan): Two albums by female artists, both of which espouse the idea that, musically, less is more. Arriving in lyric gatefold, La Loba is a mini-album from French-Venezuelian artist Sophie Fustec. Pared back to a bare minimum of piano, percussion and vocals, mostly in Spanish, with occasional electronic treatment, it's a quietly theatrical album, thematically built around the singer's sense of loss over her brother's recent death (he is featured on the enigmatically arty, gender-questioning cover art). It's delicate and beautifully recorded, creating an atmosphere of questioning sadness, but also feels as if it should be the soundtrack to an installation or visual experience of some kind. Perhaps more approachable in its manner of construction is the debut album from New York-based Texan Aerial East whose wispy, super-laidback singing style sits well over what amounts to supremely deconstructed country music, to the point where the backing track is sometimes hardly there at all. Unlike La Chica, however, there are songs that leap out and grab the ears, such as the Michelle Shocked-like "Katharine". It's a quietly delicious album that comes in photo/lyric inner sleeve.
Cuffed Up Cuffed Up EP (Corduroy/Hassle) + DTR Project No Limits (SoSure Music/Launch) + Jim Falling That You Know (NuNorthernSoul) + Parallel Action featuring Charlie Boy Manson Memories/10/10 (C7NEMA100/Loose Lips) + Winston Neale Sinnerman (RE:WARM):
A cross section of 12" singles and EPs. First off, Cuffed Up are an LA indie/alt-rock outfit led by Sapphire Jewell and Ralph Torrefranca, self-confessed fans of IDLES and recent UK raucousness. Their four-track debut EP on bright yellow vinyl is punchy and punk-flavoured; it's all pretty catchy but the outstandingly noticeable track is "French Exit" talk-sung by Jewell, which is like a slouching Sonic Youth offcut, while "Mother/Father' with shared vocals, comes in a close second. A double-header from an entirely different musical place is "No Limits" by British house act DTR Project, which has a vocal mix and an edit from New York disco-house master Danny Krivit. It's a collaboration between producers Danism & Train and London singer-DJ, DJ Rae, who some will know from her up-front role on those Hacienda Classical tours. It's more tasteful shuffle than hands-in-the-air, and more New York soul-house than UK banger, but for those after something 4/4, not too tough, with a smidgeon of jazz and scat, it's a decent enough wine bar chugger. Nottingham Crazy P associate James Baron – AKA Jim – releases a low-key debut EP of easy-going, slightly soul-tinted singer-songwriter fare. It isn't my thing at all but the novel cover of The Cult's "Phoenix" is worth a quick dip. Parallel Action featuring Charlie Boy Manson is a collaboration between audio-visual designer Jude Greenaway, who's produced underground electronic for 20 years as Scanone, and Manchester MC Manson. They drop a four-tracker of which two cuts are instrumental versions; it comes on like a dark electro-centric cross between Chemical Brothers and Genaside II, all big beat breakbeat growl. "10/10" is the juicer one. But the best of these 12" offerings, by some distance, is "Sinnerman", a gorgeous bongo-laden Balearic gospel cut originally released in Canada in 1986, which is now re-released in its stunning reverb-laden original, and remixed on the flip by production duo Quiet Village into lightly percussive, slow-building rain forest-sounding electronica.
We welcome any and all vinyl for review. Please hit thomash.green@theartsdesk.com for a postal address.
Seeping from under a lake of opiated treacle
Explore topics
Share this article