theartsdesk on Vinyl 61: Amy Winehouse, Krust, Motörhead, Extrawelt, Sade, Chase and Status and more |

reviews, news & interviews
theartsdesk on Vinyl 61: Amy Winehouse, Krust, Motörhead, Extrawelt, Sade, Chase and Status and more
theartsdesk on Vinyl 61: Amy Winehouse, Krust, Motörhead, Extrawelt, Sade, Chase and Status and more
The largest and tastiest review extravaganza out there
Tuesday, 01 December 2020
Light and sound
Welcome to the penultimate 2020 edition of the world's vastest, most musically wide-ranging, regularly posted, online vinyl reviews. This year vinyl boomed, especially in the wake of COVID-19, with gig-goers stuck at home but wanting new music. 2020's sales are now heading for the £100 million mark, vinyl's biggest year since 1990.
When
theartsdesk on Vinyl
began, six years ago, it was a very different picture. All things must pass, and vinyl eventually will, but that's for the churls! Let's enjoy these boom times. So check out the reviews below, which run the gamut from the grungiest thrash metal to the most spirit-raising Afro-
jazz
(and remember, we'll be back in 10 days for
theartsdesk on Vinyl 2020 Christmas Special
). Dive in!
VINYL OF THE MONTH
The Diabolical Liberties High Protection & the Sportswear Mystics (On the Corner) + Onipa We No Be Machine (Strut)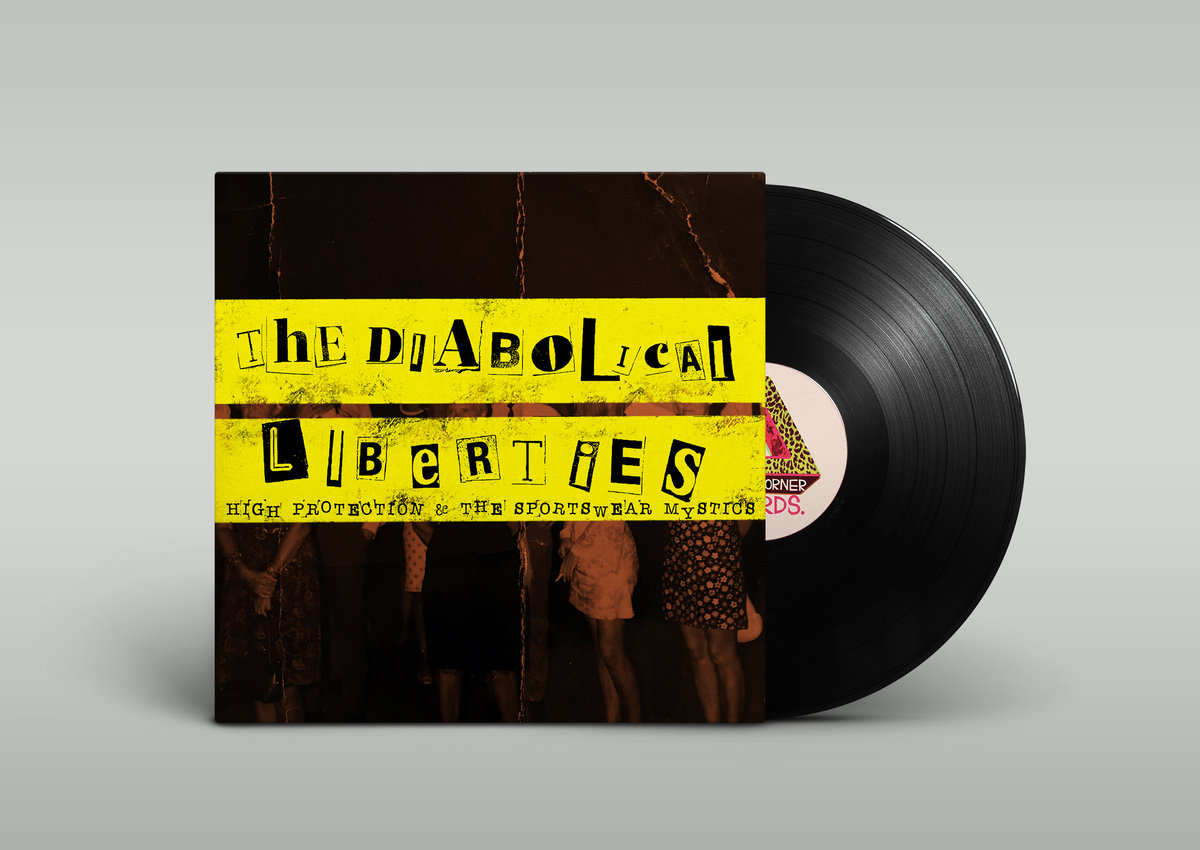 The Diabolical Liberties offer up a riotous, post-punk-ish stew of global grooves, bongos, funk, abstract dubbing, and low key industrialism, a quirked out, wibbly fug of a debut album, sometimes featuring shouty bloke vocals. It sounds like the sort of thing Trevor Jackson would promote, crossed with a smidgeon of On-U Sound spirit. The group consists of Rob Gallagher, probably still best known as the founder of Nineties jazzniks Galliano, and Gilles Peterson associate and jazz remixer Alex Patchwork. One track is called "Rudeboys in 'Outa Space" and that about sums things up. Deliberately produced down, this mushy stew is original and more-ish. My copy came with a yellow 18 page booklet of words, lyrics and imagery by Gallagher called "Out of Our Construction?", created during lockdown and only adding to the release's attitude and intrigue. There's plenty of Afro seasoning mixed into The Diabolical Liberties' music, but much, much more on the debut from Onipa, a collaboration between Sheffield's prolific KOG (of
KOG and the Zongo Brigade) and Tom Excel (of Afro-jazzers Nubiyan Twist) featuring bubbly upbeat vocal contributions from Ghanaian singer Wiyaala. Arriving on double with a 12" x 12" four page art/info booklet, the cover image is a great summation of the band's ethos – electronically enhanced Afro-futurism (the two hidden band members are synth-player Dwayne Kilvington, who records in similar territory as Wonky Logic, and drummer Finn Booth). There's often an emphasis on a heavily, in-yer-face electronic punch (especially "Hey No I Say") but the second of the two records focuses as much on songs with guest slots including South African MC Spoek Mathambo and percussionist Afla Sackey. It's a lively jump-about buzz of an album.
Mountain Caller Chronicle 1: The Truthseeker + EMBR 1823 (New Heavy Sounds)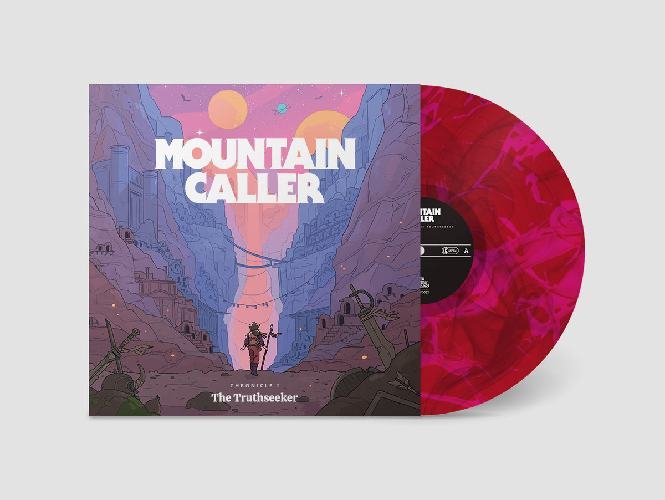 In the debut album from Sky Valley Mistress, the label New Heavy Sounds have already given us the year's best heavy rock album but, just in case you needed further convincing of their status as home to prime osmium-level guitar thunking, here are a couple more, both also debuts. Two-thirds female London trio Mountain Caller offer instrumental music that's somewhere between post-rock and prog-rock but, actually, entirely smeared in classic heavy rock. They suggest prior to listening that we should "join The
Protagonist at the edge of the Twilight Desert, compelled by an indefinable but urgent need to set forth on an Odyssean journey to rediscover her memory and her voice." Solid advice. EMBR, meanwhile, fronted by the potently lunged Crystal Bigelow, sometimes range into doom that's too gothically ploddy for these ears, but when they hit a roll, as on the rifftastic "Stranger", they really slam home. A four-piece from Birmingham, Alabama, their album is named after the number of the anonymous donor whose liver saved the life of drummer Eric Bigelow (Crystal's husband). Both albums arrive on coloured vinyl, Mountain Caller's in plum and EMBR on plastic that's a splodged black and blue murk.
Amy Winehouse 12X7 Boxset (Island)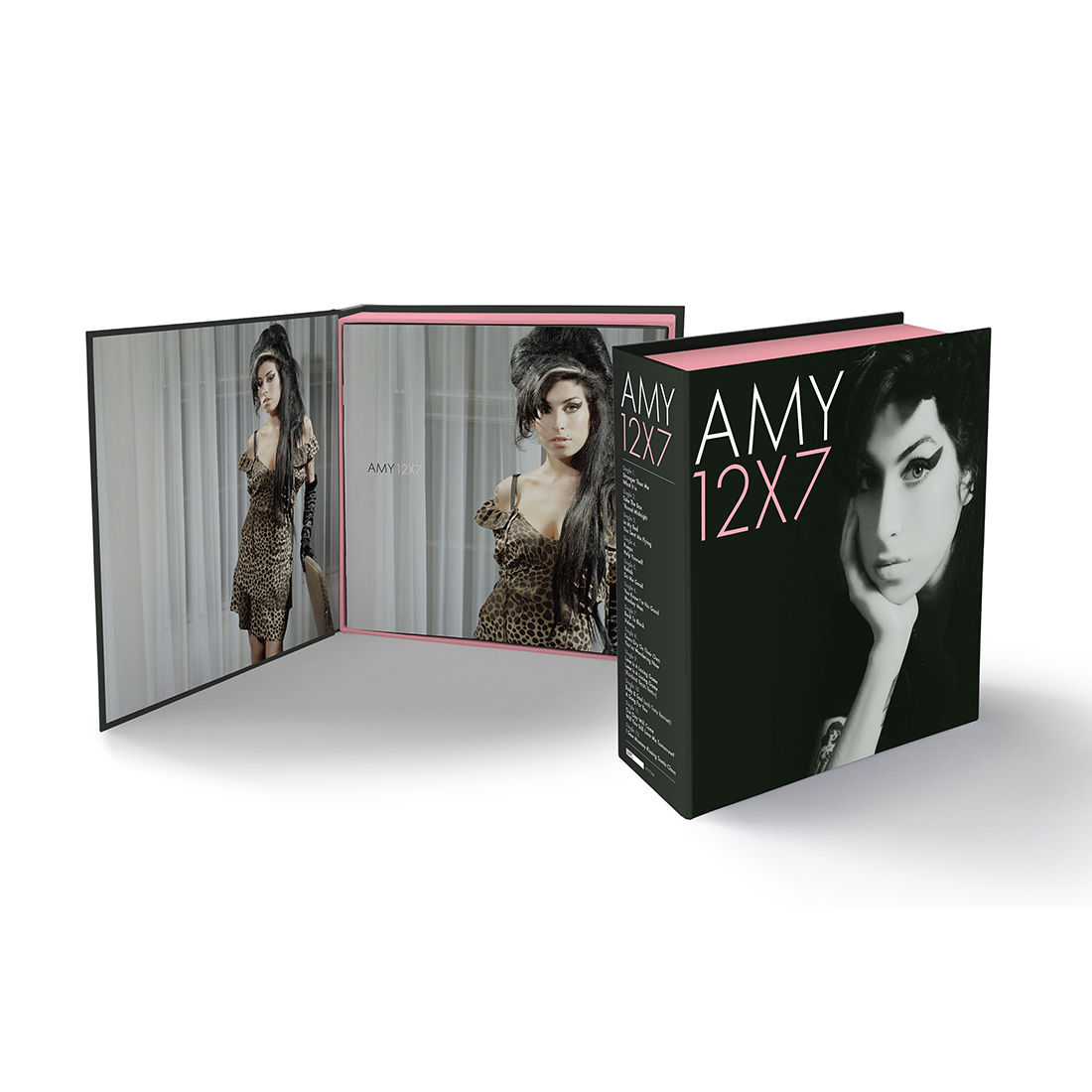 Unlike one of her heroes, Tupac Shakur, there wasn't much left over to release after Amy Winehouse died in 2011. What there was appeared on the posthumous Lioness: Hidden Treasures collection, with the final scrapings popping up on the soundtrack to Asif Kapadia's heartbreaking 2015 documentary Amy. This boxset, then, containing all 11 of her singles on 7" with picture covers, as well as her version of "I Saw Mommy Kissing Santa Claus", could be regarded as unnecessary. Nonetheless, it's a lovely package. In terms of rarity value, the aforementioned cover and the B-sides to the singles "Stronger Than Me" ("What If") and "Take the Box" (Thelonious Monk's "Round Midnight") are of interest but hardly obscure. No, this collection, is a delight because much of this material is hard/impossible to obtain on vinyl, the songs are cut deep and loud, her most famous songs all in one place, the likes of "You Know I'm No Good" and "Back to Black", among the strongest songs of the century so far. Each single comes with an inner sleeve and the book-style-opening box also contains three 7" x 7" black and white photos printed to card and a 20 page photo lyric booklet.
Marie Davidson & L'Oeil Nu Renegade Breakdown (Ninja Tune)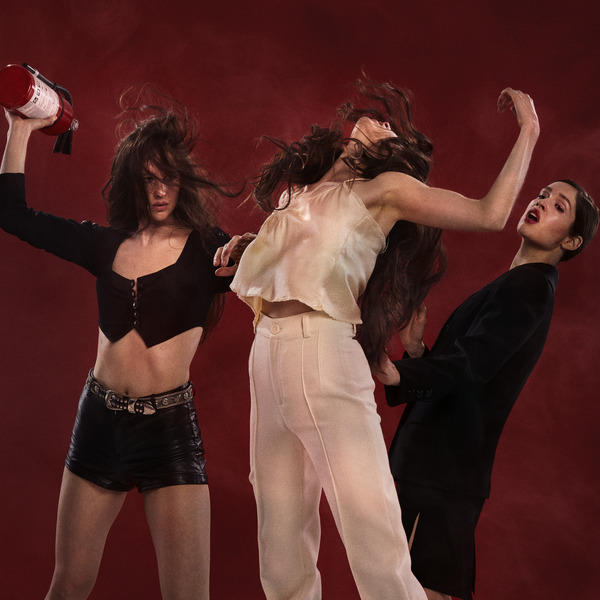 Theartsdesk on Vinyl always has time for unpredictable artists, those uncomfortable with easy categorisation. Montreal singer-producer Marie Davidson is one such. She first came to my attention in synth-pop experimentalists Essaie Pas but then her edgy, talky second solo album Working Class Woman made waves, with the Soulwax remix of the song "Work It" becoming an unexpectedly huge crossover hit on the club scene. Renegade Breakdown, made with her husband and Essaie Pas partner Pierre Guerineau and her regular studio collaborator Asaël Robitaille, appears to be an enjoyably perverse reaction to that success. It's a mash-up of 4/4 cuts such as the title track and "Worst Comes to Worst" – although these are less machine-tooled than her last album – alongside Gallic slowies, offbeat dirges and late night lounge tunes (such as the lovely jazzy "Just in My Head"). A lyrical tone of uncertainty and doubt pervades throughout. There's lots to really like here, interspersed with a few tunes that seem wilfully morose. Comes in an opulently photographed gatefold with a large band poster backed with lyric/info material.
The Prats Way Up High (One Little Independent)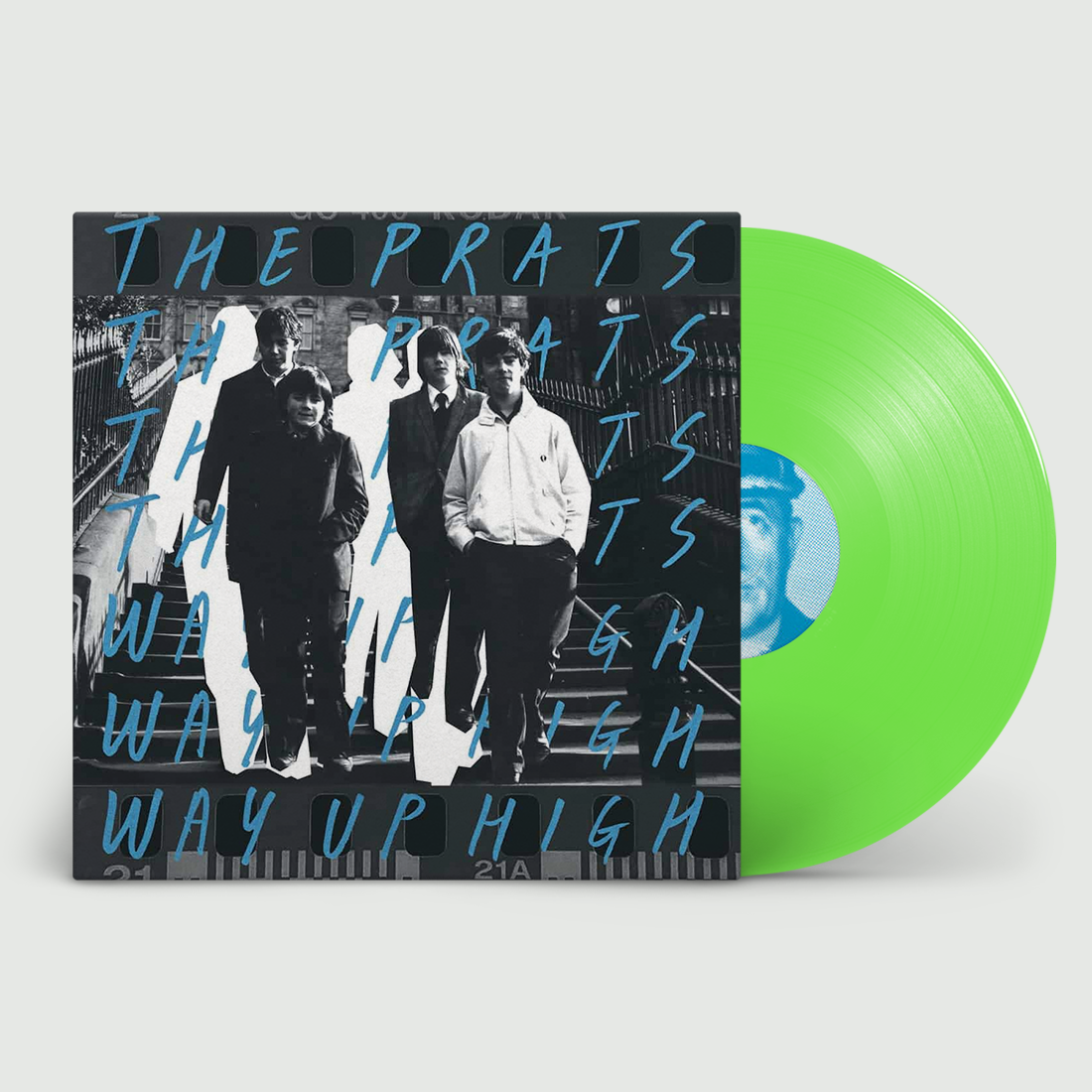 If you want lo-fi, it doesn't come much lower-fi than this. The Prats were an Edinburgh band made up of teenage schoolfriends. They existed between 1978 and 1981 (at which point they left school and went their separate ways). Way Up High contains the entirety of their output, three singles (including their debut for cult, local post-punk label Fast Product), some demos, and the whole of their 1979 session for John Peel. On bright green vinyl in media memorabilia-filled inner sleeve, the songs are defiantly unsophisticated. The vocals, whether speedy or slow, boasting silliness ("Disco Pope") or real lyrical concerns ("TV Set"), are often so low in the mix it seems they haven't even used a microphone. Sometimes, as on the slow, plonky "Jesus Had a PA", the abstraction of the guitar is so deranged it's impressive, reaching an almost Beefheart vibe. There are also tiny intimations of Joy Division, here and there (check the existentially gloomy "General Davis"). The whole lot should be enforced listening for those who imagine music to be defined by the polished banality on TV talent shows.
Sade This Far Boxset (Sony)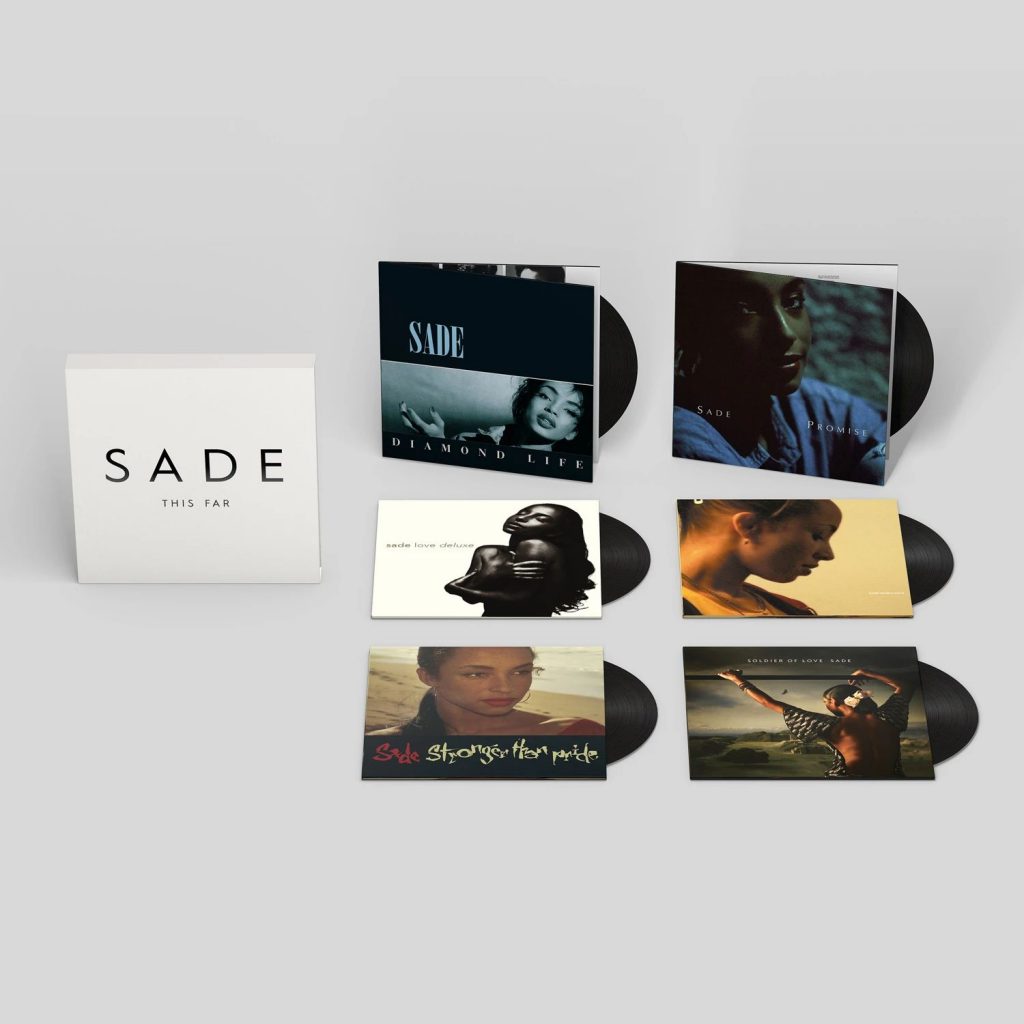 All six Sade albums, from 1984's Diamond Life to 2010's Soldier of Love, presented in a plain white box, and decently remastered to vinyl. It's often forgotten that Sade was the name of the band who made these albums, as well as the forename of their most recognisable member, frontwoman Sade Adu. In fact, she co-wrote their most famous songs with guitarist-saxophonist Stuart Matthewman, creating a group who became an unlikely if massive success. Back in the early Eighties the music press was pushing homegrown (and left-leaning) jazz groups, the likes of Working Week, Everything But The Girl, and various outfits associated with Jerry Dammers and Pauls Weller. The trend never really caught on but fellow traveller Sade, who mined similar territory, certainly did. Adu's distinctive voice defined their sound on huge hits such as "Your Love is King" and "Smooth Operator". Since the Eighties they've not been prodigious and it's possible this boxset is a fan-wakener since a new album was promised a couple of year back. The later albums are surprisingly good, their production style gently flavoured with developments in dance music, trip hop and so on (for instance, check the spacey dub of "Slave Song" from 2000's Lovers Rock). However, it's the first three albums most will be after, music once synonymous with the now-defunct suburban clubland tradition of the closing slow dance section. Sade's music is super-smooth, its cuddly, blissed production sometimes akin to chill-out styles, but, of course, the primary tone is not narcotic, it's always sensual love ("Touching the very part of me, it's making my soul sing"!). There are occasional surprises such as Diamond Life's protest against Thatcherism, "When Am I Going to Make a Living", which chimes with the concerns of all those less famous Eighties Brit-jazzers, Eventually, though, while songs such as "Paradise", from 1988's Love is Stronger Than Pride occasionally up the funk factor, the broad mass of This Far is mellow bedroom music with knack for memorable songwriting.
Tempesst Must Be a Dream (Pony)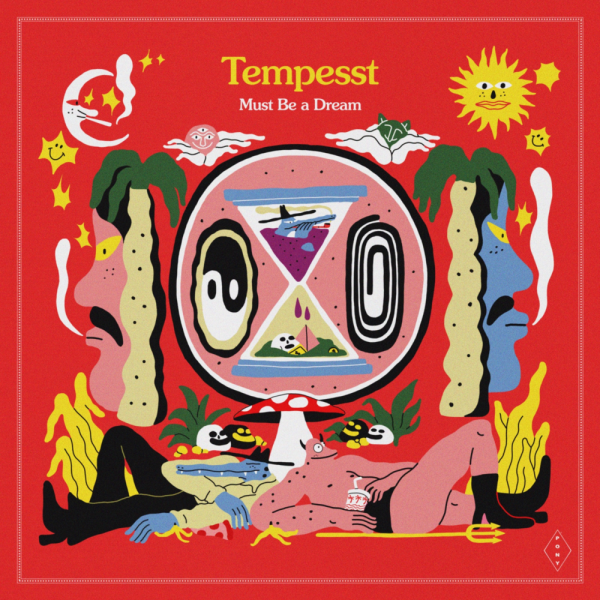 London-based Aussie band Tempest could loosely be classed as psychedelic indie, but they're not properly lysergic. Listening to their debut album, the notion of cocktails in a rather nice bar also springs to mind. It is, then, a plush outing, tunes such as "Must be a Dream" have a touch of Pink Floyd about them, although the band sound nothing like Floyd. At another level, theirs is a realm of harmonic soft rock, easy going and sweet, a fusion of The Feeling and a day by the seaside micro-dosed on psilocybin. It's guitar pop, basically, well-executed and filtered through the second hand aesthetic of other people's 1960s drug experiences. Comes on photo/lyric inner sleeve but it's the outer sleeve that grabs the eye, featuring the work of Spanish artist Jose Miguel Mendez, a visual wizard who's definitely one to watch.
Extrawelt ExtraweltHits 2005-2020 Boxset (Cocoon)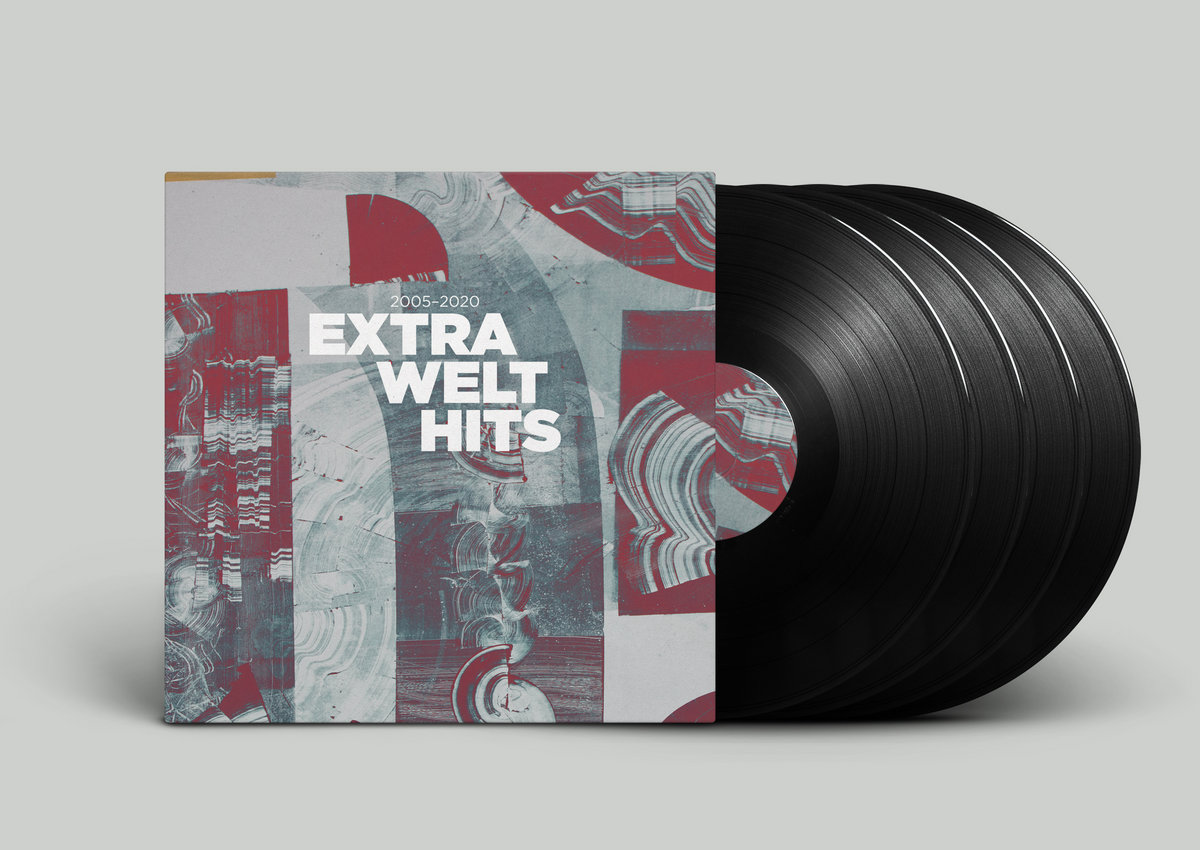 A delicious package of techno-orientated dancefloor fare from Hamburg duo Arne Schaffhausen and Wayan Raabe, AKA Extrawelt. This boxset contains eight 12" singles, all double-headers that, as the title suggests, pluck the greatest moments from their career. I must confess I had no idea that this group had fired out such consistently mighty fare. Like the early work of Vitalic or the best of Booka Shade, they go for the sweet spot where compulsive club functionality merges into something fruitier and more musically characterful. Even starker, stripped back cuts such as "Die Welt is Nicht Genug" boast an addictively, echoing dubbed-out quality. And the pair cannot help themselves, sending in brigades of subtle but punchy synth effects and slivers of melody when things threaten to plateau. Also on board are three live-in-concert revisions ("Zu Duss", Sark Side of My Room" and "Herzstück") and their sparse remix of Minilogue's 2006 single "The Leopard", all of which maintain the remarkably high standard.
The Specials More Specials (Chrysalis)
What to say about this one? Quite simply one of the best albums of the last 50 years, a musical peak from the astounding five year period when UK punk's aftermath made major inroads into the pop charts. The Specials' debut album was a raw treat but their second, which arrived in autumn 1980, stepped away from rudeboy moon-stomping and, in fact, thus contributed to the break-up of the band. This was partly because band leader Jerry Dammers recognised the queasy weirdness of lounge music, way before the post-club Nineties revival in that style, and the rest of the band thought he'd lost the plot. It combines this with lyrics reflecting the rising tide of depression and rage at Thatcher's free market apocalypse (terrifyingly, still ongoing in 2020), as well as Cold War oppressiveness. The tune "Man at C&A" is a case in point; it sounds both doomed and exhilarating. More Specials is a gorgeously cynical set of songs, and arrives brilliantly remastered to vinyl over two records at 45 RPM. The bait for the multitudes who already have this album is a reissue of the rarer 7" single which arrived with early copies of the original. This features Roddy "Radiation" Byers singing the hokey rock'n'roller "Braggin' and Tryin' Not to Lie" and Neville Staples' manic jam on "Rude Boys Outa Jail". The latter, particularly, is energetic and fun but both are better regarded as offcuts of the debut album's musical style. More Specials is one of those albums that every record collection should have. It is essential.
The Heshoo Beshoo Group Armitage Road (We Are Busy Bodies)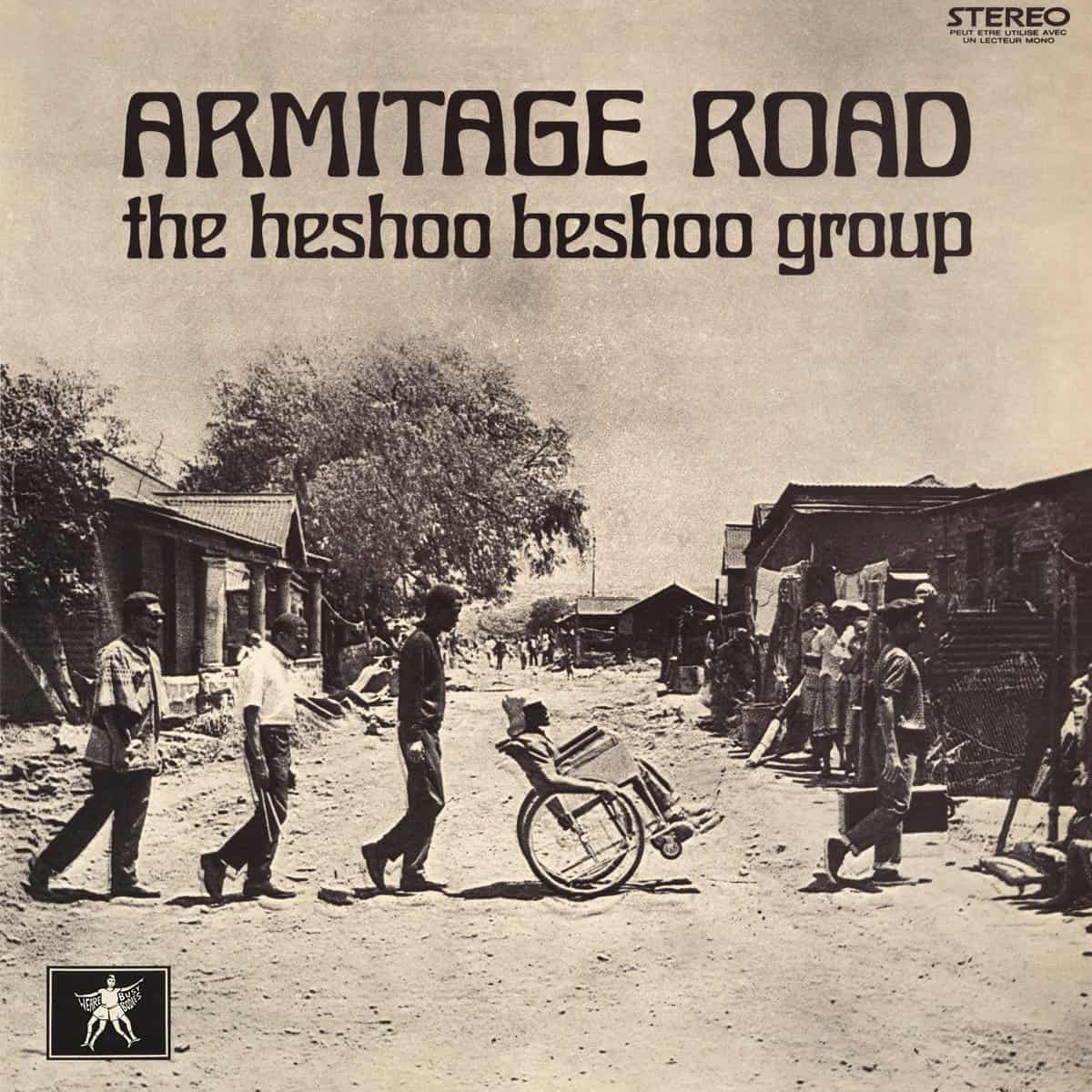 From its cheerful South African township swing at the cover art of The Beatles' Abbey Road, through to its six tracks well-pressed to plastic, this jazz reissue is accessible, easy and upbeat. Originally released three times via various international EMI subsidiaries in the early Seventies, it's become hugely collectable since, worth a couple of hundred quid. No longer! This reissue is richly mastered, offering up the playful intertwining of the alto and tenor sax of brothers Henry and Stanley Sithole and their band. The Johannesburg quintet balance a rhythmic feel dipped in local feeling with an overlay that borrows liberally from funky southern US jazz styles of the period. I suspect it's a generally likeable record, whatever one's attitude to jazz.
Various Fabric presents Chase and Status Return II Fabric (fabric) + Krust The Edge of Everything (BMG)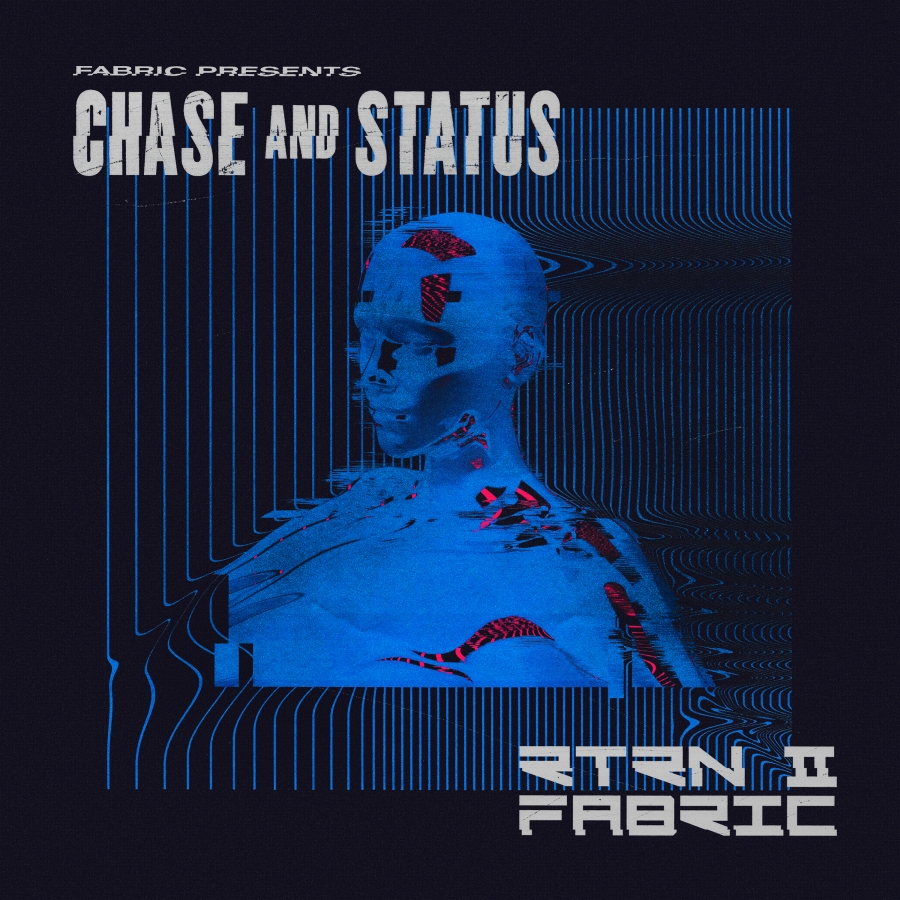 A couple of drum & bass corkers. Chase and Status celebrate their latest mix for London club Mecca, fabric, with eight tunes cut MASSIVE to vinyl over four sides. They present a mixture of golden – but not easily available – Nineties oldies alongside their own contemporary bangers. In the former category we find tunes such as 24 carat junglist stormer "Dred Bass" by Dead Dred and the raggatastic likes of Rude & Deadly's "Give Me a Dubplate" and DJ Rap's "Intelligent Woman" (featuring Outlaw Candy on the mic). That their own newly minted material, such as "Hardstep" and "Engage", stand up so well beside such speaker-wrecking fare, speaks well of them. This set will
have everyone JUMPING! Krust – once DJ Krust – dates from the era of the classics unearthed on the Fabric set. Alongside Roni Size he led the drum & bass charge out of Bristol in the mid-Ninteies, notably on the V and Full Cycle labels (the latter of which he owned), also with Reprazent. He slowly dropped out of music-making in the early '00s but, over the last couple of years has, equally slowly, been re-engaging with it, culminating in his third album The Edge of Everything. It starts with stark, serious D&B tunes, choppy, pacey but not gorging on sound effects, but after film director Michael Williams' manic speech on "Antigravity Love" the album changes pace, with tunes such as the skittering, spooked "7 Known Truths" and the cinematic sci-fi of "Keter the Heavenly" leaving the dancefloor behind for engaging electronica. It's an album that eventually has as much – if not more – in common with the work of Brian Eno as it does with junglism. Comes on gatefold double.
Motörhead Ace of Spades Boxset (BMG)
Despite the fact I'm increasingly irritated by Motörhead's snaggletooth logo appearing lately on anything from bottles of wine to colouring books, I became childishly excited when I heard this release was coming. It's a gigantic boxset, surrounded by a cardboard bullet belt, celebrating Motörhead's career-making 1980 album. Aside from music on plastic, it contains Motörhead-themed gambling dice, with instructions how to play in the box lid, a juicy forty page booklet on the album's background, including new interviews and visual material, a DVD with a bunch of cracking TV appearances and a 1981 concert, a ridiculous but hugely enjoyable reprint of a Rock Commando Motörhead comic from 1980, and a reprint of the programme for the contemporaneous Ace Up Your Sleeve Tour. This is all fine stuff, the book and DVDs especially, but when we get to the plastic, we run into a problem. It says on the cover sticker that the main album is based on a "brand new half speed master created from the original tapes for optimal speaker smashing dynamic range". I would challenge this. It sounds like it was recorded from a CD, ie pulled cheap from a digital source. Played next to my original, the sound is noticeably weedy with little "fatness" and low-end oomph. Unfortunately, the same can be said of the other vinyl material, which is extensive and much of which would, otherwise, have been desirable to a Motörhead geek: two concerts on gatefold double from the key period, one from New Orleans and one from Belfast, a 10" EP of instrumental versions (OK, perhaps those aren't so essential!), and a another double containing outtakes and B-sides. The latter is not so bad as some of these tracks are, in any case, in primitive demo form, but just writing that rather desperate line makes me twinge again at the possibilities this release could have offered.
The Green Child Shimmering Basset (Upset! The Rhythm)
Based in rural Australia, but with one half originally from California (where the pair met as members of two different indie bands), The Green Child consists of singer Raven Mahon and producer Mikey Young. Their second album, which arrives with an art/lyric 12" x 12" insert, is filled with fragile, eccentric and alternative synth-pop, in that it sounds nothing like the contemporary version or the Eighties template. Instead, with the exception of the slightly more noisy "Tony Bandana", theirs is an oddball downtempo sound wherein Mahon's forlorn singing style is balanced against pared back, awkward electronic accompaniment, but the combination adds up to something different and quietly captivating.
Ella Fitzgerald The Lost Berlin Tapes (Verve)
Jazz legend Ella Fitzgerald's Mack the Knife: Ella in Berlin from 1960 was one of her best-loved and most successful albums. Now Verve Records have located another pristine recording from the private collection of label-founder Norman Granz, who died in 2001. It dates from a Berlin Sportpalast gig in 1962 and is cut it to plastic with delicious clarity. It arrives on double with a gatefold wherein journalist Stuart Nicholson lays out the whole back-story. I recently watched a BBC4 documentary on Fitzgerald and – blasphemy ahoy! – was surprised at the amount of beautifully sung but rather bland tunes there were alongside the gems. On this set, however, the balance between balladic, sentimental American Songbook slowies and chirpier Ella gear is good; it features songs such as "Cheek to Cheek", "Jersey Bounce" and "Mr Paganini". Accompanied by pianist Paul Smith, bassist Wilfred Middlebrooks, and drummer Stan Levey, and laced with audience applause and Ella's asides, by the end of the set, the listener is transported. Her sass and scat are in effect, an overall light entertainment good humour that's matched by seriously classy song delivery.
Henrik Lindstrand Nordhem (One Little Independent)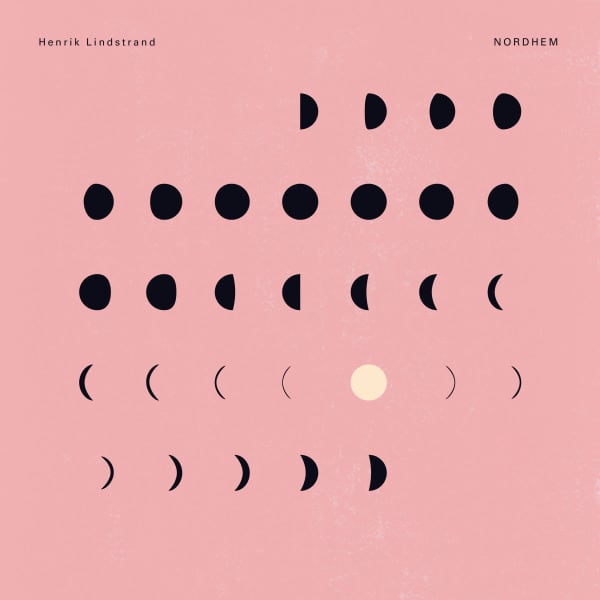 A musical style that theartsdesk on Vinyl is sent a lot, is variants of modern classical, electro-orchestral downtempo, usually piano/keyboard-led, designed to soothe anxiety-laden souls and offer, presumably, an aural palliative for our psychologically frenetic age. That's all well and good except that most of it is the 2020 equivalent of new age noodle, but without even the benefit of sounding a bit stoned. Occasionally, however, one arrives that sallies out from the pack and establishes itself. Such is the case with Swedish pianist Henrik Lindstrand who releases his third album Nordhem. His last one, last year's Nattresan, a nocturnal thing, was quite beguiling but the new one is warmer and more welcoming, Lindstrand uses his patented "ecosystem of sounds from the piano", meaning, in effect, recording his pieces with as much room-based reverb as possible and rustles of other sounds heard in the mix. Something about the way it's put together, alongside simple, catchy motifs, appeals to a deep human response. The album is dedicated to Lindstrand's north Scandinavian roots and his parents but, remarkably, he manages to share that sense of intimacy through music.
OMD Enola Gay 40th Anniversary Mixes (Universal)
40 years after Orchestral Manoeuvres in the Dark cemented their position as contenders with their super-catchy anti-atom bomb electro-pop classic "Enola Gay", the song receives a 12" re-release on maroon vinyl, featuring two new mixes by the band. It's a classic single in their catalogue, which I've heard many, many times, so it takes a moment to get used to hearing it mucked about with. The pair offer an Extended Mix that slightly amps the BPM and subtly introduces a superlight house touch, and a Slow Mix which is more interesting, an elegantly chilled take on the song with a snifter of Daft Punk on downers about it. All that said, and ruthlessly betraying the purpose of theartsdesk on Vinyl, the most interesting remix is by Hot Chip and is only available virtually.
Alifchief Borrowed Time EP (Alifchief)
10" single showcasing a collection of the songs recorded by Uganda-based Bruneian singer-guitarist Alif Ahmed during his travels around Africa over the last couple of years. From the notes on the back of the 10", it's clear that he's keen to fuse a mass of African – and even Malayan – sounds into his work, resulting in cuts such as the Santana-ish "Borrowed Time" which features Tanzanian Gogo artist Msafiri Zawose (whose own Uhamiaji album is also well worth checking out). Ahmed is part of the rock band Eda Brig and there's a good dose of showy guitarplay here, but this is balanced against a plethora of Afro-centric rhythms and vocal stylings, with the funky "Boda Boda" a particular highlight. If the production had more bass boom and attack, this EP would be outstanding but, as it is, it's an imaginative enough foray into global fusion.
ALSO WORTHY OF MENTION
Haider Endless Clouds EP (Breaker Breaker) + Haider The Muses Come out at Night (Warehouse Music) + Bonobo & Totally Enormous Extinct Dinosaurs Heartbreak (Outlier)
A gaggle of 12" singles that deserve a listen or five. Google is being reticent when it comes to telling us who Haider Masroor is but two EPs have arrived from his quarter via two separate small London labels, so let's assume that's where he's based . Endless Clouds contains three cuts, two that are warm electro with female vocal samples and one, "Grove Street", that tacks itself to a techno 4/4. The electro stuff is better. The Muses Come Out at Night also has three tunes; the lead one, "Bakamono", is bangin' tech-house, in its old-fashioned Nineties sense – as in a mixture of techno and house – rather than the term's contemporary pejorative use by techno snobs. On the flip, there's a squelchy acidic thing called "The Oven Door Broke" and a gloopy breakbeat slowie appropriately entitled "U Trippin" that has a tint of '92 rave about it. Of the two EPs, the latter would be my buy. It also comes on transparent vinyl lightly spattered with green and black blobbing. No such trouble locating Bonobo or Totally Enormous Extinct Dinosaurs on Google as they are known offenders. Their Heartbreak EP comes with a 12" x 12" art/info insert written by disco historian Tim Lawrence, which relates the background of the track as a tribute to the 1983 disco cut "Weekend" by Class Action, which was itself a cover of the Paradise Garage favourite of the same name by Phreek. Sampling the key vocal line, sung by Christine Wiltshire, the new version is a punchy contemporary big room Ibiza dancefloor rejig emanating controlled euphoria, and comes backed with a likeable cruising speed chugger called "6000 Ft" that sparkles with relaxed studio craft.
Adam Scrimshire Believers Vol.1 (Alberts Favourites): The fifth album from Albert's Favourites top dog Adam Scrimshire is a thematically connected mixed bag that opens with a cracking slice of Afro-centric dancefloor groove in "Anadwo (Tonight)", featuring Sheffield's primary Afrobeat innovator KOG (of Onipa, reviewed above). From there, however, Believers Vol.1 settles into a much more easy-going soul-funk session which, Scrimshire has explained, is a "love letter to black music". It certainly channels the smoother, retro-jazzy end of that spectrum and is packed with guests who aid the cause, notably seminal early-Nineties Brit soul singer Omar. Elsewhere we find wordsmith And Is Phi, saxophonist Tamar Osborn, alt-roots band Penya, and singers Stac, Bessi and Faye Houston. Comes in a bright positive art'n'words inner sleeve.
The Pineapple Thief Versions of the Truth (KScope) + The Pineapple Thief The Soord Sessions Volume 4 (KScope) + The Ocean Collective Phanerozoic II: Mesazoic | Cenozoic (Pelagic) + Neal Morse Sola Gratia (Sony/InsideOut) + Gazpacho Fire Worker (KScope): A host of prog that varies between fairly straightforward pop-rock to much wilder material. The meaning of prog has changed a lot since the Seventies days when it referred to classical aspirations, wildly eccentric time signatures and Rick Wakeman ice-skating operas. The Pineapple Thief, for instance, muster a very approachable, easy-going set on their new album, rock songs that are tuneful and no more prog than most indie bands. Merely "prog", perhaps, by tint of being on the prog-friendly KScope label. There's also a lockdown set from their leader Bruce Soord although, while equally approachable, it's more for proper aficionados. Elsewhere the whole thing goes metal on Phanerozoic II: Mesazoic | Cenozoic by Berlin outfit The Ocean and their pals whose multi-layered die-cut sleeve is a striking design. It's not every day a longform geological concept album arrives and this one is far better and less ludicrous than the idea sounds. The band do not cut back on their heaviness factor, matching portentous sequences with sheer battering riff power. Neal Morse's album is part 1 of a concept series about St Paul. He was in successful Californian prog outfit Spock's Beard until he became a born-again Christian in 2002. Sola Gratia is exactly the sort of prog I can't stand: it sounds like a Spinal Tap solo project, mad jerking keyboard flurries and a hideous, virtuosic earnestness. Norway's Gazpacho, on the other hand, are a far more delicately crafted affair, their measured, spacious collation of atmospherics, piano, strings and falsetto-breaking rock vocals, which blossom into vast choral anthems, is akin to Muse if they were even more over-the-top than they already are. Comes on double on green art inner sleeves. Of this lot, theartsdesk on Vinyl's favourite is The Ocean, with a soft spot also for the sheer, unashamed preposterousness of Gazpacho.
Jack Cheshire Fractal Future Plays (Loose Tongue): Psychedelically-orientated London singer-songwriter Jack Cheshire has built up a cult following over the last decade and more. His fifth album will not disappoint them. His crisp, deep, slightly nasal voice enunciates lines such as "Sending you a postcard from the void/I think you'd like it here," over music that ranges from electronically treated indie to acoustic Leonard Cohen-esque baroque. It's not a million miles from the early solo work of Robyn Hitchcock but with more studio mucking about to add different flavours for the ears. Comes on vinyl the colour of orange curacao in art photo inner sleeve with a small and wordy poster.
Steve Bug Never Ending Winding Roads (Poker Flat): Reliable German techno perennial Steve Bug releases his first proper album in eight years. Veering sometimes towards the DJ-friendly side of things, it retains more than enough spice to drag android fellow travellers off for the ride. Over four sides of vinyl, he takes an electro-tinted template, stirs in sharp metallic slivers of tune, and keeps it ear-entertaining, ranging from bubblers such as "Raindance 101" to belting 4/4 floor-burners such as "Ludic Loops", but also including approachable offbeat fare such as the slower Teutonic stomp of "Yellow Snake". Comes on double, very well-mastered to plastic.
Possessor Damn the Light (APF) + Mr. Bungle The Raging Wrath of the Easter Bunny Demo (Ipecac): Two from the world of hardcore metalling, albeit with very different agendas. Salford heavy label APF is a welcome addition to theartsdesk on Vinyl's piles of plastic (they once put out a band called Bongcauldron, after all!). The new album from London thrashers Possessor was recorded during lockdown and, indeed, the vocals sound like they were recorded down a well, but, once the ear has adjusted, their relentless riff-juggernaut starts to grip. Entitled Damn the Light, it's a great example of music from a scene that gets on with it on its own scale for those who care, and the rest be damned! Mr. Bungle's latest album is, by contrast, the work of the already hugely successful Mike Patton of Faith No More. Except it isn't, because Mr. Bungle was Patton's pre-Faith No More school band, and The Raging Wrath of the Easter Bunny Demo is a remake of their 1986 self-released cassette album but boosted by the addition of Scott Ian of Anthrax on guitar and Dave Lombardo of Slayer on drums. On double in photo art inner sleeves, it's a relentless energy bolt to the brain, an absolute battering that does its creators proud. They must have been the bomb at high school dances back in Humboldt County, California, four decades ago!
Charlier/Sourisse Multiquarium Big Band featuring Biréli Lagrène Remembering Jaco (Naïve/Believe): The Multiquarium Big Band is a relatively recent project from a couple of French jazzers of long pedigree, drummer André Charlier and keyboard-player Benoit Sourisse. This two record boxset features them attacking the catalogue of long-deceased bass legend Jaco Pastorius, whose fretless playing, notably with Weather Report and Joni Mitchell, set a definitive virtuosic template. To "do Jaco" they have brought in Biréli Lagrène who, as a teen gypsy guitar prodigy, actually played with Pastorius, and he does a spectacular job. Also on board is Weather Report's Peter Erskine who delivers spoken word interludes. The versions of "Used to Be a Cha Cha", "Fanny Mae", "Three Views of a Secret" and others open out the originals into larger orchestrated jazz pieces while maintaining a tight "band" feel where pertinent. The vinyl also contains cuts unavailable elsewhere, notably "Chicken", something Lagrène used to play with Pastorius.
The Holy Mono Freedom (Playground Music): Second album from Finnish band The Holy comes on like a cross between Bastille, Muse and that tune "Dominos" by The Big Pink from about a decade ago. The mention of the latter is down to almost every song having enormous, reverberating drums at their heart which recall that song. This band is clearly aiming for stadiums, but their stentorian pop-rock sound is spiked with occasional squalls of frazzling studio electronics that up the ante. Not my bag but, if you enjoy tunes smashing you over the head with bombastic abandon, it may be yours. Comes in art inner sleeve.
Eartheater Phoenix: Flames Are Dew Upon My Skin ((PAN) + Jo Quail Five Incantations (AdderStone): Two albums representing women whose vision is boldly original and defies to the listener to categorise it. The first thing said listener is confronted with on the fourth album from American musician Alexandra Drewchin – Eartheater – is an outrageous cover featuring what looks like a demonic go-go dancer (her, I think) firing a flurry of sparks at the viewer from her nether regions (I'm being polite here). Having never heard of Eartheater I thought the contents might be death metal but, no, this is a carefully orchestrated selection that floats along, with Drewchin's voice an airy delicate instrument soaring around, sometimes nailed to electronic punch, but often untethered and free-floating. It's a hypnagogic concoction that arrives on scarlet vinyl. Jo Quail's vinyl is even more startling, and explosion of moondust against an ecliptic dusk sky. Five Incantations is the reissue on double in gatefold of exploratory cellist Jo Quail's third album from 2016 and, like Eartheater, but using very different tools, she seems equally keen to take us off to the dreamtime. Her instrument is to the forefront, declaring something lonely but opaquely stated, but it sits within a whispering sea of pulse and electronic hum, creating an overall impression that is unique, and usually dolorous. Comes on double in gatefold with two 12" x 12" insert cards full of photos, info and art.
The Spyrals Same Old Line (Fuzz Club): Los Angeleno retro psych-rockers The Spyrals return with a fourth album that's pitched somewhere between mid-Sixties Rolling Stones (who get a shout-out on the song "Goodbye") and their fuzzier, rougher American garage progeny, with a hefty dose of Neil Young and Crazy Horse thrown in for good measure. It's an eight song set, harmonica laced, amplifiers over-loaded, that suggests this lot would be a top night out. No new ground is broken but The Spyrals know their way around a tune and are sufficiently revved into it to be persuasive.
Chris Glasson & Stu Whiffen with DJ Yoda Hardcore Listing with Chris & Stu featuring DJ Yoda (Lewis): This is a bizarre release, which arrives on both picture disc and a transparent vinyl version in a Marvel-cartoon-style outer sleeve. Successful Essex podcast pairing Chris Glasson and Stu Whiffen have based their recordings on guests, ranging from Frank Bruno to Bloc Party, talking about their lives via a Top Five in some chosen area. Thus we arrive at a vinyl-only edition, featuring turntablist don DJ Yoda speaking with them about his favourite hip hop albums. So far, so good, he's knows his underground hip hop oats (I won't give anything away) and this is certainly a collectors' artefact. But I'm bemused who would want such a thing, even if a lucky few purchasers may also get their hands on a "Master of the Turntables" boxed DJ Yoda action figure!
Devin Townsend Order of Magnitude – Empath Live Volume 1 (Sony): Canadian musical polymath Devin Townsend has built a following by being mischievously unpredictable. His origins lie in the heavy rock scene but he's has long dabbled anywhere he fancies; imagine an even more post-modern Frank Zappa with the whacky sensibilities of author Douglas Adams and an underlying desire to blend prog rock with musical theatre. His 2019 album Empath was, in many ways, the ultimate version of Townsend's vision, and this triple record/two CD set in mini-box captures his tunefully OTT show in support of it at The Roundhouse, and includes a 12" x 12" photo/info insert illustrating the show's opulence. Townsend's excesses are so bizarre, frivolous and jolly, backed always by an easy listening female chorus, and culminating in a version of "Disco Inferno", that although this is far from my thing, it's hard to dislike.
Actress Karma & Desire (Ninja Tune) + Machinedrum A View of You (Ninja Tune): Two from the mighty Ninja Tune. Actress (Darren Cunningham) has been a key player in British underground electronica for a decade, bringing Detroit techno flavours to a post-dubstep sound palette. His latest album is a contemplative affair that wobbles around over bleepy bass textures. On double in black and white art inner sleeves, programmed drums bubble up from the depths here and there, and slivers of desiccated vocals occasionally attach themselves like lichen to whatever's going on, but this is not dance music, it's listening music, considered and unforcefully interesting, if low on emotional engagement. Prolific US producer Machinedrum's latest is equally keen to explore sonic possibility, but is more varied in tone, upbeat and even poppy (check out the cheerfully melodic "Inner Eye"). Most of the set is collaborations which range from the Rochelle Jordan's incongruously soulful vocals on the smashed beat assault of "The Relic" to co-production by drum & bass don Sub Focus on "1000 Miles". In fact drum & bass is a regular flavour throughout but not in any straightforward form, and often veering into Aphex-ian mash-up. Other names on board include fellow Ninja Tune producer Chrome Sparks, singer Jesse Boykins III, and US MC Freddie Gibbs. Comes on vinyl that looks like pooled mercury in sci-fi art info gatefold with a shiny 12" x 12" art/info card insert.
Sarah Davachi Cantus, Descant (Late Music): "An 80 minute double album meditation on impermanence and endings, framed by minimalistic organ études and careful harmonic layers" may not be what everyone wants during enforced COVID-19 lockdown, but, by the same token, it's surely only aimed at the very few who do. These may be fans of California-based Canadian empress of drone, Sarah Davachi. Her gatefold set is exactly as it describes itself on the cover (the above quotation), a primarily instrumental set wherein extremely solemn-sounding churchy organ sounds are cross-hatched and studio-treated to mournful effect. I cannot envisage a situation where it would be useful to my brain, but it's doing something different and unusual and there's always a place somewhere for that.
AND WHILE WE'RE HERE
Emmy the Great's latest album April / 月音 (Bella Union) is the year's best singer-songwriter outing. I have reviewed it fully elsewhere on theartsdesk (here!) but would advise grabbing vinyl for the full warmth and lusciousness of it. Respected sidesman Pete Josef, who has worked extensively alongside the likes of Kelis, Roni Size and others, drops his debut album I Rise With the Birds (Sonar Kollectiv), which is a double on lyric/info gatefold on white vinyl. It's a set that ranges across delicate balladry and funky soul but at its heart is skilfully produced studio orchestrated modern jazz. In a similar vein, but dreamier and more straightforward, is Californian vocalist Swarvy, whose debut album, Sunny Day Blue, arrives via UK jazzman Kamaal Williams' Black Focus label. Hazy and drifting but with breathily effective singing and songwriting, it's a set that brings to mind love in the grass on lazy summer days. Canadian singer-producer Jean-Sebastian Audet's last album as Yves Jarvis, The Same But by Different Means, was theartsdesk on Vinyl's Vinyl of the Month last April, its eclectic palette and unpredictability intriguing. The new one is pleasing on the ear too, with much akin to Swarvy's space-balladry, but is not as essential. Dan Kye is a new moniker for singer-producer Jordan Rakei, and his new double, Small Moments on Rhythm Section International, is richly produced to vinyl – phat, as they used to say. A persistently hot-right-now artist, I am usually unmoved by his crafted jazzual soul stylings but prefer this beatsier, 4/4 version, produced in lockdown. Some of it, vocal-free cuts such "Rainbow Road" has a decent house heftiness. Hector Gannet is the vehicle for North Shields singer-songwriter Aaron Duff. He has supported Sam Fender on tour and his debut album Big Harcar on Guga Records mines similar territory, lightly bearded guy-next-door singer offering a heartfelt set that mingles intimate moments with BIG pop-rock songs ripe for stadiums (notably "All Hail, All Glory"). On gatefold, it doesn't sweep me off but it will many, I suspect, and success seems likely. Finally, some may find a more-ishness to the eponymously titled debut album by German jazz downtempo explorers Velour (Wolf Music). It's an airy, slow burning and somewhat noodly affair, with occasional female vocals, but for those who want chillage, it wanders mellow terrain with some originality.
It's one of those albums that every record collection should have
Share this article