Reissue CDs Weekly: Serge Gainsbourg & Jean-Claude Vannier |

reviews, news & interviews
Reissue CDs Weekly: Serge Gainsbourg & Jean-Claude Vannier
Reissue CDs Weekly: Serge Gainsbourg & Jean-Claude Vannier
The lost soundtrack music to 'Les Chemins de Katmandou' hits the shops with a bang
Serge Gainsbourg takes care of business in 'Les Chemins de Katmandou'
In terms of cinema history, 1969's Les Chemins de Katmandou is a footnote. Directed by André Cayatte, whose most interesting films were 1963's interrelated marital dramas Jean-Marc ou la Vie Conjugale and Françoise ou la Vie Conjugale, it was a period-sensitive immersion into the world of a group of Nepal-based hippies. Though ostensibly a crime drama, a focus on drugs and free love brought an exploitation allure.
For French cinema goers, the titillation was supplemented by Jane Birkin featuring alongside Serge Gainsbourg at the time they were establishing themselves as the nation's couple to watch. They had met earlier in 1969 while filming Slogan. For Gainsbourg, it was mostly business as usual – he had been appearing in films since 1959 and was also contributing soundtrack music to film productions from the same year.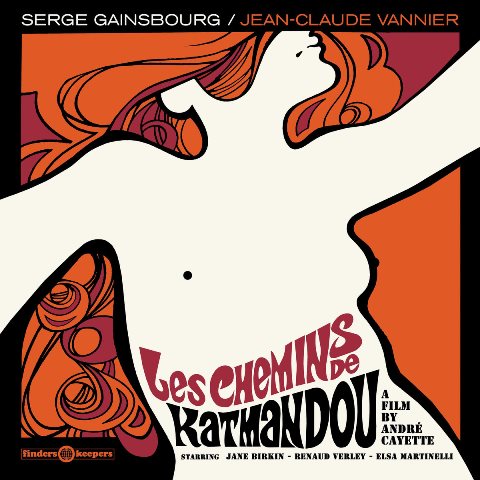 Les Chemins de Katmandou – also released as The Pleasure Pit, The Road to Katmandu and Dirty Dolls in Kathmandu – had a score co-written by Gainsbourg and Jean-Claude Vannier: their second such together after Slogan. Unlike that film, no soundtrack album was issued. The gap has now been plugged with the first-ever physical release of … Katmandou's music, sourced from tapes found in suitcase which was amongst the effects of Vannier's deceased copyist Daniel Marechal. In late 2015, Vannier put the rediscovered tracks on the internet for download and streaming but this album marks their physical debut – and with titles too: for the initial outing track one was "Générique Début" and the ensuing cuts "Katmandou 1", "Katmandou 2" and so on.
Beyond the interest in any previously unissued Gainsbourg-related material, the appearance of these tapes taps into the fascination with Gainsbourg and Vannier's 1971 masterwork Histoire de Melody Nelson. From the new album's opening moments, it's clear …Katmandou was a dry-run for what reached the marketplace two years later and, in 1973, Vannier's own L'Enfant Assassin des Mouches album
The first cut could pass for a …Melody Nelson backing track. "Les Chemins de Katmandou (Opening Theme)" is built from the familiar springy Hohner pianet, busy yet gently funky drums, rubber-band bass, swirling strings and stabbing brass. The next tracks, "The Pleasure Pit" and "Colin-Maillard 1", induce similar double takes. Each may as well be drawn from the …Melody Nelson sessions.
While "Fallen Rainbow", "Flower Child" and "Oliver" are standard orchestral themes, and "Colin-Maillard 2 (Vocal Version)" references the Gainsbourg of 1968's "Comic Strip", the remainder of the album shares the …Melody Nelson resonance. According to the liner notes (which do not acknowledge its no-frills, digital-only predecessor), the music was recorded in Paris with the musicians Gainsbourg and Vannier worked with a couple of years on.
Although these are musical sketches rather than songs as such, anyone with an interest in Gainsbourg in general and Histoire de Melody Nelson in particular needs the eye-opening Les Chemins de Katmandou soundtrack album.
Next week: The Moody Blues' Days of Future Passed gets a 50th-anniversary makeover
Explore topics
Share this article