Music Reissues Weekly: Box Of Pin-Ups - The British Sounds of 1965, Think I'm Going Weird - Original Artefacts From The British Psychedelic Scene 1966-68 |

reviews, news & interviews
Music Reissues Weekly: Box Of Pin-Ups - The British Sounds of 1965, Think I'm Going Weird - Original Artefacts From The British Psychedelic Scene 1966-68
Music Reissues Weekly: Box Of Pin-Ups - The British Sounds of 1965, Think I'm Going Weird - Original Artefacts From The British Psychedelic Scene 1966-68
Box sets nailing the musical unpredictability of the years 1965 to 1968
The psychedelia-prefiguring Marc Bolan, as seen in a Decca Records promo shot circulated to coincide with his paranormal-themed November 1965 single 'The Wizard'
Signs of irrevocable change materialised in December 1965. On Wednesday the 8th, a new band named The 13th Floor Elevators debuted live at The Jade Room in Austin, Texas. Band members prepared for the experience by taking LSD in the run-up to the booking.
Within a couple of weeks, they had a business card describing them as playing "
psychedelic
rock."
Three days later, on the 11th, another new band was seen by a paying audience for the first time. The Velvet Underground played in a support slot at Summit High School in New Jersey. Two numbers in their set were titled "Heroin" and "Venus in Furs." Eye witnesses say some of the audience left while they were on stage.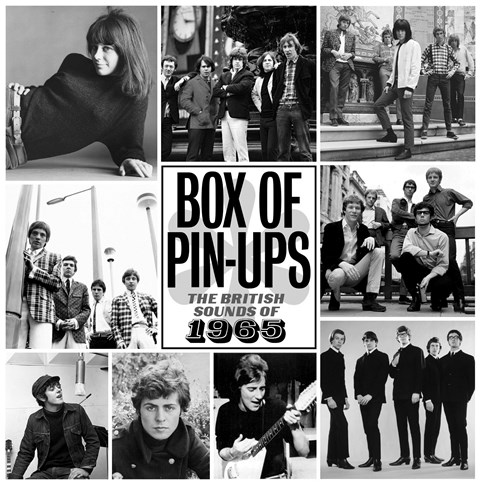 A week on, on the 18th, the writer-provocateur Ken Kesey staged what was trailed in its poster as an "Acid Test" at the Big Beat Club, Palo Alto, California. Allen Ginsberg and Neal Cassady were billed, as were New York's agit-poet combo Fugs. A band called The Grateful Dead played – at a happening where a mention of LSD was integral to its promotion.
Over in London on 19 December, Donovan was in Studio 3 of EMI's Abbey Road complex taping what was meant to be his next single, "Sunshine Superman." Problems with labels and management meant it wasn't issued until summer 1966 but despite being a December 1965 creation, it was inherently psychedelicised .
Back in the US on 21 December, in the studio of Chicago's Chess Records visiting British band The Yardbirds held the first recording session for their new single "Shapes of Things". The lyrics declared "Shapes of things before my eyes…My eyes just hurt my brain." Guitarist Jeff Beck's feedback-ridden solo was Indian influenced.
The next day, The Byrds entered Hollywood's RCA Studios to record the first version of "Eight Miles High." When it was issued – in a re-recorded version – the radio tip sheet Bill Gavin's Record Report said in April 1966 it was not recommended for airplay. It was, apparently, a drug song.
All this occurred against the backdrop of a new Beatles album hitting the shops – on 3 December in the UK, 6 December in the US. On Rubber Soul's cover, their faces were distorted. Buyers did not see them as they were. Shapes before their eyes. A key track was "The Word." The 13th Floor Elevators began covering it.
There's a fair argument that although the dots were not yet connected, psychedelic music's roots took hold in December 1965. The Velvets may not have been psychedelic per se but they were tuned in – albeit to a slightly different frequency to that stimulating the Elevators et al.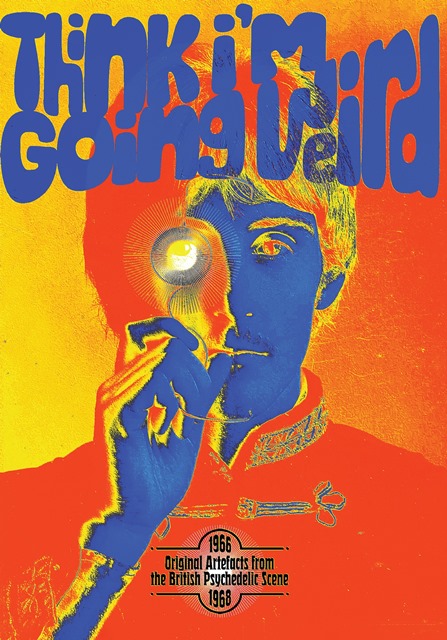 Stepping into this heady swirl are Box Of Pin-Ups - The British Sounds of 1965 and Think I'm Going Weird - Original Artefacts From The British Psychedelic Scene 1966-68. Four years are tracked – 1965, 1966, 1967 and 1968. The period of psychedelia's detonation, ripple effect, commodification, aftermath.
Box Of Pin-Ups is named after the photographer David Bailey's 1965 work for the Daily Express which was collected as prints in a thus-named box – it included his ill-judged glamourising shot of the Kray Twins – and David Bowie's 1973 album Pin Ups, where through cover versions he acknowledged some of his background. Think I'm Going Weird takes its title from a late 1967 album track by the pre-Spooky Tooth band Art. The former is a 92-track, three-CD set in clamshell box with a booklet. The latter a casebound 122-track, five-CD set with each disc slotting into an individual page and a bound-in book.
No point of eruption or sudden seeing through the third eye is immediately identifiable in either set. The Kinks track chosen for Box Of Pin-Ups is "Where Have all the Good Times Gone," where Ray Davies sighs about recent times. However, on 3 May 1965, The Kinks had pointed forward by recording their July UK single "See my Friends." Its defining feature was an insistent, Indian-style drone. Donovan is here on a Bo Diddley tip with the cannabis-nod "Hey Gyp (Dig the Slowness)." The set's only overt pointer to what was coming is Marc Bolan's paranormal-themed November 1965 single "The Wizard."
Once its poppier entrants are filleted out – amongst them Lulu & The Luvers's "Surprise Surprise", The Merseybeats's "I Stand Accused," The Roulettes's "The Long Cigarette" – the flavour most evinced by Box Of Pin-Ups is R&B merchants and mods going to seed – what was later dubbed freakbeat by music historian Phil Smee. "I'm Rowed Out" by The Eyes, The Syndicats's "Crawdaddy Simone" and Boys Blue's "You Got What I Want" help define this.
The earliest tracks on Think I'm Going Weird are the five (of the 122) from 1966: The Bee Gees's "Spicks and Specks," the very obscure Cortinas's "In the Park" (unreleased at the time), The Misunderstood's demo of "Children of the Sun," The Moody Blues's version of "How Can we Hang on to a Dream?" and The Yardbirds's endlessly compiled "Happenings Ten Years Time Ago." Wimple Winch's "Rumble on Mersey Square South" was issued in January 1967 so must be a 1966 recording. Of these, "Rumble on Mersey Square South" is the apotheosis of freakbeat, the wonderful "Spicks and Specks" responds to The Beatles while the turned-on Misunderstood and The Yardbirds lay the table for full-on freakdom.
In essence, each set – neither is chronologically sequenced so stylistic waves are hard to detect – captures an unfiltered outpouring. Unfamiliar and unreleased cuts pepper both. Setting the known alongside the never-weres nails the unpredictability of the times. It's amazing to hear London underground outfit 117 for the first time. As ever with these things, there are no Beatles, Pink Floyd and Rolling Stones. No Cream either. Or the Jimi Hendrix Experience (if The Misunderstood count, so would they). Each is a great listen, and Think I'm Going Weird only begins running out of steam on Disc Five where The Zany Woodruff Operation's (pictured above right) version of "Tales of Brave Ulysses" can't replace Cream's original.
Both sets achieve what they set out to do by creating an aural snapshot of UK pop at the times addressed (although 1966 is thinly represented on Think I'm Going Weird). But the pioneers and rogues operating to their own agenda rather than piggy-backing on voguishness are harder to detect. Just as it was in December 1965.
Next week: Birmingham in a box - Once Upon A Time In The West Midlands – The Bostin' Sounds Of Brumrock 1966–1974

'Box Of Pin-Ups' and 'Think I'm Going Weird' capture an unfiltered outpouring
Explore topics
Share this article