The Big Moon, Oran Mor, Glasgow review - partying prevails despite band's bad luck |

reviews, news & interviews
The Big Moon, Oran Mor, Glasgow review - partying prevails despite band's bad luck
The Big Moon, Oran Mor, Glasgow review - partying prevails despite band's bad luck
The quartet's pop and indie blend was in fine fettle
Monday, 26 September 2022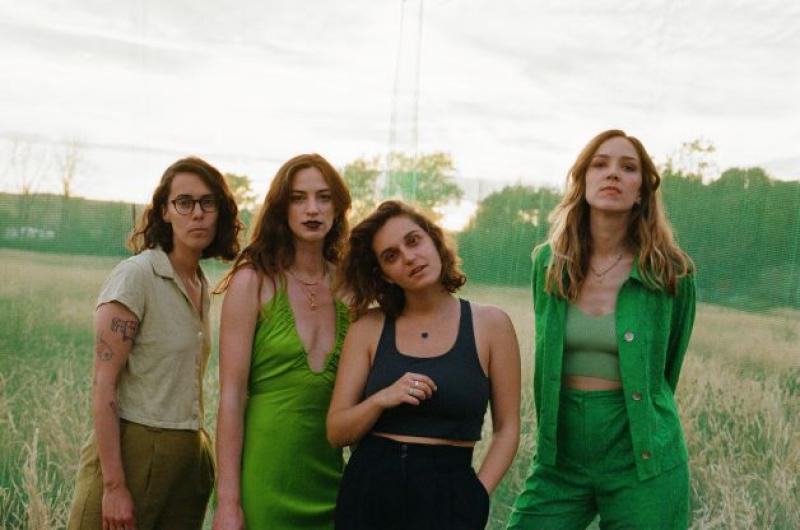 The Big Moon, gigging despite mishaps on the way
Presumably before setting out on their current tour the Big Moon smashed a few mirrors, walked under some ladders and crossed the paths of numerous black cats. Not only is this jaunt over two years in the making, endlessly postponed for the usual coronavirus reasons, but the foursome also lost most of their equipment in Spain just prior to hitting the road.
In addition this Glasgow show was also hindered by them damaging their lighting on the day of the show. It's therefore little surprise that bassist and keyboardist Celia Archer introduces "Trouble", a song originally penned about frontwoman Juliette Jackson's pregnancy, by saying that tonight it's about wrecking thousands of pounds worth of equipment.
Yet despite all of that, the quartet seem in such sync that this gig rolled along regardless. Originally booked in to promote their second album, 2020's "Walking Like We Do", the group's upcoming third record, "Here Is Everything" provided material as well, but a partying spirit ran throughout it all. This was the ooh oohs of pop melded with furious guitar feedback underneath, and soaring harmonies colliding with wiry bass lines.
Jackson herself is a vocalist of both playfulness and power. When she joined Archer and guitarist Soph Nathan for an acapella opening to "Formidable", dryly introduced by the bassist as "our Atomic Kitten moment", it was as striking as it was sweet, and the singer's voice added shimmer to the guitar pop of "Take a Piece" and a suitable swagger to a rollicking version of "Sucker", the indie bop from their early days.
Much has changed since they started out, including Jackson's motherhood, which has fuelled much of her recent writing. Mention of writing a song about breastfeeding brought cheers from many of the women there and guffaws from some of the men, seemingly amused at the very notion of pop songs being penned about such a topic, but the resulting "Daydreaming" carried such verve that all were soon moving to the groove.
All were equally energetic to a cover of Fatboy Slim's "Praise You" that provoked a loud sing-a-long, but there was something unsatisfying about such a karaoke treatment being bludgeoned into the set, no matter the reaction generated.
As a band there was more enjoyment in their own work, particularly the sharp guitar interplay between Jackson and Nathan, or the tight rhythms from Archer and drummer Fern Ford, where their indie roots gleefully devour pure pop. Such a blend was stamped across the oohs in "Cupid",the cutting melody of "Don't Think" and the good time tune of "Why", a slice of summer breeze even as autumn rolls in.
After all this time it felt like a band willing to embrace the good times and roll with the punches, and on a Friday night in Glasgow that's exactly the approach that was required. A sea of arms waved in the air during the encore's ballad of "Waves" before the closing "Your Light" provided possibly their finest song and one that blends their styles into a magnificent piece of fist-pumping pop, no lighting gimmickry required.