Album: Lady Gaga - Chromatica |

reviews, news & interviews
Album: Lady Gaga - Chromatica
Album: Lady Gaga - Chromatica
The latest from the pop superstar has a few treats sprinkled amongst stock club-pop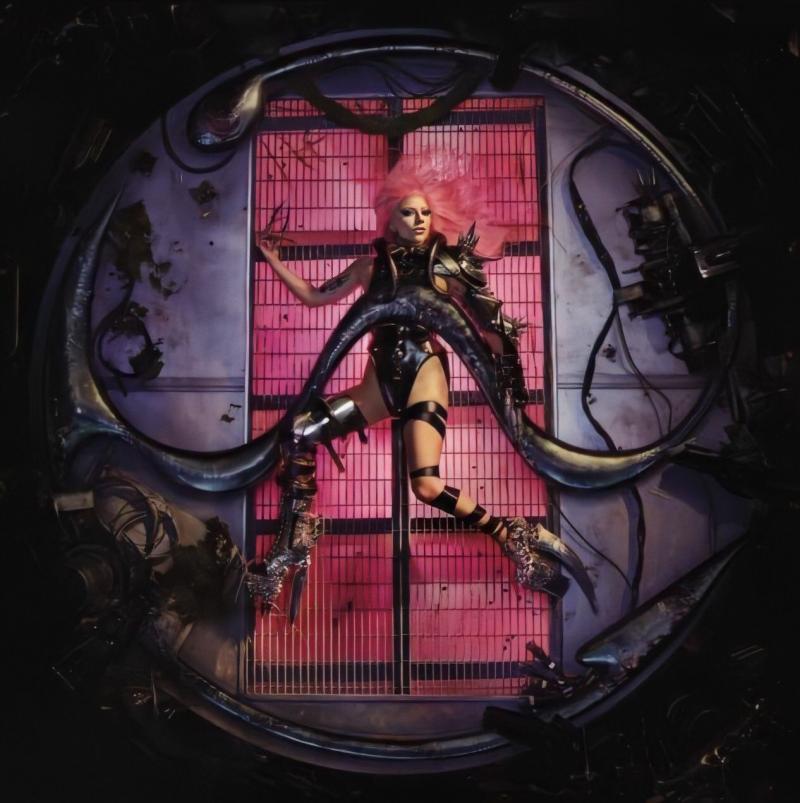 Trapped in the air ducts on HR Geiger's EDM spaceship
Lady Gaga proclaimed by Tweet that her sixth album represents her "absolute love of electronic music". Chromatica features EDM names such as Axwell from Swedish House Mafia, French DJ-producers Tchami and Madeon, bro'step superstar Skillex, as well as a good few more.
It is a step away from the likeable pop experimentalism of her last album,
Joanne
, yet does not, unfortunately, have the sheer dancefloor heft of her albums
Artpop
and, especially, the bangin'
Born This Way
.
The contradictory aspect of Chromatica is that while the music is often generic Euro-cheese, it regularly plays off incongruously against lyrics that speak of someone troubled. "Fun Tonight" mentions how the paparazzi cause her pain and announces, "I'm not OK", "911" states that "my biggest enemy is me", "1000 Doves" pleads, "I'm completely lonely" and there's plenty more long similar lines. Maybe it's all just self-help theatre for her "little monsters", but, especially after watching the documentary Five Foot Two, in which she comes over as emotionally vulnerable, it does cause momentary concern.
The let-down here is that so many of these tunes are tepid, even with guests such as Ariana Grande and K-pop girl group Blackpink. However wild the videos, many songs here lack the stridency and contagiousness of her best work. A song such as "Free Woman" is just aural wallpaper for a Mediterranean beach bar, and there are too many along such lines, riding forgettable EDM ear chewing gum that does this brilliantly idiosyncratic pop star a disservice.
Let us focus on the good stuff, though. There are a few pearls among the forgettable froth. Opener "Alice" bodes well, a chugger that seems to conflate Lewis Carroll's creation with the name's sonic similarity to the word "jealous", but then it's a long wait for "Plastic Doll", a song that questions Gaga's history of post-modern messing with sexual objectification. The fabulous "Replay" is the real deal, Hispanic-flavoured electro-pop, catchy and full of vim, up with her best, the album's stand-out, and it's followed by a wonderfully unhinged tune with Elton John called "Sine From Above", an outrageous dancefloor melodrama that contains a few classic Gaga lines ("When I was young I prayed for lightning/My mother said it would come and find me").
Closer "Babylon", initially dipped in 808 State's "Pacific State" before it decides it wants to be a hi-NRG reimagining of the rap bit from Madonna's "Vogue", is another two-and-a-half minute treat. Tracking back over the album, even when the songs are iffy that foghorn voice is on impressive form. What a singer! Just wish she'd had a few more songs this time round.
Below: Watch the video for "Rain on Me" by Lady Gaga and Ariana Grande
There's a wonderfully unhinged tune with Elton John
rating
Share this article