Album: Judy Collins - Spellbound |

reviews, news & interviews
Album: Judy Collins - Spellbound
Album: Judy Collins - Spellbound
Judy Collins, without whom...
Wednesday, 23 February 2022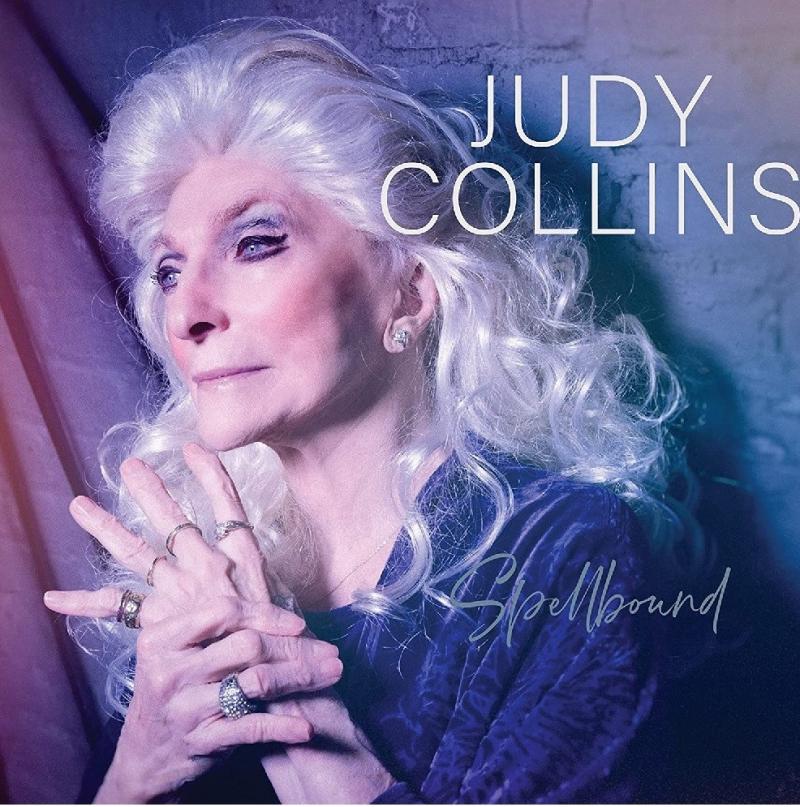 Judy blue eyes: still singing after all these years
It's not breaking any secrets to note that the woman immortalised as the "Chestnut-brown canary/Ruby-throated sparrow" in Stephen Stills' "Suite: Judy Blue Eyes" will shortly turn 83. Not that you'd know it from Spellbound, her new album.
Her voice has retained a youthful quality – no uncontrollable vibrato, no loss of top notes – and a general surety of pitch which singers many years younger long ago lost (and in some cases never possessed). It's a little over 60 years since she released A Maid of Constant Sorrow, and she's not stopped since. Extraordinarily, this is the first album featuring only her own songs, "written over the course of the last two or three years, some of them written during the pandemic, some of them inspired by the silences between concerts".
Without Collins, Leonard Cohen and Joni Mitchell would not have been catapulted to fame, for she was the first to record their songs: "Suzanne" on her catalytic 1966 album In My Life, to which she was putting the finishing touches when Cohen showed up at her front door; and "Both Sides Now", the single from Wildflowers (1967), after Mitchell sang the song down the early-morning phone line, introduced by Dylan keyboardist Al Kooper. Mitchell has mostly been resentful, despite (perhaps because of) the song's chart success. The Clintons' naming of their daughter specifically after Collins' version of Mitchell's "Chelsea Morning" was doubtless another irritant.
But the Cohen-Collins friendship endured, and it was he who asked her, after that 1966 recording, why she wasn't writing her own songs. She went home that day, sat down at the piano, and composed "Since You've Asked", an evergreen which is frequently played at weddings. Collins originals have been a staple of albums and concerts ever since.
Spellbound, which features long-time pianist and arranger Russell Walden, plus Zev Katz on bass, Thad DeBrock on guitar, pedal steel and banjo, Doug Yowell on drums and percussion, and Ari Hest (another protégé) on guitar and harmony vocals, is a gentle, meditative album with hints of Stephen Sondheim and Jimmy Webb, both of whose work she has long admired and often recorded. Like all Collins' writing, it is allusive but rarely elusive, though there are mysteries in the songs of long-long lost lovers – who is the young musician who left on a Greyhound after they'd made love in a single bed? There are of course several candidates and the song, "So Sweet", is a beautiful reflection of the early 1960s Greenwich Village scene, bright-coloured vignettes of which permeate Spellbound.
Much of the album looks back in tender recollection: her father, an inspiration for several early songs, in "Prairie Dream"; her youth out West in the beautiful "When I Was a Girl in Colorado" and "Arizona"; exploring uncomfortable early memories in "Hell on Wheels". And as she did with "Che" half a century ago, she dips into history for two big ballads: "Thomas Merton" and "Wild with Mist", the latter inspired by a visit to see the Turners at London's Tate Gallery.
Collins' roots as a classically-trained pianist are always evident, not just in the skill of her playing, lush passage-work and arresting modulations where normally you hear familiar chord-based accompaniment, but in the way she writes – through-composed songs that have a real sense of development. Listen carefully to "City of Awakening", another paean to Greenwich Village enhanced by a lush string arrangement and Collins' use of her warm alto, and "The Blizzard", which is the bonus track.
Judy Collins was a pioneer in so many ways, and she's still at it. Anyone who professes a serious interest in the great troubadour and singer-songwriter tradition should explore her work.
Collins' roots as a classically-trained pianist are always evident in the skill of her playing, lush passage-work and arresting modulations
rating
Explore topics
Share this article