Town of Strangers review - a whimsical foray into the meaning of home |

reviews, news & interviews
Town of Strangers review - a whimsical foray into the meaning of home
Town of Strangers review - a whimsical foray into the meaning of home
A director in search of belonging dominates a stagey documentary
Wednesday, 08 February 2023
Hamid Fakhri tells his story
"They say there are only two stories," explains director Treasa O'Brien. "A person goes on a journey and a stranger comes to town." O'Brien was born in Dublin to a naval family that had to up sticks and move every two or three years. Her first school was in Malta, where the other kids would neither speak to her nor play with her since she was an outsider.
In Town of Strangers she invites people who likewise live far from home to recount their stories. Gort, a small town in the west of Ireland, is the perfect setting for her enquiries since, per capita, it has the most diverse population in Ireland; at one point, Brazilians made up half the population.
Through a speaker perched on the roof of her van, O'Brien asks people to "come and tell me your stories, your dreams, your lies, your memories, any gossip." And, one by one, they take a seat in a battered old armchair on the set of a kitchen left over from an am dram production and talk about the meaning of home.
This simple idea could have been riveting. And now that, from choice or necessity, more people than ever are on the move globally, the question of how to make strangers feel at home could not be more urgent. Yet the film misses by miles because O'Brien doesn't delve deeply enough to reveal anything meaningful. We don't even learn the names of most speakers, let alone why they came to Gort or why they have decided to stay. This makes it virtually impossible to empathise with their feelings of displacement or longing for home.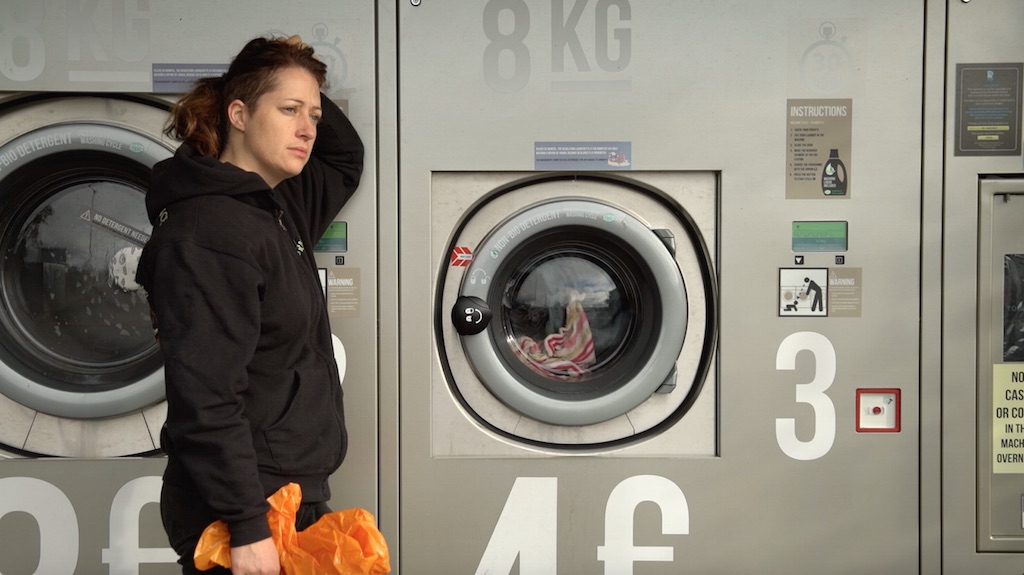 A Brazilian woman is planning to marry a man she doesn't love because he is kind and will help her learn to drive and go to college. "Before I was a passionate person," she explains. "I'm a little cold now. I don't know if it's Ireland; sometimes it's so lonely here." Having spent years on the move, a new age traveller is concerned that attending 12 different schools might have harmed her daughter. Stories like these merit further enquiry, but O'Brien doesn't pursue them.
We learn a bit more about an Afghan refugee, Hamid Fakhri, whose name I learned from the credits (main picture). He arrived in Dublin under a truck, didn't know where he was, could speak no English, and was taken to a refugee centre. One's heart goes out to him as, having left his wife and daughter behind, he describes feeling lonely, depressed, and suicidal.
Why did he leave Afghanistan? How did he get here? Did he really cling to the underside of a truck? Instead of asking these burning questions, O'Brien opts for tacky theatrics, maybe inspired by that kitchen set. Fakhri tells her he is scared and dreams of being beaten up, so she stages a confrontation. "Can you find some anger in yourself?" she begs the elderly gentleman who is reluctantly waving a stick at Fakhri.
This ill-conceived nonsense continues with Ralf, who dreams of flying. She has him standing in front of a green curtain, arms outstretched as though soaring above the clouds, while a hair drier simulates the wind. And it's so naff, you don't know whether to laugh or cry.
O'Brien appears on local radio. "It seems like there's nothing grounded in this film yet," remarks the interviewer perceptively. "Maybe it's a journey about coming home," replies the director. It turns out she is living in her van and the interviewer asks for anyone with a room to rent to get in touch (pictured above: Treasa O'Brien at the laundromat). "I thought 'the stranger' was all the people I was meeting in the film," observes O'Brien, "but I think I might be the stranger."
"Was each person I was filming somehow playing a different part of myself?" she asks. No wonder we learn so little about the others; the film is really about herself.
It's so naff, you don't know whether to laugh or cry
rating
Explore topics
Share this article