The Substitute review - a Buenos Aires 'Blackboard Jungle' |

reviews, news & interviews
The Substitute review - a Buenos Aires 'Blackboard Jungle'
The Substitute review - a Buenos Aires 'Blackboard Jungle'
A teacher marshals his inner-streetfighter to protect his endangered students
Saturday, 21 January 2023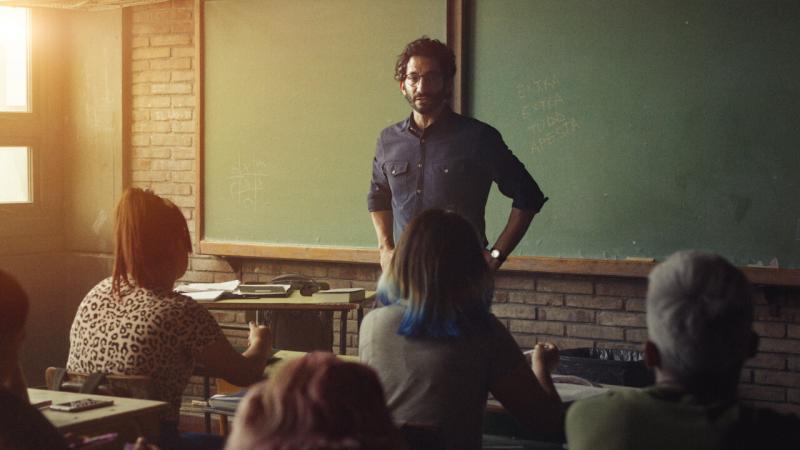 Learning curve: Juan Minujín in 'The Substitute'
If, as a teacher newly hired to instil an appreciation for literature in underprivileged high-school kids who think it's useless, you don't march into their classroom and try to ram Jorge Luis Borges down their throats. That's one lesson learned by Lucio Garmendia (Juan Minujín) in Diego Lerman's The Substitute.
Another is that for many of Lucio's charges, who live in a jerry-built neighbourhood on Buenos Aires's periphery, education is secondary to survival. Lucio's father, a former teacher turned community organiser known as The Chilean (played with typical assurance by the veteran Alfredo Castro), tells him that his students have to be tough "or they'll be eaten alive". Some have lost relatives to crime.
As Lerman's sixth cinema feature morphs from a conventional drama into a thriller, Lucio has to wise up, too. He finds himself dodging not only his kids' barbs, but bullets fired by thugs working for a drug lord, El Perro, who seeks to dominate the neighborhood by replacing its current mayor, an operator scarcely less corrupt than he is.
The Substitute is set up as one of those school films – like The Blackboard Jungle (1955), To Sir, With Love (1967), and Stand and Deliver (1988) – that show how a committed teacher gets through to his students. It's more ambitious than those movies but risks losing focus as it attempts too much. It folds in Lucio's existential crisis as a failed novelist who's recently lost his professor's job to a rival, and his relationships with his ailing dad, his ex-wife Mariela (Bárbara Lennie) – a published poet he still loves – and their 12-year-old daughter Sol (Renata Lerman), who refuses to attend her new school.
But "in for a penny, in for a pound" is the ex-teacher Lerman's modus operandi here. Inevitably, Lucio gets a new shot at romance with a fellow teacher, Clara (Maria Merlin), whose subject, happily, is biology. The way she brings him to her skyrise apartment near the school is pleasingly matter-of-fact. Perhaps because each is rusty, neither is quite so chill when kissing beside her bed.
The film gains traction depicting Lucio's forays out of the classroom into the barrio to protect one of his students, Dilan (Lucas Arreo). Along with a classmate, Dilan has to go into hiding after a police raid on the school reveals the presence of drugs.
Dilan has been helping The Chilean renovate a building that will fullfil the activist's long-nurtured dream of opening a soup kitchen, but the youth has become a pawn in the war between El Perro and the incumbent mayor. (Pictured above: Alfredo Castro, left, and Juan Minujín)
Lucio is scandalized when he learns from The Chilean that the drugs were planted in the school to discredit El Perro. If The Chilean is an exemplary figure, it's unclear how much more he knows given his proximity to the unseen mayor.
After the raid, a fiery staff room discussion, close in spirit to the workers' debates in Ken Loach's films, divides those teachers who think their work is confined to teaching from those who believe they must also go onto the streets to support the students and their families. Though Lucio sits on the fence as the arguments are put forward, he's soon burrowing around in Dilan's haunts, including a cafe run by a middle-aged woman whose comfy demeanour belies her dangerous associations. Clara plays her part in leading Lucio to the one person who can extricate Dilan from his plight.
Much of The Substitute's vivid realism and immediacy as a moment-to-moment experience owes to the Polish cinematographer Wojciech Staron's darting hand-held cinematography. The bearded star Minujín (Zama, The Two Popes) holds the centre. He deftly portrays a man who discovers everyone – not least his doughty veteran head Amalia (Rita Cortese) – has something to teach him. Starting out a literary snob, he realises he can breathe more easily where the air isn't rarefied, where the kids can gather with him in a circle for a confidential chat about the things that impact their lives. Their confidence gained, it's not so hard to get them to read and write with passion.