'Shakespeare is mistakenly considered something for the elite': director Claire McCarthy on 'Ophelia' |

reviews, news & interviews
'Shakespeare is mistakenly considered something for the elite': director Claire McCarthy on 'Ophelia'
'Shakespeare is mistakenly considered something for the elite': director Claire McCarthy on 'Ophelia'
Upcoming adaptation shines a new light on Shakespeare's famous tragic maiden
Tuesday, 19 November 2019
Director Claire McCarthy on the set of 'Ophelia'
Ophelia is one of Shakespeare's most enduring characters in both literature and art, and yet her part in Hamlet is limited to few lines and fewer motivations. Based on Lisa Klein's novel, the new film Ophelia challenges this interpretation.
Daisy Ridley stars as the iconic maiden raising above the petty squabbles of flawed men.
Director Claire McCarthy
talks about bringing this new adaptation to screen.
OWEN RICHARDS: How did you first become involved with Ophelia?
CLAIRE MCCARTHY: The job came to me off the back of a film I made called The Turning, which has Rose Byrne in it, a wonderful Australian actor. The producer saw this and saw something they felt would be useful in Ophelia.
They approached me with the script and I was just so bowled over by how interesting this idea was, a complete overturning of Shakespeare's most beloved play. It took many, many years but eventually we finally got it made. It was a long journey, but here we are.
Are you a big fan of Shakespeare yourself?
I am. I studied Hamlet at school, I staged parts of the play, and even did a thesis on it, so I've really studied it intimately. I found it quite mischievous the way Lisa Klein's book takes the major aspects of the play and interprets it. Then Semi Chellas's screenplay really hones it even further into this mythic contemporary reimagining of this story. From my perspective, it was trying to find a way for Shakespeare to be rediscovered, or perhaps discovered for the first time for a younger audience.
I really enjoyed the way it flipped some of the Hamlet traditions, such as Naomi Watts's Queen playing dual roles instead of the King. What was it like finding the balance between faithful adaptation and your own story?
It was a tough one, because it is one of Shakespeare's most beloved plays. We still had the period setting, but it was a risk. We updated the language and there are some aspects that are tongue-in-cheek.
It was important for it not to feel lofty or highbrow. Shakespeare is mistakenly considered something for the elite, and our intention was to set up these complex characters so the audience could relate to their struggles and hopefully be moved by them.
We wanted those interactions to feel like they were not judging the characters. In the original Hamlet, Ophelia has something like 13 lines, so we tried to give greater complexity to her, create a three-dimensional character that was formerly limited and tragic.
We juggled these ideas, and it's the perfect storm at the moment to give voices to women in a new way, reinterpret the way women would struggle in this context. It's been a delicate balancing act tonally, taking those elements of such hallowed ground and trying to bring it to the screen in a new way.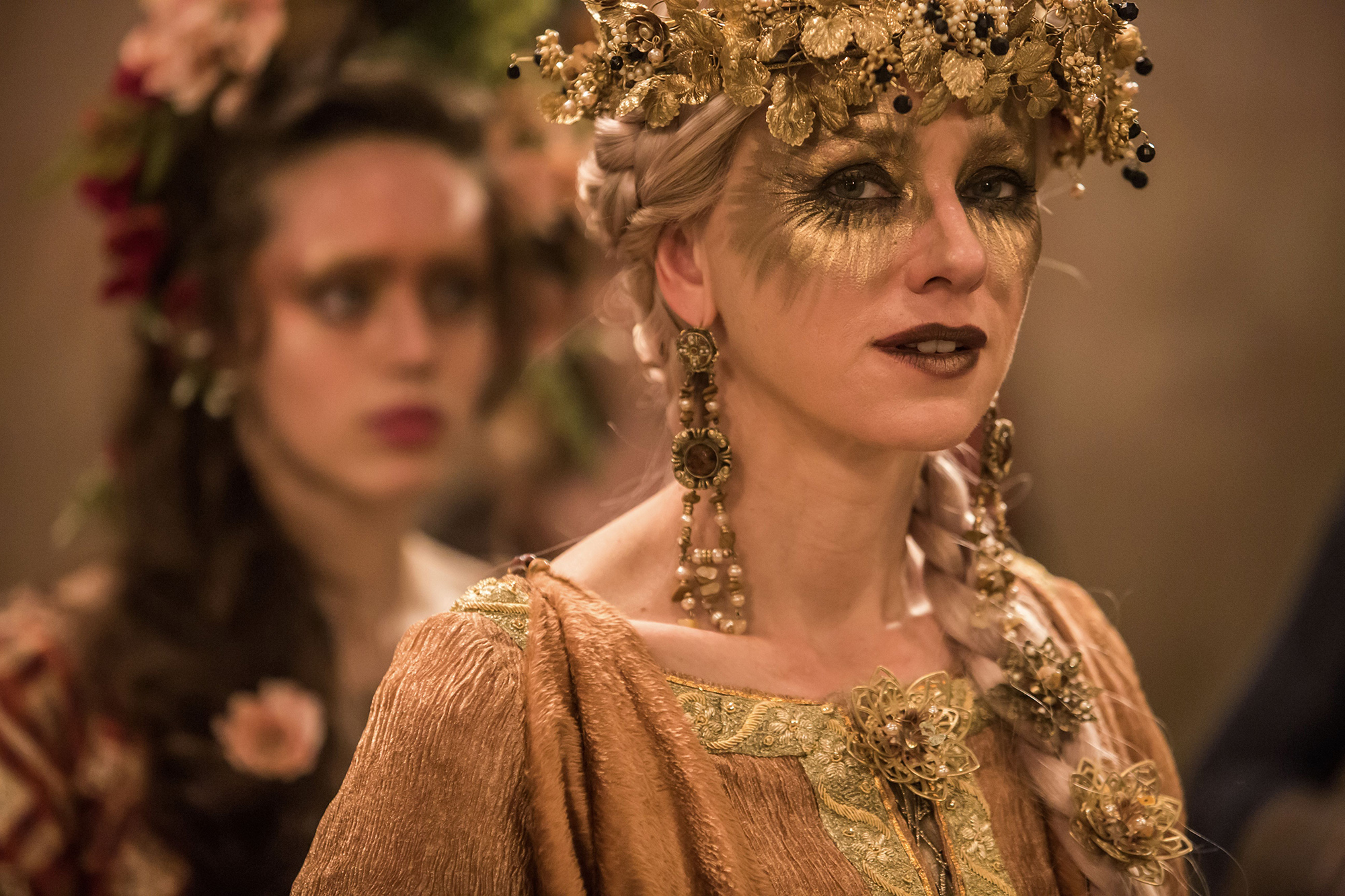 You seemed to find that, being loyal to the source material without holding it in too much reverence.
That's exactly right, and the other thing I was inspired by was our fantastic creative team, our production designer Dave Warren and cinematographer Denson Baker. We wanted this to feel like a big screen epic, but still have tenderness and intimacy, to see the story from Ophelia's point of view.
We talked a lot about being inspired by paintings and the interiors of the castle that we had the pleasure of visiting in Prague. We used natural light: the only light sources used are moonlight and flame. We wanted it to look natural. It's a little bit of a love story to the Pre-Raphaelites in some ways.
We didn't want to take ourselves too seriously, it was more about the performances and trying to build something that felt like its own thing, even if it was referencing something you might be familiar with.
What was the casting process like?
They're some really beautiful actors. We really needed an actor to play Ophelia that could be a Pre-Raphaelite maiden on the outside, but what I saw in Daisy Ridley in Star Wars was this inner core of fire. She's so resilient, and you would believe that she would survive and come out on top on her own terms. That was really important to have that resilience in Ophelia during casting.
Having her really helped things snowball, and Naomi Watts was already on board. She's such a wonderful advocate and artist, so I think having those two great women helped attract the rest of the beautiful actors that came on board. George MacKay is such a fantastic actor, and Tom Felton, Clive Owen; the catalyst was having those two female leads.
What was it like developing these iconic roles with those actors?
It was wonderful, particularly trying to find their humanity and flaws, building strong characters that felt complex. It was so exciting. Naomi is such a fantastic character-driven artist and she has such a wonderful process. We got to work together really intimately on that, as with Daisy. It was a wonderful, creative and quite challenging opportunity to have that relationship with those actors.
The production design is so elaborate, especially with the party scenes. What was it like as director taking a hold of such a visually complex period piece?
A lot of it is about world building, and trying to create a breathing atmosphere for real people to be living in. It was very much down to building a team, so we could work closely together to create that world, the look, the colour palette, the lensing, the choices of where we placed the camera or didn't.
We really thought about how we used the locations, along with some studio builds and digital work. It had to feel integrated and seamless, but ultimately driven by the performances. It's exciting to get your teeth stuck into something that has an aesthetic which is period but has a contemporary feel. We were going for naturalistic yet expressionistic, particularly in the design and cinematography, with a real grounded approach to the performances. But then it is Shakespeare, so it goes into those bigger moments. It was a great canvas to flex your muscles and explore.
There's been a lot of gender-swapped films recently. Ophelia isn't that exactly, but it follows a recent trend of re-evaluating women's roles in stories. What's it been like adding your own voice to this?
I think it's such an interesting time, giving new voices and new visions to women. I think the message of the film is not just about women, but a universal message. Hamlet's tragedy is Ophelia's victory in the film, and the message is cycles of violence and how to move away from these constant patterns.
I feel like there's a contemporary touchstone to this in the original Shakespeare. It's a great opportunity to talk about gender, but what makes Shakespeare so timeless is he speaks about what it is to be in the world, how to survive and how to love. His work is timeless. It was great on both of those levels, as a filmmaker with a voice, but also bringing something to life that has its own resonance.
Have you taken anything from filming Ophelia that you're bringing forwards as a director?
So many things! The experience of building strong characters and worlds is something that requires an enormous amount of attention and focus. I learned a lot of lessons about that.
Interpersonal skills too, understanding the complexities and importance of the relationships with collaborators to make this thing happen. It's such an amazing privilege to work with so many artists who all contribute their voices to the great goal. There's been so many things, both good and bad, that I've learned from that experience. I'm definitely taking them onto the next projects and onto bigger and better things.
And what do you have coming up next?
I just finished a series in New Zealand called The Luminaries based on the Man Booker Prize winning novel of the same name, written by Eleanor Catton. I directed the whole season of that show, starring Eva Green and Eve Hewson. That's going out later in the year on BBC Two. And I'm currently in Rome at the moment, about to start shooting a big project set in Ancient Rome, so it's currently a bit mad. I'm going to have to start living in the now!
Ophelia is in cinemas Friday 22 November
I think it's such an interesting time, giving new voices and new visions to women
Share this article