A Quiet Place Part II review - noise abatement sequel |

reviews, news & interviews
A Quiet Place Part II review - noise abatement sequel
A Quiet Place Part II review - noise abatement sequel
Family vs alien monsters franchise sustains suspense
Stayin' alive: Millicent Simmonds as Regan in 'A Quiet Place Part II'
Fourteen months after the Manhattan premiere of John Krasinski's A Quiet Place Part II – and three years after his taut, spare original spawned the most suspenseful sci-fi horror franchise of recent times – the movie is setting post-pandemic box office records.
Not unexpectedly, it finds the reduced Abbott family still in desperate survival mode in decimated upstate New York.
Forced to abandon their farm for hopefully safer waters, newly widowed Evelyn (Emily Blunt), her deaf 17-year-old daughter Regan (Millicent Simmonds, who herself is deaf), and her panicky adolescent brother Marcus (Noah Jupe) continue to whisper and walk on figurative eggshells. The reptilian aliens depopulating Earth may be sightless and ill-formed, but their acute hearing enables them to pounce on and shred anyone who makes a noise, precisely the fate of Evelyn's self-sacrificing husband Lee (Krasinski) and their four-year-old son Beau (Cade Woodward) in A Quiet Place. Inconveniently, Evelyn has just given birth to a noise-making specialist (its wails mercifully muted by an oxygen-mask).
On the plus side, Regan demonstrates the intelligence, practical knowhow, and guts to extricate the clan from its immediate predicament. What's exciting about her evolution – and the performance by the gifted Wonderstruck actress Simmonds – is that it seems organic, not contrived to please a demographic or to issue a rallying cry. There's nothing girl power-y about Regan's marshalling of her resources. The Quiet Place films aren't big on inner lives, but Regan – her character as embedded in the title as her impairment – is clearly driven to atone for unwittingly causing Beau's grisly death.
The Abbotts' struggle resumes on Day 474 of the invasion following a Spielbergian sequence that celebrates small-town rituals and depicts the aliens' terrifying arrival. Lee parks his pickup truck on a deserted main street – a harbinger of its imminent future – visits the store in which the first film began in medias res, and drives to meet Evelyn, Regan, Beau (Dean Woodward, Cade's younger brother) in a crowd happily anticipating a Little League game featuring nervous Marcus. Lee speaks to a friend, Emmett (Cillian Murphy), seated behind them in the bleachers with his own young son. (Below: Emily Blunt with Millicent Simmonds and Noah Jupe.)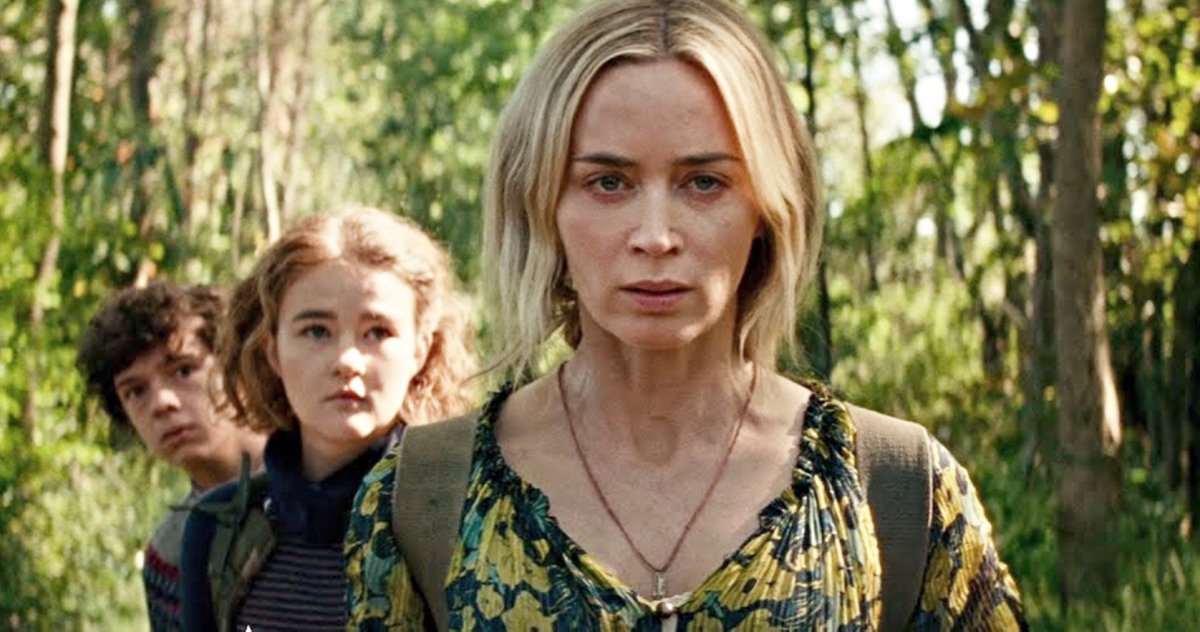 Unearthly rumblings coincide with hapless batter Marcus looking up to see a sickly yellow smear, the residue of a meteorite, in the clouds. Moments later the monstrous aliens are smashing cars and laying waste to main street. It's a masterfully deceptive and economic opening, typical of how writer-director John Krasinski calibrates each perilous episode of the Abbotts' ordeal.
Back in the present, Evelyn is the family's de facto leader, who shoots the aliens on sight, but Regan assumes responsibility as its guide. She consults her father's map and lights a fire atop the farm's silo to serve as a beacon. A distant fire is lit in response and they head for its source – Regan lugging a chunky speaker to amplify the whistle of her cochlear hearing implant into a shriek sufficiently piercing to disable attacking aliens. The spectacle of blind monsters being neutralised by a deaf person who has weaponised noise encapsulates cinema's assault on seeing and hearing.
Emmett, who lit the fire that answered Regan's, allows the Abbotts to hide in an airless, lockable kiln in the decaying steel mill where he dwells. But having outlived his wife and son, Emmett is too broken to help them any further. His redemption is eventually twinned with Regan's flourishing on her quest to find a haven, prompted by her belief that the constant repetition of Bobby Darin's "Beyond the Sea" on an island radio broadcast is a beckoning signal.

By then, traditional family roles have been instructively overturned. Just as Regan has taken on Lee's role as the family's techie-explorer, so Marcus, nursing an ankle mangled in a man-trap, becomes the baby's stay-at-home protector in the steel mill when Evelyn goes foraging for food and first-aid equipment.
Krasinski wrote A Quiet Place with Bryan Woods and Scott Beck (the duo that devised the story) and A Quiet Place Part II on his own. The reliance on silence as a device that structured the action, while minimizing dialogue, liberated the director and his cinematographers (Charlotte Bruus Christensen on AQP; Polly Morgan on AQPII) to pictorialise the saga as if they were making pre-talkies without the aid of title cards.
Stealthy travelling shots, charged compositions, and a muted palette ramp up the foreboding tone of a film in which oblivion is a clumsy footfall away. Framed in a ragged hole in a train carriage, Regan is awed by the sight of the metal carnage around her. If A Quiet Place Part II doesn't invite an allegorical interpretation, it does suggest global industrialisation was hubristic.
Eliminating chatter also facilitated Krasinski and editor Michael P. Shawver's dynamic orchestration of separate but simultaneous forays risked by Regan, Evelyn, and Marcus. The interweaving of these story strands in a single passage tightens the movie's grip on the audience. You daren't look away from a film that passes in a flash, ending at the point A Quiet Place Part III will begin. The apparent regular sightings of UFOs by US Navy pilots, which have triggeried next month's congressional inquiry, might have a mundane explanation, but if you suspect the worst it's best to avoid Krasinski's scintillating shocker.