Past Lives review - poignant story of a long-maturing love |

reviews, news & interviews
Past Lives review - poignant story of a long-maturing love
Past Lives review - poignant story of a long-maturing love
Celine Song's quietly powerful debut asks big questions about cultural difference
Thursday, 07 September 2023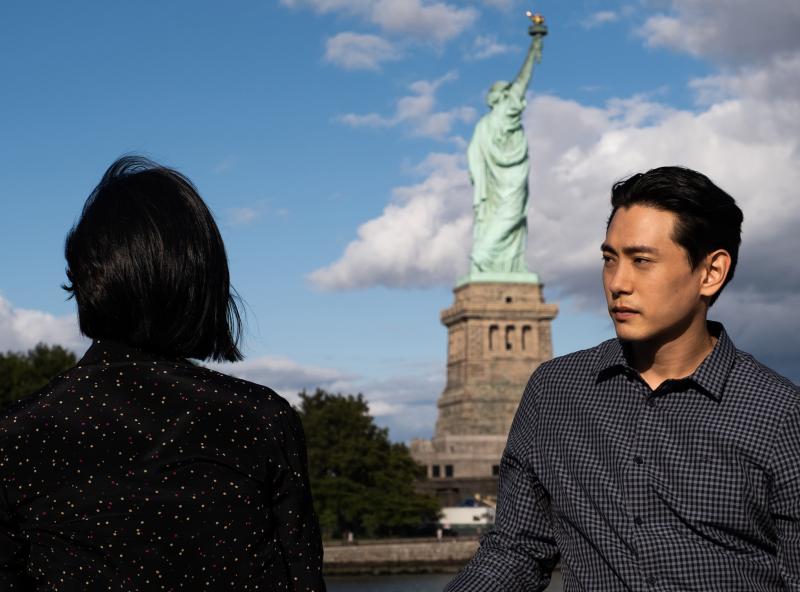 Beautifully subtle playing: Greta Lee as Nora Moon and Teo Yoo as Hae Sung
In the mood for love? It's over 23 years since Wong Kar-Wai's swoony, bittersweet film of that name reset the bar for the art-house love story. Now comes Celine Song's Past LIves, an entirely different kind of bar-setter but with a similar tough-but-tender core. It's an unshowy, slim film, but it takes on hefty topics: can love survive for decades, can it cut through cultural barriers? What does a relationship need to survive?
The autobiographical plot was triggered when Song found herself in her home town, New York City, sitting between her American husband and her Korean childhood sweetheart, whom she hadn't seen in the flesh in the two decades since her family left Korea for Canada. After a second immigration, she had become a successful playwright.
This scenario is almost the end-point of the film but also its opening scene, watched by the camera and a pair of unknown observers in voice-over, who wonder why two Koreans are deep in conversation in a New York bar at 4am, more or less ignoring "the white guy". The watchers speculate about the relationships between the trio, none of them that close to the truth.
It's the precise nature of the ties that bind these three people that Song focuses on. It's both a very grown-up concern and a particularly Korean one, playing with ideas of In-Yun, which Na Young, aka Nora (Greta Lee), explains to her Jewish American husband Arthur (John Magaro) is a sense of the long-maturing destiny that can connect two people. It existed between the young Na Young and Hae Sung (she openly talked about wanting to date him and get married one day), but what happens to it when they are separated by thousands of miles and inhabit two radically different worlds?
Song carefully sows the seeds of the couple's differences. Na Young is ultra-competitive, happy to move to Canada because "Koreans don't win the Nobel Prize". Hae Sung (Teo Yoo, from Decision to Leave) sees himself as much more "ordinary". His role is to be supportive and manly, even as a young teenager: the one who looks out for her, urges her to eat, waits patiently during one of her many crying fits. On their last day together, they walk home virtually in silence until saying goodbye and, in a beautifully constructed shot, take diverging paths home.
Twenty-four years then pass before they come face to face again, during which time Nora devotes herself to her writing, while Hae Sung is sucked into military service, followed by studying to be an engineer. Twelve years on from their separation, he finally finds her when she spots online that he has been trying to contact her – significantly, he had not been searching for her under her new name, Nora Moon – and painstakingly uses her American laptop to message him back in Korean pictograms.
Suddenly, there he is on her laptop screen: "Woah!" They both say, repeatedly. They attempt numerous FaceTime conversations while straddling the time difference, with the usual technical difficulties, but visiting each other cannot happen for at least a year because of his commitment to going to China to learn Mandarin to "help with his work", and her desire to commit to her chosen life in the US. Stony-faced, she eventually suggests they don't talk to each other for a year, as a way of sorting out what they want. After immigrating twice, she is not inclined to return to Seoul.
As the couple start to disconnect, they set off towards different goals. Nora goes on a writer's residency in Montauk, where she meets Arthur; Hae Sung sits in a restaurant where a young woman is eating alone; they catch each other's eye and smile. New lives await.
The formal beauty of the film is the delicate, often totally silent way Song builds up our picture of how Nora and Hae Sung relate to each other. As playful youngsters they hold hands inside a giant sculpture composed of two conjoined heads. When he visits New York, their hands almost but not quite touch on the subway pole. She has grown up to be outwardly tough and westernised, a good fit for smarty-arty Manhattan life; he is still sweet-natured and kind, but more conservative and self-deprecating, more Korean. Scenes glide along, with gentle rippling piano music playing over them, so there is always a forward momentum to the film even when nothing much seems to be happening. All the scenario's emotional complexity, though, is articulated by the actors' expressions.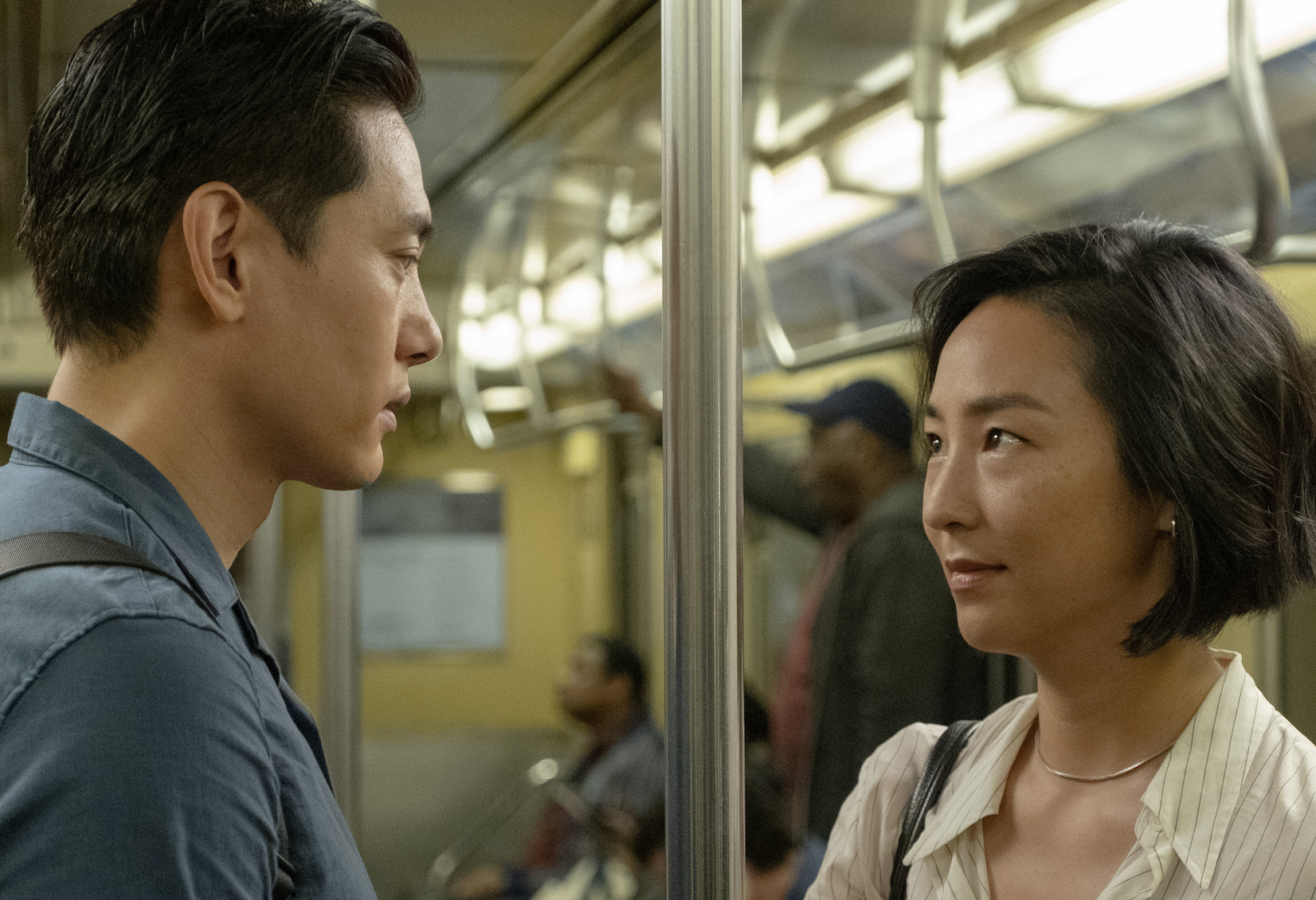 Yoo, in particular, has the kind of facial flexibility that can register multiple flickers of emotion in one brief moment – the short sequence when we watch him nervously waiting to meet Nora again after their 24 years apart, his eyes wary and restless like a timid animal's, is literally breath-taking.
Lee works a lot with her smile, which similarly comes and goes mercurially as a register of her fleeting thoughts. Magaro holds his own in this company well, a softening of his eyes and a wry smile signalling his mature response to his wife's visitor, while unguarded shots of him alone show a man struggling with his feelings.
The scene we start with and return to almost at the end is a masterly trio for these three, Nora sitting in the middle as the interpreter, but the camera increasingly cropping out Arthur or focusing on him silent and alone, as Nora and Hae Sung thrash out in Korean what is happening between them. It is the final day of his week's "holiday" in New York.
How many Kleenex you need by this stage will depend on how you have decided this three-way should resolve itself. I was pretty dry-eyed, as things turned out the way I thought they should, reflecting the strengths of the three protagonists. Others may be a blubbing mess. Either way, Song has created a thoughtful and poignant film, ending with a simple and powerful sequence from cinematographer Shabier Kirchner. As Nora and Hae Sung would say, "Woah!"