The Nest review – intriguing, off-kilter family drama |

reviews, news & interviews
The Nest review – intriguing, off-kilter family drama
The Nest review – intriguing, off-kilter family drama
Jude Law and Carrie Coon are a couple in meltdown in Eighties London
The champagne lifestyle may be fizzing out: Carrie Coon and Jude Law in 'The Nest'
The Nest is a peculiar animal, hard to nail down, parts family drama and social satire, but with a creepy sense of suspense rippling under the surface that threatens to bust the plot wide open.
The fact that it's written and directed by Sean Durkin (Martha Marcy May Marlene, Southcliffe) makes sense of the unease. But at the film's heart is an old-fashioned marital tussle, between an independent, no-nonsense American woman and her posturing, bullshitting, over-striving English husband, each performed with nuance and gusto by Carrie Coon and Jude Law. You could cut the tension with a knife – unless one of these two get to it first.
It starts in New York, with the comfortable, seemingly ordered family life of Rory and Allison O'Hara, and their children Charlie and Samantha. While Allison works at a stables, at first it's unclear what Rory does: he gives his wife coffee every morning, takes the kids to school, then sits in his office staring into space.
But Rory has a plan; or more accurately, given the immediate shiftiness with which Law bestows him, he's up to something. There's an 'opportunity' in London. He wants to go home.
It turns out that Rory was once a hotshot trader with a commodities broker in the City, before taking his ambitions to the US. Now he's returning to his old boss Arthur (Michael Culkin), who has faith in him to take the company forward.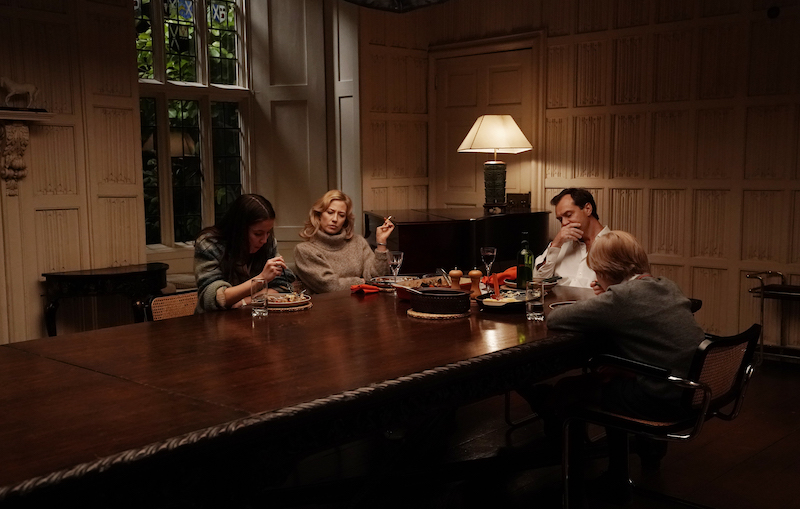 Rory's confidence is staggering: installing his family in an absurdly large and inappropriate Surrey mansion, promising to build Allison her own stables in the garden, scouting for a Mayfair pied-a-terre. Any attempt by Allison to discuss how it's all being paid for is batted away.
But does he have what it takes – not just talent, but character? Rory's cocktail of narcissism, messed-up machismo and desperation will lead to conflict both at home and in the office.
This is a good time to mention that this is the Eighties, when 'wide boy' City traders were amongst the most loathed creatures of Thatcher's Britain. Rory is of the same mould, a working class lad who made himself some money, whose continuing need to impress, to bolster his status is cringing. Law is a master at portraying this kind of feeble vanity; he makes Rory's endless stream of bullshit painful to watch.
Thus Durkin establishes numerous cultural and personal clashes: between English and American, the 'posh' world Rory aspires to and both his and Allison's more humble roots, his self-delusion and her groundedness. These conflicts are often manifested by Allison, particularly as she butts heads with the casual sexism rampant at this time – whether presented as 'Rory's wife' at a well-heeled party or completely ignored in a restaurant as the waiter waits for her husband to order. It's impossible to convey the glorious disdain in Coon's delivery as she proceeds to order for them both, before tasting the wine straight out of the bottle.
All the while, we're never quite sure where this is going. Durkin uses the country pile to create a sense of foreboding: the kids are convinced it's haunted; Allison has one of those horror film moments when a locked door is suddenly standing ajar; her beloved horse is mysteriously afflicted. What he achieves by doing this is really interesting, constantly dangling the threat of a genre twist to a mostly conventional plot; in fact, as Rory first stands proudly in front of the family's new home, it's hard not to imagine that he's joined a demonic cult, literally selling his soul for stock market success.
Whether all this is red herring, or not, is a question that maintains the film's slow-burning intensity, as does the convincing chemistry between the leads. While their characters are increasingly at odds, Coon and Law suggest a familiarity and attraction that make a happier back story for the couple feasible; and their sparring is marvellous. Coon is sensational, presenting a level-headed, strong-willed woman, innately sophisticated despite her abhorrence of the posers around her, who nevertheless may be headed for a psychotic break. Allison's cathartic escape to a dance floor is probably the highlight of the film.
The splendidly jowly Culkin gives a good turn as Arthur, suggesting the shark-like character to build a business like his, yet decent at the same time; and Oona Roche and Charlie Shotwell are great as the kids – he a teary, tortured 10-year-old left to fend for himself amongst all manner of madness, she a rebel like her mum, who at least finds a decent use of a house this size.
The film is elegantly shot, with a gorgeous wardrobe to match and a soundtrack to relish, including Bronski Beat, The Communards, The Psychedelic Furs, The Cure and New Order. The Eighties weren't all bad.
This is the Eighties, when 'wide boy' City traders were amongst the most loathed creatures of Thatcher's Britain
rating
Share this article