The Young Pope, Sky Atlantic |

reviews, news & interviews
The Young Pope, Sky Atlantic
The Young Pope, Sky Atlantic
Jude Law battles for the soul of the Catholic church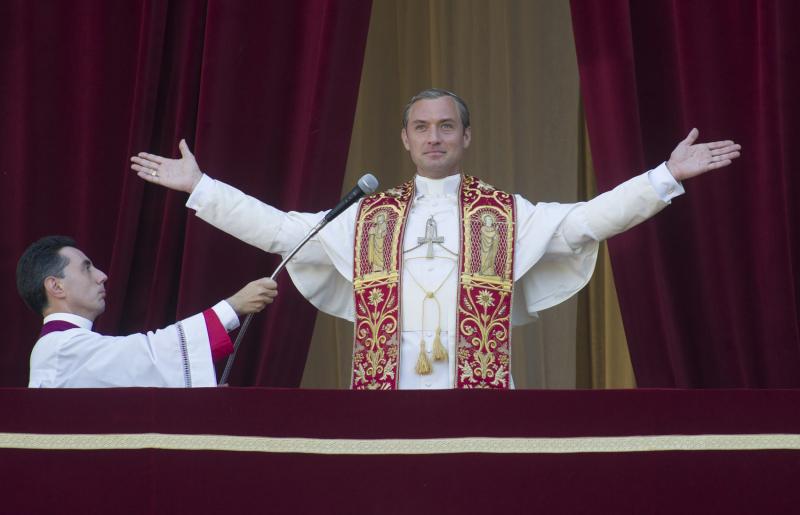 Jude Law as Lenny Belardo, known to the world as Pope Pius XIII
Having survived what you might call his boy-band years, Jude Law has emerged as a truly substantial actor, and his role here as Lenny Belardo, the newly-elected Pope Pius XIII, may prove to be a defining moment.
Created by a multinational consortium including HBO, Sky Italia and Canal+,
The Young Pope
confronts the viewer with something of a learning curve, with its mysterious Vatican setting and arcane multi-lingual clerical hierarchy, but by the end of this opening double episode you could sense that this is going to be a weird and wild ride.
Director Paolo Sorrentino didn't make it easy on us with an opening sequence of a baby crawling across a mountain of other babies, from beneath which emerged Lenny in his Pope Pius regalia (there's ravishingly opulent cinematography throughout from Luca Bigazzi). This was strange, but what came next was flabbergasting, as His Holiness launched into his inaugural address – or, if you will, "omelia" – to the adoring hordes in St Peter's Square. This was like a thermonuclear device going off under a couple of millennia of Catholicism, as the Holy Father (having hailed the crowd with a Bono-like "Ciao, Rome!") extolled masturbation, contraception, abortion and gay marriage. Ranks of cardinals in their crimson finery fainted on the spot.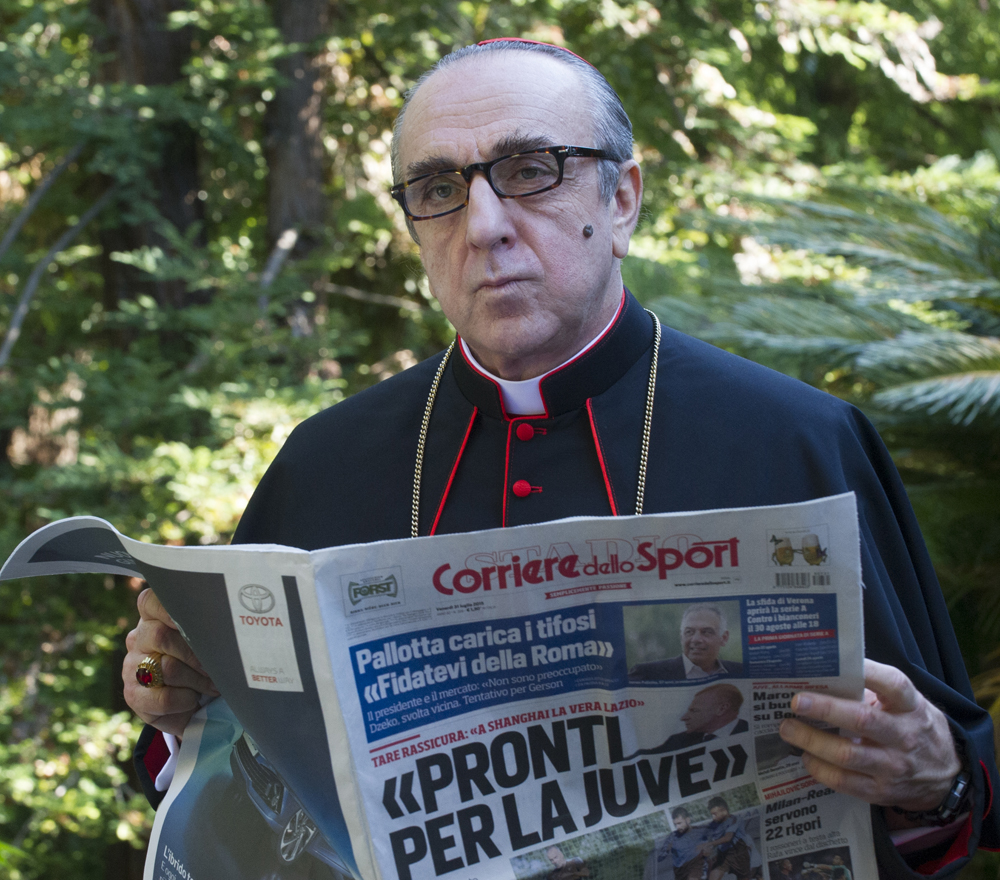 Sadly it was just a dream, but it did successfully plant the notion that Pius XIII has no intention of being a bland, appeasing pope who just wants a cossetted, quiet life. Though, inevitably, many of those around him desire exactly that. Chief among these is Cardinal Voiello (Silvio Orlando, pictured right), the Vatican Secretary of State, a papal Sir Humphrey who has grown accustomed to exerting complete control over the man in the big chair. The "ironic and cunning" Voiello understands both the cost and the value of everything, knows where the bodies are buried (and looks ready to add a few more), and has the Vatican sewn up within his networks of bribery, patronage and blackmail.
So is this The Sopranos with bells, smells and cassocks? Perhaps a little, not least because there's going to be lot of Stateside back story to come. Belardo owes his meteoric ascent (at 47, he's a mere child in papal terms) to his American patron Cardinal Spencer (James Cromwell), but it wasn't supposed to be that meteoric. Apparently with the connivance of Voiello, Belardo leapfrogged Spencer to the top job, leaving Spencer feeling vengeful and suicidal. If he's going to bury the hatchet, it will be in Lenny's head.
The new boy needs some allies, so as well as picking the upstanding Cardinal Gutierrez (Javier Camara) and suborning his confessor Don Tomaso (Marcello Romolo) into becoming his private spy, he has installed Sister Mary (Diane Keaton, pictured below with Jude Law) as his special assistant. His relationship with Mary will be critical, as she has raised him since he was dumped at her orphanage by his hippy parents when he was seven, and their emotional and religious bonds run dangerously, Freudianly deep.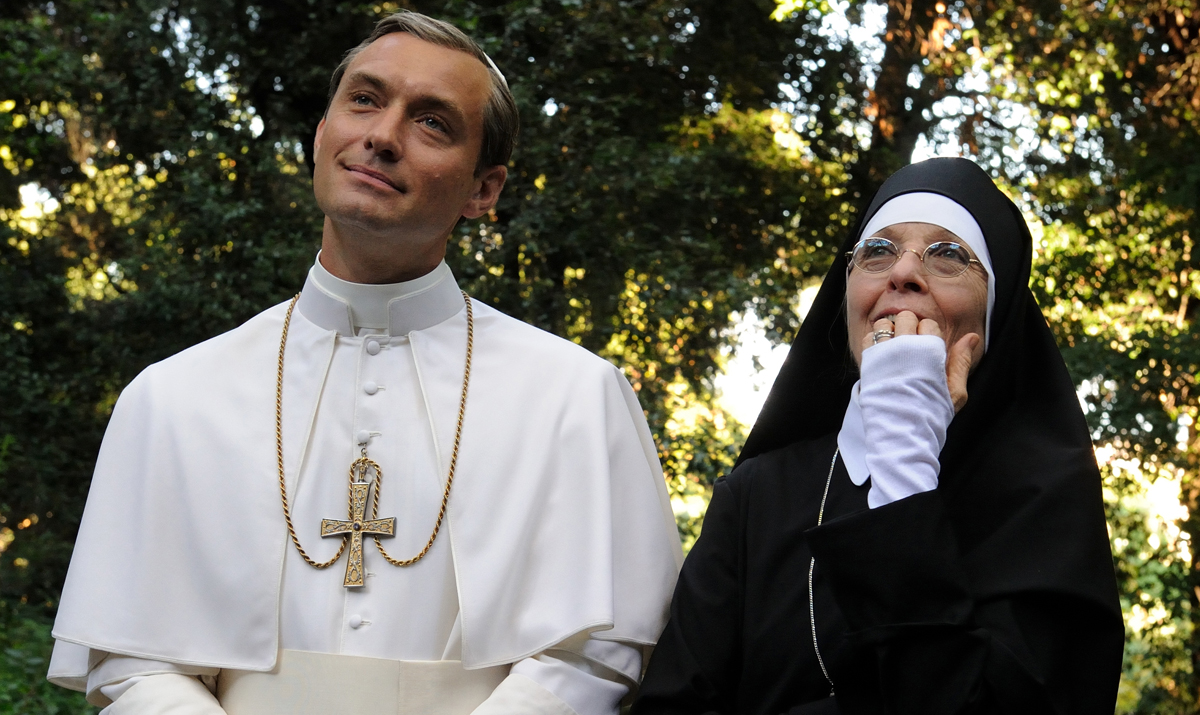 So far Lenny's true nature is hard to discern. He refuses to allow his picture to be stamped on Vatican merchandise, and hates being photographed. He defies papal tradition by smoking in the Vatican, drinks Cherry Coke Zero and likes Daft Punk and Banksy. Mistakenly written off by some as a "photogenic puppet", he has a streak of peremptory cruelty and isn't afraid of sacking people. He says he's "intransigent, irritable, vindictive, and I have a prodigious memory."
Anyone expecting him to be a soft touch would have been confounded when he finally delivered his inaugural speech, not a revolutionary modernising manifesto but a scorched-earth tirade of Old Testament proportions – "I don't have to prove that God exists, it's up to you to prove that he doesn't!" In his 24/7 Total God universe, "there's no room for free will, no room for liberty, no room for emancipation." Lenny means war. So do Cardinals Voiello and Spencer. Lock and load, your Holinesses.
The Young Pope is available to view on Now TV
Lenny's true nature is hard to discern. He has a streak of peremptory cruelty and isn't afraid of sacking people
rating
Share this article