Mom and Dad review - daft and dark zombie thriller |

reviews, news & interviews
Mom and Dad review - daft and dark zombie thriller
Mom and Dad review - daft and dark zombie thriller
Nicolas Cage goes crazy at the kids
Wednesday, 28 February 2018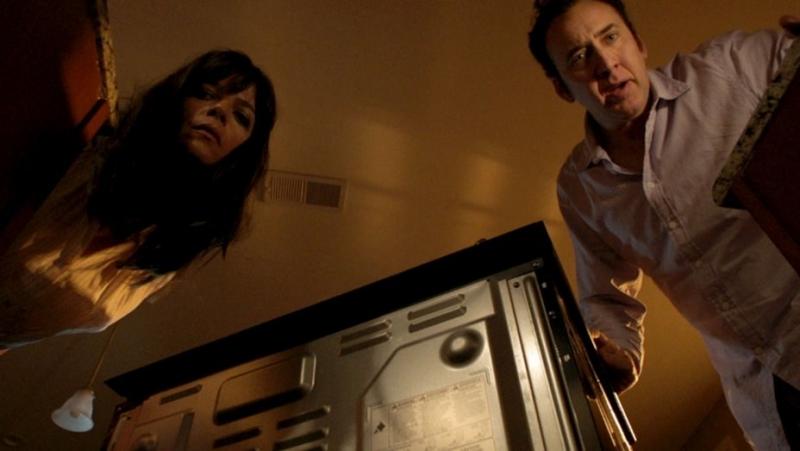 Selma Blair and Nicolas Cage clearly had fun making 'Mom and Dad'
As Mom and Dad opens, after a comically shocking preface, the Ryan family are presented as a typical all-American middle-class family – albeit one that, strangely enough, can afford a daily maid who cooks their breakfast.
The family bicker good-naturedly as any family does; teenage daughter Carly gets ready for school while her younger brother Josh play-fights with dad Brent (Nicolas Cage). But is that just the faintest whiff of false bonhomie when, amid the pulled punches and bear hugs, Brent shoots Josh (Zackary Arthur) a furious look? Or is it something worse? It is indeed something way, way worse as writer-director Brian Taylor lays down just a tiny early clue as to how this dark comedy thriller will end.
Taylor builds the action slowly as the first half of the film shows the family going about their day. Mum Kendall (Selma Blair) tries to have a meaningful talk with Carly (Anne Winters, pictured below with Zachary Arthur) on the drive to school but she's in stroppy teenager mode. Later she takes a hot yoga class with a fellow yummy mummy friend, where they objectify the attractive male yoga teacher. Then we see the strains: Kendall reminisces about her pre-children life as an accomplished businesswoman, and Brent whiles away the hours at his boring office job reliving (in flashback) his horny, druggy youth.
Suddenly the tone of the film changes as we visit Carly's school – where the pupils' parents are gathered, eerily keen to get to their kids. They are in the grip of an unnamed plague that has turned parents into homicidal maniacs – but only with the intent of killing their own children. To anyone else they are sweetness and light.
When Carly realises what's happening, she rushes home to save her little brother, helped by her boyfriend Damon (Robert T Cunningham), similarly escaping a fight to the death with his own father, and what follows is a long sequence of cartoonish violence in which Kendall and Brent try to outwit Carly, Josh and Damon. Each team plots to kill the other, ingeniously using only things to hand in the family home.
The humour is dark, and predicated on the notion that all parents, at some point in their children's lives, want to throttle them – after all, what parent has never uttered the words "I could kill you right now" with a particularly recalcitrant child? But it also more seriously plays with the notion of unconditional love – does it really exist? – and allows us to deduce that the zombie parents were acting on an inner feeling that had only to be unlocked by some exterior force.
Taylor, who made the Crank films and Ghost Rider: Spirit of Vengeance with Mark Neveldine, playfully references several genres – cheesy family comedies, US high school dramas, zombie movies and the Home Alone franchise. Cage does crazy better than anyone, and he and Blair clearly had great fun on set as the chemistry jumps off the screen. Mom and Dad is daft and, parental/care-giver sensibilities aside, a good laugh.