Life |

reviews, news & interviews
Life
Life
Robert Pattinson and Dane DeHaan star in an insightful biopic of James Dean
Friday, 25 September 2015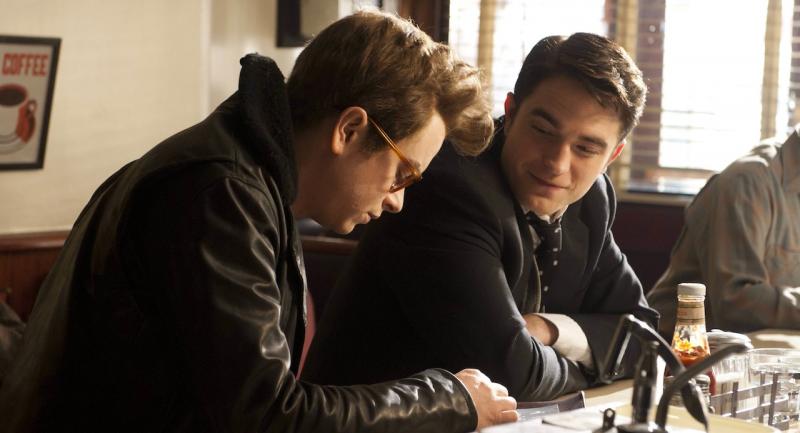 'You're doing something else. It's not Hollywood.' Robert Pattinson makes his pitch
In an age when film stars take selfies at the Oscars and photobomb other celebrities, and when the bashful have little control of their image saturating the internet, it may be hard to imagine a time when an actor could be on the verge of stardom without anyone having any idea who he was – or a moment when a photographer could have the inclination or intimate access that could actually touch on something truthful.
But by all accounts this was the case in 1955, for the actor James Dean and for Dennis Stock, the Magnum photographer who took the pictures that have become most associated with the iconic star. The title of Anton Corbijn's film about their encounter has a double meaning: most obviously, it's the name of the magazine that carried those photos, shortly before the New York premier of Dean's first film, East of Eden; but it also alludes to what those photos were really about – a man's life and not his celebrity, his real self and not an image concocted by a film studio; it's about authenticity, the very quality that made Dean's acting so significant.
Dean's struggle with the fame that was just around the corner, and Stock's determination to get the scoop that would transform his own career are the twin drivers of one of those canny biographies that doesn't attempt A-Z coverage, but instead focuses on a snapshot that – much like the Life feature – strikes at the heart of its subject.
When Stock (Robert Pattinson) gatecrashes a celebrity pool party in Los Angeles, he's a talented photographer languishing as a "red carpet guerrilla", impatient for a project that will distinguish him. Dean (Dane DeHaan) is able to drink alone by the pool, equally anonymous, yet the actor is being disingenuous when he tells Stock that he has a "little part in Kazan's film". Not only is it a lead role, but Nicholas Ray, whose name Stock cheekily dropped in order to crash the party, has Dean lined up for Rebel Without a Cause. He won't be unknown for much longer.
Dean is shy, but friendly, and invites Stock to a private screening of Eden the next morning. On seeing his performance, the photographer realises that he's found what he's looking for. "You're doing something else. It's not Hollywood," he tells the actor, suggesting a photo-essay that will introduce Dean to Life's readers. Initially, Dean won't play ball. "I lose myself in my roles. I don't want to lose myself in this... other stuff," he complains. "And you're this other stuff."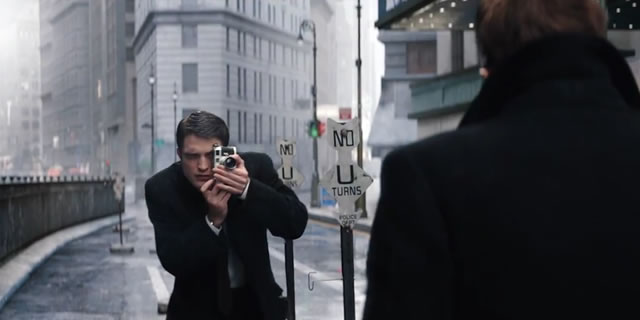 And so begins a sort of cat and mouse, that moves from LA to New York and, when Dean finally relents, to his hometown in Indiana. One of the nice surprises of Luke Davies's script is that both men confound expectations. The photographer isn't the grounded one, a solid, wise professional making sense of an "artistic temperament"; in fact, it's Stock who is desperate for success, who suggests a dark family history and is himself a conspicuously poor parent, who struggles to fit in. While Dean does act like an unreliable brat to his studio handlers and studio chief Jack Warner (Ben Kingsley), he's seen to be rooted in his family, his hometown and his craft; he's just petrified of what will happen to all of that, when his talent is made known.
From West Coast to East, then to the Midwest, there's something vivid, and at the same time refreshingly matter-of-fact about the way that Corbijn, his talented cinematographer Charlotte Bruus Christensen and the film's designers capture the period. Likewise, the scenes in which the famous photographs are taken are not weighed down by significance. The Times Square shot is seen to be snapped on the move, the project at a low point and both men merely going through the motions; it's left to us to see the moment for what it is. And the bookish, diffident, non-conformist Dean never loses his discomfort at the presence of the still camera, even when he's sanctioned it.
It's apt that the film should be directed by Corbijn, himself a hugely successful photographer – notably of musicians – long before he started making films (Control, The American, A Most Wanted Man), and who knows a thing or two about capturing a defining image. His presence behind the camera is accompanied by a pulsing irony in front of it – that the man playing the photographer should be Pattinson, one of today's most famous actors, who knows what it's like to be hounded by paparazzi, while playing one of cinema's immortals is DeHaan, the comparative unknown.
They're both very good. Pattinson has a naturally introverted quality to his acting, and gives Stock a nervy desperation and pent-up turmoil that suggests he's exactly the kind of character – turned inside out by societal demands – that Dean would express in his films. DeHaan has the harder job, of course. At first he seems miscast – not handsome enough, his look contrived, the voice an annoying whine. But then we remember that Dean's voice was not appealing, though almost inviting in its strangeness; and the looks need be no more than in the ball park. Once we're used to him, DeHaan convinces as a complex young man: cocky and rebellious, yet at ease and without condescension among his Quaker family and the kids of his old school; terrified of the red carpet, while in his element among fellow actors or dancing with the already famous Eartha Kitt; intelligent and self-possessed, but not made happy by his self-knowledge.
Stock says of Dean, "There's awkwardness, but something very pure." As the film finishes, just months away from his tragic death, we're reminded that the title of the Life feature was "Moody New Star". It's a tart reminder of how, when almost anyone who's individual is thrust into the public eye, the purveyors of celebrity see only what they wish to see, limited by their imagination.
Overleaf: watch the trailer for Life