Eiffel review - sensuous secret history |

reviews, news & interviews
Eiffel review - sensuous secret history
Eiffel review - sensuous secret history
Concocted romance gives the Eiffel Tower shaky but lavishly entertaining foundations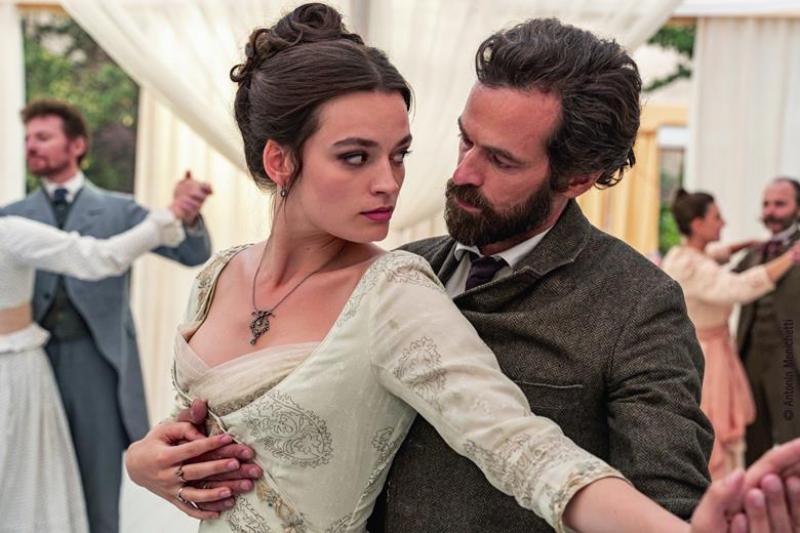 Dance away: Arlette (Emma Mackey) and Eiffel (Romain Duris)
This is a romantic historical epic with elan, giving sensual immediacy to a fanciful secret history of the Eiffel Tower, here inspired by a forbidden, rekindled romance between Gustave Eiffel (Romain Duris) and Arlette Bourgès (Sex Education's Emma Mackey).
Director Martin Bourboulon evokes belle epoque Paris's bustling modernity, suffused with a golden gaslit glow or fogged with shadow, as middle-aged widower and brilliant, honoured engineer Eiffel arrows through his working day. Already responsible for the Statue of Liberty's internal structure, he now wants to build the Metro for the 1889 World's Fair, not his employees' contemptuously dismissed tower design. Meeting his journalist friend Pierre's wife Arlette at a dinner party, erotic immediacy further dissolves period film primness, as they stiffen with secret recognition, bodies filling each other's vision, sound design amplifying every breath as their hearts pump hot blood.
Beginning an artful flashback structure, we're then plunged into a river as young Eiffel rescues a drowning worker on his first major project 20 years before, witnessed by young Arlette, the headstrong, intellectually curious teenage daughter of Bordeaux bourgeoisie. Duris had Al Pacino's Scarface performance in mind for the youthful Eiffel, recapturing some of his own feral edge in his career-making The Beat That My Heart Skipped (2005). Mackey has a potently contemporary face and thrusting physicality, conveying hungry intelligence. Their first, consuming romance and its cruel ending plays out in parallel to its 1890s second act, which inspires Eiffel to take a grand risk with the Tower.
Bourboulon is known for comedy (Papa ou mamam) and sets a brisk tempo. Eiffel's delicately edited, relentless momentum still finds room for intimate set-pieces: the tense scrape and click of teacups at breakfast as Pierre suggests he knows Arlette's guilt, and a strange stand-off in an empty, tree-lined avenue confirming it. These scenes balance Eiffel's epic scale, which attracted Ridley Scott during its Caroline Bongrand screenplay's 24-year stagger to the screen. You could equally imagine David Lean or James Cameron admiring Eiffel's great man view of history, which adores Gustave as he wills his Tower into being with charismatic conviction and an artist's inspiration (downplaying its original designers).
With Spielberg-like world-building of rare Francophone ambition, Bourboulon and set designer Stéphane Taillason had the Tower's foundations built full-scale then digitally enhanced. Its giant, jagged struts loom over the Seine, an alien construction of mathematical brilliance which is a hell of shifting river-mud and deafening noise at its base. Gustave leaps among its girders, the engineer as noble savage, facing down a strike with force of will and wild promises. You can feel the wind shift its creaking skeleton as Arlette and Gustave embrace at its half-finished summit, embodying their dangerous love.
Much like Gustave's grand idea, Bourboulon keeps his confection afloat for most of its length, till the laws of dramatic gravity finally kick in, the absurdity of his lovers' concocted reunion, and the growing Tower as Carry On symbol, sinking it at the very last. The potently delivered pleasures of muscular history, lavishly appointed romance and an attractive, convincing cast means Eiffel delights despite its flaws.
Erotic immediacy dissolves period film primness, sound design amplifying every breath
rating
Explore topics
Share this article