DVD/Blu-ray: Rolling Thunder Revue: A Bob Dylan Story |

reviews, news & interviews
DVD/Blu-ray: Rolling Thunder Revue: A Bob Dylan Story
DVD/Blu-ray: Rolling Thunder Revue: A Bob Dylan Story
Scorsese and Dylan's smoke and mirrors can't obscure an exhilarating tour
Masked and anonymous: Scarlet Rivera and Bob Dylan
In the autumn of 1975, Martin Scorsese was finishing Taxi Driver, Bob Dylan began his Rolling Thunder Revue tour, and Orson Welles' F for Fake premiered in New York.
Welles' manipulation of found documentary footage of art forger Elmyr de Hory into a viewer-hoodwinking shaggy dog story has far more to do with Scorsese's film of Dylan's tour than, say,
The Last Waltz
.
Rolling Thunder Revue: A Bob Dylan Story is a film of crude forgeries and exhilarating truths, fake interviews and vérité theatre, smoke and mirrors. Tipping the wink with its subtitle, and the opening, titular trick from Georges Melies' The Vanishing Lady (1896), we soon meet Sharon Stone, recalling heady days as a wide-eyed teen intimate of the tour, the pretentious director who filmed it, Stefan van Dorp, and wistful Democrat Senator Jack Tanner: every one a ringer, who dominate the testimony of true tour vets (van Dorp is dyspeptically played by Bette Midler's husband Martin von Haselberg, and Michael Murphy revives his character from Robert Altman's mockumentary Tanner '88). Dylan himself enthusiastically marshals the subterfuge in a new interview. Desert dry in his deadpan ruminations, he manages two factual statements in 2½ hours, in hilarious and telling counterpoint to his 1975 self.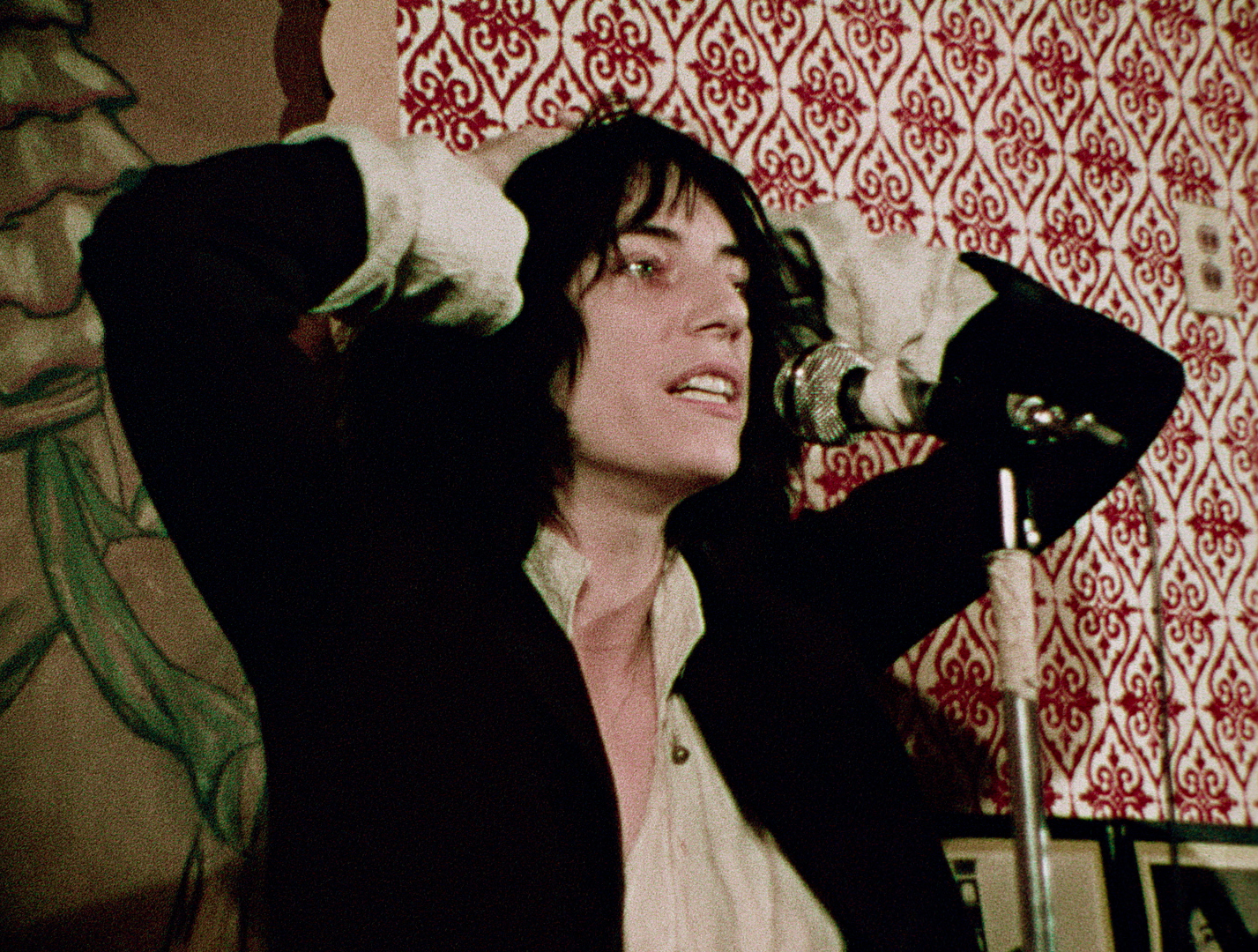 If the Rolling Thunder Revue can be reduced to facts, here they are. Dylan's nostalgic return to Greenwich Village folk clubs in the summer of 1975 had drawn a resurgent scene around him, which he resolved to take en masse to startled, small New England towns as America's 1976 Bicentennial loomed. It became a theatrical show of up to four hours, featuring Roger McGuinn, Mick Ronson and Joan Baez, picking up a bewitched Joni Mitchell along the way, and employing Allen Ginsberg as baggage handler (Patti Smith, pictured above at a tour try-out, elected to stay in New York).
"We were struggling for a long time," editor David Tedeschi remarks in the Extras of properly using 100 hours of 1975 reels, "to figure out something that was commensurate with the spirit of the tour." Their semi-fictional path became clear when they realised several participants "jump off the screen" so much they "appear to be written". Indeed, Scorsese's greatest trick is to make the project much of their behaviour was written for, Renaldo & Clara (1978), vanish from his work. Dylan's own improvised, dramatised film made around the tour was last seen in the dead small hours of Boxing Day in 1983 on Channel 4, then on samizdat VHS copies and flickering uploads to YouTube's outer limits. "It's not just another tour but more like a pilgrimage," Sam Shepard, its largely ignored, supposed screenwriter, wrote at the time. "The spur for this is mainly the film. The hunt for location, for characters, for situations...is having an effect on everything we do."
Renaldo & Clara is therefore plugged directly into the electrifying currents and singed edges of the USA as Nixon and Saigon fell, because the tour as a whole went looking for it. Taxi Driver similarly gave form to the steam of that bankrupt, violent New York summer. Rolling Thunder Revue's own efforts at context feel contrastingly second-hand, as if Marty no longer remembers it for real. His 1975 footage's tender, eccentric collisions with the rest of America – Ginsberg reciting "Kaddish" to older Jewish women as they play mah-jong, Dylan and Ginsberg awkwardly communing at Kerouac's grave, Dylan and Baez's erotic, nostalgic sparring – arose from Renaldo & Clara.
Authorship and authenticity is Scorsese's avowed subject here, he says in his Extras interview, but Rolling Thunder bandleader Rob Stoner is among those righteously dismayed at the cavalier attribution of true credit entailed by van Dorp. Scorsese's plaudits for No Direction Home, earned by DA Pennebaker and Murray Lerner's blistering Sixties Dylan footage, and Dylan's whole magpie career, show form here. Renaldo & Clara's real cinematographers are, though, prominently named, and Tedeschi's interview pays thoughtful tribute to Howard Alk's still, intimate filming of performance.
Where director Dylan skimped on this glorious live footage, Scorsese clears the decks for whole songs. "Isis" alone justifies his film: Dylan's arms rangy and loose by his side, voice hoarse and raging, black-ringed eyes burning from white face-paint, pinning you to your seat. He prowls amongst his band, spinning and circling, lyrics mere bulleted ammunition for a voice on all-out attack. The Extras add three further full performances. A girl in the audience weeps afterwards, showing what it meant.
Yet when Tedeschi assembled the straightforward tour film fans pined for, "it was kind of dull". Scorsese instead wove tinnily fake actors, profound gigs, past, present, and a final, poignant idealism about community and freely conjured selves into a tidier tapestry than Dylan's wild underground film. Perhaps sidelong glances and legerdemain are the only real way to approach that strange, romantic expedition of 1975.