Bill & Ted Face the Music review - modestly delightful |

reviews, news & interviews
Bill & Ted Face the Music review - modestly delightful
Bill & Ted Face the Music review - modestly delightful
The slacker time-travel double-act's cheerfully cheap return
Saturday, 19 September 2020
Destiny calling: Bill (Alex Winter) and Ted (Keanu Reeves)
Beavis and Butthead's vicious grunge-era gormlessness remains interred, Wayne and Garth (and their stars' careers) are too superannuated to revive.
But here are the slightest of Gen X's idiot
double-acts
, back again to save the universe in a
time-travelling
phone-box.
Bill & Ted's Excellent Adventure (1989) and Bill & Ted's Bogus Journey (1991) were only ever cult hits, giving no studio impetus for this third film, whose script was being hawked around nine years ago. Keanu Reeves (Ted), Alex Winter (Bill) and original writers Chris Matheson and Ed Solomon instead made it as fans of their own characters: two sweetly innocent, talentless suburban rock fans, stoner in style but clean-living, whose band Wyld Stallyns somehow triggered a future utopia with their music.
We rejoin Bill and Ted in craggy middle-age, still married to the 15th century English princesses acquired last time, and doggedly trying for prophesied greatness. The canyon between ambition and talent sees them depart from a tuxedoed wedding band brief to clear the dance-floor with cacophonous prog-metal. The princess brides drag them to marriage guidance to address their arrested development, but can't crack their klutzy bond. Only similarly music-steeped and sunny-minded daughters Thea (Samara Weaving) and Billie (Brigitte Lundy-Paine, pictured below) keep faith in a music career which, having conquered Mars in Bogus Journey, now barely leaves their garage.
When Bill and Ted are whisked to the 28th century to be told reality depends on them finally writing a cosmos-uniting classic in this short movie's remaining minutes, it at least gets them out of the house. Dimly accepting their limitations, they hop through their own futures, hoping to find the song finished. Instead future Bills and Teds – fat failures, muscle-bound jailbirds, glam-trash fakers squatting in Dave Grohl's mansion – berate them for blowing it. Meanwhile their wives, daughters, and depressed android assassin Dennis, sent by a future faction who suspect killing their supposed saviours will fix reality more reliably than their music, each pinball through time too. It's fate-hopping horror The Butterfly Effect remade as hectic farce.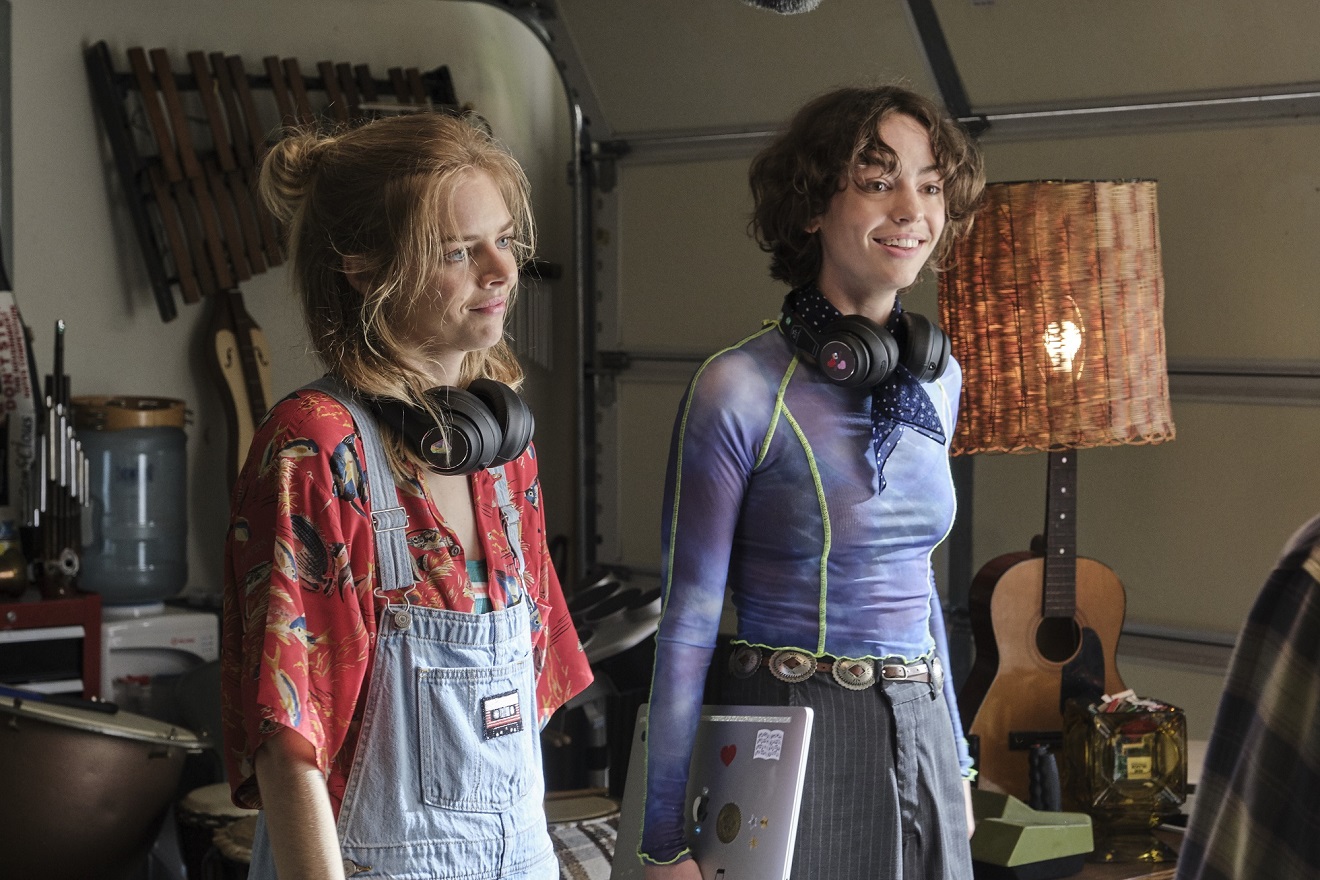 Cultural appropriation is Billie and Thea's literal intention as these suburban white kids scoop up Louis Armstrong, Hendrix and Mozart for a helpful dream band. Not as thuddingly wrong-headed as Michael J. Fox teaching Chuck Berry rock'n'roll in Back to the Future, and aware enough to chuck in a gender-switched ancient Chinese composer and Stone Age African female drummer, it's all anyway too harmless for offence.
Reeves' John Wicks career resurrection can't up previous paltry budgets, and production values stay that of Eighties TV sf. From set design to time-tunnels, there's little imagination or CGI gloss. Director Dean Parisot, best known for Galaxy Quest (1999), in which the cast of a Star Trek-like TV show are similarly witless saviours, fits the cheerful cheapness.
Writers Matheson and Solomon also remain sloppily indifferent to awkward time paradoxes or historical research, favouring goofy invention suiting their heroes' characters. Reeves and Winter are therefore helped in the film's most effective time travel, as they revisit their youthful characters' undimmed innocence. Though not exactly poignant even when viewing his own deathbed, the weathered Reeves' eager klutziness is vaguely delightful. In a suitably modest film, it's surprisingly cheering to have them back.
In the film's most effective time travel, Reeves and Winter revisit their youthful characters' undimmed innocence
rating
Explore topics
Share this article