Are You There, God? It's Me, Margaret review - Judy Blume's iconic novel hits the big screen |

reviews, news & interviews
Are You There, God? It's Me, Margaret review - Judy Blume's iconic novel hits the big screen
Are You There, God? It's Me, Margaret review - Judy Blume's iconic novel hits the big screen
Pre-teen angst: growing up in the New Jersey suburbs in the Seventies
The horror of buying a bra: Rachel McAdams as Barbara and Abby Ryder Fortson as her daughter, Margaret
Margaret Simon (a brilliant Abby Ryder Fortson) is 11. What she wants above all is to be "normal and regular like everyone else". This means getting her period at the right time – "I'd die if I didn't get it till I was 16," she tells her mother (Rachel McAdams) – and filling out her Gro-Bra. An only child, she makes God her confidant and asks him to help.
Writer-director Kelly Fremon Craig's charming, atmospheric movie is mainly faithful to Judy Blume's iconic novel, fans will be relieved to know, though transferring such an interior life on to the screen is by definition problematic. It was published in 1970, before YA existed as a category. Banned by some libraries at the time – and her books, still bestsellers, are being banned again today – it resonated with its American pre-teen audience in a new, truly groundbreaking way, with its empowering, unmoralising approach.
This was a book that sounded as if its author really knew what it felt like to be on the complicated cusp: too old to be a child, too young to be a teenager. It's hard to know what a 10 or 11-year-old will make of the film's mild excitements now, but their parents will probably flock to it, enjoying the comforting sight of school life before TikTok and social-media bullying.
Margaret's father is Jewish, her mother Christian, but they're secular and are leaving it up to her to make a choice about which one – if any – she'll choose when she's old enough. Why wasn't she born one way or another, like most people? She asks God about this too, and whether she should go to the Y or the Jewish Community Centre (probably not something that most British kids agonise over) as well as asking him fervently to let New Jersey, where she's moving to from NYC, not be too horrible.
The film is bookended with summer camp, that quintessentially American institution. Margaret comes back to New York from New Hampshire on the bus, full of excitement at seeing her parents and beloved, feisty grandmother Sylvia (Kathy Bates, pictured above with Abby Ryder Fortson as Margaret, and below) again, only to discover - shock horror - that her parents have bought a house in New Jersey. It's bridge and tunnel time. Sylvia disapproves strongly. Obviously there are no good delis in New Jersey, for a start.
Her mother, Barbara, is a painter and art teacher and can't cook. She loves her work, as Margaret reminds her. How are the 'burbs going to suit her, suddenly jobless, a Fifties-style home-maker, ready with milk and cookies after school? This is not fully explored. It's skated over, in fact, but this is Margaret's story, after all, and there's a wonderful moment when people-pleaser Barbara is enlisted into cutting out thousands of stars for the ceiling of a gruesome leader of a PTA committee. Her new life runs in parallel to her daughter's, but not in any meaningful way.
While Barbara's unpacking boxes on their first day at the new house (Margaret's slightly clueless dad, Herb, played by Benny Safdie, has driven off to work), a girl from down the street appears at the door and asks Margaret to run under the sprinkler with her. Oh, the glories of suburbia. They're in the same class at school, it transpires. And Nancy (Elle Graham) has a brother (Landon S Baxter) and a friend (Aidan Wojtak-Hissong). Maybe things are not so horrible after all.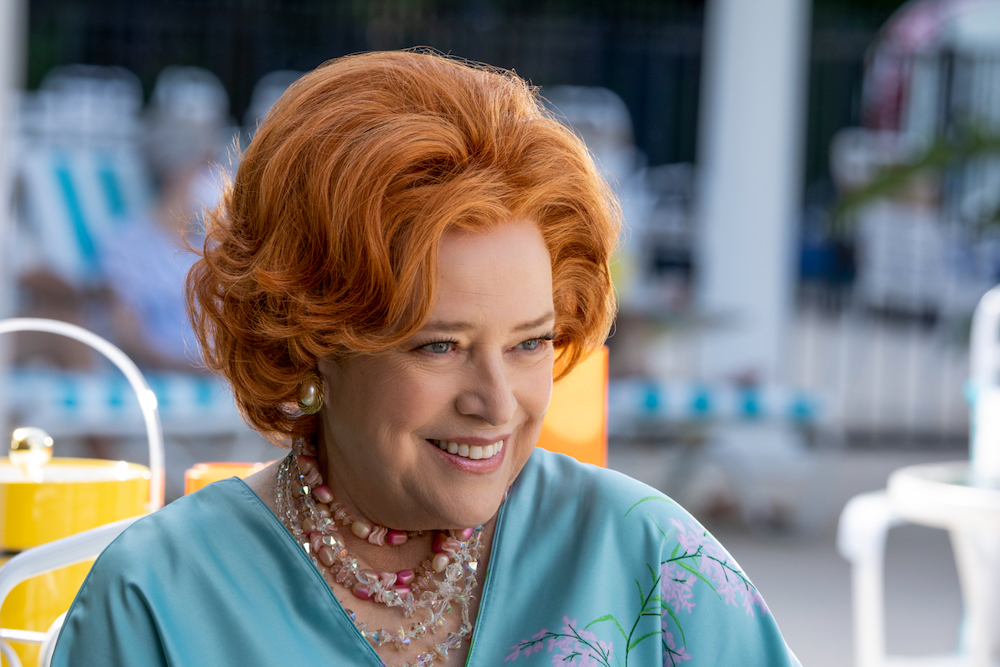 Margaret has a charmingly self-contained manner and bossy Nancy, who's a queen bee though not a terribly fearsome one, invites her, after demonstrating her kissing technique on the bedpost while Margaret looks on in amazement, to join her secret club. The rules are not to wear socks, to wear a bra, however unnecessary, and to chant, "We must, we must increase our bust" at any idle moment, accompanied by arm exercises. Delightfully real and funny, there's nothing patronising about this.
They must also make a list of boys they find attractive and, most importantly, tell each other as soon as they get their first period. It's on the last count that Nancy stumbles and Margaret realises that her friend is not all that she seems. And that the gossip started by Nancy about isolated, silent Laura, (Isol Young) the tallest girl in the class, who's definitely moved beyond the Gro-Bra, is a cruel lie.
As well as periods and breasts and kissing the class heart-throb who seems nice but isn't, Margaret's forced to confront the religion conundrum, partly because of a school assignment. She tries out various churches and goes to temple with Sylvia, a mystifying experience. God isn't to be found in any of these places, she's disappointed to discover. He's only around when she's alone.
And, in the most dramatic scene, which veers away from the novel, God is noticeably absent when it comes to a visit from her mother's hyper-religious parents, who disowned their daughter when she married a Jew and who suddenly make contact after 14 years. Tensions run high when Sylvia thinks they're trying to convert her granddaughter and Margaret feels alone and sad while adults lose their tempers. Religion just makes people fight.
But she's not downhearted for long. This is the world of an 11-year-old – a sixth grader, in American parlance – and Margaret's full of hope as her mother gets her trunk ready for camp. With – yay – Teenage Softies sanitary pads included. Finally!