Dance for Ukraine, London Coliseum, online review - a gala to remember |

reviews, news & interviews
Dance for Ukraine, London Coliseum, online review - a gala to remember
Dance for Ukraine, London Coliseum, online review - a gala to remember
Swiftly-assembled charity effort demonstrates dancers' engagement with the world
Flying the flag: Alina Cojocaru and Ivan Putrov trained together as 10-year-olds in Kyiv
What do top ballet dancers keep permanently in their back pocket? Answer: a fully rehearsed, ready-to-go gala item, to judge by a one-off fundraising event mounted in double-quick time at the Coliseum last month and now available to stream, raising more funds for the DEC Ukraine Humanitarian Appeal.
The initiative came from Alina Cojocaru, Romanian by birth, and Ivan Putrov, a Ukrainian, both former principals of
The Royal Ballet
who trained together as 10-year-olds in Kyiv.
As soon as the horror in Ukraine hit home the pair pooled their work contacts, inviting top-ranking colleagues from across Europe to donate their time and talent to a gala at London's Coliseum (pictured below). What's astonishing about Dance for Ukraine is the breadth of programming and polish achieved in little more than a fortnight, from idea to execution. If there's any fault at all it's over-abundance, perhaps the result of every dancer on the list saying yes. But who's to complain when dancing is as good as this?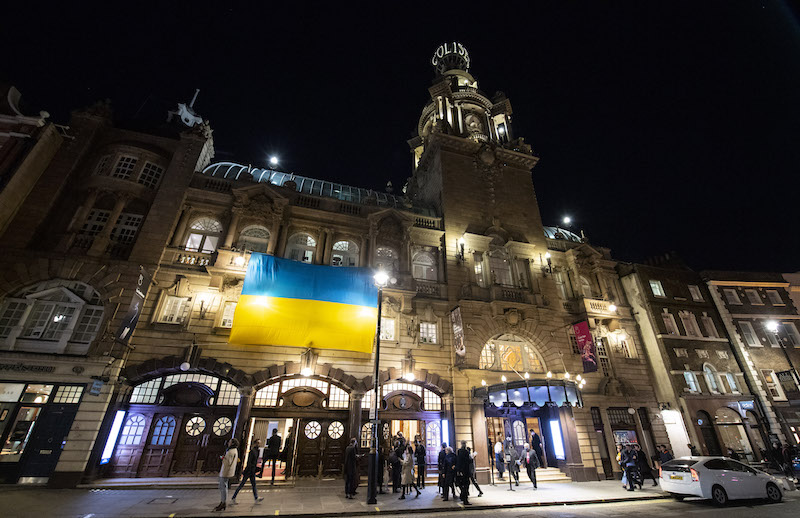 Galas have a reputation for being frothy – a chance for high net-worth individuals to bask in the ballet equivalent of the Classic FM Hall of Fame. This gala was different. For a start, the breadth of talent on display was startling, with principal dancers from all the main UK ballet companies and beyond. And froth was in short supply. Following touchingly ad hoc speeches in which Cojocaru alluded to democracy and Putrov spoke of the fragility of human life, several of the opening numbers gained in gravitas, though Liam Scarlett's No Man's Land hardly needed it. Created for ENB to mark the centenary of the First World War and set to brooding piano music by Franz Liszt, this sorrowful pas de deux could have been made for this event, as danced by the Ukrainian Katja Khaniukova. But that turned out to be a mere prelude to the impact of the single Russian dancer on the bill.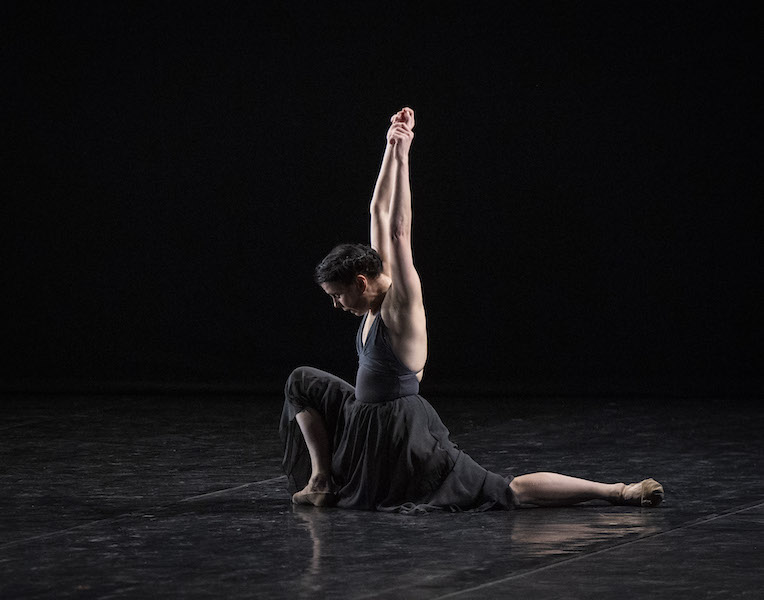 Ashes, a solo made for Natalia Osipova (pictured above) by her off-stage partner Jason Kittelburger, presents a woman overcome by a succession of conflicting emotions: grief, incomprehension, anger, crazed hope. Barefoot in an unflattering grey frock, she ranges and rages across the deep Coliseum stage, a tornado of feeling and not-feeling, her numb despair by far the more devastating. If this had been the only ballet of the evening, it would have said all that was necessary to say. Osipova has often been called a force of nature, but that doesn't begin to describe her absolute technical and dramatic command. Suffice to say that she is superb, and this performance unforgettable.
Other items were twists on standard gala fare, such as The Dying Swan. This featured a bare-chested Javier Torres, channeling the young Marlon Brando with his slicked-back hair and chunky musculature, navigating the bird's drawn-out demise with steely, almost frightening conviction. Another off-piste pleasure was an excerpt from Kenneth MacMillan's Requiem performed with quiet aplomb by Marianna Tsembenhoi, a young Ukrainian who recently joined the Royal Ballet's Aud Jebsen Programme. With her beautifully rounded limbs she underlined the cool, two-dimensional nature of the choreography, as if she were a figure on a Greek vase or Egyptian frieze. The result was a thing of clock-stopping beauty.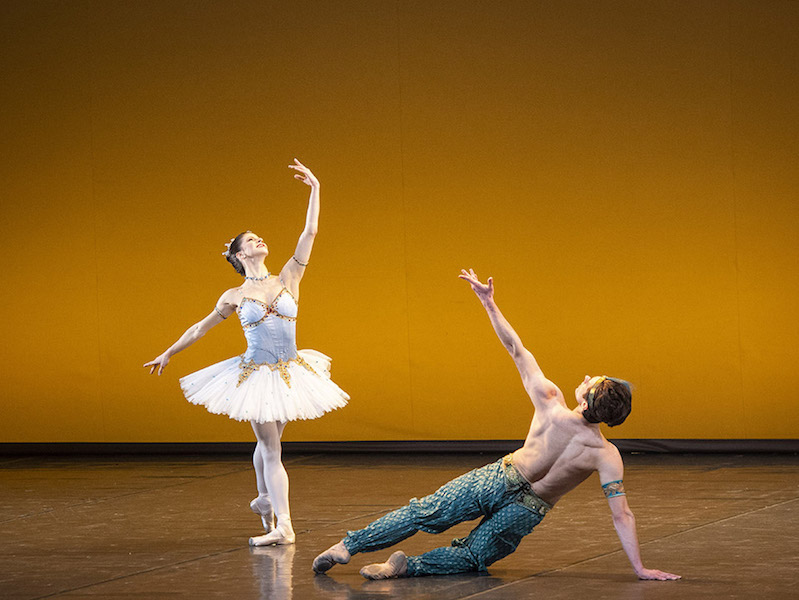 There was joy to be had, too. The warhorse Corsaire pas de deux gave ENB principal Francesco Gabriele Frola (pictured above alongside the Royal Ballet's Mayara Magri) the chance to show off some demonically complicated jumps, knotting and unknotting his legs mid-leap. An equally jet-powered Don Quixote pas de deux came courtesy of Birmingham Royal Ballet's Mathias Dingman and Miki Mizutani, both only just managing to keep a lid on the show-off absurdity of it all. Classical grandeur came in the form of the Royal Ballet's immaculate Marianela Nuñez partnered by Reece Clarke in Balanchine's Tchaikovsky Pas de Deux, the ENO Orchestra under conductor Alex Ingram swelling every breast in the house. Even Alina Cojocaru, the evening's co-host, made time to appear, glossily transformed, to swirl through a blizzard of Chopin in an extract from John Neumeier's Lady of the Camellias.
The most impressive and yet least showy thing about this rapidly-put-together show was its serious intent. An evening that had begun with mezzo soprano Ksenia Nicolaieva delivering the Ukrainian national anthem with resounding force was bookended with a rendition of orchestral music by Glazunov (a Russian, St Petersburg-born). The piece was from Glazunov's ballet score Raymonda and bore the title "The Triumph of Love". As it played, all 23 of the evening's performers formed a line across the Coliseum stage and faced the audience – not to take applause, but to meditate on why they were there, which as the programme stated was to "stand with the people of Ukraine". This was a brave thing to do, since many looked deeply upset and the camera's eye on them was unrelenting. The message was clear: that for as long as Russia's destruction of Ukraine continues, these artists will stand their ground.
Ballet galas have a reputation for being frothy. This gala was different
rating
Explore topics
Share this article