Chloe, BBC One review - good start, weak finish |

reviews, news & interviews
Chloe, BBC One review - good start, weak finish
Chloe, BBC One review - good start, weak finish
Identity-swapping drama runs out of steam in the final furlong
Tuesday, 22 February 2022
Erin Doherty as Becky (alias Sasha) with portrait of Chloe
Suddenly bogus-identity stories are all the rage. Netflix has been scoring big with Inventing Anna, the story of fake heiress Anna Delvey, as well as the The Tinder Swindler, a cautionary tale about a high-rolling conman who scams money from women he meets online.
Meanwhile the BBC has brought us Chloe, screenwriter Alice Seabright's drama about a woman who cloaks herself in a new identity to investigate the death of her childhood friend. Once again, Chloe is about the obsessional allure of the web. It all begins with Becky Green (Erin Doherty) poring over the seemingly gilded life of Chloe Fairbourne (Poppy Gilbert) and her glittering circle of friends, as portrayed in her internet postings. In contrast, Becky is a temp agency worker whose horizons are narrowed by having to care for her dementia-affected mother.
However, Chloe's sudden death switches Becky into action mode, as she sets out on a mission to find out what really happened, and whether Chloe really killed herself. We already know that she has a knack for "borrowing" other people's clothes and brazenly busking her way into openings and parties. Now, the sullen-looking Becky becomes the more ingratiating Sasha – the name of her dead baby sister, it turns out – and sets to work. She neatly engineers a "chance" meeting with Chloe's close friend Livia, which nets her a job with Livia's events organising company. She insinuates herself into Livia's social group, which naturally contains Chloe's husband Elliot (Billy Howle), and boldly climbs into Elliot's bed after he invites the inebriated Sasha to stay at his house rather than risk a drink-driving rap.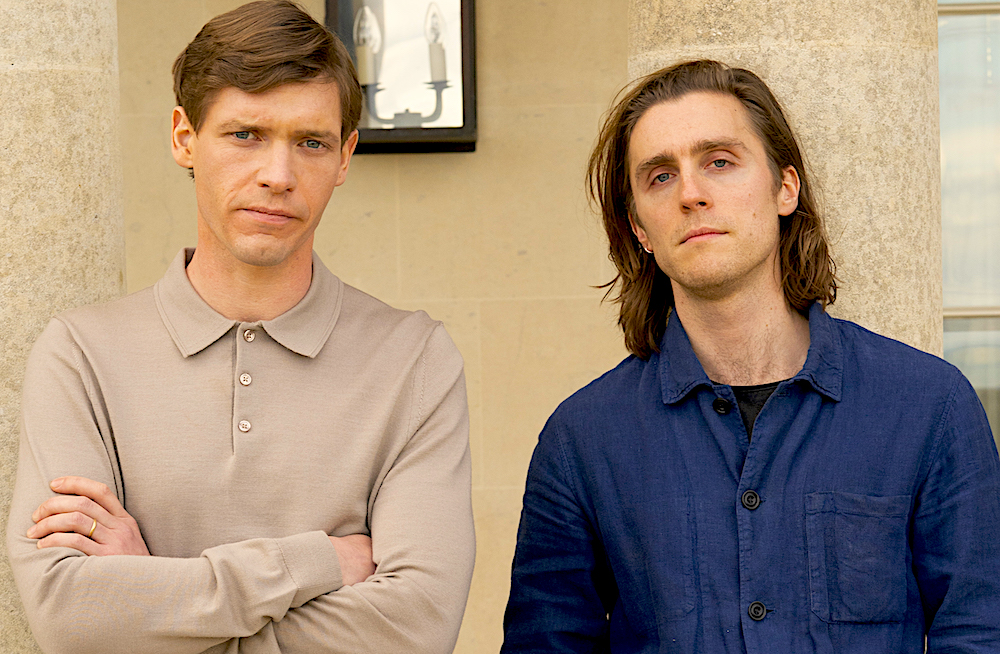 Chloe isn't an especially plausible story to begin with, but the rapidity with which Sasha is able to establish herself as a Chloe replacement is probably its most credulity-stretching aspect. Especially fantastic is the moment when Sasha emerges from Elliot's bedroom, wearing a post-coital kimono, to meet his mother (Phoebe Nicholls), on the day when the family are going to the cemetery to lay Chloe's headstone. It's as if Seabright is saying "I dare you to believe this bit."
Still, the show seemed to be building up to a taut and explosive climax in its final couple of episodes. Sasha's gift for conning people into taking her at her word has unearthed a variety of teasing clues about Chloe's fate, not least the amazingly fortuitous discovery of a priceless box of evidence inadvertently left in a hotel cloakroom. Was Chloe having an affair with doleful drug addict Richard Greenbank (Jack Farthing, pictured above with Billy Howle)? Was Chloe's death somehow connected to her husband's political aspirations as he geared up to get elected as the local MP? Did Elliot, who was proving not to be so quiet and mild-mannered after all, murder her?
Sadly, the narrative mysteriously slowed to a crawl amid lengthy scenes of Sasha investigating a seaside caravan or creeping around Elliot's house in the middle of the night, rifling through drawers and piles of documents by the light from her iPhone, trying to find answers about Chloe's death. A visit to Chloe's parents produced only an exasperatingly ambiguous account of what happened on the night of her death. Perhaps the idea was to evoke the haunting effects of memory and loss which can never be completely resolved, but it felt like a deflating end to a drama which promised much more.