Isserlis, LPO, Jurowski, BBC Proms review - a final hand full of aces |

reviews, news & interviews
Isserlis, LPO, Jurowski, BBC Proms review - a final hand full of aces
Isserlis, LPO, Jurowski, BBC Proms review - a final hand full of aces
A typically adventurous mix, beautifully performed, marks Jurowski's farewell to the LPO
Romantic moderns: Steven isserlis with Vladimir Jurowski and the LPO
We finished with a pure Hollywood moment when John Gilhooly – as Chair of the Royal Philharmonic Society – popped up after the warm applause to announce that the Society had awarded its gold medal to Vladimir Jurowski. Oddly, Covid rules meant that the actual handover took place backstage.
So Jurowski leaves the
London Philharmonic Orchestra
after 14 years as principal conductor– to lead the Bavarian State Opera in Munich – armed with the gong formerly bestowed on Brahms, Barbirolli, Bernstein, Barenboim and Brendel (that's just the Bs). Richly merited, of course, and last night's farewell
Prom
specifically showed why.
Here was no relaxed canter through a stable of old favourites but a typically alert, probing selection of not-that-familiar 20th-century works delivered with the panache, discipline and controlled excitement that has made this partnership such a reliable delight. Often in the last few years I've felt that the "orchestra of soloists" tag belongs more properly to the LPO under their Russian guardian angel than some, ostensibly more glamorous, outfits. Every piece on their Albert Hall programme – by Stravinsky, Walton, Bach (via arranger Friedrich Goldmann) and Hindemith – confirmed that. The ensemble playing too boasts a dash, poise and thrilling cohesion that, when required, brought a glowing depth of orchestral sound back to this still-tentative season of pandemic-era Proms.
Stravinsky wrote Jeu de Cartes as a ballet score in 1936 for the great Georges Balanchine in New York. As an orchestral suite, its programmatic elements (deals, jokers, trumps, tricks and whatnot) hardly matter. What we hear is a fabulously sharp, droll and witty concerto for orchestra, "neo-Classical" but never in a pompous or sclerotic way, that brought out the best from every desk under Jurowski's laser-sharp guidance (pictured below) Indeed, who needs ballet dancers when you have him on the podium as an agile, acrobatic MC, with every darting gesture deftly attuned to the result he wants? As the LPO's splendid trombones laid down the theme that the woods develop, delicious solo moments piled up (particular respect to the tuba, Lee Tsarmaklis) while the strings – stylishly led as ever by the outstanding Pieter Schoeman – bounced and raced against the LPO's deliciously robust and mellow brass.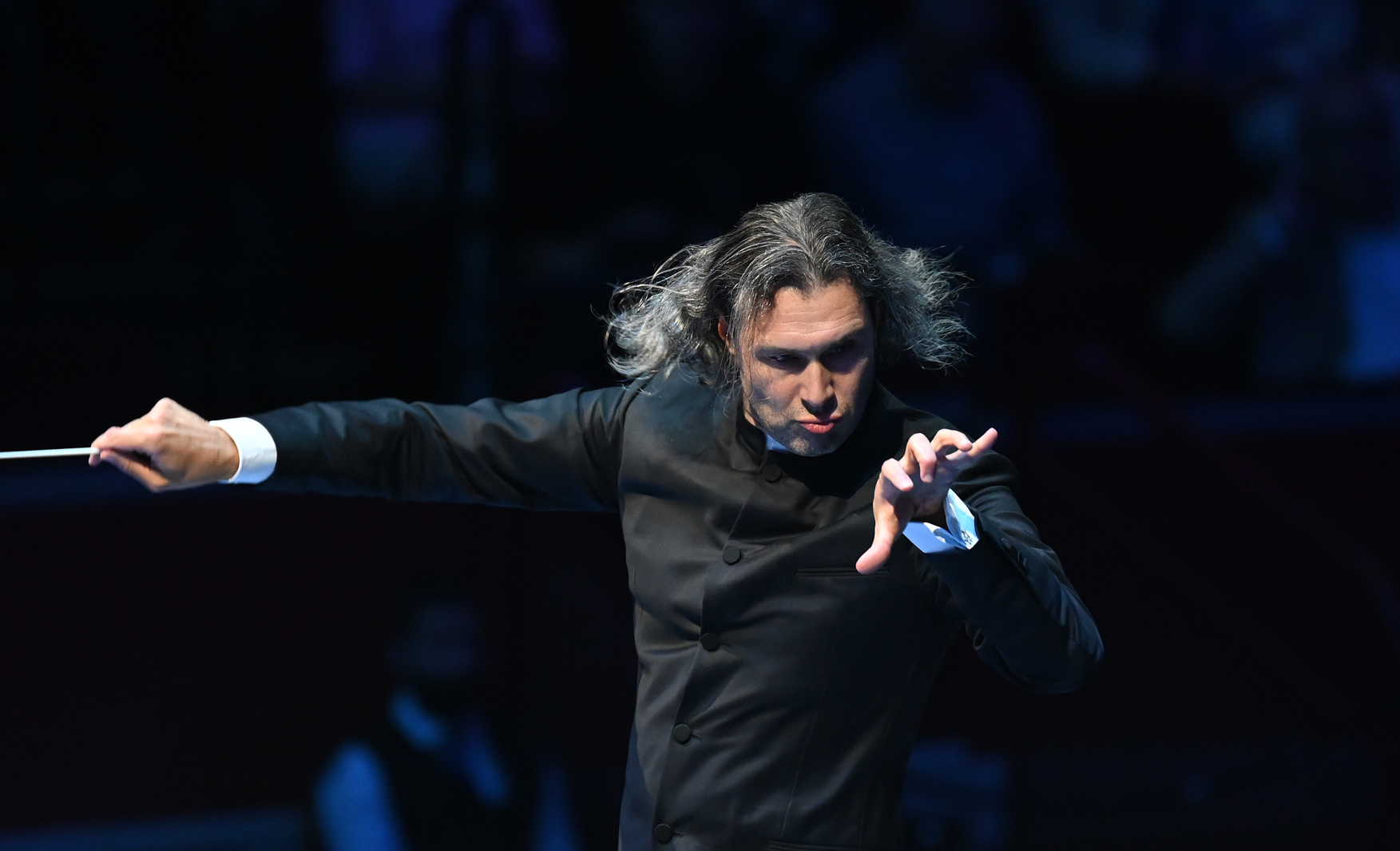 One of Jurowski's artful mood-changes saw Steven Isserlis arrive for Walton's mid-1950s Cello Concerto. Whole-hearted and full-toned, Isserlis made a passionate advocate for this gently melancholy, sometimes meandering, piece. On stage (and in interview) he sets out an excellent case for its nuanced, atmospheric shifts of colour and texture as the equal to Walton's more regularly-heard violin and viola concertos. I'm not wholly convinced, even though Isserlis made the moderato first movement's leisurely, wandering melodies gleam. And he gripped us with the scorching virtuoso monologue of the allegro that follows, gymnastically executed but never soulless. The long theme-and-improvisations finale counterpoints the cello's impassioned, brooding solo voice with the atmospheric shimmer and glitter of the orchestra around it – much enhanced by Catherine Edwards's unearthly celesta. Jurowski and his players shone in this exquisite post-Romantic scene-painting; but does texture tend to smother structure here? Still, Isserlis snapped us out of this somewhat retro reverie with his dazzling pizzicato-only encore: Chonguri by the Georgian composer Sulkhan Tsintsade.
If we were missing clean-lined musical architecture, Jurowski met that need in spectacular fashion after the interval. In 1977, Friedrich Goldmann orchestrated the 14 "extra" canons that Bach developed out of the aria base-line in the Goldberg Variations – a manuscript only discovered in 1975. It makes for an exhilarating, ear-tickling orchestral shop-window, as each section plays pass-the-parcel with the core motifs while Bach builds layer upon layer of complexity on top of the simple figure in the foundations. Goldmann's sly rhythmic coups, and his cocktail mixologist's approach to instrumental tones and blends, give a compelling pulse and verve to the enterprise. It sometimes put me in mind not just of the jazz Bach of the Sixties but Ellington-style arrangement. My companion remarked that Nina Simone would have completely got this piece. Exactly right. Given the double-jabbed audience, you might even think of the Bach-Goldmann combo in this year's Proms context as an old person's guide to the orchestra. I loved it.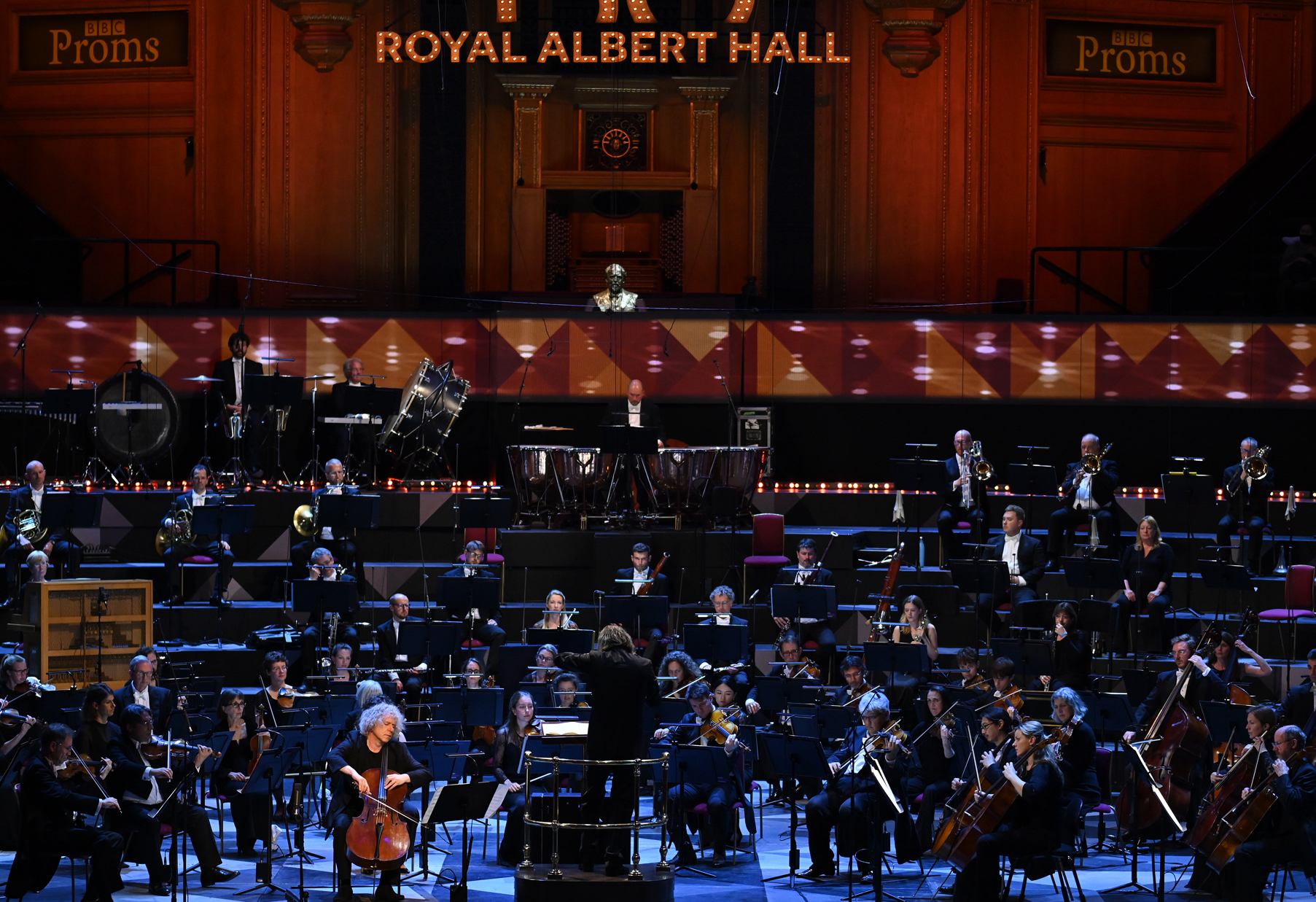 Sonic textures thickened again for Hindemith's Mathis der Maler symphony, a sort of preview of his opera commissioned by Furtwängler and premiered by the Berlin Phil in 1934 just as the Nazi shutters came down on innovation in German music. (Goebbels speechified against Hindemith as an "atonal noisemaker"). With Jurowski's LPO, however, there was nothing muddy or foggy about Hindemith's dramatic evocation of the late-Gothic painter Grünewald's struggle to maintain artistic integrity against a gathering storm of violence and coercion. Measured and masterly in the opening "Concert of Angels", Jurowski again drew a sumptuously satisfying warmth and depth from the LPO brass. For Juliette Bausor's solo flute contributions, here and throughout, no praise is too high. The same applies to Ian Hardwick's oboe, Kristina Blaumane and the cellos, John Ryan and the horns, Mark Templeton's trombones – with Jurowski, you hear luxury casting all over the shop.
If the crunch and heft of the brass often anchored Mathis der Maler, by the closing "Temptation of St Anthony" movement the strings added their refined, if anguished, swell and push to Hindemith's portrait of the artist as a soul seeking the light. Jurowski brought a radiant clarity and balance to this densely-woven score. Both as individual voices and in their thunderous tutti, the LPO proved once more what a class act they are – and will surely remain under incoming chief Edward Gardner. Gold medals all round.
Given the double-jabbed audience, you might think of the Bach-Goldmann combo as an old person's guide to the orchestra
rating
Share this article