CBSO Musicians, Hockley Social Club, Birmingham review - creative coalescence of music and dining |

reviews, news & interviews
CBSO Musicians, Hockley Social Club, Birmingham review - creative coalescence of music and dining
CBSO Musicians, Hockley Social Club, Birmingham review - creative coalescence of music and dining
Third instalment of what's now a slick creative collaboration
Baroque in pink: Marcello's Oboe Concerto at the Hockley Social Club
Following on from the success of last year's Symphonic Sessions, musicians from the City of Birmingham Symphony Orchestra returned to popular street food venue Hockley Social Club for their first joint event of 2022. With a bigger band than before - and a changing line-up - the musicians performed a range of mostly modern chamber works led by CBSO violinist Collette Overdijk.
Opening with a work for string quartet, John Adams's Toot Nipple, the four string players produced an energetic, robust sound. Pausing halfway through the piece, Birmingham poet laureate Casey Baily gave an interlude with his poem Wax; a thought provoking, moving yet funny exploration of dreams, urban living, the Icarus myth and the things that bind these together, as well as cause them to break apart. The quartet then resumed with the same vibrancy, ending this short, pithy piece with polish and poise (pictured below: Overdijk introduces one of the works).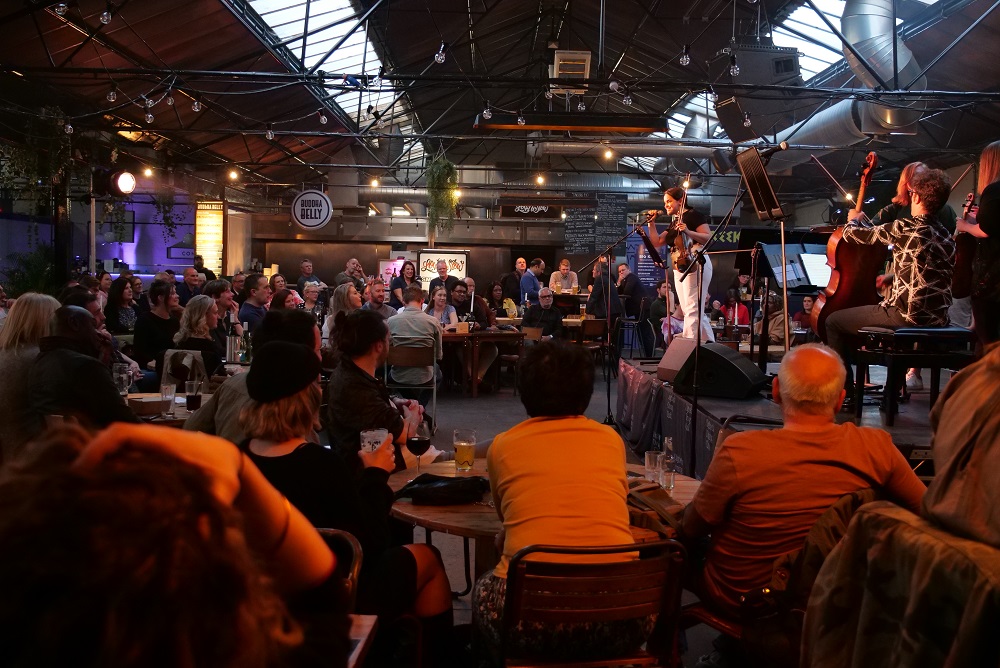 American composer and steel-pannist Andy Akiho's Karakuernai (Japanese for "foreign crimson") was originally written for solo prepared steel pan, but has since been scored for a flexible ensemble of any number. It was played here by CBSO percussionist Adrian Spillett on marimba, and cellist Arthur Boutillier and featured intricate criss-crossing of driven rhythms which culminated in a perfectly synched crescendo. Bailey then performed another of his poems – a short and sweet musing on the day to day realities of family life, and his love for his wife and child (at this point in the evening covered in yoghurt) – before another of Adams's string quartets. Pavane: She's so fine was played with a casual, folksy feel though still with the same musical rigour as before. To finish the set, the most meaty piece of the first section was Britten's Phantasy Quartet for oboe and string trio, with oboist Emmet Byrne performing with a soft, supple warmth.
Interspersing the two sections was a live DJ set from Birmingham-based electronic artist and DJ Echo Juliet. Herself a former percussionist in the CBSO Youth Orchestra, she performed live on electronic percussion, looping herself throughout the set. Spillet returned to the stage to join her for a fresh and fast-paced remix of Massive Attack's Teardrop, playing a funky ostinato on the marimba based on the iconic slow piano part that opens the 1998 trip hop classic (Spillet and Echo Juliet pictured below).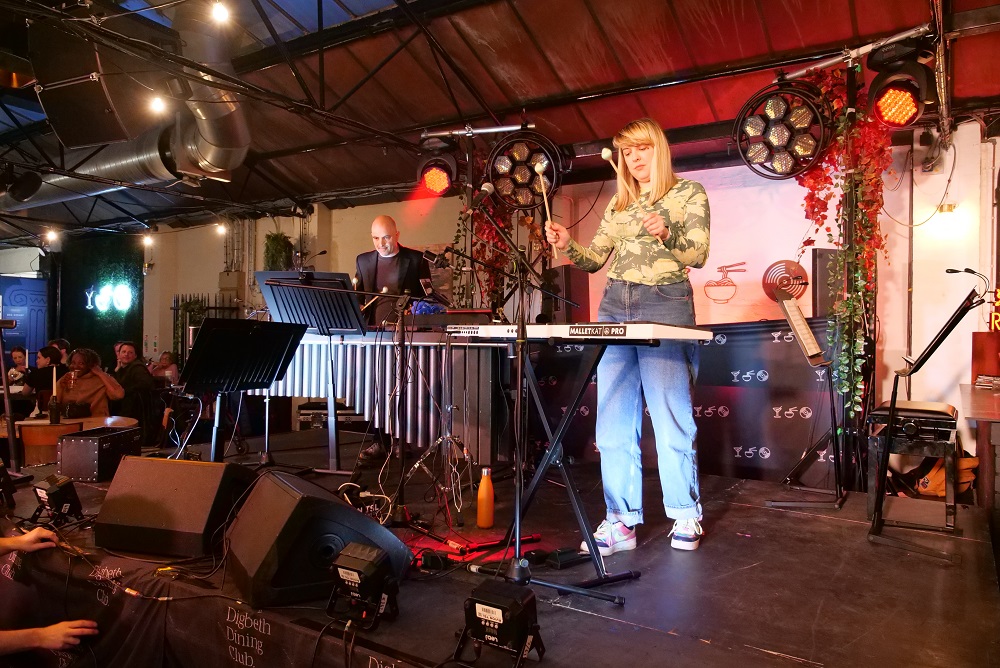 The second CBSO set once again opened with a string quartet, playing two of Florence Price's exquisitely arranged Five Folksongs in Counterpoint, Bailey performing his poem Spirit in between the two, with the second piece drifting in as Bailey delivererd his final lines. Moving a few centuries earlier, the first movement of Marcello's Oboe Concerto was a nice dose of baroque music perfectly matched with the more modern offerings. Jessie Montgomery's Strum opened with rounded pizzicatos reminiscent of summer rain before more strident string playing was heard, and a pair of pieces by Astor Piazzolla were a rousing way to end the evening. Oblivion was played with a glowing warmth, before the fiery Libertango served as a flamboyant finale.
Hockley Social Club and the CBSO have got the format of this evening down to a fine art now. The programme was interesting and exciting, clearly constructed with creativity and artistic integrity, and all technical aspects of the night appeared to go off without a hitch. The food stalls and bar are strictly no service areas during the live music which gives the performance the level of reverence it needs, though the fact that you can still order drinks online to be delivered to your table by Hockley Social Club's exemplary waiting staff keeps the vibe fun and relaxed. It's a brilliant concept and clearly a fruitful collaboration – let's hope it's one that grows and continues!
An interesting and exciting programme, clearly constructed with creativity and artistic integrity
rating
Explore topics
Share this article