Cabell, LSO, Rattle, Barbican review - transatlantic traffic |

reviews, news & interviews
Cabell, LSO, Rattle, Barbican review - transatlantic traffic
Cabell, LSO, Rattle, Barbican review - transatlantic traffic
Bold voices from the New World – and the Old
American pastoral: Nicole Cabell
Had he never written a note of his own, George Walker would still have left a record of trailblazing achievements. Born in Washington DC in 1922, he studied piano at Oberlin College and the Curtis Institute (the conservatoire that notoriously rejected Nina Simone).
He was taught by Rudolf Serkin and, in 1945, debuted as a soloist first at the New York Town Hall and then, playing Rachmaninov's third concerto, with the Philadelphia Orchestra under Eugene Ormandy.
Needless to say, neither Town Hall nor Philadelphians had ever seen an African American soloist before. By 1946, however, Walker had not only moved on to performing Beethoven and Brahms concerti but written his first string quartet, with its much-played adagio Lyric for Strings – a lament for his grandmother, born a slave. Almost 100 works would follow over an epic creative span that ended only with his death, aged 96, in 2018.
Yet his Lilacs for voice and orchestra, which won the Pulitzer Prize for music by a unanimous vote in 1996, had to wait until yesterday evening for its London premiere. At the Barbican, Simon Rattle conducted the London Symphony Orchestra, with Nicole Cabell as soprano soloist, in a Walt Whitman setting that emphatically proved the folly of assuming that a long-lived composer will stick in a single groove. If early Walker could shake hands with Samuel Barber (whom he knew), and moments in Lilacs faintly evoke the sound-world of a work such as Barber's cantata Knoxville: Summer of 1915, the musical idiom here is flintier, tougher, more abrasive, and less dependent on the tonalities of nostalgic Americana.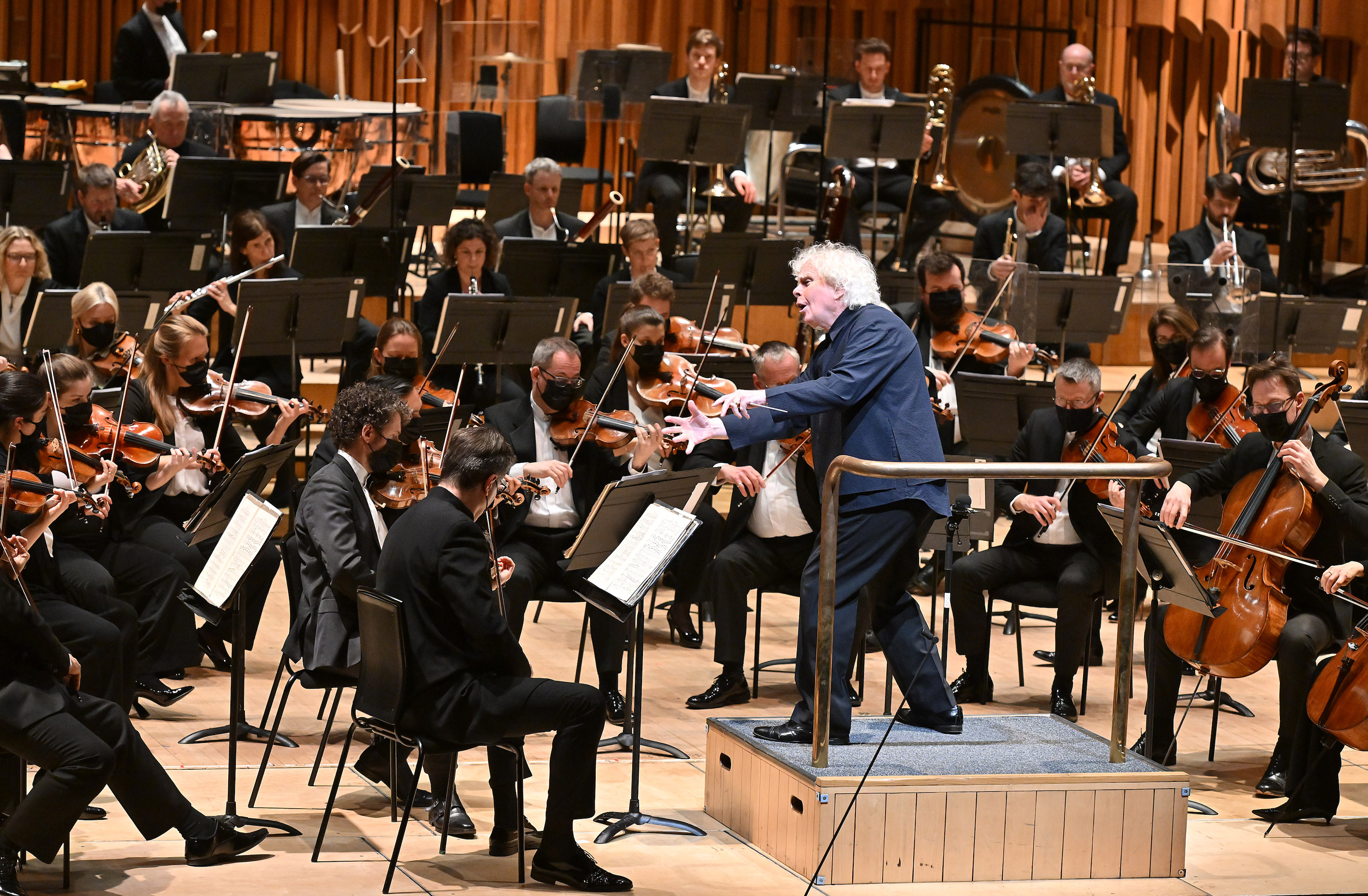 Whitman's great elegy for the assassinated Abraham Lincoln, "When lilacs last in the dooryard bloomed", has attracted composers as varied as Stanford, Holst, Hindemith and Weill. Walker's setting stresses not soft-focus melancholy but the disruptive harshness of grief as repeated semitones trigger decorative flourishes that evoke the key symbols of the text: lilac, bird and star. From the low growl of brass in the opening section to the bird-calls of flute and percussion in the finale, Walker sculpts and highlights instrumental detail with a care and finesse that found an attentive, scrupulous interpreter in Rattle [pictured above and below by Mark Allan]. Cabell, meanwhile, negotiated her long melismatic lines with even-toned authority that blossomed into controlled anguish as the finality of loss strikes home: "O harsh surrounding cloud that will not free my soul".
This music has the unflinching asperity and angularity to match Whitman's bitter words. Anyone who expected lush, consoling vernacular nods to African American tradition would be disappointed. And yet… as the final stanza begins, "Sing on, sing on you gray-brown bird", the shade of a spiritual perhaps begins to hover among the mourning birdsong. As Cabell floated the sinuous arc of the verse over keening instrumental cries – "Loud human song with voice of uttermost woe" – the ghost of lost harmonies drifted close by. To give us respite from these taut intensities of loss, Cabell sang as an encore the lullaby from Montsalvatge's Cuban-inspired Cinco canciones negras.
If Lilacs showcased a Black American innovator on intimate terms with European modernism (Walker studied with Nadia Boulanger in Paris), Rattle had opened his account with inter-cultural traffic in the opposite direction. Dvořák first wrote his American Suite for piano in 1894 and only later elaborated this orchestral version. The LSO responded with playing as generous and expansive as the landscapes it evokes. Notoriously, it's a doomed mission to label melodic chunks of late Dvořák as "American" or "Bohemian" in origin (they all spring from the same lavish, undivided gift) but this work unmistakably begins with the dying fall of a spiritual – and a very beautiful one. From mellow, enveloping brass to sumptuously upholstered strings, Rattle drew from his players a purring warmth of sound – though not as much rhythmic drive as we might have wished. They glided serenely through dances we might choose to locate on either side of the Atlantic (even if the galloping pulse of the Czech furiant is hard to miss). A couple of movements slid all the same into a kind of foursquare heartiness that a smaller, fiercer band – or else the original piano score – might have dodged.
After the interval, Rattle gave us Schumann's Second Symphony – the troubled, questing, sometimes-unloved mid-point between the crowd-pleasing geniality and lyricism of the "Spring" and the "Rhenish". Rattle has not always seemed that much of a whole-hearted Schumann champion, and his recordings with the Berlin Philharmonic failed to set the Spree on fire. The Second, meanwhile, shifts its gears and moods so drastically – despite its somewhat deceptive C major branding – that it poses a stiff challenge to any conductor.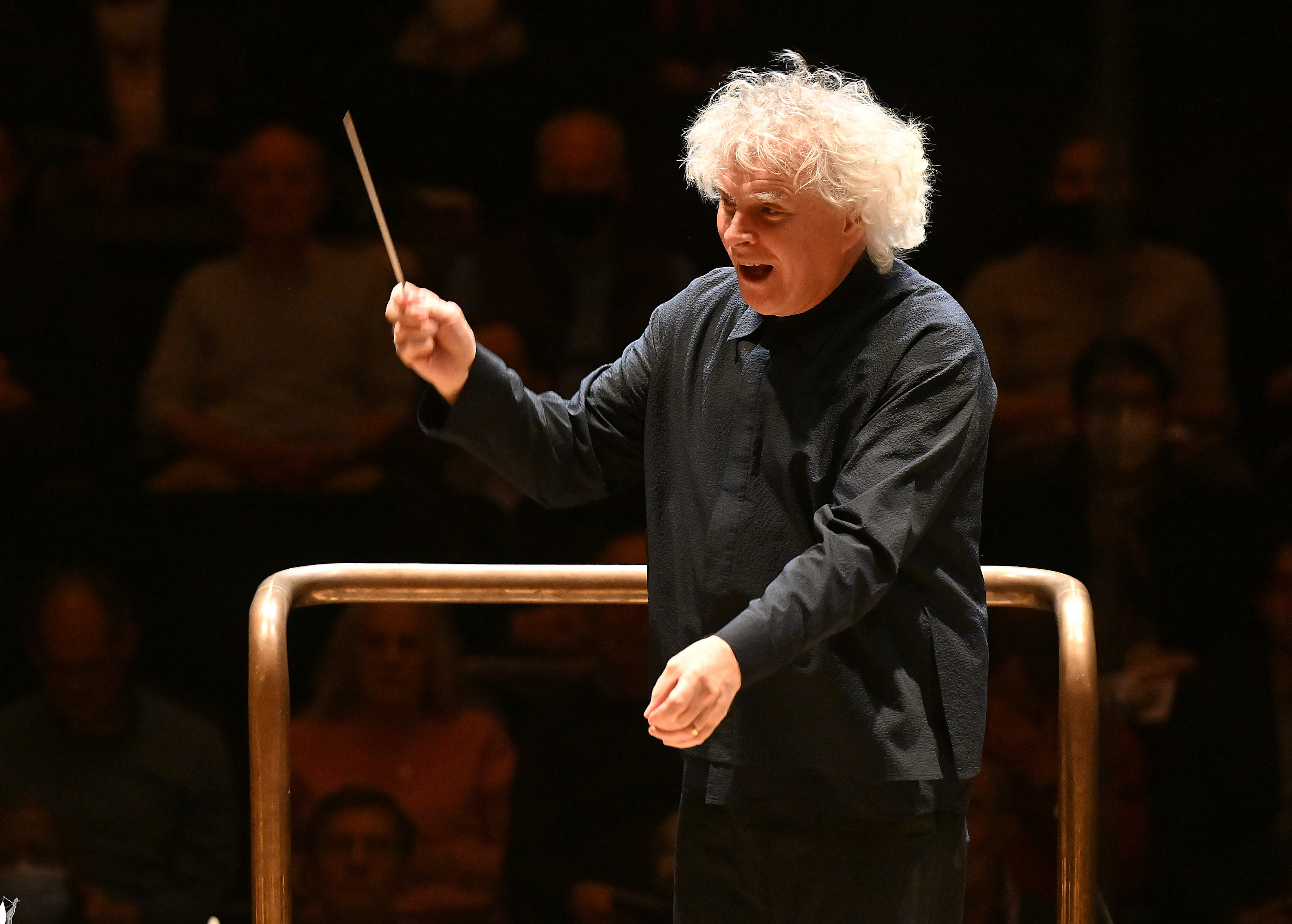 Rattle led us through the contrasting chambers of the piece with a firm architectural hand. His coherent and transparent sense of shape was complemented by poised and lucid playing from the LSO: we heard how each block of sound and theme connects to the next. I still felt a certain heaviness in the approach – as if Rattle looked forward to Brahms more than sideways to Mendelssohn (the symphony's first conductor in 1846).
Still, there was a lovely gravity in the echoes of Schumann's beloved Bach – especially in the exquisite Adagio espressivo, with its fine plangent woodwinds – and Rattle pushed the playful, skittish scherzo forward into a thrilling accelerando at the end. Yes, you may hear Mendelssohn's Midsummer Night's Dream in this skittish quickstep – but this reading put me in mind of Berlioz's Queen Mab too (from Romeo and Juliet). Although he gave us modestly-sized forces for the Schumann, Rattle tended towards monumentality – however polished and luxurious – with spacious tempi and textural richness rather than agility as his watchword. Nonetheless, that taste for weight bore fruit to savour in the final movement. The crowning second theme – announced in the winds, gloriously taken up in the strings – resolved the unrest and foreboding of the earlier parts into a blazing sunlit farewell.