Alban Gerhardt, Markus Becker, Wigmore Hall review - long shadows and rich sounds |

reviews, news & interviews
Alban Gerhardt, Markus Becker, Wigmore Hall review - long shadows and rich sounds
Alban Gerhardt, Markus Becker, Wigmore Hall review - long shadows and rich sounds
Shostakovich's dark intensity carries over to Schumann and Beethoven
Tuesday, 15 September 2020
Markus Becker and Alban Gerhardt
It wouldn't be true to say I'd forgotten what a solo cello in a fine concert hall sounds like; revelation of an admittedly sparse year will undoubtedly remain Sumera's Cello Concerto played by young Estonian Theodor Sink at the Pärnu Music Festival in July.
But Alban Gerhardt, exactly the sort of enquiring musical mind likely to take up that masterpiece, brought tears to the eyes with the lower resonances and upper sweetness of what I presume to be his 1710 Goffriller instrument in the
Wigmore Hall
. It offers a superlative acoustic for stringed instruments, if less kind to pianists, though Markus Becker certainly impressed.
The programme must have been planned as a balance between darkness and light, yet somehow the shadow of the opening work, Shostakovich's 1934 Sonata – certainly simpler in some ways than the radically avant-garde works of the same time, but still very much embattled – seemed to hover over what followed. Schumann's Op. 70 Adagio and Allegro, originally composed for horn, started with a melody you expected at any moment to slip into quizzical or melancholy mode in the light of what we'd just heard, while the boisterous Allegro seemed more fierce than joyful, no doubt a permissible line to take given the composer's manic-depressive temperament.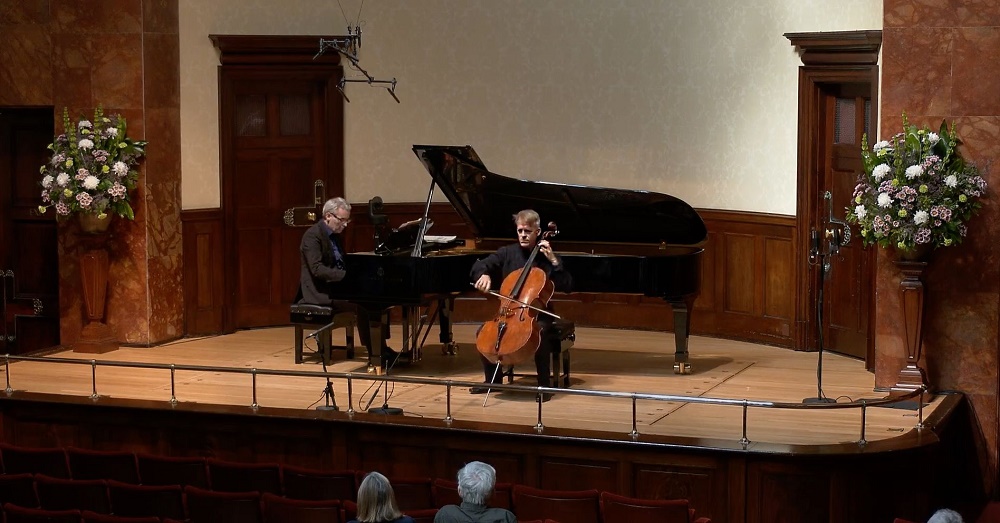 Beethoven's late D major Sonata, Op. 102 No. 2, is less lovable, more showy than its immediate predecessor in C, which Gerhardt and another regular duo partner, Steven Osborne, made so startlingly personal in an unforgettable Edinburgh Festival recital. Here you could only reel at the feats of the fugal finale in such masterly hands, impressive rather than exultant. The shadows returned for the encore, the spooky Scherzo-Pizzicato of the Britten Sonata, another Gerhardt speciality.
Yet somehow it was the Shostakovich which hit us hardest, early on. Gerhardt's joined-up thinking and feeling made you realise what a long sweep of melody the composer serves up right at the start (aborted first time round; the duo hadn't reckoned with Andrew McGregor's BBC Radio 3 introduction – the presenter had to flap his arms in front of the platform, and good humour was shared between all three). Becker shocked us with the pounding chords at the start of the first-movement development, and the ferocious dialogue of the scherzo, leaving the cellist time to breathe and sorrow in the Largo. What humour there was in the finale remained poker-faced; no smiles here, but a magnificent demonstration of paradoxically austere engagement.
In the Beethoven sonata, you could only reel at the feats of the fugal finale
rating
Share this article