10 Questions for Musician Soumik Datta |

reviews, news & interviews
10 Questions for Musician Soumik Datta
10 Questions for Musician Soumik Datta
The British-Indian sarod player talks jazz, colonialism, film and more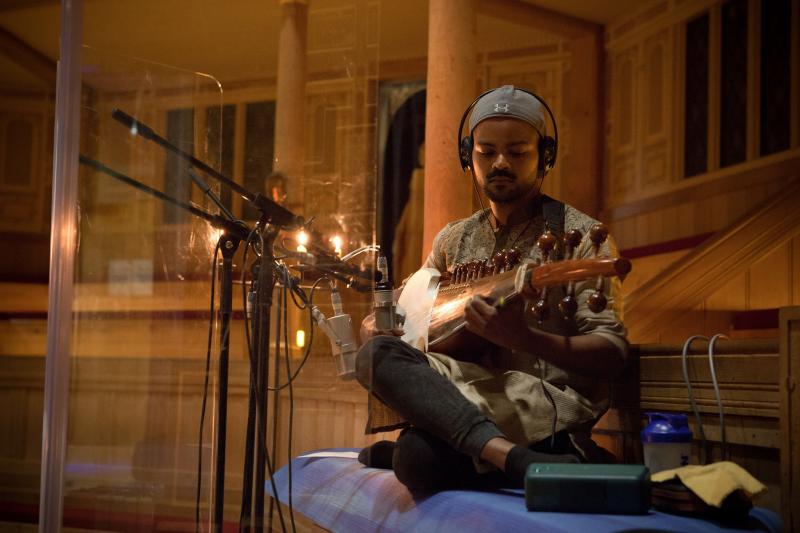 Soumik Datta plays his sarod
"I think we need to get rid of labels, certainly World Music," insists Soumik Datta, who is both composer and musician, and has lived in the UK since the age of 11. "It is possible to be a musician in the Indian tradition, as well as an electronic musician, as well as a contemporary musician...
When it's convenient, the music industry warps things to make them fit, but otherwise all the pigeonholing and the taxonomies are really unhelpful to a lot of artists out there."
Datta plays the sarod. This 19-string instrument has a tremendous range and provides enough complex rhythms and glissando notes to augment music in any genre. Thanks to his skill, and defiance of such categories, Datta has been invited to collaborate with Jay-Z, Beyoncé and even comedian Bill Bailey; he has also shared stages with Talvin Singh, Anoushkar Shankar and Nitin Sawhney. More recently, he teamed up with the City of London Sinfonia and bodhran player Cormac Byrne, to perform his new soundtrack for two vintage films: his The King of Ghosts score for Satyajit Ray's Goopy Gyne Bagha Byne (1969), a cult classic and a favourite of the artist; plus Around India with a Movie Camera (2018), a compilation of home movies made by early 20th century Western visitors in India, from the BFI. The resulting cinematic and musical journeys have toured worldwide and come to the Brighton Festival in May.
MARK SHEERIN: What inspired you to learn the sarod?
SOUMIK DATTA: I wasn't really musical when I was younger. It was only really after I moved to the UK, when I was perhaps 11 or something, when I accidentally found this instrument among some storage boxes. I suddenly discovered this history of music in the family: my grandmother used to play and my dad played for a while and it had just stayed on as part of their belongings. There was something about the sound of it that just spoke to me, especially having moved away from India at that age. There was something about the sound that made me feel quite safe and nostalgic.
What role does the sarod play within Indian music?
Well, the sarod is one of the main instruments of the Indian classical tradition. We take this tradition for granted, in that our musical system has evolved out of India as a form of classical music and it's always been like that. But actually it's been centuries of really interesting stories of invaders and colonisers. And embedded within the story of Indian classical music is the story of India and its evolution. So the sarod and the sitar and the tabla, and most Indian classical music as we know it today, could not even exist without the Mughal conquerors of the 16th century. And without what they brought with them and how they helped shape the music, because they were avid fans of art and music. So I would say, in the 18th and 19th centuries the sarod became one of the main instruments of the form.
What are some of the differences between that form and Western classical music?
It's difficult to get into this question, but Indian classical music is linear, which means you can have one instrument play an entire concert. One, or sometimes two, instruments play an entire concert and the music moves horizontally and repeats itself, but it's just one line. It's that one instrument. Whereas in western classical music, of course, you have the system of harmony. So a lot of the music is vertical, so the scores are written down the page and you read the score down the page as well as horizontally. But in Indian classical music there's this one player, or maximum two, traditionally speaking, and they create this journey for the listener and for themselves, which doesn't need any vertical reading. It's all about taking you on this linear journey. And with concepts like Sufism and Buddhism and Hinduism playing such large parts in that part of the world, the concept of cycles becomes very important. And so music as a cycle, or as several cycles, is an important way of understanding what Indian classical music is.
Is the Indian raga the same as a western scale.
It's written raga, but you say it "raag"; actually, the "a" at the end is silent. The raga is at the heart of it a scale, yes, but also more. It's a very particular scale that has a very particular set of ascending and descending notes. Then it has a particular catchphrase, or maybe two or three catchphrases, which are particular to that raga and nothing else. Plus, there are a few notes which you need to keep emphasising and returning to. Those are what makes it distinct from other ragas. Of course, there are all these rules, but a player has to try and find ways to weave around them and find new areas while keeping to the rules. It is a huge contradiction but that's what brings the beauty along with, yeah, something special.
It sounds a little bit like jazz. Is it?
It's a lot more rigid than jazz. There are some very strong no-nos and quite a few things that you cannot do. So the limitation is much more than jazz. A lot of people do compare Indian classical music and jazz, and it's fair to say that, yes, they have improvisation in common. But apart from that, they don't really have the much in common.
Tell us a bit about the film you've re-scored, Goopy Gyne Bagha Byne?
Firstly, I would say I think I watched it first when I was four or five years old. And a lot of kids coming from the east of India, especially coming from Bengal, would have watched this film. Certainly for my generation it was mandatory, but I loved it. A lot of kids love it. But it's not just a kids' film. The two characters Goopy and Bahga, the two protagonists of the story, are just infinitely warm and lovable. And there's a supernatural angle which makes it such a great watch.
But it wasn't until much later, when I was in my 20s, that I accidentally stumbled across it on YouTube. I watched it again and realised that, hang on, this wasn't just a kids' film. There's so much more going on. This is a story about an oppressed people; this is a story about the power of music; this is a story about war. It is a story about how we potentially stop war, if we make an efforts in our hearts. Perhaps, in some ways the story is a reflection of the end of the British Raj. But certainly now, I feel this is such an incredibly important film. So, so much of it is relevant as we lose hope in our leaders and in our systems. Where do you turn? For me, in my personal life, I've felt that returning to music, returning to the arts can empower you in a way nothing else can.
Watch a ten-minute film about Soumik Datta taking The King of Ghosts to Festival de Fès des Musiques Sacrées du Monde 2016
Have you presented this work in India?
I've never taken it to India, not because of not trying. It's just odd; it's one of those things. On one hand I'm Indian, but I'm also British. There's always been a sense of conflict internally, but also out there. Who do I belong to!? A lot of promoters in India have thought, "He's a British citizen; we need to support our artists." And over here in the UK it can work both ways. But for one reason or another this show has now toured Australia, Morocco, Hong Kong, all over the world. We've recorded the album with the City of London Sinfonia. We're now on this UK national tour. But it is a show which has India at the heart of it.
You're also accompanying Around India with a Movie Camera. What was it like to view the 70-year-old BFI footage for the first time?
In a word, haunting, eerie, sort of otherworldly. I was torn between double-checking on myself, going "Is this real? Is this staged?" And at the same time, I was realising these are all ghosts and this is a window into a time when none of us were there. It's a real window and it felt like a time-warp. But, of course, I think it's a difficult film as well. It doesn't apologise for what things were like back then, which I really love. There is a real problem in the relationship between India and Britain and, we've been talking about this right now, but this issue dates back 100 years. So watching that film made me realise how little has changed, and I found it quite difficult for a few weeks even to write a single note. Until I realised that, well, who are the characters in this film? And I think there are only two characters: one of them India and one of them Britain. So I thought it has to be a conversation between two instruments. The score is really a balance between the piano and the sarod. Sometimes they work in harmony and sometimes they are discordant.
Do you have any favourite passages from Around India with a Movie Camera?
I think the opening shot is really evocative, possibly the oldest surviving footage of India, from 1890-something. It is a view of the banks of the Varanasi but taken from a moving boat. I've been there myself, I know what it looks like, and watching this it just felt like, "Wow, nothing has really changed!" It looks exactly the same. There are priests chanting, and people praying, and other people immersing themselves in the holy waters. Things have changed, but watching it you think, "There's a reason why people think that India is filled with sages and gurus and holy places", because this was real.
Both films resonate with our shared history of colonialism. Are British cultural products responsible for some of the injustices of the Raj?
How could they not be? Certainly, things would just be completely different, if we didn't have the colonial aspect. I mean, history would be different, of course. The arts are tied in to the relationship between the two countries. Has the cultural influence flowed both ways? It's so difficult to say. Perhaps you have to look at it statistically. The Indians took cricket and mastered it. The Indians took the English language and mastered it. But I don't see any British masters of Indian classical music, or Hindi writers, or miniature paintings. There might be, but certainly not of the stature of VS Naipaul or Salman Rushdie. We know about the cricketers and the cricket industry. So in that way, it's quite one-sided. But, you know, we do have chicken tikka masala [laughs].
Watching that film made me realise how little has changed, and I found it quite difficult for a few weeks to even write a single note
Explore topics
Share this article