Sunday Book: I Am Brian Wilson |

reviews, news & interviews
Sunday Book: I Am Brian Wilson
Sunday Book: I Am Brian Wilson
Latest incarnation of the life of Brian
Surfin' survivor: Brian Wilson, pop genius redux
For decades Brian Wilson was depicted as the mad, lost genius of the Beach Boys, but these days, at 74, he's looking more like one of pop's great survivors. After all, he has comprehensively outlived his brothers Dennis and Carl, and has restored his reputation with deliriously acclaimed performances of Pet Sounds and the salvaged Sixties masterpiece SMiLE. He gets invited to all-star galas and awards ceremonies at the White House.
Of course, a lot of care and attention (much of it medical and psychiatric) has gone into bringing Wilson back from the brink. In the opening chapter of this autobiography, Wilson goes back to 2004 and describes his state of mind as he prepares to go onstage at the Royal Festival Hall, to play the resurrected SMiLE in its entirety. The chapter tees up the topics which will recur throughout the book – his terror of performing onstage, the menacing voices he has heard in his head for the last 50 years, the shadow of his bullying father Murry, his long history of mental illness, and how "Music is the solution... Music is in my soul" (below, the Beach Boys, with Brian front right).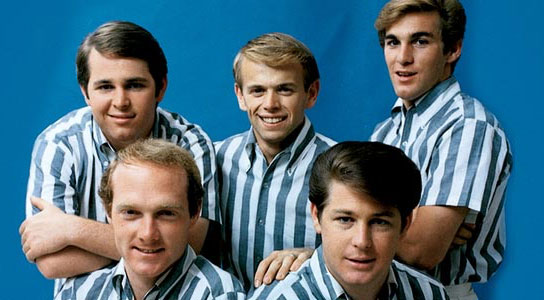 It's intriguing to get a Wilson's-eye view of his own legend – it's one of the great tales of the music business, after all – but as the book goes on there's a nagging suspicion that Wilson may not have been the best person to write it. He did have help, in the shape of co-author Ben Greenman, but even so, it's peppered with non-sequiturs, irrelevant anecdotes and irritating episodes of free association. What Wilson thinks are funny stories make you fearful for anybody forced to spend much time in his company. Imagine how thrilled Danny Hutton (of Three Dog Night) must have been the night Brian turned up at his house and played "Be My Baby" on the record player 20 times, while everybody yelled at him to stop. Wilson recalls how he signed a copy of Pet Sounds for Beach Boys fan Don Henley (of the Eagles), and wrote "To Don: Thanks for all the great songs". Then he called Henley back, crossed out "great" and wrote "good". Henley apparently managed to raise a smile.
More to the point, previous books, notably Steven Gaines's Heroes & Villains and even Wilson's own previous effort, Wouldn't It Be Nice (1996), painted a much darker and more damning picture of the Beach Boys and the Wilson family. However, Brian's story is rarely straightforward, and allegedly, Wouldn't It Be Nice was virtually dictated by Dr Eugene Landy, the sinister psychotherapist who took control of Wilson's life in the Seventies and Eighties and was eventually found to have committed almost every kind of ethical and financial malfeasance known to man. This new book feels like a conscious effort to bury the Landy era alongside Landy (he died in 2006) while promoting the restored, relatively healthy Brian. The unfortunate consequence is that this latest rewrite of his story now feels third-or fourth-hand. We have, literally, heard it all before.
While all the key elements of Brian's life are here, they seem to have been gently sedated. For instance, he describes how his father would shout and scream and slap his sons around, yet is also at pains to give him credit for making him tougher and pushing him to make better records. He describes how Dr Landy ripped him off financially, kept him loaded up on heavy medication and made himself the chief beneficiary of Brian's will, but the story has been re-purposed to illustrate how Brian was rescued by his wife Melinda, whom he married in 1995 and who is now his manager. His frequent references to his mental health issues, which he suspects were triggered by taking too much LSD, have a distinct air of therapy-group about them.
Where the book really lights up is when Wilson talks in detail about music. There are fascinating descriptions of the recording of "God Only Knows", the Pet Sounds, Surf's Up and Holland albums and the difficulties he had with the SMiLE material, as well as touching recollections of the early inspiration he took from Rosemary Clooney's "Tenderly" and the music of the Four Freshmen. When he analyses the influence of the Beatles, the Stones and Phil Spector, it evokes the extraordinary intensity of the mid-Sixties musical eruption that the Beach Boys were caught up in. But like he sang in 2012, "Summer's gone".
While all the key elements of Brian's life are here, they seem to have been gently sedated
rating
Share this article